Data security is an important issue in the current digital age. Here are the 5 best apps to keep your data safe in 2023.
We all know how important it is to keep our data safe. Whether it's our personal photos, financial information, or work documents, we need to be sure that our data is well-protected from prying eyes and hackers.
While there are many ways to keep our data safe, one of the best methods is to use an app.
There are a number of great apps out there that can help us protect our data, and in this article, we will explore the five best ones.
From password managers to secure storage solutions, these apps will help you keep your data safe and secure.
---
Why Do We Need A Data Storage App?
When it comes to personal data storage, most people think they don't need a data storage app. They either use the default storage on their device or have a cloud account that they use to store their photos and videos.
However, there are several reasons why you might want to consider using a data storage app:
Increased Security: When you store your data in a single location (like on your device or in the cloud), you are more vulnerable to security threats. If someone gets access to your device or your cloud account, they could potentially access all of your personal data. However, if you use a data storage app, your data is spread out across multiple locations, making it much more difficult for someone to access all of it.
Ease of Use: Data storage apps are designed to be easy to use, so you can spend less time dealing with complex settings and more time using your data how you want.
Peace of Mind: Knowing that your personal data is securely stored can give you peace of mind in case something happens to your device or account.
---
Why Are Soft Copies Better Than Hard Copies?
There are many reasons why soft copies are better than hard copies.
For one, they take up less space. You can store an infinite number of soft copies on your computer, but you can only store a limited number of hard copies.
Another reason why soft copies are better is that they are more portable. You can take your soft copy with you on your laptop or flash drive, but you can't exactly do that with a hard copy.
Finally, soft copies are more difficult to lose than hard copies.
If you misplace your hard copy, it's gone forever. But if you lose your soft copy, you can usually find it again by searching your computer for the file name.
For an in-depth comparison, take a look at this article – Soft Copy vs Hard Copy.
---
Apps To Keep Your Data Safe In 2023
When it comes to data security, there is no one-size-fits-all solution. The best approach is to use a combination of different security measures to protect your data.
One important security measure is to use a reliable and secure backup solution. There are many great backup solutions available, but choosing the right one can be tricky.
To help you make the right decision, we've compiled a list of the best 5 apps to keep your data safe.
---
Click/Tap The Circular Image To View This List In Visual Web Story Mode
---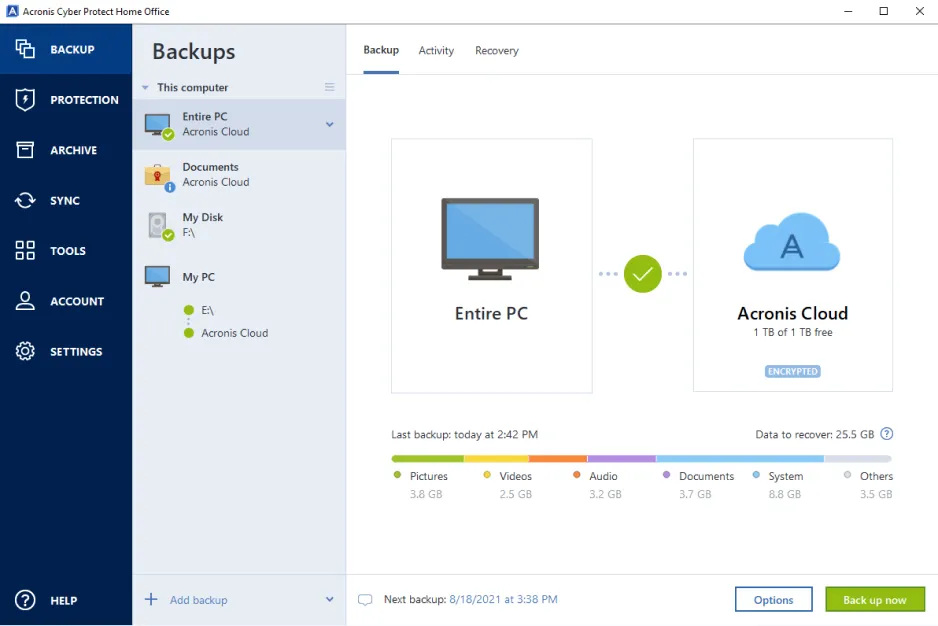 Acronis True Image offers easy and complete protection for your PC or Mac, including all your applications, settings, files, and folders.
Back up what you want (from full system images to individual files), where you want (locally or to the Acronis cloud).
Quickly restore your entire system to the same, or new, hardware with just a few clicks.
Create direct cloud-to-cloud backups of your Microsoft 365 account, including Outlook.com mailboxes and OneDrive.
---
Carbonite provides unlimited backup space for your PC or Mac, making it ideal for users with large amounts of data.
Carbonite backs up all your files, photos, and videos with one click.
Carbonite is always on and continuously updates your backup.
Easily access your backed-up files with the Carbonite Mobile App.
---
3. IDrive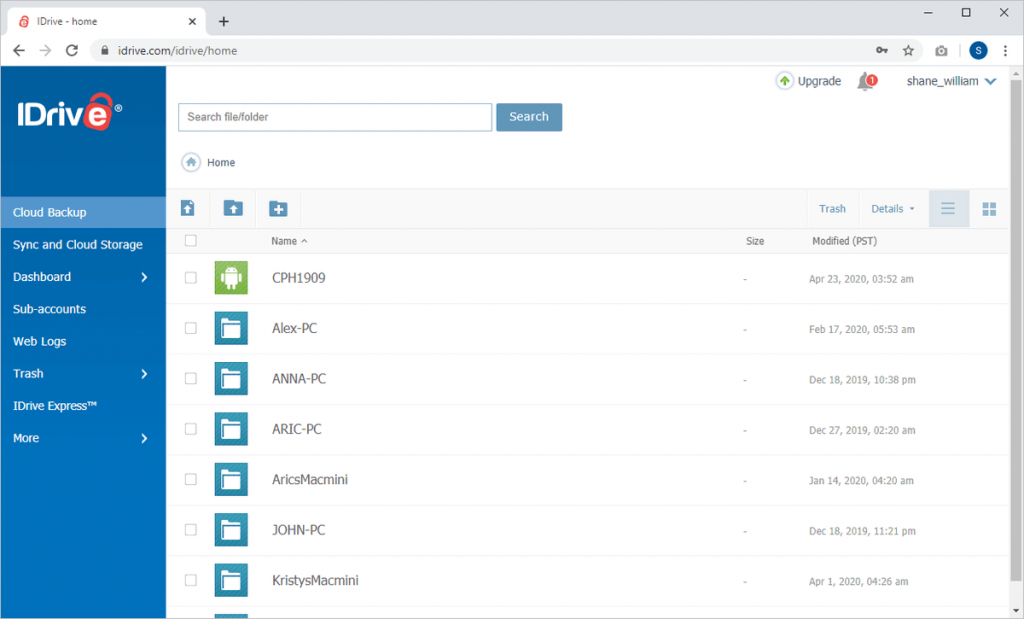 This app offers 5 GB of free backup space for your PC or Mac, with options to upgrade to more storage if needed. Whether you need to back up multiple devices or sync online files, backup software can come in handy.
---
SOS Online Backup provides unlimited backup space for your PC or Mac, as well as mobile devices like smartphones and tablets.
Your data will be secured with military-grade multilayer encryption. This means it remains 100% private, so you can sleep easy knowing your data is away from prying hackers' eyes.
---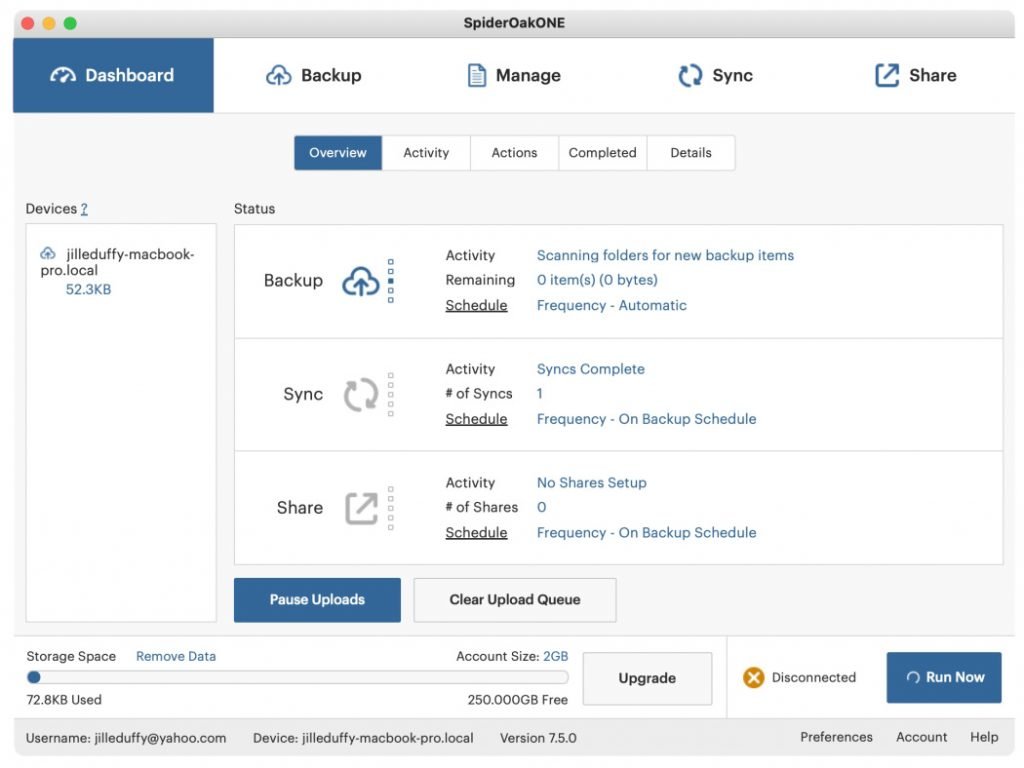 SpiderOak One offers unlimited backup space for your PC or Mac, as well as Android and iOS devices. It ensures that your data is safe, regardless of what else life brings your way.
SpiderOak One Backup ensures all your data is protected before even leaving your computer.
If ransomware strikes, One Backup's Point-in-Time recovery feature can restore your data to its state before the malware attacks.
Take advantage of One Backup's Share Room feature to share files securely with others through a web-based interface. Create temporary, self-destructing links to single files in your backup.
---
Which Application Is Best To Use – Free Or Paid?
There are a few things to consider when trying to determine if a paid or free application is best for you.
One, of course, is cost. If you are on a budget, a free app may be the better option. However, keep in mind that free apps may have ads or limited features.
Another thing to consider is whether or not you need the extra features that come with a paid app. For example, some paid apps include cloud storage while others do not.
Finally, you'll want to think about customer support. Paid apps typically offer better customer support than free apps since they are interested in keeping their customers happy.
Free applications are often limited in features and functionality, while paid ones usually offer a more comprehensive set of tools and options. However, there are also some great free options out there that can give you the protection you need.
Paid applications usually have more robust security features, such as encryption and password protection. They may also offer additional features like cloud backup and support for multiple devices.
---
How Much Does An Online Storage App Cost?
This varies depending on the app and what it offers. Some apps are free while others can cost up to $99.
There are many applications available to keep your data safe, but which one is best to use? Free or paid?
Paid applications usually offer more features than free ones, but they may not be necessary for everyone. It really depends on what you need and how much you're willing to spend.
---
Conclusion
So, which is the best option for you? It really depends on your needs and budget.
If you want the most comprehensive protection possible, a paid application is probably your best bet.
But if you're looking for basic data security at no cost, there are some great free options available.
Keep these factors in mind when deciding whether to go with a free or paid app.
Weigh the pros and cons of each option to make the best decision for you and your data safety needs
---