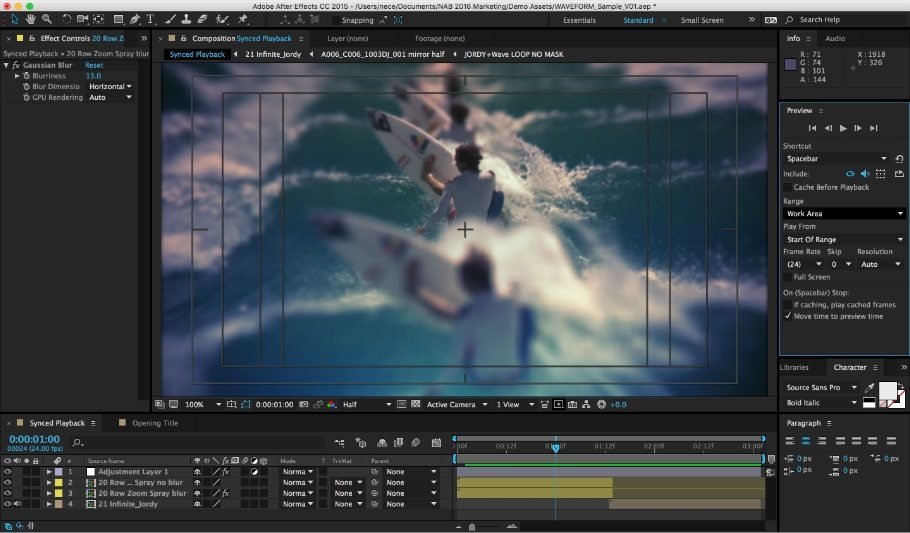 After Effects CC 2015.3 (13.8) is just released and is highly focused on performance and making things faster. It is an excellent update and most things are better with it. However, there are couple of little issues with it too that you should be aware of.
Want to know what's new in After Effects CC 2015.3 (13.8)? Read the product update on Adobe's Blog.
Reddit user TheGreatSzalam who also helped us solve the QuickTime security issue for Adobe applications came up with a small list of issues and problems you may face when using the updated After Effects CC 2015.3 (13.8).
Some Live Text Templates Are Not Working
The very handy feature where you can make a text animation setup in After Effects and then open it in Premiere Pro and edit the text doesn't work in the new update with certain setups. Particularly those with expressions, it seems.
If your particular setup doesn't work, you can just use the older version. Thankfully, you can install the new versions of AE and Premiere alongside the old version.
Exporting a composition with audio
Exporting a composition with audio via Adobe Media Encoder may render the audio incorrectly when there are keyframes on audio levels or effects.
This does not occur in all scenarios. The problem mostly occurs on shorter comps (less than 5 seconds). Most of us don't use After Effects for Audio Effects. So, just do your audio in Audition or Premiere Pro, like you should be doing anyway, and you should be fine.
The Info Panel Stays Open
The Info panel likes to stay open and can't be closed. Close it, mouse over the comp panel and it automatically opens.
Math equations in numerical input fields in dialog boxes are not evaluated.
Non-numerical characters like +, -, asterisk, or / are not recognized and will limit the input for the string. (- is recognized when negative values are acceptable.) ex., "2*2" will result in a value of 2 instead of 4. This problem only occurs in dialog boxes with numerical input fields, like the Composition Settings or Solid Settings dialogs, or a keyframe value dialog (ex., Position value dialog). This problem does not occur in numerical input fields in panels, where math input is supported (not all input fields support math), such as the Timeline panel or Effect Controls panel.
Workaround: Instead of exiting the input field by clicking or pressing Tab, press the = (equals) key. This will cause the math to be evaluated while staying in the input field.
In certain situations, a delay can occur before audio is played when scrubbing with the command key held down.
The following can improve the audio scrubbing behavior to reduce or eliminate the delay:
In Preferences > Audio Hardware, reduce the I/O Buffer Size value to 16.
On Windows, if your audio device is a WDM device rather than ASIO, I/O Buffer Size setting is replaced by the Latency setting, which you can reduce to 30.
Disable updates to the Composition panel while scrubbing audio. You can do this by either pressing the Caps Lock key, or by holding down the Alt/Option key while scrubbing.
Reduce the size of the Timeline and/or Composition panels. The larger these panels are, the more pixels will need updating, which increases the redraw churn that is causing the latency problem. Shrinking the vertical height of the Timeline panel has the most effect in this case.
There is a bug when you try and browse to Bridge from the File or the Animate menu.
The solution is to open Bridge first and then manually browse to the folder you want to search.
Other Issues Experienced By Users
Unlike previous versions of After Effects, bridge won't open when you click on 'Browse Preset' option.
An annoying while line across the bottom of the window.
I will keep updating this list with newly found issues and problems in After Effects CC 2015.3 (13.8). If you come across issues other than those mentioned above, post them in the comment section below.
UPDATE – The After Effects CC 2015.3 (13.8.1) bug-fix update is now available. This update fixes multiple bugs, including audio looping at the end of compositions when exported via Adobe Media Encoder. Visit this article for full information on this latest update.