Bingo is a free After Effects script by motion designer Hai Li that has everything you need to keep your AE projects well organized.
Motion Graphics designer Hai Le, Motion Graphics Designer coded an After Effects Script called Bingo, which includes some features and utilities to boost the motion designer's workflow.
Bingo for After Effects is designed to help motion designers maintain a well organized After Effects project file.
With Bingo, you can quickly set up and organize a project in After Effects. It can also be used to create an element that you would need for your project.
Getting Started With Bingo
Let's look at how to download, install, and use Bingo After Effects Script.
Downloading Bingo
Downloading Bingo After Effects script is pretty straightforward.
Click on the download button below or right-click on it and then click on the save link to start the download. (Bingo After Effects script has been discontinued as is no longer available to download).
Installation
To install the script, extract the package, copy the files from the extracted folder and paste them into the ScriptUI Panels folder located at Adobe After Effects (your version) > Support Files > Scripts > ScriptUI Panels.
Additionally, it's important to first open After Effects and within the Edit > Preferences > General, turn on "Allow Scripts to Write Files and Access Network" if not already enabled.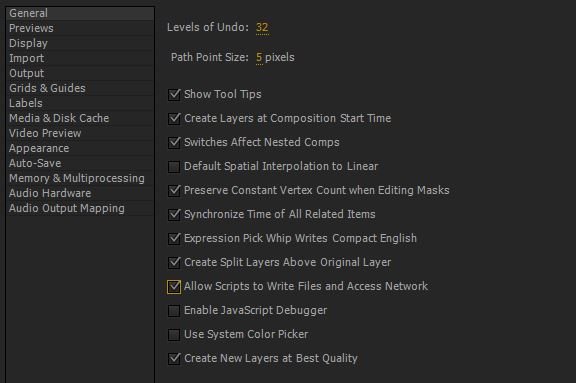 First Run
For the first run, launch After Effects and select the script from the window tab.
Click on the "Install Component" button to make Bingo fully functional and restart After Effects.
Just one time, then no need to do this process again.
Bingo For After Effects
Bingo is accessed as a dockable panel in After Effects and offers three tabs to help out with your projects.
1. Project Creator tab
Under this tab, you will find all the things necessary to set up and create items for your project.
Give your project a name, add a name for your composition panel, and set the frame rate, duration, background color, and more.
The project Creator tab also offers tools for quickly exporting still frames.
Select stills from your project and create style frames, or snap a frame for output.
You can even create, swap, or offset layers with the Project Creator tab in Bingo.
2. Clean Tab
The clean tab offers various tools that let you optimize your project assets with a button.
You can get rid of unused files in the project.
This will also generate a report of what was done.
The clean tab also has a button for reducing the project.
You can organize your composition panel in After Effects by setting up layer groups and different colors for them.
3. Render Tab
The Render tab in Bingo has all the necessary things needed to quickly create a render from the projects.
Users can easily set up output directories, encoding formats, resolution, duration, and preview render settings.
Bingo for After Effects has everything you need to keep your Motion Design project organized, all in one place so that it is easily accessible, and always at your hand.
In short, Bingo can be used to:
Create new projects with well-organized folders.
Create style frames from selected frames.
Snapshot any current frame and save it as a jpeg file.
Retrieve/edit/import/export exp file with Expression editor.
Remove unwanted assets from the project.
Clean the project.
Create a render from the project.
Compatibility
Bingo is compatible with Adobe After Effects CC 2014 and above versions.
---
Also, check out:
---