Camera Animations in After Effects can be annoying if you are trying to create some complex moves. Also, expanding camera layers to set Depth of Field, Aperture and other settings are also complicated as well as time consuming.
If you are also struggling with the Camera Animations in After Effects, it's time to look into "FlexCam for After Effects" by Tim Van Helsdingen.
Also See: Easy Way to Set Up Depth of Field in After Effects
FlexCam is an After Effects Template that greatly improves the After Effects Camera Animation Workflow. The template includes individual layers for different Camera Animation tasks. All these are linked with a Master Controller layer from where you can easily create complex camera moves.
Also you can enable or disable Depth of Field and Vignette in a click. The layer "Flex_DOF/EFFECTS" has everything you need to control DOF and other effects. You can very easily set the Aperture, Blur amount, Wiggle Speed, Wiggle Amount, Vignetting, Vignette size and Vignette intensity by keyframing the sliders.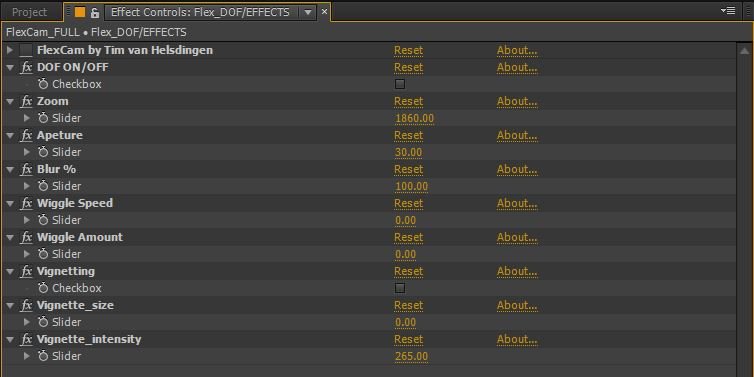 ---
Download FlexCam for After Effects
Features of FlexCam
Click and drag camera controls
Independent axis control
All camera controls in easy reach
Keep objects always in focus, even if camera moves
Copy/paste position data to focus on objects
Hotbox controls for intuitive animation
Adjustable camera rotation point
Build in vignetting options
Build in camera wiggle effect
Works on ANY resolution and aspect ratio
FlexCam is a 'Pay what you want' template. Meaning you can decide for yourself what you pay!
How to Use FlexCam Camera Animation Template
Take a look at this tutorial video by Tim Van Helsdingen on how to use the FlexCam Camera Animation Template.
To get latest updates on FlexCam, Like Tim Van Helsdingen on Facebook or visit www.timvanhelsdingen.com
If you have any queries regarding FlexCam Camera Animation Template for After Effects, Contact Tim here.