Chroma keying is widely used in the VFX industry these days where they use a blue or a green screen behind the actors to replace it with something different during post productions. In this article, i will tell you how you can chroma key a Blue or a Green Screen inside of Adobe After Effects with the help of Keylight effect plugin built in Adobe After Effects. you can find this under Effects > Keying > Keylight (1.2). What this allows you to do is remove an individual color such as blue or green from the background and create transparency in your image.
Import your Photograph or Video with the Blue or Green background inside of Adobe After Effects. Then go to Effects > Keying > Keylight (1.2).
Now under screen color option, click on the small color picker button, then click on the blue or green background of your image or video. It will immediately create a bit of transparency in your image. Now we need to enhance it further so that the transparency is only at the areas where you blue or green background are.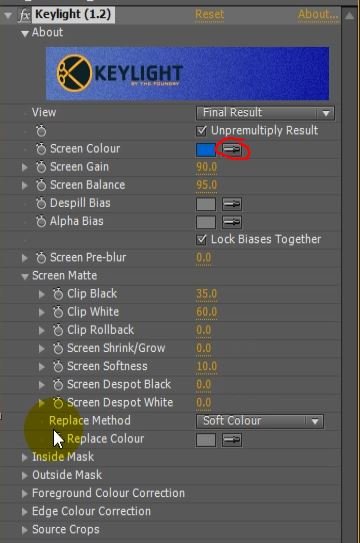 Now, increase Screen Gain a bit until your blue or green background completely disappears. Under Screen Matte, increase Clip Black a bit and decrease Clip white a bit. Increase Screen Softness to soften the edges your image and change replace method from Soft color to hard color. It will bring back the colors lost due to Keying actions.
You can play around with the settings until you get a perfectly keying image. You should be able to see any fine detail such as fine hair or clothes. Make sure the transparency is not on your subject since our aim is to only remove the background.
Below there is a link from where you can download few Blue Screen images to practice yourself how to Chroma Key Blue or Green Screen inside of Adobe After effects.
Download Blue Screen Stock Images
Also Read: How to Stabilize Shaky video in Adobe After Effects