If you have a camera that does not shoot good video at low light or at night, but you want to portray night in your scene, what you can do is shoot your film or footage at day time when there is plenty of light and then convert it into a night scene during post production using Adobe After Effects. It is very easy to do so. All you need is some basic knowledge of After effects and little bit of creativity. We will use some color grading techniques to do achieve our goal.
In this article, i will show you how you can convert a day scene into a night inside of Adobe After Effects.
Below, i have a footage from my Short Film "The Shadow", i shot the scene at day time but in the movie i wanted it to look like as if it is night.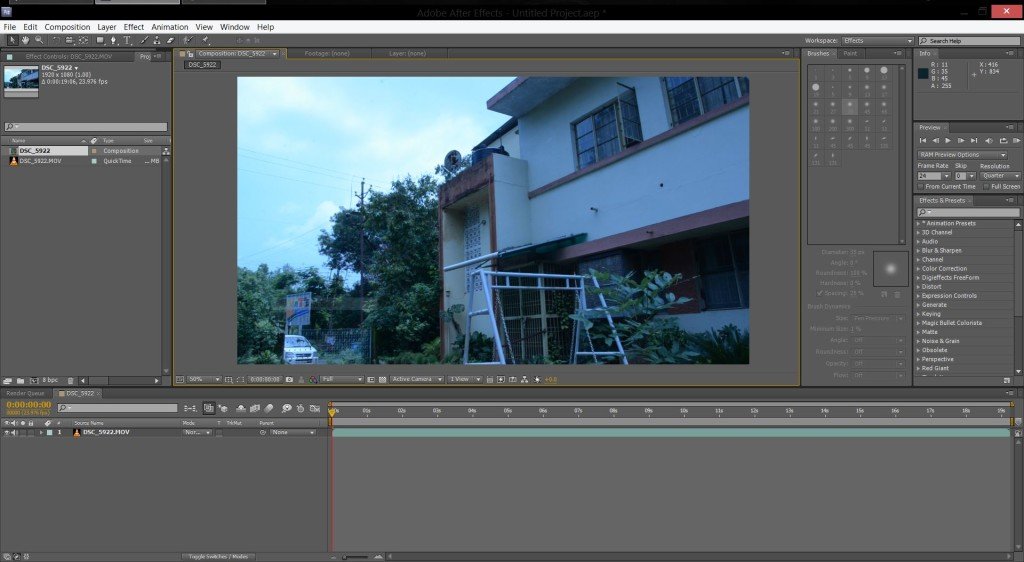 So, what ill do is, i will create a new adjustment layer, to do so Go to Layer > New > Adjustment layer or use the shortcut key CTRL+ALT+Y, after creating an adjustment layer, Go to Effects > Color Correction > Curves.
Now, using the Curve's editor, change the individual color channels as shown in the image below. 
Also, take the Red channel curve down a bit, the footage will start to look darker and bluish as it is shown below.
Now, since at night, colors are barely visible, so we will use Hue/Saturation effect to desaturate the footage a bit. To do so, Go to Effects > Color Correction > Hue/Saturation and take the Master Saturation down a little bit.
Our footage will now look like this.
Notice, the sky still looks a lot brighter. So we need to darken it up. Create a new Adjustment layer by going to Layer > New > Adjustment layer.
Once you create the adjustment layer, using the Pen tool create a mask around the Sky since we only need to darken that particular area.
After creating the mask, add Hue/Saturation to that adjustment layer from Effects > Color Correction > Hue/Saturation.
Click on the colorize button and change the colorise hue value until you get something bluish and a bit darker than before.
Now, we need to darken the sky a bit more, to do so, add a Curves editor to the same adjustment layer from Effects > Color Correction > Curves, and take the exposure down a bit by changing the RGB channel curve as shown in the image below.
Next we need, to feather out the mask to remove the sharp visible lines as shown below.
To do so, Click on the adjustment layer on which you creating the mask and Hit F on your keyboard, this will open the Mask feather options, simply increase the mask feather value and it will soften the sharp edges which was created due to the mask.
Once you feather out the mask, your footage will look something like below.
It looks like a night scene but it can be enhanced by creating some lights on the windows of the house. I will post an article later on how to do so.
With some more creativity and knowledge, you can create something like mine.