Creating high end After Effects Scripts is a very complex process and now you could win awesome cash prizes worth $10,000 by uploading your script on Videohive.
Videohive team is looking for After Effects Scripts that are high quality, feature rich, robust, unique and new to VideoHive. The design, functionality and overall relevancy will be the key criteria in judging the winners. Item must be well presented in video demo and item description.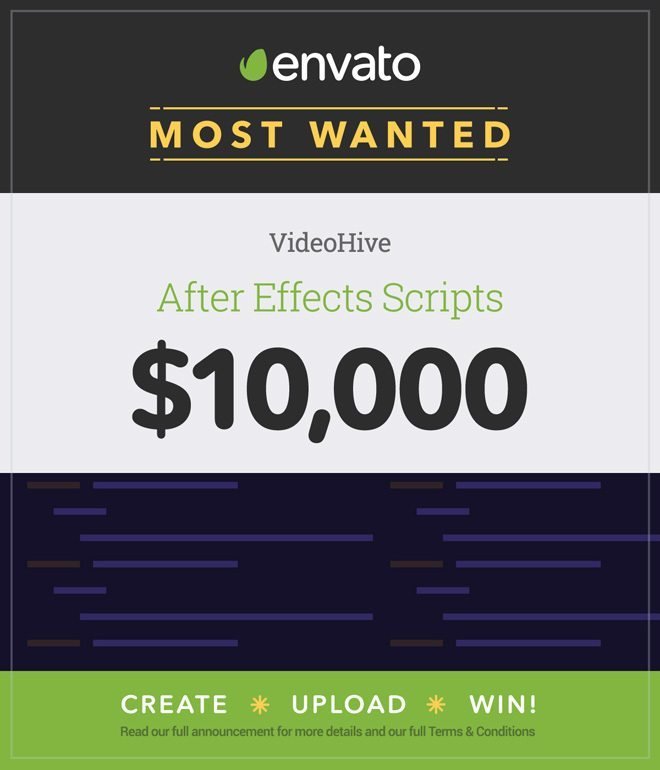 Here's What You Can Win
1st Prize: $5,000
2nd Prize: $3,000
3rd Prize: $2,000
How to Participate
Key Details of the contest
Upload your items to Envato Market on or after Wednesday, October 28th and before the competition closes on Wednesday, January 20th at 23.59 AEDT time.
The winning files will get a share of $10,000.
All winners will receive the much-desired "Won a Most Wanted Contest" badge.
An author can enter as many items as they wish.
Multiple submissions from the same author must be different to one another.
An author can win a maximum of one (1) prize.
Best if scripts include the .jsxbin file format
Final eligibility of entries is determined by Envato staff.
Envato staff to judge prize winners.
The design, functionality and overall relevancy will be the key criteria in judging.
Envato & judges retain the right not to award prize(s) at their sole discretion if they deem appropriate levels of skill have not been met.
Prizes are payable only via PayPal, Moneybookers/Skrill, or Payoneer.
Only new items uploaded to the site within the contest time period are eligible.
The entry deadline is based on the date of the final submission/resubmission leading to the item's approval on Envato Market. Not the date of final approval.
For full announcement, more details and Term & Conditions, Visit – ENVATO MOST WANTED CONTEST PAGE.