Drones are the future of Aerial photography and Film Making. Professional Drone like DJI Phantom is super expensive and can costs upto Rs 1,00,000. But if you have nothing to do with capturing high quality HD videos and just wants to enjoy flying one around, there are cheaper alternatives available.
Just under Rs. 6000, you can purchase a Drone from Flipkart but note that these Drones are for flying and playing purposes only and should not be mistaken with professional ones used for Aerial cinematography. Though some of these Drones do comes with a camera but the video quality you get is not satisfactory.
The Flyer's Bay Phantom 2 Plus Drone / QuadCopter with Camera
This Drone features no assembly as it is compact, thus making it easier for you to pack in your backpack. Its highly integrated and streamlined design brilliantly reflects the aesthetics of the industrial design. Its fantastic visual effects allows you to become the focus of the crowd.
The Drone is fitted with high density LED lights under each arm, which are used to help you see the orientation during flight.
This Drone can travel as far as 300 m from the remote and can go on for a duration of 7 – 10 minutes.
The Flyer's Bay X-Drone R Helicopter
It features 4 pieces of blades, which help with its radical flips and rolls. It also comes with a 6 axis gyro stabilizer, which ensures stability during flight, even when there are external issues like wind or extreme heat. Your copter will tend to drift away in the same direction as the wind; this can be corrected by the auto trim function. It also comes with throw launch capabilities and a long range 2.4 Ghz control.
The helicopter can fly in the air for a duration of 6-8 minutes, and this is if it has been charged for the full 60 minutes. You can also fly it at a maximum distance of 50 meters away from the remote control.
Toyzstation RC Quadcopter with Camera Remote Control Drone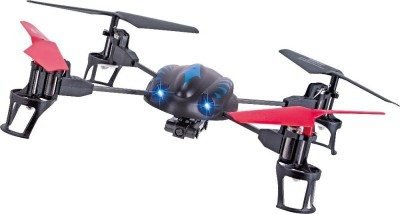 Key Features of Toyzstation RC Quadcopter with Camera Remote Control Drone
Ascend/descend
forward/backward
turn left/right
left/right side fly
360 degree rotate
with HD camera photo/video shot
with cool night light.
Emob X-Drones G-Shock Quadcopter Helicopter
Equipped with the 6-axis gyro stabilization technology, this quadcopter is highly stable and manoeuvres steadily mid-air.
You can choose to fly this Drone with its three speed settings – low, medium and high.
You can make this Drone perform cool flips with its remote control. You can navigate it in the forward, reverse, left and right directions with this remote control.
The Flyer's Bay Hoten-X Mini Drone Quadcopter
Powerful performance contained inside small size! This statement perfectly describes flight abilities of Hoten-X Mini Drone from Flyer's Bay. The Drone which fits inside one's hand can perform cool functions like flipping, hovering, rolls and 12 floor high flight with the perfection of a much bigger aircraft.
The mini Drone quipped with 6-axis gyro offers flight in up/down, forward/backward, left/right directions along with stable hover and flip abilities.
Controlled by a 2.4GHz remote, this Drone can be operated in 3 speeds and 2 modes.
The Flyer's Bay Hoten-X Mini Drone Quadcopter 2.0 with Blade Protection & LED lights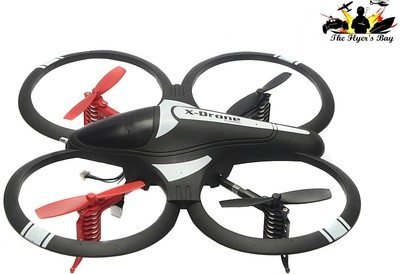 Fly this Drone like an ace aviator. This Hoten-X Mini Drone Quadcopter 2.0 with Blade Protection & LED lights by The Flyer's Bay is the remote-controlled aerial wonder that performs cool stunts.
You can make this Drone perform great flipping and rolling stunts with its remote control. It can hover and fly up to several feet.
This Drone is operated with a powerful 2.4 GHz remote control. It requires 1 AA battery for its operation.