Videos not only ensure better visibility but are also great at converting viewers into customers, subscribers or followers. A good video is made up of 2 elements – Visual & Audio. My previous article on Promotional Videos covers almost everything you need for creating high-quality visuals. So this one is all about the AUDIO.
LOW or NO budget video content creation is all about using the free resources available widely on the Internet. Video sharing platforms like YouTube and Facebook have strict guidelines for content creators who want to monetize their video content with ads. The rule is simple – You should not use copyright material, both visual and audio.
YouTube has its own royalty free sound collection where publishers can search and download licensed music for their videos and now Facebook also came up with a similar library of soundtracks and sound effects.
You can download the free soundtracks from various genres – Folk, Western Classical, Blues, Holiday, Middle Eastern and Latin.
Sound effects collection includes industry, machinery, tools, user interface, water and underwater, footsteps, alarms, bells, sirens, fabric and more.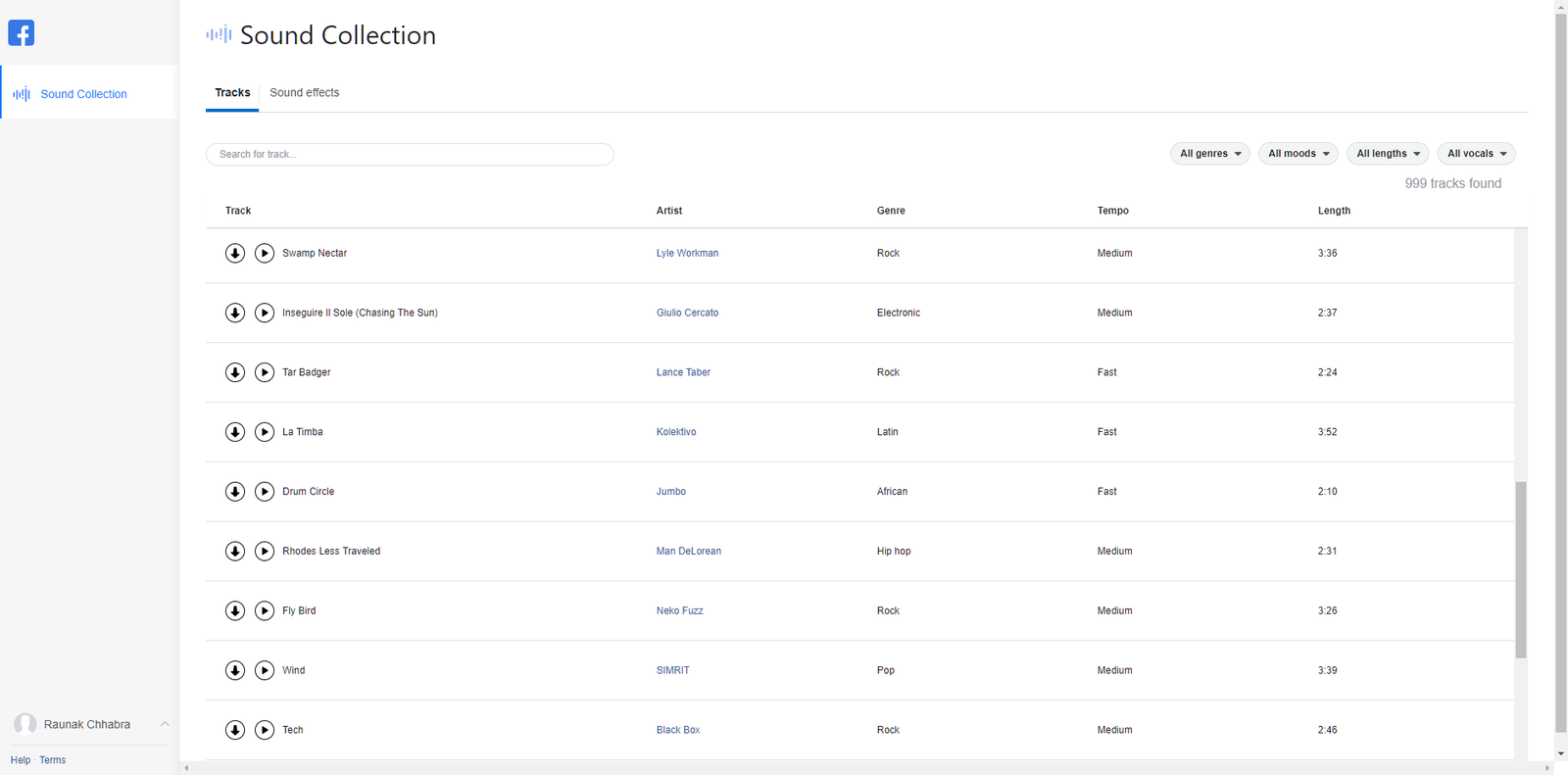 The Facebook sound collection provides free audio content on a non-exclusive basis for you to enhance your video content on Facebook.
Audio content from Facebook sound collection in videos that you create should be only for Facebook platform. Facebook reserves all rights to enforce a claim for infringement for use of any audio content available in their collection outside of Facebook platform.
How to use Facebook sound collection
Use Sound Collection to access free music and sound effects for the videos you create and upload to Facebook.
Login with your Facebook credentials
Explore and browse the collection

Search by keyword

Filter by genre, mood, length, vocals and more

Listen to different tracks and sound effects by pressing the play button

Roll-over an artist's name to learn more about them and/or follow them

Select a track and click the download button to use it
Sound Collection is only accessible on desktop. You can use it anywhere you create and share videos on Facebook. Add, mix and edit your selected track into the video content you create and share. If you are using music from other sources when posting to Facebook, you need to make sure you are not infringing on other's copyright.