InVideo is the world's most versatile online video-making tool for creating Professional videos from premium templates, images, and music.
Right now, video advertising is one of the most effective ways of marketing. You will find that there are very few organizations that don't use this form of marketing.
Without video marketing, your marketing strategy will be considered incomplete. So, if you are planning to come up with a business, video marketing is highly recommended.
For the sake of making appealing marketing videos for your customers, you can look for a video-making tool named InVideo.
---
InVideo – Online Video Editor
It is quite a convenient app and comes with beneficial features. If you can adequately utilize these features, you can come up with an attractive video.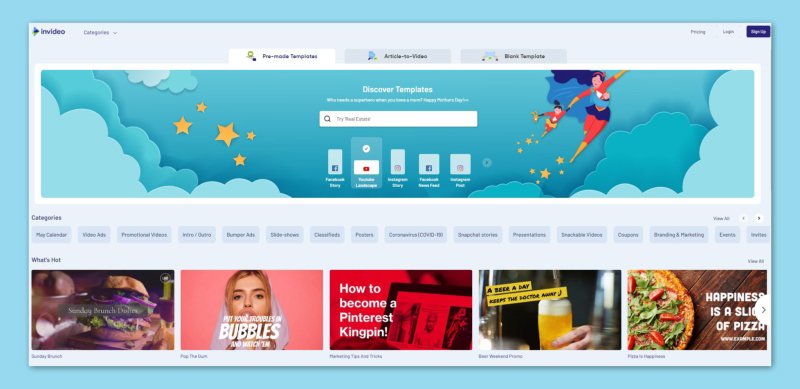 And you can use that video for numerous purposes. So, let us fathom InVideo a bit more, and see what it has to offer.
Also, check out: FlexClip – How To Create Easy Videos Online In No Time
You Can Create A Storytelling video
If you think that you are capable of storytelling, InVideo is the perfect tool for you. There are diverse exciting things that you can do with the help of InVideo.
For example, if you are writing a blog, you can add a short video to it. It will not only help you to gather more readers but will make your blogs even more exciting.
Apart from that, you can also create marketing videos with the help of this video-making tool. To be more precise, you can connect with people emotionally if you can bring an appealing video. The rich features of InVideo will help you to do that.
Another benefit that you will enjoy is that you will witness an improved ranking in SEO.
Creating A Video With The Help Of InVideo Video Editor
The user interface of this video is quite easy. You don't have to go through many complications while using this video maker. All you have to do is follow a few steps, and you can use this tool effortlessly.
Here's how to get started.
At first, you have to go to the library and select a template, and the format.
After that, you have to visit the script page, where you can include some texts in it, or copy the link to the article if you want to use it for the blog. It is quite a smart tool, and it will identify the lines.
Then, it will provide you with a skeleton of the video, which you can change instantly. Maybe, you will find some scenes in your video that you want to remove, and you can remove those scenes effortlessly.
Next, you have to edit the video according to the article. Here, you can include images, videos, and audio from your library.
After that, you can bring your unique content to the board. and you will get the chance to preview each scene precisely. You can also see the full preview if you want to. In this step, you will get countless options under the 'advanced settings'.
You can add numerous things to your videos like bubbles, texts, stickers, social elements, animations, logos, icons, and countless other things.
Finally, you can add your voice to the video. It is a great way to incorporate a personal touch into your video.
You Can Also Create Some Quick Videos With InVideo
In case, if you want to create videos for social media platforms like LinkedIn, Instagram, or any other social media platforms. Besides, you can create some beautiful ads with the help of the InVideo video-making tool.
Well, when it comes to quick videos, there are numerous categories of it.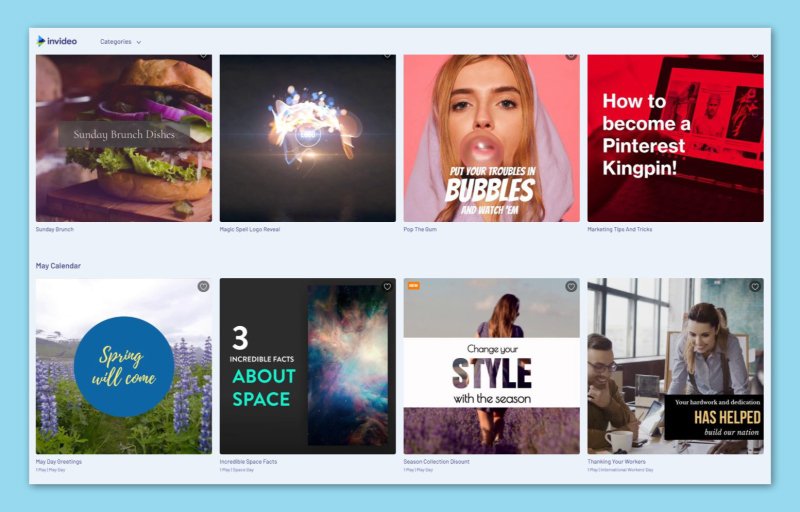 Video ads, promo videos, product videos, Instagram videos, bumper ads, and countless other things fall under the category of short videos. Now, it is up to you, for which category you want to create your video.
In this tool, you will find that most of the templates are made up of a few images, texts, and audio. The principal purpose of this tool is to provide you with some powerful features within a short period.
The templates of InVideo are quite appealing, and you can even personalize them if you want. Looking at the Instagram stories, you can consider this software to be the perfect tool for creating Instagram videos.
InVideo Support System
With each passing day, InVideo is improving its features. So, if you use this software, you will not be disappointed.
As a customer, you will be satisfied with the service of this tool. You can rely on this tool without any problem.
In case, you find out that there are some issues with this tool, you can get in touch with the support team. They are accommodating, and they will take care of all your concerns.
They will provide you with the solutions within the shortest possible time.
Besides, they also have an active Facebook page that will listen to all your concerns. They are polite, patient, and always eager to help you out with your problems.
Pricing
One of the best things about this video-making tool is that you can test this app for free. If you are employing the free version of this app, you will get the chance to create a two-minute video, in which the logo of InVideo will be embedded.
Right now, there are two plans for InVideo.
Depending on the plan, the features of this video-making app expand. In the case of most of the premium plans, you can create a video up to a length of 10 minutes.
Besides, you can also remove the logo of InVideo, and add the logo of your brand.
Also, with the premium plans on your side, you can get access to more templates, you can create videos in 1080p, and the media library will be more abundant.
Well, if you can compare the price of this software with other video editing tools, you will understand that it is quite affordable. So, opting for the InVideo video-making tool can never go wrong with you.
Why Is InVideo Different From Other Video Editors?
There are numerous reasons for which you can consider InVideo as the better option compared to its other competitors. Let us provide you with some ideas to strengthen our statement further:
The customer support of InVideo is considerably responsive, and the team has a profound knowledge of what they are saying.
They are always eager to fix the bugs of this video-making tool.
All the paid plans will provide you with a video quality of 1080p, and you can upload Facebook and Instagram videos without getting bothered about the fuzziness.
Also, the URL of the videos is also reasonable compared to its competitors.
Right now, it is the only video editor that combines the URL to the video.
There is an automated text-to-speech option, which will help you save a significant amount of time.
If you use any of the paid plans, you will get access to a massive number of free images, videos, and audio stock assets. They will make it more straightforward for you to create appealing videos.
---
Conclusion
Well, by now, you have understood that InVideo is a brilliant video editing tool. It will help you to come up with some beautiful videos. No matter for what purpose you want to create videos, this video-making tool will help you to do that.
---