A good web hosting means a good online presence. Liquid Web Managed Hosting is one of the leading hosting provider that offers multiple hosting options including Managed WordPress Hosting and Managed Woocommerce Hosting.
Infact, Liquid Web Managed hosting is listed amongst the best managed web hosting companies for uptime (100%), speed and technical support.
WordPress CMS is the most popular platform for creating websites and approximately one-third of all websites on the internet use it.
Learn More:
Both Liquid Web Managed WordPress and Woocommerce hosting are powered by Nexcess web hosting which is known to deliver cutting-edge performance along with advance security features. [toc]
Liquid Web Managed WordPress Hosting
Liquid Web Managed WordPress hosting is a good investment as it saves both manpower as well as time. It usually offers better performance since it is fine-tuned for the WordPress CMS.
Why You Should Choose Liquid Web Managed WordPress Hosting
The first focus should always be on growing your business. There is no right or wrong way, but let's take a look at some of the reasons why Liquid Web Managed WordPress Hosting can benefit you.
1. Amazing Page Loading Speed
Liquid Web Managed WordPress hosting platform is built on the latest PHP7, SSL and Ngnix technologies to improve and increase page loading speed.
There are number of benefits of a fast website and most important of all is SEO.
Google has used page speed as ranking factor since 2010. A slow loading website can hurt your Google rankings.
It is always a good idea to host your website on a Managed WordPress hosting as they are configured specifically for WordPress CMS.
You can further increase page speeds by optimizing the images and minify/compress website code.
2. Automatic Daily Backups
Liquid Web Managed WordPress hosting offers automatic daily backups that can be restored in a click of a button.
Daily backups are stored offsite for 30 days including both website files and databases.
3. Free SSL Certificate
SSL certificates are used by online businesses and other web users to decrease the risk of sensitive information from being stolen by hackers. This includes credit card numbers, usernames, passwords, emails, etc.
An SSL certificate establishes secure communication between the web server and the web browser.
Liquid Web Managed WordPress Hosting comes with an SSL certificate without any additional cost.
They are great for eCommerce websites as it protects the buyer's credit card and other information.
4. Unlimited Traffic
You need a hosting company that can handle high volume of traffic. A quality web hosting like Liquid Web would cost you little extra but it would pay you back in the long run.
They do not charge any overage fees, thus giving you total freedom to concentrate on your content, audience and growth.
5. Excellent Customer Support
You might think what it got to do, but when things go wrong, or you don't have time to fix, you can always rely on Liquid Web's customer support.
Their team of experts are available around the clock by PHONE, EMAIL and CHAT.
6. Automatic WordPress & Plugin Updates
Liquid Web Managed WordPress hosting will not only update your WordPress installation but it also update the plugins, automatically.
Plans & Pricing
Liquid Web WordPress hosting PERSONAL plan starts at just $29 per month with no extra hidden charges.
FREELANCE, PROFESSIONAL and BUSINESS plans offers addition websites, storage and features.
Liquid Web also offers ENTERPRISE plans to craft your WordPress websites with more storage and world class added benefits.
Starting at $289 per month, Enterprise plans include:
Agency Plan – Freedom to create 50 websites with 200 GB SSD storage and 16GB RAM.
Enterprise 100 Plan – Up to 100 websites with 400 GB SSD storage and 32GB RAM.
Enterprise 200 Plan – 600 GB SSD storage with 64GB RAM. With this plan, you can create 200 websites.
Liquid Web Managed WooCommerce Hosting
E-commerce websites need to be tuned for high performance and speed.
Your web stores run two to ten times faster than when they were hosted at Liquid Web Managed WooCommerce hosting.
Benefits of Using Liquid Web Managed WooCommerce Hosting
Apart from just speed, there are tons of added benefits and features of using a Managed WooCommerce hosting.
1. Thousands of Free Themes
When you sign up for Liquid Web's Managed WooCommerce hosting, you get thousands of free eCommerce themes as well.
The list also includes the fastest theme ever built for eCommerce – ASTRA PRO.
2. Mobile Optimization
More and more people are using mobile devices for purchasing products online.
Stores built on Managed WooCommerce hosting are well laid and optimized for mobile devices.
Your website loads quick, looks good and converts users into potential buyers.
3. SEO Optimization
SEO optimization is really important for any ecommerce website. As WooCommerce is a part of WordPress CMS, you get access to highly optimized SEO capabilities like clean URLs, Schema, metadata, sitemaps and more.
4. Comprehensive Plugins
Liquid Web partnered with IconicWP to provide you 13 additional plugins to enhance & customize your eCommerce store.
5. Flexible Plans
Liquid Web Managed WooCommerce hosting offers different plans to fit the needs of all types of users.
Whether you are building a new store or want to upgrade the performance of your existing one, there is a plan for everyone.
Plans & Pricing
Building a new store? Liquid Web has the perfect plans to help you off the ground and start selling.
The BEGINNER plan starts at $39 per month and the BASIC plan costs $99 per month.
However, if you are already running an eCommerce store but need better performance, the following plans are just for you:
The Nexcess Interface
Both Liquid Web's Managed WordPress and Managed WooCommerce hosting is powered by Nexcess – The premiere eCommerce hosting provider for small and midsize businesses.
The Nexcess portal offers tons of configurations for your website. This includes setting up the domain, choosing server location, plans, DNS, SSL and much more.
The interface is easy to use altogether with everything laid out perfectly. It is a lot different than any other traditional web hosting interface. Nexcess UI is by far the most easiest and feature rich back-end I've come across.
Creating A Hosting Plan With Nexcess
Creating your first plan with Nexcess interface is very easy. Once logged in, simply follow the steps below to get started with your first website.
1. Create Plan
Head over to My Plans section by going into Services > Plans. Then click on CREATE PLAN button to create a new hosting plan.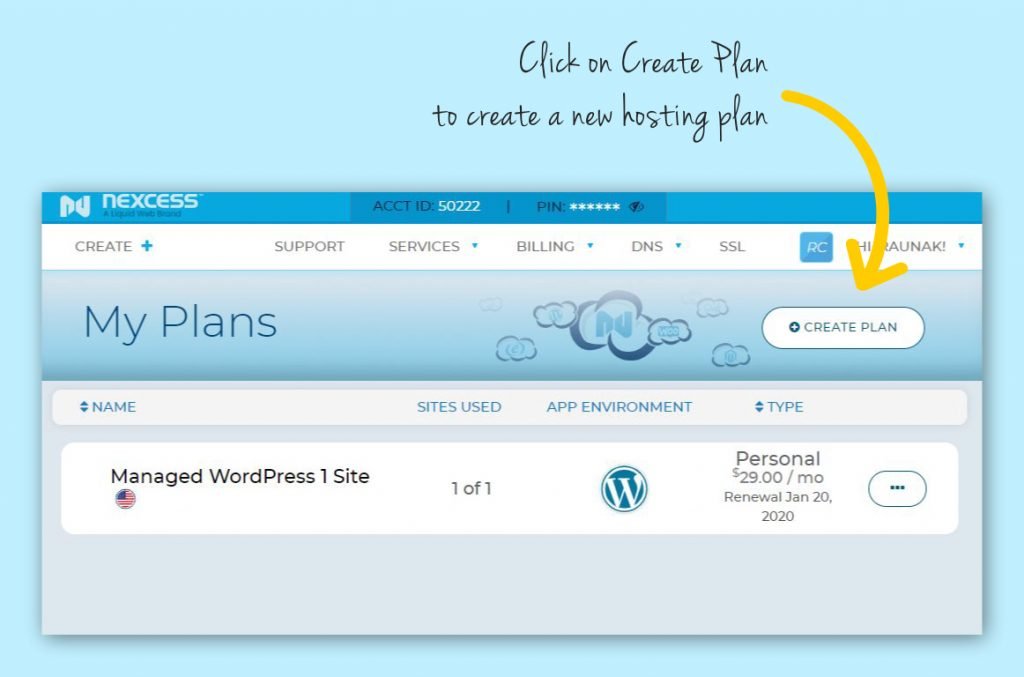 2. Enter Your Domain
Now enter the domain name you would like to use for the first website on your plan. Then simply click on the NEXT button.
3. Select Your Application Environment
Now select the application environment of your choice to build your website on.
Managed WooCommerce hosting can be found under the eCommerce tab while the Managed WordPress hosting is listed under Content Management.
You can also opt-in for the Auto Install feature to automatically install WooCommerce or WordPress for you.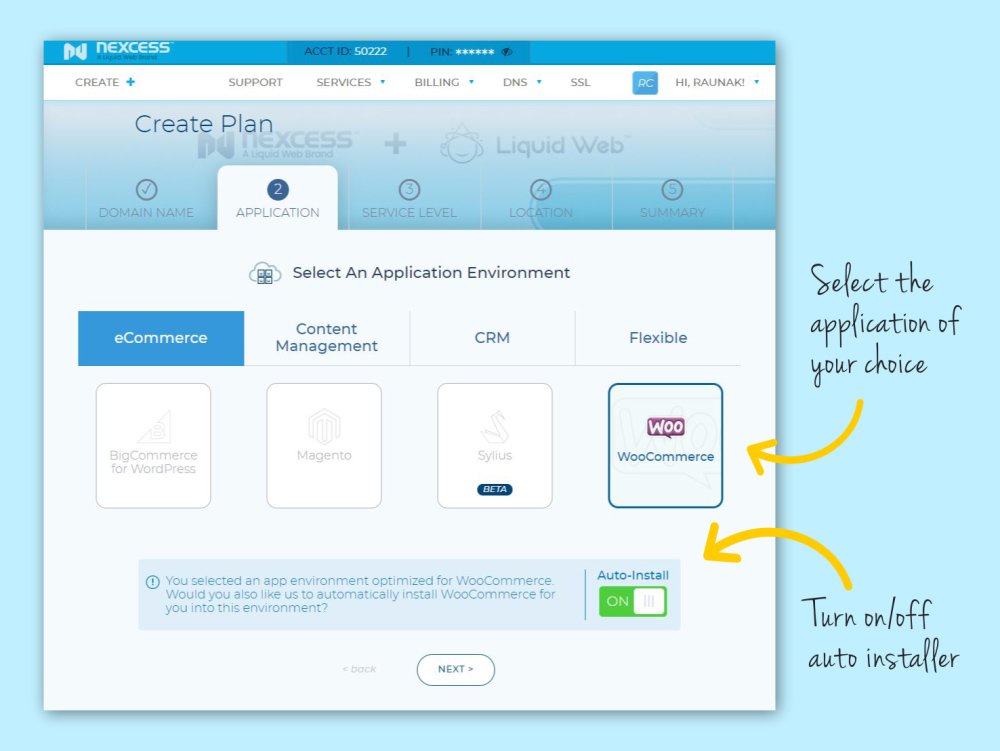 4. Service Level
The next step is to choose a service plan depending on your disk space and bandwidth requirement.
5. Server Location
The next step is to simply choose a location for your server.
Consider your target audience. If most of your visitors reside in the USA, you'll want to pick a data center located in or close to the USA for optimal performance.
6. Review & Create Your Plan
The last step is to review and create your new hosting plan. Also you can use the coupon code SNOW30 to get 30% off 3 months on Managed WordPress and Managed WooCommerce plans.
Liquid Web Year End Sale
During the Liquid Web Year End sale, get heavy discounts on fully managed Cloud VPS, Cloud Dedicated Server and Dedicated Server.
Visit the Year End Sale Landing Page to get full pricing details.
"After having shared hosting plans with other providers for many years, I switched all of my sites to Liquid Web a few months ago for my first VPS experience. It's been smooth, fast, and easy to use." says David K.