Luminar Holiday Sale is here and Skylum is offering 75% OFF Luminar 4 complete bundle. Luminar 4 is a great photo editing tool that works as both a standalone or plug-in for Adobe Photoshop and Lightroom.
About Luminar Holiday Sale
There is $414 discount on the Luminar Holiday Sale Bag which includes:
The total price of all the above products is $543. But, during the Luminar Holiday Sale, you can get the full holiday goodie bag for just $129.
That's almost 75% OFF the total value.
But if you are not interested in purchasing the entire bundle and just wants to go for a copy of Luminar 4, there is an offer JUST FOR YOU.
A $10 DISCOUNT ON LUMINAR 4 WITH ITS AWESOME TOOLS – $79 for new customers and $69 for owners of existing versions.
Before you get into availing the discount, take a look at WHAT LUMINAR IS.
What Is Luminar 4?
As a photographer, I always look for photo editing tools to easily tackle some of the most challenging and time-consuming editing tasks.
That's where Luminar 4 comes into play.
Luminar 4 As A Standalone Photo Editing Tool
As a standalone photo editing software, Luminar 4 offers revolutionary tools and AI (Artificial Intelligence) technologies to skyrocket your editing skills.
AI Sky Replacement
Luminar 4 AI sky replacement tool allows you to replace the sky to change the mood of your photos.
It not only changes the sky but relights the entire photo so that the lighting and colors of the original image match with that of the sky.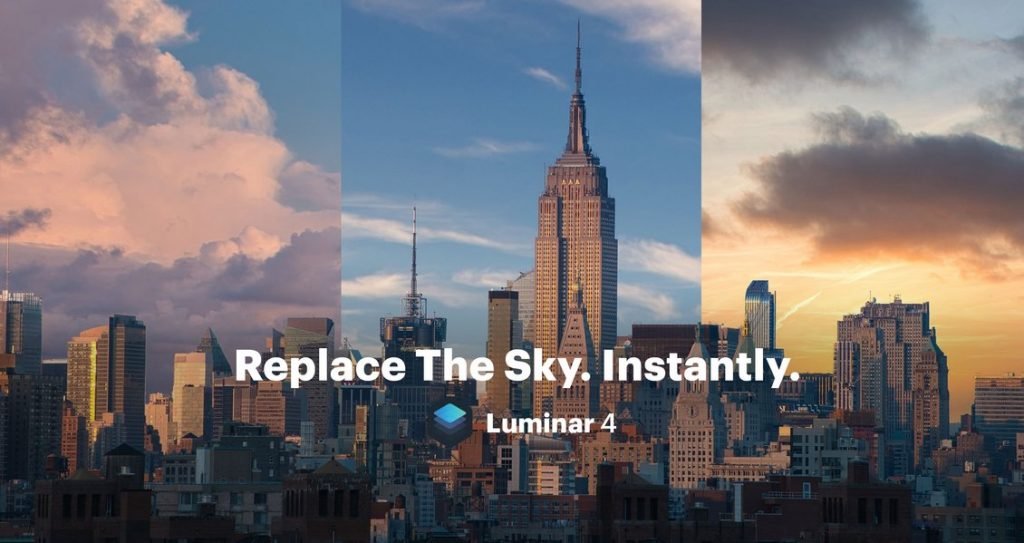 Luminar 4 even selects the best orientation for the sky so it looks and feels realistic.
Just choose a sky that fits your mood in the picture in one click.
You can use many pre-installed skies, or easily add your own sky photos.
Professional landscape photographer David Johnston shows how to get the sky you want on your photo with AI Sky Replacement.
AI Skin Enhancer & Portrait Enhancer
AI Skin Enhancer is an automated tool that finds all the skin in your picture, smooths it out, removes blemishes while preserving pores, texture and hair.
This tool is everything you need for editing the perfect portrait in less than a minute.
Some of the top features of AI Skin Enhancer & Portrait Enhancer tool are:
AI Skin Enhancement
Blemish removal
Redeye removal
Teeth brightening (my personal favorite)
Facial contouring
Dark circles removal
Lip color improvement
The great thing about Luminar 4 tools is that they're equally great for portraits shot in a studio and outdoors.
This video on how to make beautiful portraits in Luminar demonstrates all the features of AI Skin Enhancer tool.
AI Structure
With AI Structure, you can quickly and easily highlight important parts of your image without spoiling the rest of the photo.
In other words, this tool detects areas that could look richer and enhances them.
AI Structure is excellent at improving dynamic range, adding textures as well as clarity.
Moreover, it doesn't add noise, halos or other artifacts.
Sunrays
This blew my mind when I first saw it in action. With Luminar 4, you can create realistic light rays by adding a source of sunlight and moving it around your image.
Volumetric sunbeams or God Rays magically seep between objects such as trees and buildings.
Serge Ramelli in the video below will show you how to use this tool.
Smart Contrast
Compared to regular contrast, Smart Contrast is more careful and sophisticated as it preserves both colors and details for a more realistic, textured image.
Luminar 4 As A Plugin For Lightroom & Photoshop
At first, it's easy to compare Luminar with Lightroom. But to be honest, Luminar and Lightroom works great when used side by side.
As a plugin, Luminar 4 enhances your ability to use Lightroom with its AI powered tools, Layers & Masking, 50+ tools for color correction and creative effects, Adaptive Luminar looks and much more.
The combination of Adobe Photoshop and Luminar 4 is also great as it supports:
AI Powered Tools
Adaptive Luminar Looks
Film stock emulation
RAW file support
50 tools for color correction, creative effects, and retouching
Smart Object Workflows
Photoshop Actions
How To Avail Luminar Holiday Sale 2019
Clicking on the button below will take you to Luminar Holiday Sale 2019 landing page. There you can go through all the pricing details and products you'll get on sale.
Once again, here's what Skylum software will be offering during the Luminar Holiday Sale 2019.
A $10 discount on Luminar 4 with its awesome tools
The price will drop to $79 for new customers and to $69 for owners of previous versions.
A $414 discount on the Luminar holiday bag
Includes Luminar 4 + 1-year SmugMug Portfolio Plan ($250) + PDF Expert ($80) + 1-year ViewBug Pro Membership ($139) + 1 free Rocky Nook eBook ($45) + 20 free prints from Parabo Press ($10).

The price of the full holiday goodie bag will be $129.
Luminar Holiday Sale goes live on December 20 at 7 AM PST.
Conclusion
Luminar 4 is a great photo editing tool no matter how you use it – As a standalone or plugin for Lightroom or Photoshop.
It is a breakthrough tool because of its clever use of AI that brings real results that are still under the photographers control.
Luminar Holiday Sale is offering you almost 75% off Luminar 4 along with various other tools. That's a discount of $414 on products worth $543.
Get your hands on the most amazing AI photo editing tools before the Luminar Holiday Sale ends.