MAGIX video and audio software products have played key roles in Oscar Award-winning films as well as musical productions. MAGIX Holiday Sale is live and they are offering 20% OFF on all their Video and Audio software products including the latest Movie Edit Pro 2021.
It features efficient cutting tools and extensive optimization options, 1500 effects and titles, image stabilization, and much more.
Top Selling MAGIX Video & Audio Products
During the MAGIX HOLIDAY SALE, you can purchase MAGIX video and audio software products at a flat 20% off.
Use the coupon code 'MGX122020' to avail the deal
Valid until January 6th, 2020.
Therefore, lets take a look at some of the top selling MAGIX products to get during the sale.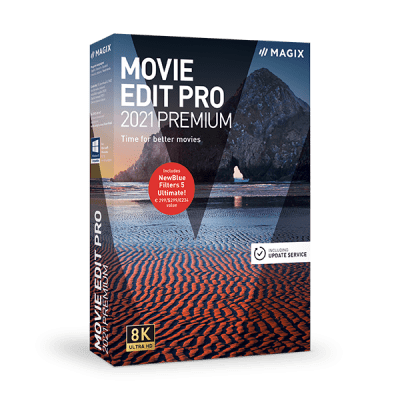 MAGIX Movie Edit Pro Premium is an all in one video editing software that brings together efficient cutting tools, extensive optimization options and up to 1500 effects and titles.
This massive library of effects offered by Movie Edit Pro contains titles, transitions, slow motion, camera pans, intros, outros, travel route animations, music, sound effects and lots more. This diverse high-quality collection is perfect for adding drama and variety to movies.
Some of the top features and functions of MAGIX Movie Edit Pro are:
Multicam Editing For Up To 4 Cameras
Perfect for events that are filmed simultaneously with multiple cameras.
In multicam mode, up to 4 recordings are played simultaneously in the preview monitor.
You can simply click to define which recording should display, and when Movie Edit Pro makes automatic cuts as you work.
Professional Video Stabilization
Video stabilization in the program comes from professional video editing software VEGAS Pro and has been completely redeveloped for high-quality results.
You can easily stabilize choppy footage with just one click.
360° workflow
Movie Edit Pro is ready for your 360° videos – with a full package geared towards 360° video editing.
Dynamic Slow Motion And Time Lapse Effects
Achieve breathtaking slow motion effects and time lapse effects in your videos by modifying speed.
Movie Edit Pro creates new intermediate frames between images, so even videos with lower frame rates play smoothly at lower speeds.
Other Included Features
Detailed color correction
Professional image stabilization
Burn DVDs & Blu-ray discs
NEW! INFUSION Engine 2 for unparalleled performance
NEW! Edit and export 8K Ultra HD video
Movie looks
Travel route animations
MAGIX HOLIDAY SALE – GET 20% OFF ON THIS PRODUCT.
Valid until January 6th, 2020.
You can use MAGIX Music Maker 2021 to produce your own songs without any prior experience.
It lets you choose sounds from a massive collection of beats, tunes and vocals at chart quality level.
Choose sounds and loops from your favorite genre and combine them with virtual instruments on your timeline. Analog synthesizers, drums that pack real boom or elegant strings – they can all be applied with a single click.
You can even connect your own MIDI keyboard, drum pad controller, guitar or microphone.
Create your own song in just 3 simple steps:
Select song template and soundpool.
Add song parts & instruments.
Your song's ready.
Some of the top features of MAGIX Music Make premium edition are:
3 Soundpools of your choice
1 Soundpool Collection of your choice
3 MAGIX instruments of your choice
2 Tiny instruments of your choice
Multicore audio engine
64-bit version
Redesigned core workflow
Song Maker
Project Notes
Song parts
coreFX VolumeFormer
VST Bridge
Orange Vocoder ME
MAGIX HOLIDAY SALE – GET 20% OFF ON THIS PRODUCT.
Valid until January 6th, 2020.
Video Pro X is a video editing software that makes professional video production accessible for everything.
With intuitive editing tools and workflows, getting started with Video Pro X is easier than with any other professional video editor.
Its new video engine allows for seamless, uninterrupted editing of high-resolution 4K Ultra HD media on any PC.
Some of the top features and functions of MAGIX Video Pro X are:
Real-Time Image Stabilization With proDAD Mercalli V5
When you buy the latest Video Pro X, you also get proDAD Mercalli V5 as a full version with unlimited use.
proDAD Mercalli V5 allows for real time video image stabilization.
Also the integrated Picture Enhanzr analyzes and optimizes dynamics, brightness and contrast for video – all in real-time and fully automatically.
Multicam Editing
Multicam mode allows image control in real time on up to nine tracks, depending on system performance.
Clicking on the preview videos let you change perspective live and mark all edits precisely and organically.
By analyzing the audio material, multicam recordings can be automatically synchronized and added before editing.
NewBlue Filters 5 Ultimate
The ideal add-on for fast color correction, as well as for simulating various film styles and highlighting specific scenes.
27 color filters and over 250 templates accelerate your color grading process and enable you to create one-of-a-kind film looks for your projects.
Title Animations & Fonts
30 new fonts are included for creating a one-of-a-kind look.
Created in a handwritten style, all fonts can be freely combined with both existing and new titles.
Perfect for various kinds of film material, themes & occasions.
Action Templates
Discover a large selection of movie and editing templates in Video Pro X.
Templates are an efficient way to create great movies in just a short space of time and without too much effort.
Other Included Features:
8K Ultra HD support & HDR color space handling
New! INFUSION engine with up to 8.6x faster performance
New! VEGAS video stabilization
Professional editing tools including 3 & 4-point edits
More than 1,500 templates & creative effects such as chroma keying
Multi-track & multi-format timeline, including nested sequences
Professional color correction & lookup table handling
Multicam for up to 9 cameras including additional source monitor
MAGIX HOLIDAY SALE – GET 20% OFF ON THIS PRODUCT.
Valid until January 6th, 2020.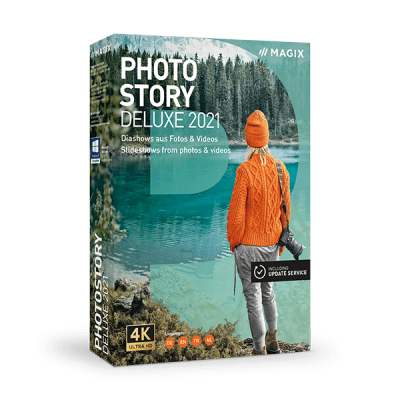 Transform the most treasured photos of your adventures on vacations, family celebrations and the little surprises of everyday life into animated slideshows with Photostory Deluxe.
With Photostory Deluxe, you can edit optimize and insert video recordings into your slideshows as well.
Included creative photo effects are the best way to make your slideshow even more entertaining.
There are more than 100 templates available in Photostory Deluxe to combine your photos in diverse collages.
Camera Tracking Shots & Zooms
Make your slideshows even more dynamic: With tracking shots and zooms you can dive right into your photos and draw the attention of your viewers to the finest details in your photos.
Effects & Decorative Elements
Browse the circa 1500 effects and over 200 decorative elements that are available for your slideshows in Photostory Deluxe.
Transitions
Bring all your photos together in a slideshow with wide range of eye-catching transitions.
Other features are:
4k export for super sharp slideshows
1-click image optimization & advanced image editing
Background music with matching edits & beats
Travel route animation with MAGIX Travel Maps
Entertaining animations, effects & zoom shots
MAGIX HOLIDAY SALE – GET 20% OFF ON THIS PRODUCT.
Valid until January 6th, 2020.
SOUND FORGE Audio Studio 14 offers comprehensive tools and functions for all digital audio editing requirements.
You can Record podcasts, edit your projects using professional effects, convert vinyls and cassettes to digital, produce soundtracks for videos and create and burn CDs.
It offers professional results in no time at all and with just a few clicks.
Some of the key highlights of SOUND FORGE Audio Studio 14 are:
Instant Action for easy task assignment in the Windows context menu
QuickFX with professional effect plug-ins and wider range of presets
Oscilloscope for signal visualization
Improvements for the VST engine, VST scan and new bug fixes
iZotope Ozone 9 Elements for quick, user-friendly mastering
Customizable user interface with four shade settings: Dark, Medium, Light and White
Event Editing tool for professional, versatile and dynamic editing of audio files
Edit 5.1 Surround files with up to six channels Video sound optimization
MAGIX HOLIDAY SALE – GET 20% OFF ON THIS PRODUCT.
Valid until January 6th, 2020.
With Music Maker EDM Edition, you can produce eletronic music simply via drag & drop.
A single Soundpool offers everything needed for EDM production.
Powerful basslines. Catchy vocal loops. Melodies ready for the next big festival. And of course: a whole ton of drops!
Drag & drop to combine the audio building blocks. All loops are optimally calibrated to match the others.
In the EDM edition, you can pick up to 3 Soundpools.
Key highlights of Music Maker EDM Edition are:
Sounds & software instruments worth €105 in value
All free sounds, features & instruments in Music Maker
3 EDM Soundpools of your choice
1 MAGIX VST instrument of your choice
1 Tiny Percussion instrument of your choice
MAGIX HOLIDAY SALE – GET 20% OFF ON THIS PRODUCT.
Valid until January 6th, 2020.