When i started using Adobe After Effects, i had a very basic computer with 2GB Ram and a NVIDIA 1GB Graphics card. With such configuration, i was able to work on basic visual effects shots but when i tried to work on some intense projects, i realized my computer was very slow and my After Effects was crashing frequently.
Though at that time i had very little knowledge of this program, so i decided to upgrade my computer and bought a Laptop with some decent configuration like a Core i7 processor, 8 gigs of RAM and 2 gigs of graphics memory. After Effects was working fine and it is till today. But sometimes i experienced lag and small hang intervals. So, I tweaked some of the settings and came to know about few methods to speed up Adobe After Effects.
Switching Windows into Performance mode to Speed up Adobe After Effects
This method will certainly help you to speed up Adobe After Effects and boost the performance of the software by a great margin. If you are Windows user, you can switch your operating system into performance mode. This will disable all the animation, aero themes and run Windows into basic mode allowing more free graphics memory for Adobe After Effects.
Switching Windows into performance mode is very easy. Right click on My Computer and go into Properties. On the left sidebar of properties windows, click on Advanced System Settings. Now click on the Settings button under performance tab.
Now select Adjust for Best Performance and apply the settings, It will take few seconds to apply the new changes and after that, Windows will be switched into Basic mode.
Enable Media & Disk Cache to Speed up Adobe After Effects
After Effects allows to reserve few gigs of your hard drive space for Media & Disk Caching. This option helps in boosting the performance of the software by caching up media for faster access. This feature can be enabled from the After Effects preferences panel.
Once After Effects is started, go into Edit > Preferences >Media & Disk Cache and enable the Disk Cache option. You can decide the amount of space you want to reserve for Disk Cache by changing the Maximum Disk Cache size value according to your hard drive space. I use around 20 GB of space for Disk Cache which works good for me.
Memory & Multiprocessing settings to Speed up Adobe After Effects
Another feature that helps speed up Adobe After Effects is the Memory & Multiprocessing settings where you can decide how much amount or RAM you want to reserve for the software and how much you want to leave for other programs to use.  You can find Memory and Multiprocessing settings under Edit > Preferences > Memory & Multiprocessing.
Memory
Under memory, you can alter the amount of RAM your After Effects is using. Installed RAM shows the total RAM memory installed on your system whereas RAM reserved for other application shows the amount of memory that other programs are using while After Effects is running. You can change this value according to your RAM memory but i recommend keeping more memory for After Effects to use for better performance.
After Effects Multiprocessing
Multiprocessing allows rendering of Multiple Frames simultaneously to speed up rendering and previewing. Rather than rendering your project frame by frame, enabling this option with render multiple frames at a time which decrease rendering time.
It uses multiple CPUs to speed rendering for RAM preview and final output. Though this setting speed up the performance of After Effects a lot. I recommend you use it only if you have a workstation or multiple Core's CPU. Otherwise you will experience crashing of the program. By default, this setting is disabled when you first install After Effects.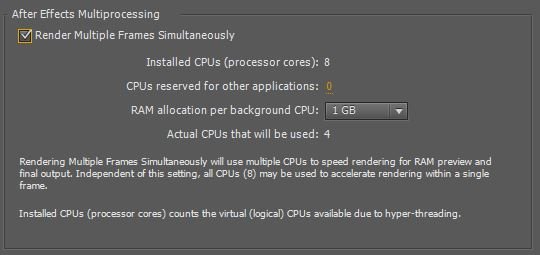 The above methods are tested by me and works perfectly, but apart from these, try to use minimal other programs on your computer when you are working on After Effects. This will reduce the CPU and Graphics card load which ultimately results in better After Effects performance.
Also Read: 5 Uses of Adobe After Effects which makes it 'The Best Editing Software'