During the Cyber Monday sale, MyThemeShop is offering their extended membership worth $7,850 for just $99.47. That's a whooping 99% off.
The extended membership includes 70+ WordPress themes and 18 plugins. Apart from that, you will also get free access to a number of MyThemeShop tools.
MyThemeShop Cyber Monday sale will expire on December 7, 2019. Make sure to claim the deal before it ends.
Things You Will Get During MyThemeShop Cyber Monday Sale
When you opt for the MyThemeShop extended member during the Cyber Monday sale, you will get:
Unlimited Domain License
Hotjar Membership
SocialBee Membership
Improvely Membership
Boomerang Membership
DevShow Membership
NextSale Membership
Rankz Keyword Tracker Membership
Cloudways Membership
All the above assets and services are valued over $8000 but you can get everything for only $99.47.
How To Avail The Deal
Clicking on the button below will take you to MyThemeShop Cyber Monday Sale landing page. There you can go through all the pricing details and products you'll get on sale.
---
MyThemeShop Cyber Monday Sale
Click on the button to avail 99% discount on MyThemeShop Extended Membership
LIMITED TIME OFFER
MyThemeShop Cyber Monday/Black Friday Sale ends 7th December, 2019
---
Top MyThemeShop WordPress Themes You Will Get
The following Premium WordPress Themes along with few others are included in MyThemeShop Cyber Monday sale.
Corporate
Corporate is a professionally designed WordPress theme that is ideal for businesses, agencies, corporations, and freelancers, who are looking to grow their business.
Show your experience, portfolio, team members, and services, and help grow client relationships and your company, with Corporate
Reader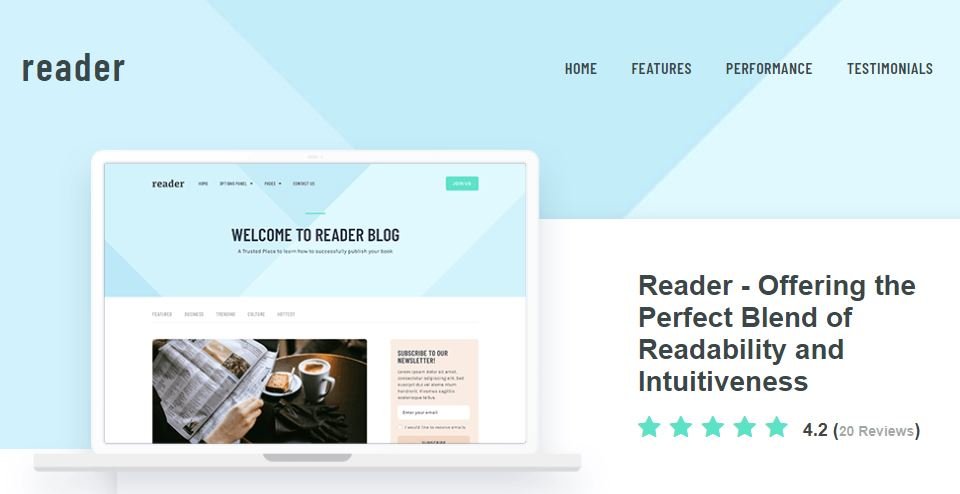 Reader WordPress theme is the perfect way for you to showcase your content to the avid readers out there who want to consume your content.
Make it easy for them to read or skim your content with this UX-centric theme.
eCommerce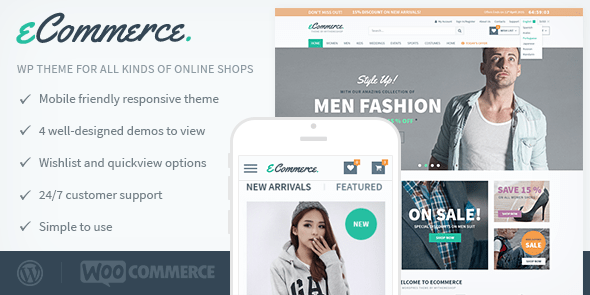 eCommerce is a beautiful, modern and professional-grade WordPress theme that's ideal for eCommerce sites.
The amazing layouts will help you to start making more sales immediately while the advanced features like wishlist and quick view options will give you even more ways to package your products and satisfy your customers.
Writer
Writer theme is a fully responsive and impressive WordPress theme for writers, freelancers, authors, and journalists.
It is free of clutter allowing readers to focus on the content.
Writer theme has 3 predefined layouts with a 1-click installation.
The fonts are readable, and the subtle color scheme makes it suitable for all writing projects.
WooShop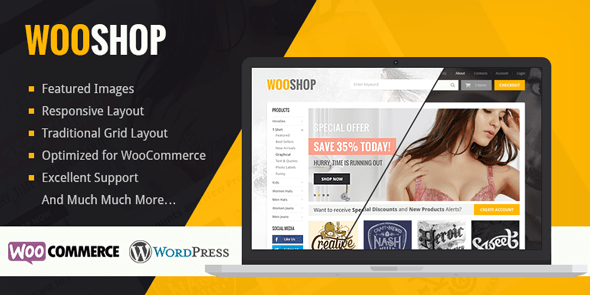 WooShop is a modern and stylish theme built for WordPress WooCommerce stores.
Comes packed with customization options, a stunning, responsive layout and an excellent selection of features.
See how a professional sheen can increase sales and profits!
PointPro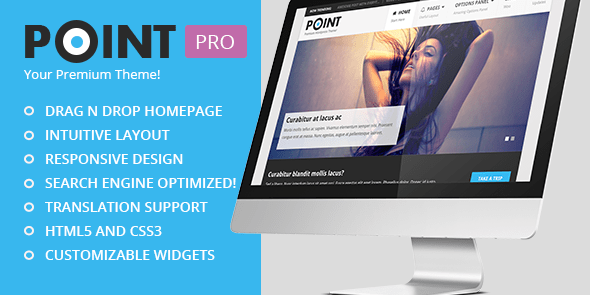 PointPro is a premium WordPress theme for professionals.
With a modern, responsive design, a stunning layout with lots of headings and sections and a slew of top-end features; this is a theme that can allow you to compete with the top players in your niche!
Lifestyle
Lifestyle magazine theme is elegantly designed with three header and post layouts that make it suitable for multiple uses.
Unlike other magazine themes, Lifestyle is lightweight, fast loading and with optimal performance.
It is ideal for creating a sleek online magazine in different niches.
It is highly customizable and well optimized for AdSense and other monetization methods.
Subscribe to MyThemeShop Extended Membership during the Cyber Monday Sale to download this theme.
Crypto
Crypto is the perfect theme for cryptocurrency based blogs.
Apart from regular blogging features, Crypto has many specific features for cryptocurrencies that make it the most sought-after cryptocurrency theme by crypto bloggers, traders, commentators, and spectators.
It provides multiple ways of monetization and can be used to cover blockchain, BitCoin, AltCoins and any other topic from the cryptocurrency world.
Interactive
Interactive is an eye-catching and highly professional blog theme that is perfect for webmasters with lots of content and who want to engage with their audience.
Countless options make the theme perfectly customizable, while the powerful features give you more ways to interact with your visitors and to keep them coming back.
NewsPaper
NewsPaper is a beautiful and elegant WordPress theme built for content-rich sites.
With trending and latest sort features, media rich features, and multiple post layouts, NewsPaper is perfect for blogs that post frequently across multiple categories to engage their readers.
News
The News theme has all the features and performance benefits to help you create the News website of your dreams.
A modern, future-proof design. Superb performance.
A host of powerful features. Backed by industry-leading support.
All of these make the News theme a perfect choice, no matter what website you want to create.
JustFit
JustFit is the ultimate fitness and exercise WordPress theme.
Whether you run a fitness community, are a personal trainer, publish as an online magazine, or own a local gym, JustFit has the features to help you grow your following.
Show off testimonials, results, products and workouts, and still maintain a blog.
Top MyThemeShop Plugins You Will Get
The following WordPress Plugins along with few others are included in MyThemeShop Cyber Monday sale.
Content Locker Pro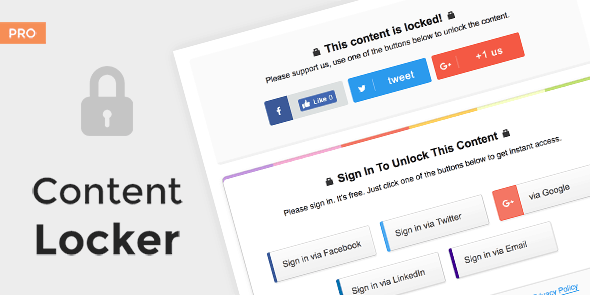 Content Locker Pro is the most powerful way to gain shares and likes for your content or to expand your mailing list.
If you have content that people want to read, then use this plugin to exchange 'reads for likes or logins'.
Proven effective with tons of features!
WP Real Estate Pro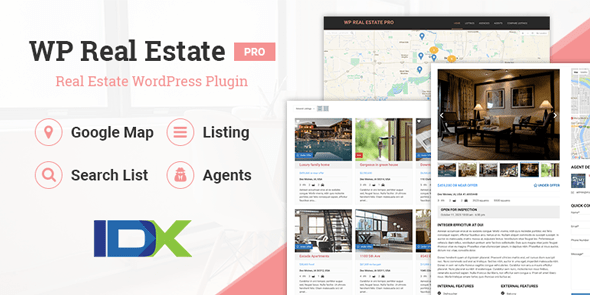 WP Real Estate Pro is a powerful WordPress plugin that can help you create a real estate listing website.
It's fully customizable, has Google maps integration, and IDX and MLS integration as well.
It is compatible with all WordPress themes, and its premium features will enable you to create a feature rich, high performance, and customer pleasing real estate listing website.
WP Review
WP Review is the perfect review plugin whether you are reviewing products, books, movies, games, or anything else.
A total of 14 types of snippets are supported, and you can select your preferred snippet in a few clicks.
Conclusion
MyThemeShop Extended Membership at 99% off is one of the best deals hosted during the Cyber Monday/Black Friday sale.
Avail the discount and get products valued at over $7,580 for an insanely discounted price of just $99.47.
Hurry up! MyThemeShop Cyber Monday sale will end on December 7th, 2019.