Take your After Effects projects to the next level by mastering its third-party plug-ins with Plug-in to After Effects. Whether it's keying and compositing, adding particles of swirling smoke to a composition, or importing XML files from Final Cut Pro, third-party plug-ins can greatly enhance your After Effects capabilities.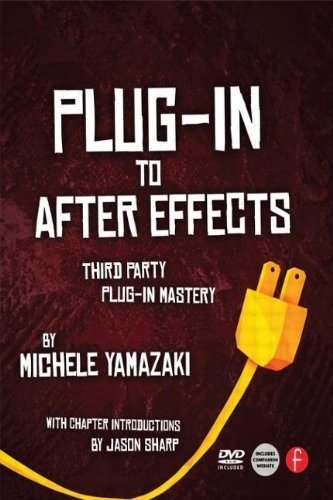 From sexy effects and graphics enhancements to workflow automation and file conversion, it's all covered in this lavishly illustrated, full-color book. Coverage of hundreds of essential third-party plug-ins is provided, showing you when, why, and how to use each plug-in. Plug-ins for color, style, effects, distortions, warps, transitions, lens flares, text and graphical elements, and more are all covered in depth.
3rd party plug-ins for lens flare, distortion effects, texturing, format conversion, 3D effects, color correction, compositing and more are all covered in-depth. The DVD features video tutorials, plug-in demos, video interviews with vendors and users, as well as video samples of the plug-ins. Also available is a free companion website with evolving plug-in update, as well as an iPhone application with updates, links to sample movies on YouTube, and more.
A must-have for all AE users, showing you which plug-in is best for your job, tips and tutorials for using them, interviews with plug-in developers and more
4-color presentation and how certain plug-ins have been used in popular TV shows and movies provides inspiration as to what YOU can do with them.
Companion DVD includes video tutorials, plug-in demos and video samples, video interviews with developers and users, and a companion website will feature updates for the plug-ins featured in the book.
Plug-in to After Effects Book Details
Paperback: 520 pages
Publisher: Focal Press; Pap/Dvdr edition (25 July 2011)
Language: English
ISBN-10: 0240815653
ISBN-13: 978-0240815657
Buy Plug-in to After Effects on AMAZON