There are tons of tools and feature's that After Effects has to offer, and with plugins, presets and scripts, there is no limit for creativity. It is absolutely true that there is no shortcut for creative content, but with After Effects Scripts, a Motion Graphics artist can save a lot of time without compromising with the final results.
After Effects Scripts are like normal javascript codes, which when executed, can perform outstanding tasks. Videohive offers plenty of High Quality and Premium After Effects Scripts which you can purchase for really low pricing.
The scripts are very easy to use. Once you are into After Effects, go into file > Scripts > Run Script file, browse to the script file location and run it.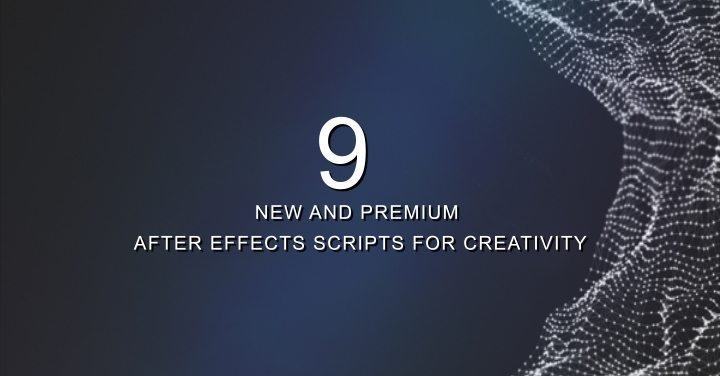 Below I have collected 9 New and Premium After Effects Scripts that can help you produce creative content.
New and Premium After Effects Scripts for Creativity
Curva is AE script to create a smooth animations of growth a paths based on Bezier algorithms.
2D Parallaxer is a script for Adobe After Effects that creates simple side-scrolling animation that is customizable and easy to use.
aw_ExtendPreocomp is a great timesaver script for After Effects that extends pre-compose option.
Just Draw is a script for Adobe After Effects that provides a simple way to make movie simulating drawing process either directly in AE or over the footage or text.
aw_DarthFader is simple script for After Effects that allows you to create and control fast transition in few clicks.
Swatcher is a script for Adobe After Effects, loading color palettes from several services like the Dribbble.
This is a simple After Effects script to create shape array.
Infocharts – Bar Graph is an After Effects script created to help you realise animated custom bart charts in a couple clicks. The generated chart can be furtherly customized to your need, it makes a great base for your own infographic projects.
Instant Slideshow Creator is a fully automated Adobe After Effects Slideshow Creator. It is designed to save you time and money.
For some more After Effects Scripts, Visit Videohive.