Photography is a passion that can be a lifelong journey to self discovery. Every photographer starts out with fresh dreams and dynamic ideas which they want to show the world through their lens. With time, the experiences and insights that you gain help to mold you towards maturity as a photographer, and also lend a shade of professionalism to your shots.
To speed up the process, we have decided to share some of our hard-gained knowledge with you so that you can speed along in your journey towards photographic discovery. If you are an amateur just starting out, these tips will surely help you. If you are already a pro, well, it doesn't hurt to refresh those old tricks once in a while, does it?
Here's our list of things we wish we knew when we started out as amateur photographers.
There's No Perfect Gear
One of the biggest mistakes' amateurs make is that they spend too much time and money trying to settle on that perfect camera. Amateurs scour the markets and burn a hole through their pocket trying to stay updated with the latest trends and equipment. Well, the truth is, while a decent gear does help you, the first thing you should be concentrating on when starting out with photography is photography itself.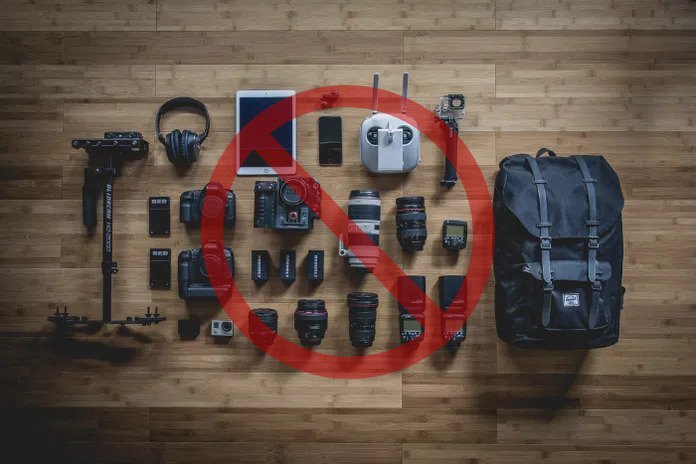 Just grab whatever camera gear you have at hand, and get to it. Understand the basics. Get to know whatever camera you are using, its ins and outs, the tone and quality of pictures you can take with it. Nowadays you can take pretty decent pictures with smartphone cameras, so if you've got nothing else, just start shooting with your phone. Remember, it's not the kind of camera you have, but the eye behind the lens that determines how great a photographer you are.
To Get Close Ups, Get Up Close
While zooming technology is improving by the day, you should not always rely on it when you want a close up shot. More often than not, the clarity and detail that you can get from actually getting close to your subject can give you an effect which no amount of zoom can expect to capture. The curve of someone's eye, the wrinkles and contours of a face, even the intricate venation on leaves can be best captured when you are actually in close proximity to your object of focus.
Of course, don't get close to a lion when you are photographing wildlife!
Be Manual
It can be tempting to shoot in Automatic mode. You don't have to worry about shutter speed, aperture and lighting…just point and shoot, right? But as an amateur it is best if you drop the automatic route and go manual. Apart from the fact that this will force you to learn about the different settings of your camera, it will also help nurture a sense of how light is perceived by the lens.
Let's face it, photography is basically the art and science of capturing light, and unless you develop a sense of the Exposure Triangle i.e. Aperture, Shutter Speed and ISO, you may find it difficult to lend individuality to your shots.
So, let go of automatic, and embrace the manual.
Find Your Niche
Just as with everything, when starting out with photography you should have a clear idea of your subject of choice. You may begin by shooting anything in general, but eventually you will realize that some subjects lend themselves to your shots better than other. So, experiment with different forms, shoot nature, cityscapes or even still life to get a sense of what form of photography works best for you.
Be Prepared for a Lifestyle Change
Photography can bring about many changes to your lifestyle. For starters, you are always going to be carrying your equipment around, because you never know when that wonderful shot will jump before your eyes. Also, as you get more involved in the process, getting up at the crack of dawn or staying up late to capture scenes will become more common. You may find yourself spending hours planning to put that expert shot together.
Be aware of these changes and plan in advance so that you can make the transition smoothly.
Patience is Paramount
One of the most important qualities that you need to cultivate as a photographer is patience. Patience is the one thing that sets apart a good photographer from the rest. If you can wait for hours on end to click the shutter at just that perfect moment, then you are already way ahead of those who can't.
See the Big Picture
When you are taking a shot, don't put all your attention on your subject only. Take a look at the surroundings; feel the light, get the lay of the land. Think how you can use the environment to enhance the impact of your shot. Every picture tells a story, so be certain about what you want to convey with your shot and use all the available elements accordingly to get that impeccable frame that you want.
Learn from The Pros
As an amateur photographer one of the biggest mistakes you can make is ignoring the works of those who came before you. Following the works of the masters will provide you with the best inspiration that you need to go forward in your journey as a photographer. Study their shots, learn from their techniques and experimentation, and think how you can use the same in your photographic ventures.
Master Post Processing
Photography doesn't stop when you click the shutter, rather begins. Post processing your shots to get that ideal feel is just as important. So, get used to using editing software and tools, as these are bound to be important additions to your arsenal.
And Finally…
Shoot as much as you can. Remember, practice makes perfect, and this is especially true for photography. The more you shoot, the more you will get a hang of the different techniques and nuances which will take you from amateur to pro.