It is obvious that photography is something like art. For this reason, your presentation should be memorable and impressive. Your online-portfolio allows introducing your photography skills to others.
Many potential clients will check out your page to understand whether they should trust you.
They want to know with whom you have already worked and look through your results.
What happens if they do not find you on the web?
What happens if they do but your portfolio does not make them inspired?
Unfortunately, they will not opt for your services. Nowadays, you can forget about such a situation using some stunning photography themes and plugins.
Today, you have a chance to grab the best template websites and plugins.
Avoid the problems connected with website-building and grab something to your taste…
WordPress Themes
Melissa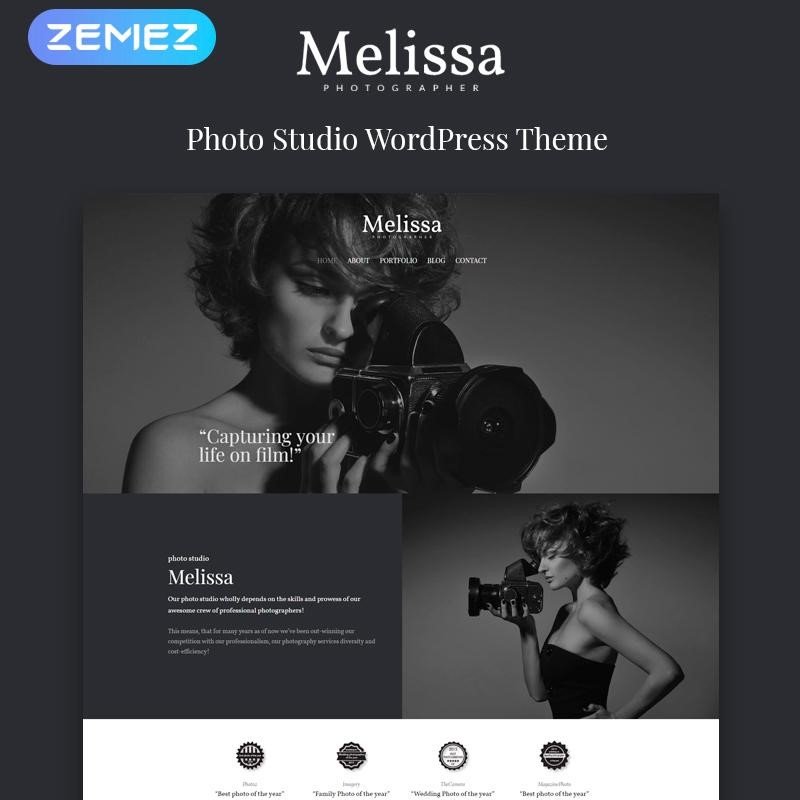 It does not matter if photography is your hobby or business.
This black-and-white top web template allows setting up a visually-attractive and effective website.
It brings together all the necessary tools you might need.
There are many pre-made pages you can take advantage of. These include a portfolio, blog, contacts, testimonials, and others.
The package also includes a user-friendly Elementor Page Builder, bonus images, and commenting system.
Catch Co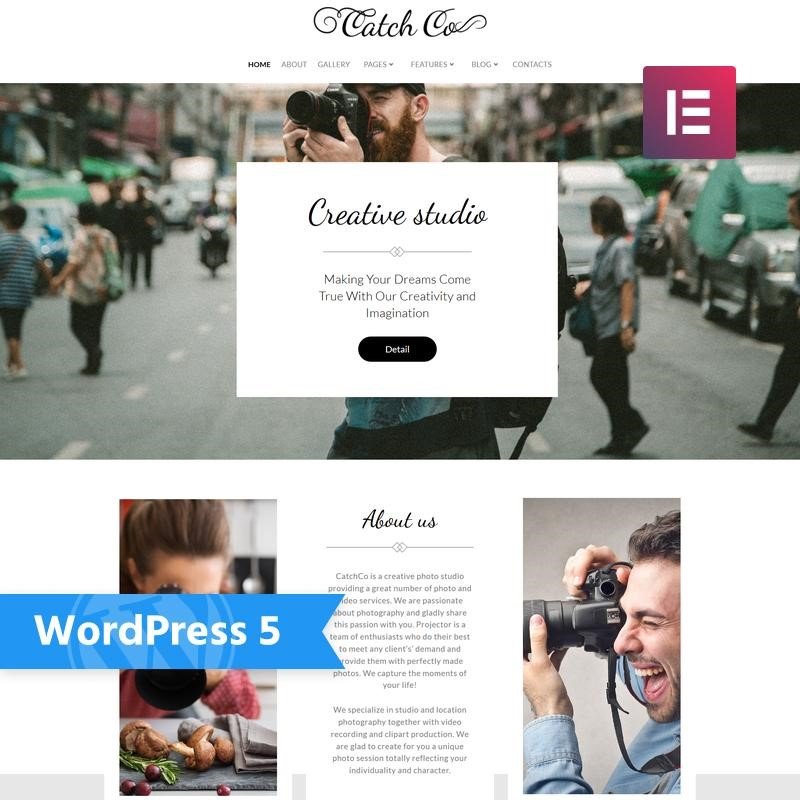 Do you want to style your WordPress photography website with sophistication?
In this case, you need a specialized tool that will assist you in such a task.
This minimalist WordPress photography theme is suitable for people of different skill levels and goals.
It allows informing your core audience about your studio and its services. You are free to highlight its main values and specialization.
In addition to this, there is a mega-menu, footer variations, and blog layouts.
By the way, do not forget to check out these 30 photography blogs you must follow as a photographer.
Worly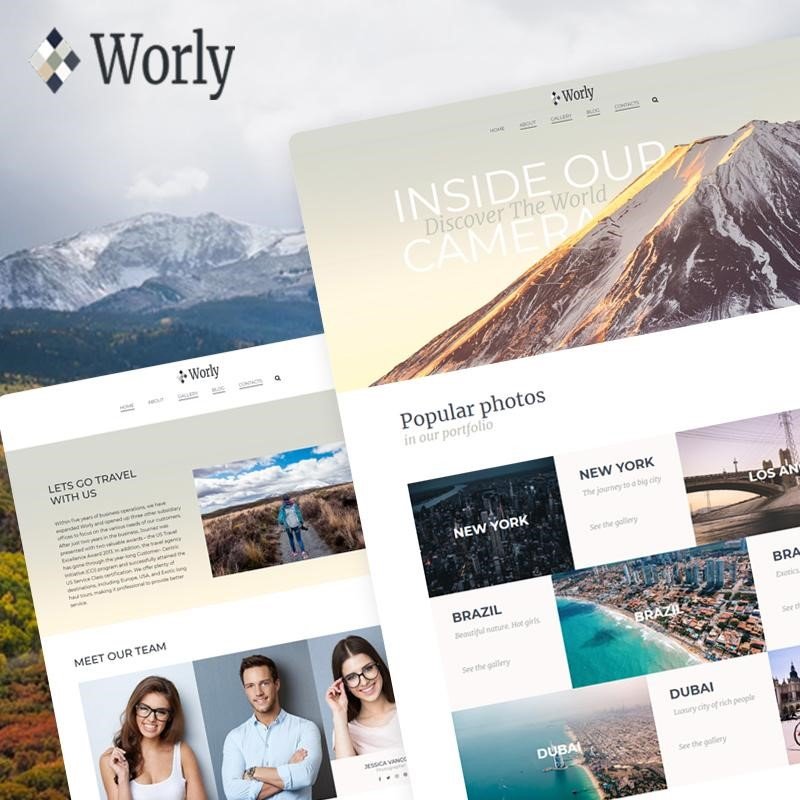 A highly-customizable theme that makes it possible to impress your viewers with incredible creativity.
You can emphasize all the necessary information about your services and main projects.
It is possible to select from various components included in the package.
There are seven headers, three footers, and four blog layouts.
There is an easy-to-use Elementor Page Builder that allows experiencing a comfortable website-building process.
Soulym
Another elegant WordPress photography theme that can be called a great way to express your passion for photography.
This up-to-date tool allows putting your online-project together in a flash.
You will be able to customize every single element according to your needs.
A popular Elementor Page Builder will make everything in the right way.
You can also share details about your studio, team members, services, and their main benefits.
Tommy Artistico
An ultimate tool that allows taking a balance between attractiveness and focus on your images.
The photography itself will do the talking.
This modern theme will showcase your works to a wider audience and attract more clients.
There are many options that will assist you in demonstrating your services in a professionally-looking way.
As an example, you will get a contact form, newsletter subscription, social options, and Google Fonts.
Patrick
Do you want to advertise yourself as a talented photographer?
Take a look at this original theme that allows building an amazing WordPress photography website.
It has many customization options that will give you the ability to meet the desired content and design.
You are free to add your awards and experience descriptions without any effort.
Furthermore, it is possible to use social sharing buttons.
This means your visitors will be able to share your best projects.
WordPress Plugins
JetParallax
Do you want to apply the Parallax effect to your backgrounds and other sections?
Take advantage of this creative plugin that allows creating a multi-layered Parallax effect.
It is possible to choose from various behavior triggers, speed, animation effects, and custom positioning.
Moreover, there are many extra settings that do not require any coding knowledge from you.
By the way, it is possible to find out more about how to create an impressive online-portfolio.
JetMenu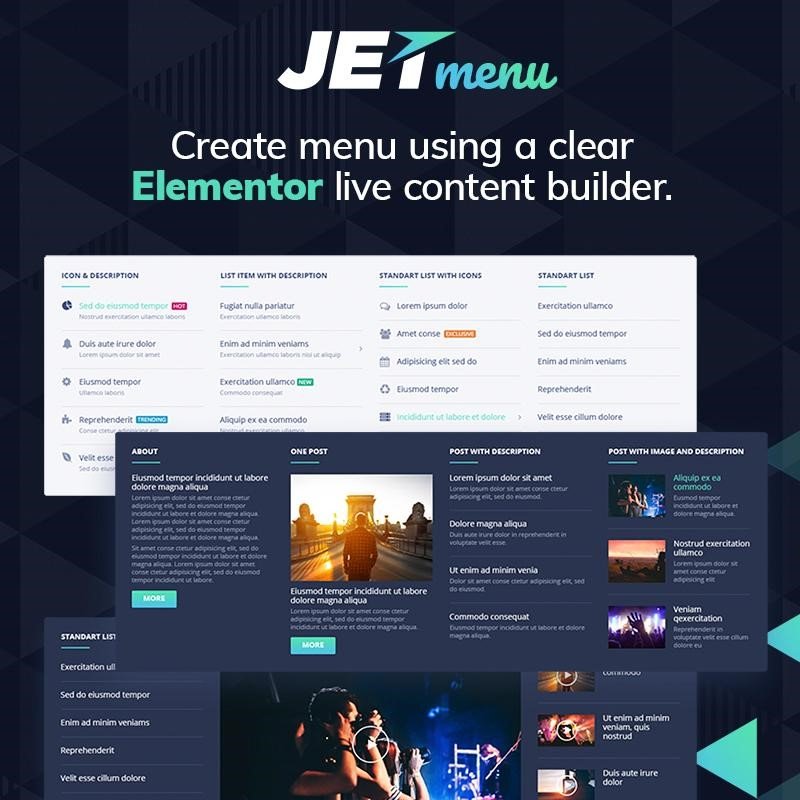 What about using a highly-functional plugin to make navigation easier for your visitors?
You can pay your attention to this variant that will not limit your imagination.
You are free to style menus according to your needs and vision.
There is a great selection of modules that will make everything easier.
There are many modern colors, exquisite badges, and customizable backgrounds.
Ely
It is an obvious necessity to provide your online-project with wonderful and well-organized galleries.
It will be perfect for you if you want to create a wedding photography website or product showcase.
There are many layouts you can choose from.
These include a justified, grid, full-width, and masonry variant.
You are also not unlimited by the number of galleries, albums, and images.
Animated Live Wall
One more marvelous plugin that allows creating an animated live wall.
It includes four well-structured layouts and an Instagram gallery. These include a grid, masonry, justify, and mosaic layout.
It is possible to use different animations for your gallery objects.
In such a way, your portfolio will differentiate itself from the bunch of others.
You can easily work with the speed and effects of the chosen animation.
Conclusion
Actually, there are many online-portfolios available on the web. Many talented photographers run them.
They publish a large number of publications that can easily impress the imagination.
Do you want to join them? Are you interested in growing your audience?
In this case, you cannot miss these wonderful photography WordPress themes and plugins.
It does not matter what kind of photography you like the most. It can be a love story or wedding photography.
You can take photos of nature or urban landscapes.
Anyway, there are many variants you can always turn to. We hope that it was not exhaustive for you to check out all of these ready-made solutions.
Go ahead and create something that will stand out from the crowd.