New Year 2020 is almost here. It's time to prepare for the holidays and come up with creative ways to wish your friends and loved ones. Therefore, After Effects Templates & Projects are an easy way to create New Year Countdown for celebrating the arrival of New Year.
This New Year is going to be special as 2020 is the start of a new decade.
With tons of customization and ease of use, It's time to grab the Best New Year Countdown After Effects Templates.
Things To Know Before Purchasing New Year Countdown After Effects Templates
Before you actually purchase any of the given New Year Countdown template, make sure that:
The template file is compatible with your version of Adobe After Effects.
Step-by-step tutorial videos or pdf guides are included to help you out with customizing the template.
Developer support should be provided in case you come across any bugs or issues.
Check whether you need any third party plugins or not.
Number of sales, rating and reviews should be good.
Best New Year Countdown Templates For After Effects
Although you can create your own basic countdown timer in After Effects. But for more professional look and style, we have curated a list of Top 10 New Year Countdown Templates below.
Particle Elements Countdown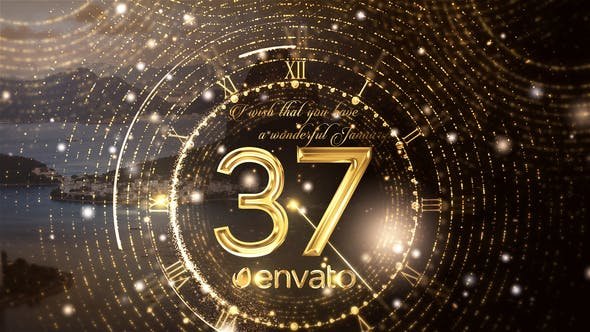 A unique 60 seconds countdown timer with shiny particle elements. This template is easy to customize and requires no third party plugins.
Gold Countdown
This is a stylish and inspirational Happy New Year 2020 Template for After Effects.
You just have to edit the layers and insert your logo in placeholders.
In addition, a step-by -step tutorial guide is also included.
New Year Countdown 2020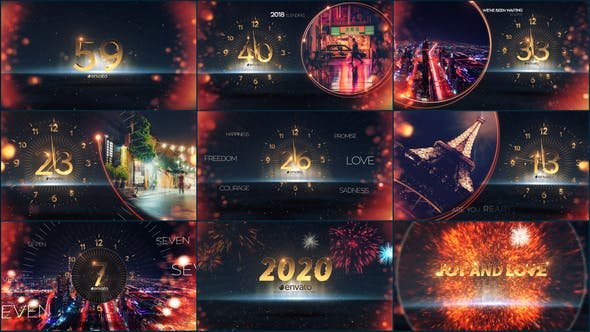 A modular, unique and cinematic style countdown timer AE template.
But to use the template, you need Trapcode Particular and Optical Flares. So make sure you have the necessary plugins before purchasing this template.
Midnight Party 2020
Celebrate the New Year 2020 with this personalized modern countdown clock.
Luxury design and modern atmosphere will give your unforgettable emotions for the last minute of this year.
Elegant Countdown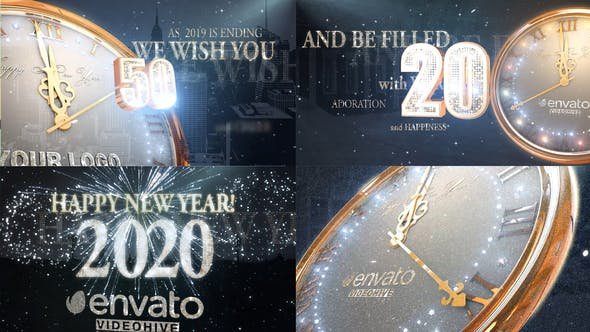 Amaze your friends and guests with this Elegant and Glamorous style template.
There are 7 media placeholders as well as 26 text holders. In addition to that, you will get 24/7 support and tutorial guides as well.
New Year Special
This After Effects template is perfect for both Christmas & New Year events. There are 20 media placeholders along with easy and fast color control system.
Cinematic New Year Countdown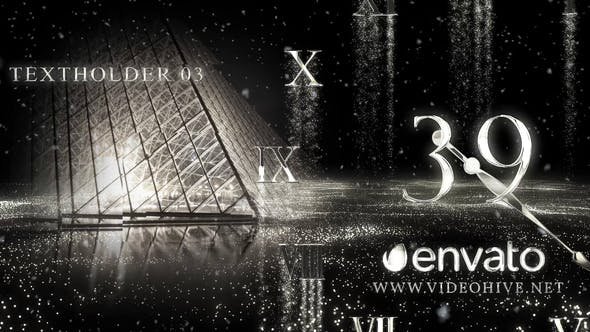 A golden clock counts down one minute before the New Year's change.
During the countdown, 12 Image holders are presented in parallax mode and just before the year change, 18 photos of good memories are revealed in Burst mode.
Fireworks and Shiny Celebration/Wish Texts are presented in the end of the video.
The project is fully editable. You can change the color of the clock numbers, clock hand, background terrain etc.
New Year & Christmas Card
This is a 2 in 1 template for both New Year and Christmas greetings. It requires no third party plugins, easy to edit and is powered by full color control system.
Eve Party
Energetic design and modern city night atmosphere will give you unforgettable emotions for the last minute of this Year!
Celebrate the 2020 New Year's Eve with a personalized modern and countdown clock.
Simple Countdown
This is a simple but elegant New Year After Effects template. You can use it for both Christmas and New Year.
New Year Countdown 2020 Templates On Envato
Envato's VideoHive features a great collection of New Year Countdown After Effects Templates.
Visit their website and look for New Year Countdown 2020 in the search results. There are 250+ templates to choose from.
Subscribe To Envato Elements
Envato Elements offers handpicked and premium templates for After Effects.
By subscribing to one of their monthly or annual plan, you can download unlimited templates for New Year as well as Christmas.
During their Cyber Monday sale, you can get Envato Elements monthly subscription for $33/m $19/m and yearly for just $198 $168.