Music copyright is complicated and to avoid claims on your videos, we have a list of 12 websites to download royalty free music for YouTube.
YouTube, as we know is a platform dedicated to video. Out of all the people who spend time on YouTube, some want a story, some want to have fun, and some want to learn something new.
It is not just a video-sharing website anymore, YouTube is about sharing and getting an experience.
High-quality video and music are the two most important elements of any engaging YouTube video. Choosing the right music won't transform you into a YouTube star overnight, but it will give you the tools to make better content.
Music, when combined with relevant video can help guide the audience and trigger certain responses.
IT'S HOW YOU TRANSFORM A GOOD VIDEO INTO A GREAT ONE!
Music can bring a sense of mystery to your travel videos, or add a playful tone to your daily vlogs. It's what generates excitement in movie trailers.
Bad music choice is a common mistake that YouTube content creators make, either because they didn't have access to a library of music or because they didn't understand the importance of it.
That's why you need to put some thought into your royalty-free music for YouTube.
If you want to build a successful YouTube channel, you need to make sure that everything you do adds to your content rather than distracts from it.
Music copyright is complicated.
As a creator, it's essential that the tracks you choose for YouTube videos have and will continue to have crystal clear rights. And now that you've got an idea of what not to do, let's look at some of the top websites to download royalty free music for YouTube.
PremiumBeat offers a huge collection of exclusive and high-quality music tracks for your media projects. This includes videos, films, apps, games, or any of your personal or commercial projects.
They have over 16,000 high-quality exclusive Sound Effects assets starting at $5/license as well as Ambisonics, making it the first 'METAVERSE READY' library.
The vast range of royalty-free music that PremiumBeat has in its library will never make you go away without finding the right tune you need.
On the website, you will be able to come across numerous unique genres and their sub-categories, including Country, Hip Hop, Pop, Classical, News, Rock, Dance, Corporate, and more.
PremiumBeat comes with a subscription fee that gives you direct and complete access to its entire Royalty Free music library.
Just choose the right license as per your requirements and you'll be good to go.
Experience high-quality music, simple licensing, and a commitment to world-class support with PremiumBeat royalty free music and SFX library.
---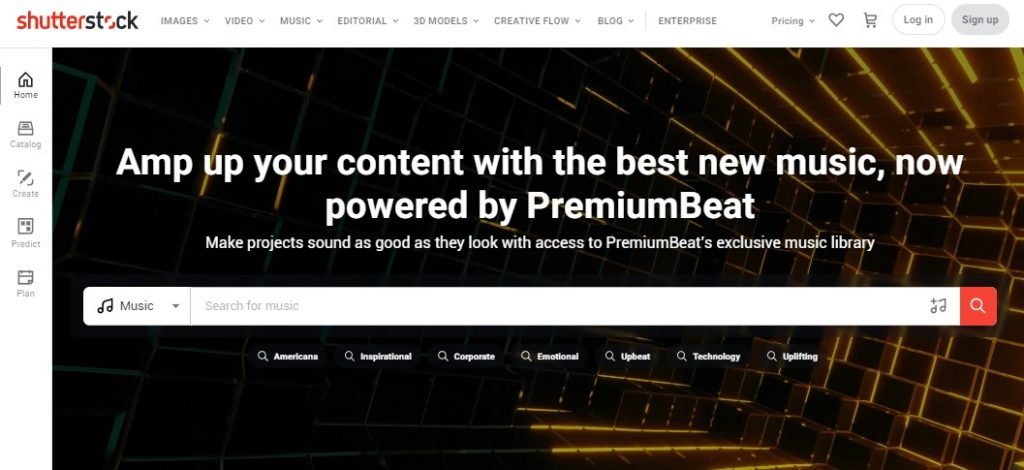 The Shutterstock Music Library is a collection of exclusive royalty free tracks that can be the perfect score for your video projects. From epic moods to pulsing hip-hop beats to funky soundtracks, this music library has it all.
Shutterstock Music makes it easy for users to discover new music by separating them into different categories and sub-categories. One can filter results through different genres, moods, or premade collections.
With an unlimited Shutterstock Music subscription, you could get unlimited music starting at $16.60/month including shorts and loops.
All tracks downloaded with the annual subscription come under their simplified Standard License, which covers web-based use -social media, websites, streaming platforms like YouTube, and more.
Other commercial uses like TV, radio, film, or apps aren't included. For this type of usage, you would need an Enhanced License.
---
Epidemic Sound is a library of over 35,000 royalty free music and 90,000 sound effects for YouTube videos, podcasts, social media, and other digital platforms.
Here you can search for music based on genre, mood, length, tempo, and vocals.
Epidemic Sound offers subscription plans with unlimited downloads and no copyright strike. That means you can monetize your videos as well without ever worrying about music licensing.
There is a 30 days trial as well that gives you access to the entire Epidemic Sound library for free.
The music you download and publish in your YouTube videos during the trial and active subscription period will be forever free from copyright claims. Even if you cancel the subscription.
Epidemic Sound is trusted by companies like T-Mobile, Microsoft, Twitter, Cheddar, and more.
---
Artlist is a catalog of high-quality music and original songs from the world's top indie artists for YouTube content creators.
With a monthly or annual subscription, you can use Artlist music in your projects or any platform without limitations. Once you opt-in for a subscription, you can download, cut, and edit the music in any way to suit your video projects.
By contractual agreement between Artlist and the artists, you have full rights to use the music, songs, or SFX in both personal and commercial projects.
Artlist is safe to use on YouTube, Facebook, Instagram, TikTok, Twitter, Vimeo, Twitch, or any other streaming/broadcasting platform.
---
At MixKit, you will discover astounding royalty free music for YouTube from a growing audio library that can be used in your personal and commercial video projects with no attribution.
You don't need to subscribe or sign-up to get access to MixKit's music library. Everything is free at no cost whatsoever.
MixKit Music is ideal to be used as free background music for videos and as free music for video editing. Other examples where you can use Mixkit's free audio tracks include YouTube, blogs, music videos, social media, and more.
---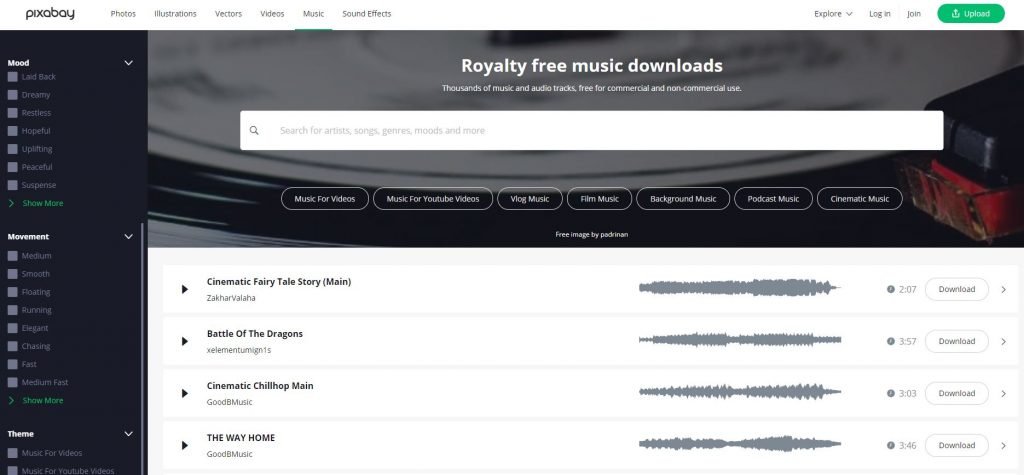 Pixabay Music is a website that offers royalty free music for YouTube content creators. It is completely free to use with no subscription costs.
It offers an extensive library of thousands of music and audio tracks, free for personal and commercial use. The website is very to use and offers various filter options to find the right music for your YouTube videos.
You can search for music based on genre, mood, duration, movement/tempo, as well as your video theme. All music and audio tracks can be downloaded in high-quality compressed MP3 format.
---
if you are looking for licensed songs for your YouTube videos, consider taking a look at Musicbed. With a monthly or annual subscription, you get access to thousands of songs by label-quality musicians and composers to fit your projects.
Finding the perfect song for your video project is super easy. You can use the advanced filters to search by BPM, build, length, vocals, lyrics, and much more.
You can license multiple versions of the same song and edit them together to create a unique track.
Musicbed also helps you out by offering suggestions and pitching music for your YouTube videos at no extra cost.
"The Musicbed team has helped me find songs that match the vibe that I'm looking for perfectly. It has saved me hours on projects", says Ezra Cohen, an indie Filmmaker.
---
Envato's very own AudioJungle marketplace offers more than a million royalty-free music and audio tracks produced by musicians and sound engineers.
AudioJungle music is carefully reviewed one by one to make sure they meet high-quality standards. From motivational tracks and sound effects to music kits, you're always sure to find top-quality music to make your YouTube videos sound right.
You can purchase individual music and audio tracks from AudioJungle. For unlimited downloads, you can opt-in for Envato Elements monthly or annual subscription.
---
Royalty free Music – No Copyright Music or simply RFM – NCM is a YouTube channel that regularly uploads royalty-free music for YouTube creators.
The channel is filled with a variety of high-quality music for all kinds of video projects. You can use an online YouTube to MP3 converter to convert these videos into downloadable MP3 files.
Also, you are free to use RFM – NCM music and tracks in any of your YouTube videos and monetize them as well.
---
Chosic is a library of many awesome free instrumental royalty-free music for YouTube videos, vlogs, podcasts, and other media content.
All the music in the Chosic collection is under a creative commons license and public domain. That means you are free to use them in personal and commercial projects, at no cost whatsoever.
You can easily search for music with tags, mood, genre, or topic and download them instantly in high-quality MP3 format.
---
HookSounds is a highly curated collection of exclusive royalty-free music, produced by artists for the artists.
All music on HookShounds is free from copyrights so you can download and use them for YouTube and other purposes. It has grown gradually to become the first stock music website owned and operated by artists.
Each of the HookSounds music tracks and sound effects is original and unique.
If you find yourself looking for the perfect royalty-free music for YouTube, feel free to explore the HookSounds collection.
With a monthly or annual subscription, you get full access to unlimited music and sound effects for personal and commercial use.
---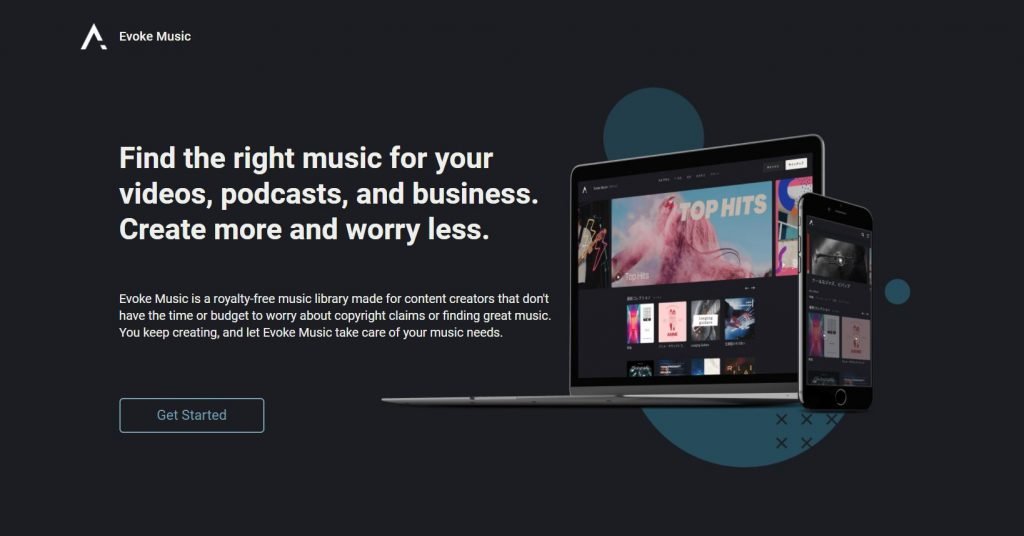 Evoke Music is a royalty free music library that is created with an artificial intelligence-powered songwriting assistant, Amadeus Code.
This website gives you the freedom and ease of finding the right music for your YouTube videos, podcasts, and business without worrying about copyright claims.
With Evoke Music's monthly or annual subscription, you can download unlimited royalty-free music for YouTube per day, keep 100% of ad revenue generated on YoTube, and much more.
AI-powered search allows you to simply search for music by keywords that explain what you, the creator are making, rather than having to describe how a piece of music sounds.
---