Adobe recently introduced .mogrt file extension which contains motion graphics templates created in Adobe After Effects for use in Adobe Premiere Pro.
This simplified the workflow by allowing Premiere Pro users to insert and edit text, shape, and other motion graphics elements directly into Premiere Pro.
Motion Graphics Template (.mogrt) are commonly known as Premiere Pro templates because they can only be opened and inserted in Premiere Pro.
Although these templates are created in After Effects, they cannot be opened by After Effects.
Converting After Effects templates into Motion Graphics Template (.mogrt) for Premiere Pro can speed up the workflow.
The editor can adjust the content in Premiere Pro without time-consuming back-and-forth between the applications.
How To Use MOGRT In Premiere Pro
Click the Install Motion Graphics Template button at the bottom of the Essential Graphics panel Browse tab, or choose Install Motion Graphics Template available from the Graphics menu.
This adds the Motion Graphics template to your Local Templates folder so that it is available for use across your Premiere Pro projects.
Top 20 Premiere Pro Templates Of 2021
Adobe introduced the Motion Graphics template with an aim to help Video editors eliminate the use of After Effects for creating Motion Graphics.
There are thousands of Premiere Pro templates available for video editors to purchase and install.
Premium and high-quality Premiere Pro templates are created by professional Motion Graphics studios and independent artists.
At videohive.net, you can purchase Premiere Pro templates ranging from broadcast packages, titles, infographics, logos, promos, and much more.
1. SEAMLESS TRANSITIONS
With over 1000+ transitions and other presets.
This Premiere Pro transitions pack is an all-in-one package.
5-star rating with more than 13,000 happy customers, seamless transitions pack is a one-stop solution to all your transition needs.
2. 500 HANDY TRANSITIONS FOR PREMIERE PRO
With 250+ sales in a week, 500 Handy Transitions is one of the best and trending Premiere Pro template on Videohive.
Fast preset previews make it convenient to choose a suitable preset.
Select a suitable preset and drag it into your sequence.
3. CINEPUNCH – 6000+ ELEMENTS
700 color presets, 2300 sound fx, 500+ transitions and 9500+ elements in total.
Cinepunch is the most massive ALL-IN-ONE motion design bundle on the internet.
It is a library of tools for video editing and animation.
The idea behind CINEPUNCH was to give Video Creators a Massive Library of FX Elements that constantly Grows by adding New Packs & Tools for free.
4. 2100 All-In-One Transitions
Over 1400 Professional Seamless Transitions for Premiere Pro Transitions Library.
Contains more than 1200 ready-to-use presents that can help you make your unique video on a professional level.
Glitch, Panoramic, Roll, Twist, Glass, Light Leaks, Offset, Shake, Stretch, Split, Optics, Zoom, and many other.
Every category contains different elements and creates a unique stylish look.
Apply a preset in one click just by the drag-and-drop method.
5. YouTube Essential Library
YouTube Essential Library contains more than 100 elements and makes your content look more professional!
You can use it with Adobe Premiere Pro Essential Graphics or Adobe After Effects!
All parameters could be edited in a few minutes.
Adjust colors so it matches your identity and all that is left for you is to shoot your video!
It's a good chance for any vlogger to make their YouTube channel more stylish and beautiful.
This YouTube design pack will save your time so you can focus on the content!
6. Cinematic Looks and Color Correction Pack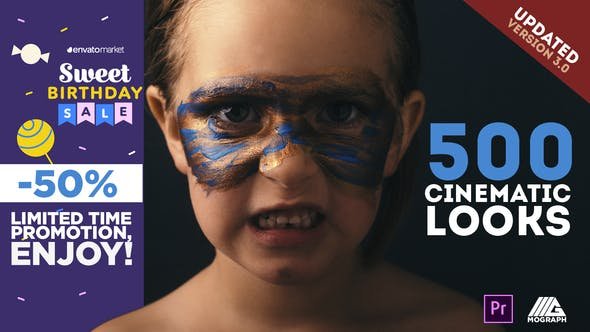 Make amazing cinematic files that look stunning with 500 cinematic looks and a color correction pack for Adobe Premiere Pro.
This pack contains 111 cinematic looks, 20 black and white looks, 30 colorful looks, 40 drone looks, 100 generic log looks, 15 Instagram looks, 5 old movie looks, and much more.
7. Auto Resizing Titles and Lower Thirds
This is the first self-resizing pack with complex, various shapes and animations.
Just write your text and this toolkit will resize everything automatically.
Pack contains 70 titles and lower thirds and is available in 4K and HD resolution.
8. 1500+ Modern Transitions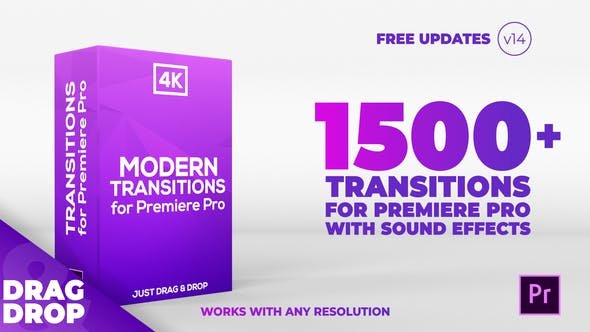 Only for Adobe Premiere Pro, this package offers more than 1500 transitions with a sound effect for each and every transition.
Choose the right transition with an HTML preview gallery.
Projects are separated for each category.
You can even preview all the transitions and listen to all the sound effects before purchasing this product.
9. 120 Text Animations For Premiere Pro
This project file offers 120 text animations in .mogrt format that are easy to customize.
Stunning typography package in 4K with color, text, position, and scale controllers.
10. 900 Filmmaking Presets For Premiere Pro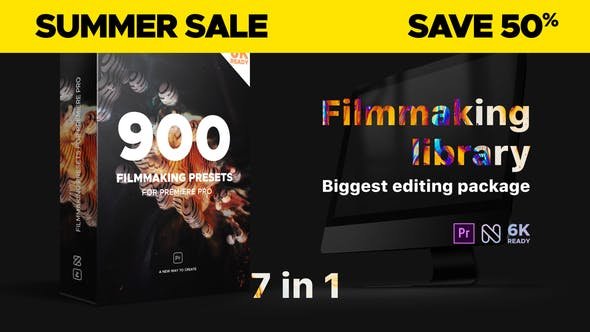 Filmmaking Library contains more than 870 ready-to-use presents which can help you make your unique video on a professional level.
Glitch, Panoramic, Roll, Twist, Glass, Light Leaks, Offset, Shake, Stretch, Split, Mirror, Color Correction, RGB, Transitions, Strobe FX, Text titles, Backgrounds Optics, Zoom and many others.
Every category contains different elements and creates a unique stylish look. Apply a preset in one click just by the drag-and-drop method.
11. Dope Transitions
We present you the newest pack for Premiere Pro CC 2018 and above, the "Dope Transitions" Pack! Modern, easy to use, and ready to give the professional boost you were looking for!
12. Transitions Presets Pack
Transitions Presets Package – a comprehensive professional tool for creating high-quality video effects with new working standards for Adobe Premiere Pro CC 2018 ver.12.1.0 and higher.
Get Incredible results with more than 1800 transitions and effects, 3500 presets in 70 visual styles for standard and 360-degree videos, photos, titles, or logos.
Unlimited possibilities for creating promo, intro, openers, social media videos, advertising, fashion, broadcast, and editing work of any complexity.
13. YouTube Library
A personal library of eye-catching animations to help make your YouTube channel unique.
You can edit it with Adobe Premiere Pro Essential Graphics Panel or Adobe After Effects.
Simply add your footage, change colors, text and that's all.
14. Premium Builder Motion Pack For Premiere Pro
Premium Builder motion pack is the biggest library in the market with 2000+ elements from 10 categories and 100 subcategories.
The main features of this product are 4K resolution Premiere Pro Mogrt files, color controls, easy-to-follow tutorials, fully editable vector graphics, frequent updates, and fast & free 24/7 support.
15. Massive V2 – Titles Pack
Massive titles pack is designed to be big and bold, to be an eye-catcher for your audience.
It is a clean and well-balanced collection of titles, created to work fast and easy right inside Premiere Pro
16. 600+ Pack: Transitions, Light Leaks, Color Presets & Sound FX
Over 600+ Premiere Pro transitions for any video project.
Make your videos visually interesting and amazing quickly, conveniently, and effortlessly!
17. Modern Openers Pack For Premiere Pro
Modern Openers Pack is a wonderful Premiere Pro template that contains 12 different openers.
Impress your audience with these quick, clean, and energetically animated openers.
18.

1200+ Handy Seamless Transitions For After Effects
Lift your travel videos to the next level!
Add to your video editing tools these super cool Target-Zoom and Pan transitions!
19. Video Assets Pack: Transitions, Titles & Sound FX
A huge Premiere Pro pack with more than 400 creative assets
Transitions, animated titles, sound FX, light leaks, geometric shapes, glitch effects, animated backgrounds, light and particle effects, animated ribbons, and more.
Everything you need is just in one toolkit!
20. 700+ Seamless Transitions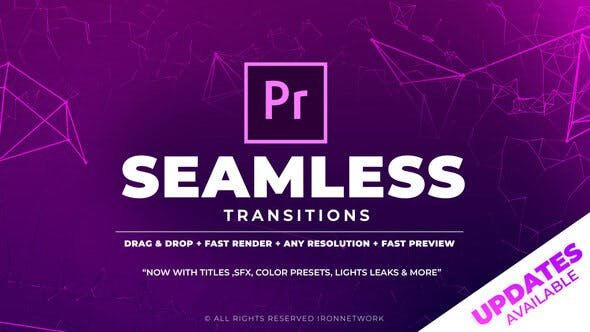 Make your videos visually interested and appealing with 700 + drag and drop transitions, slideshows, video editing tools like camera zoom and pan.