Learn how to use Text Animation in After Effects to create Typing Effect where it looks like someone is typing in real-time.
Typing Effect is a very common effect, though it can be tricky when it comes to creating it in After Effects.
Earlier, during experimentation with the software, I came up with a method that can be used to create text animation where it looks like someone is actually typing the text in real-time.
Though there are various properties under text animation in After Effects for creating this particular effect, I used the opacity property to reveal the characters one by one.
With one-line sentences, this task can be accomplished using an animated mask but it becomes tricky if you have multiple lines or paragraphs.
When I first used this effect, my typing animation was very smooth which looks a bit fake, but with some more adjustments and tweaking, I managed to decrease the overall smoothness by adding pauses between the spaces of each word.
Also, check out:
How To Create Text Animation In After Effects
Once you have your composition set up and text in place. Click on the small drop-down arrow on your text layer.



Now click on the small animate button. From the list, click on Opacity. This will add opacity animation properties to your Text layer.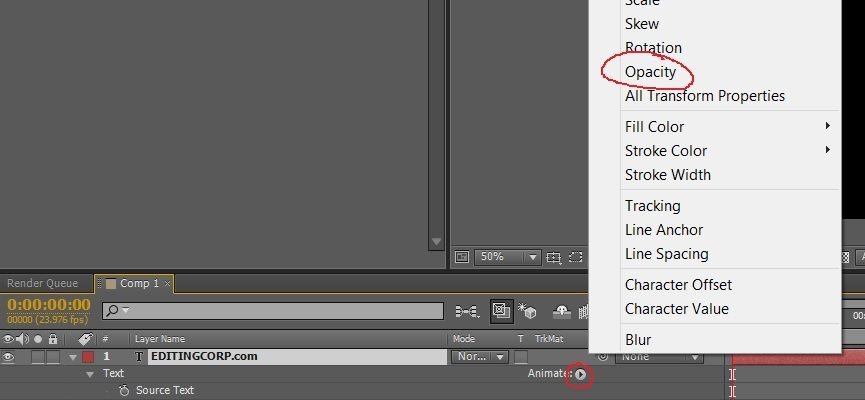 Decrease the opacity to 0% and open up the Range Selector settings by clicking the drop-down button.


Now under Range Selector, increase the start value to 100% and decrease the End value to 0%. We will use the End value to control our typing animation.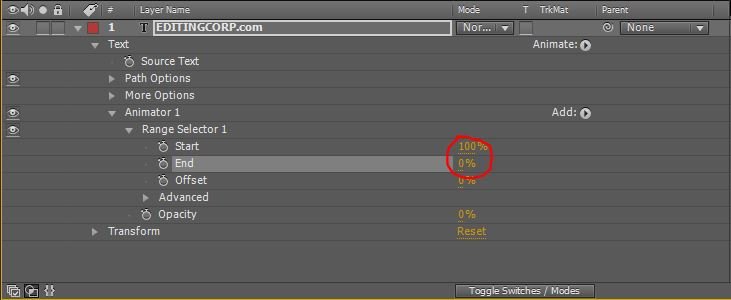 Now, click on the Stopwatch icon at the End Value, this will add a keyframe at your current timeline slider position.
Now move a few frames forward and then increase the End Value to 100%.
You can increase or decrease the distance of two keyframes to slow out or speed out the animation respectively.


Now, use your timeline slider to check if the animation is working or not.
How To Add Pauses Between Each Word
In order to add pauses between each and every word, all we have to do is decrease the overall smoothness of the animation.
To do so,
Open up the advanced settings by clicking on the small Drop Down button, Under Advanced settings, you will see various parameters, but our main interest is the smoothness percentage.


Decrease the smoothness amount to around 30%-40% or change it according to your need.
Now when you RAM Preview the composition, you will notice that the animation looks much more relativistic.
Well, this effect is really simple to create once you are familiar with the basic settings of text animation.
With a keyboard keystrokes sound effect in the background, it really looks cool.
---