Video Library is an ultimate package of a 1000 ready-made scenes and presets for any photo or video content.
Video Library contains more than 250 ready to use presets and 1000 elements from 12 different categories which can help you make your unique video on a professional level.
Stop wasting hours and hours or routine work.
Just open Video Library, add scenes in one click and your slideshow is ready.
Fast switch between categories & extension and create beautiful slideshows instantly.
Just change presets with quick navigation to open a new style of your video.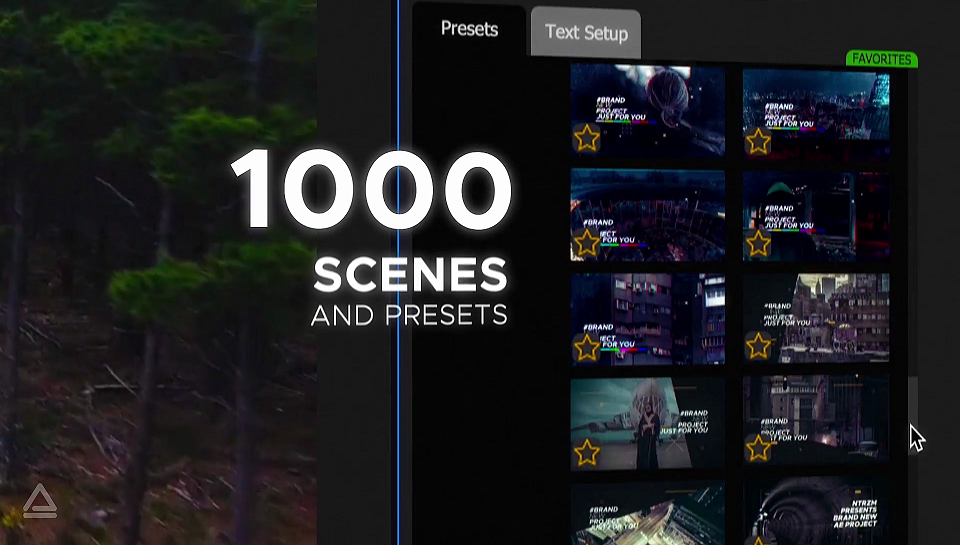 12 categories of presets will help you create a slideshow for cases.
If you need to promote your company or service, use BUSINESS PRESETS.
Surprise your colleagues and clients by your cool presentation.
Show to friends how cool you are with EXTREME PRESETS.
The VINTAGE category will help you to save your memories.
Other categories include Glitch, Grunge, Unk Smudge, Letters, Modern, Showreel, Sport, and Urban.
A lot of styles and elements for different uses will help you promote your vlog, make a professional slideshow and capture the views of thousands of people.
Just see how boring it looks without presets and how awesome with it.
Video Library is really easy to use because it includes a great panel toolkit with a friendly interface.
With Video Library, you will also get new presets free every month.
Essential Features
Over 1000 elements & presets for any media content.
Easy for beginners – applying a preset in one click.
No holders needed – presets work through adjustment layers.
Animation Studio extension included.
Supported 4K resolution.
Change preset in one click.
Apply 1,2 or 3 presets at the same time to get a unique design.
Easily change the duration of preset.
Doesn't require advanced skills in After Effects
Recommendations For Using Video Library
Video Library toolkit is perfect for creating a unique opener, slideshow, television show promo etc.
All presets contain all kinds of editable effects, animations and transitions.
It can be used for any type of video: wedding, vacation gallery, photo albums, anniversary, birthdays or other special events.
Combine several presets at the same time to create any style you want: minimal, clean, lovely, inspired, travel, corporate, business, elegant, Christmas, birthday, vacation, urban, glitch, sport, modern, vintage and many others.