Must have 30+ After Effects Templates that will help a Motion Designer take his/her creativity, as well as productivity to the next level.
The life of a Motion Designer is not easy. A Motion graphics artist is always under the pressure of completing the tasks in the given time frame.
Sometimes, it becomes difficult for an artist to meet the expectations of the clients looking for creative and unique content.
In such a situation, one needs access to special tools that can help deliver great content. Yet taking as little time as possible.
For a Motion Designer, these special tools can be After Effects Templates, After Effects Plugins, or After Effects Scripts.
There are numerous After Effects packages that will help a Mograph Artist save time and effort.
For instance, instead of creating typography from scratch, one can simply purchase a Typography template for After Effects and modify it.
Or purchase a transitions pack and create amazing transition effects in seconds.
Must-Have After Effects Templates For Pro Motion Designers
There are a few must-have After Effects templates that will help a Motion Designer take his/her creativity as well as productivity to the next level.
I highly recommend investing in all or a few of the below-mentioned templates.
They have worked wonders for me and they will work for you as well.
All templates are available with Regular License and Extended License or Tools License.
Regular License – Use, by you or one client, in a single end product which end users are not charged for.
Extended License – Use, by you or one client, in a single end product which end users can be charged for.
Tools License – Single user, to create unlimited end products.
1. Create Pack
Create Pack for After Effects is the biggest element Pack in the entire market. There are more than 3,600 elements ready to use with just one click. As a bonus, you can create over 12,000 animated emojis. Save your money, all you need is only one product.
---
2. Infinity Tool – Greatest Pack For Video Creators
Infinity Tool is a grand set of united tools for Adobe Premiere and After Effects with no finish line set in mind. The infinite bank of templates provided will stay fresh at all times and any content creator can take advantage of using that.
---
3.

300 Color Grading Filters
Color grading is arguably one of the most effective ways to tweak your content to make it more impactful after shooting it. It looks great on photographs, footage, or any type of motion work.
You are missing out on quite a lot if you aren't applying color grading to your work yet. Improve and elevate your work from good to absolutely brilliant with this Color Grading After Effects template.
With more than 300 dynamic color grading filters you can improve your video blogs, films, trailers, music videos, presentations, explainer videos, motion graphics, and virtually any other type of project to deliver an even more powerful impact.
This is an enormous library of color grading filters complete with everything you need to make your footage look impressive. The color grading process offers you a combination of automation and control giving you the freedom to try out new colors and adjust them according to your preferences if needed.
You can even take things a step further by trying out accurate simulations of film stocks, VHS looks, and other special effects that will add some "extra" to ordinary content.
You can also use these filters to automatically give your footage a professional look that mirrors Indie or Hollywood movies. With color grading and effects, your footage can instantly have cinematic contrast and sophisticated color palettes of big-budget movies.
Purchase this template today for a stunning and colorful promo.
---
4.

Pixity Land – Character Explainer Toolkit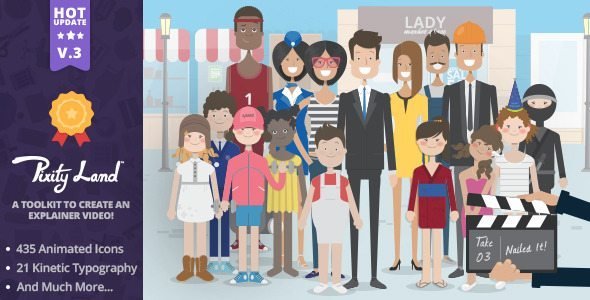 Pixity Land is an After Effects template that makes a life of a motion designer easier. The main idea was to create a video explainer template that can be used & customized easily by everyone with even basic knowledge of After Effects.
Pixity Land is an explainer After Effects template toolkit with more than 500 elements to create explainer animations and videos easily. You can create your own characters, and scenes, combine all the elements and even change the colors to make your own unique video presentation.
It's an explainer toolkit with a lot of elements.
---
5. 1450 Graphic Elements Pack
1450+ ready-to-use graphic elements that are simple and easy to edit. Supports resolution up to 4K and is both After Effects and Premiere Pro compatible. Sound FX is included as well.
---
6. Instagram Stories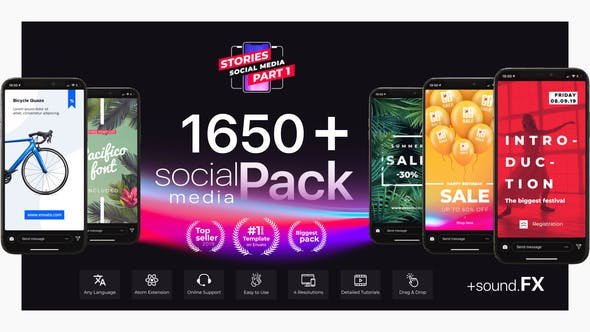 1650+ ready-to-use graphic elements for Instagram and other social media platforms. Ready for Facebook covers Youtube Bumper Ads, Instagram stories, and much more.
---
7. TypoKing Title Animation
The most powerful animated typography pack since 2015 features 27 different categories of typographies and titles. Compatible with both After Effects & Premiere Pro, using it is as easy as pie!
---
8. Photomotion X – Biggest Photo Animation Toolkit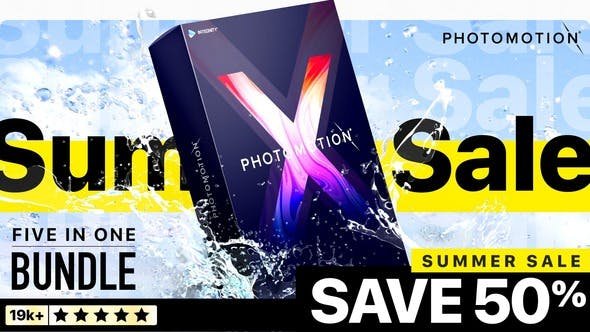 Photomotion helps Motion Designers turn static 2D images into photorealistic 3D animations. There is a lot going on behind the scenes when you use Photo Motion. Hundreds of intelligent features such as auto focus, depth of field, reflections, and more are implemented out of the box.
Photomotion X 10.2 brings more than 25 features into the market-leading photo animation toolkit, allowing you to create more engaging photo animations than ever.
When you purchase this After Effects project, you are not only getting this awesome tool, but you also get 100+ assets like Lower Thirds, Instagram filters, Logo reveals, transitions, Light leaks, particles, digital glitches, and more to enhance your video.
Photomotion for After Effects is trusted by over 5400 customers and is updated regularly with new tools and features.
---
9. Flash FX Pro – Animation Constructor
This project was created to blow your mind and boost your workflow to the next level. Make your work faster and devote more time to creativity. Flash FX pro is a must-have product for motion designers, filmmakers, vloggers, and everyone who wants to impress the audience.
Make your next project more dynamic and exciting even if you are a beginner in After Effects.
---
10. Seamless Transitions
Seamless transitions is a pack of 1800+ unique transitions for After Effects and Premiere Pro. This transitions library contains all types of ready-to-use effects from different categories.
---
11. Pretty Sweet – 2D Animation Toolkit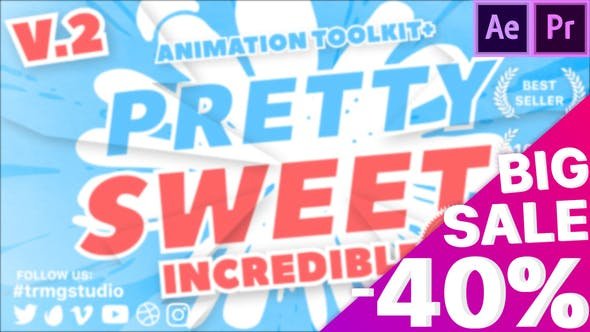 Pretty Sweet is not just another After Effects template but an incredibly powerful animation builder. It's a 2D animation toolkit that includes 300+ animated items, 100+ transitions, 40 titles, 5 lower thirds, 8 logo reveals, a blob tool, sketcher, sound effects, and more.
The project file is very easy to use and does not require any special After Effects skills.
---
12. Lava – Motion Graphics Library
Use Lava After Effects project on TV, social and corporate media for making broadcast packs and series of animated posters, stories, and covers.
It's focused on communicative design in one style: bright color combinations, simple shapes, clean typography, and compositions fit for any resolution and frame orientation to provide a better user experience on any modern device.
---
13. Explainer Video Toolkit 4
Explainer Video Toolkit 4 is the result of months of research on rigging characters and 5 years of experience with making explainer videos. The top priorities of the template were simplicity, low system requirements, and flexibility.
The design of the template is made to keep pace with the latest graphic design trends so you can buy more illustrations and elements from any seller on any marketplace and combine them with Explainer Video Toolkit 4 elements seamlessly.
---
14. 600+ Seamless Transitions
Easily make your next video more dynamic and exciting by using these seamless multipurpose and trendy transitions. Simply put the transition you like on top of your footage and let the template do its magic in a single click!
Transitions also work with Adobe Premiere Pro via After Effects, using Adobe Dynamic Link.
---
15. Character Animation Explainer Toolkit
The Character Animation Explainer Toolkit is a revolutionary product. Design characters, pick animations & create explainer videos right inside After Effects.
Thousands of features, refined over more than a year of research. Over 30 pre-made characters included. Start from any of the included characters and customize to build your own!
---
16. Particle Builder
With the particle generate elemental pack, you can create fire, dust, magic, smoke, sparkle, flames, or glass particles in the fastest and easiest way possible.
Give life to your still images with the brush tool and create different broadcast packages, title sequences, logo reveals, or photo slideshows. It works on pictures, texts, videos, and more.
---
17. Isometric Flat World
Isometric Flat World contains more than 500 elements and pre-made scenes. This project will help you to create your own isometric scene, room, floor, etc. All scenes are ready to use, just pick up the needed from a huge library, and construct your own story.
---
18. 1600 Handy Transitions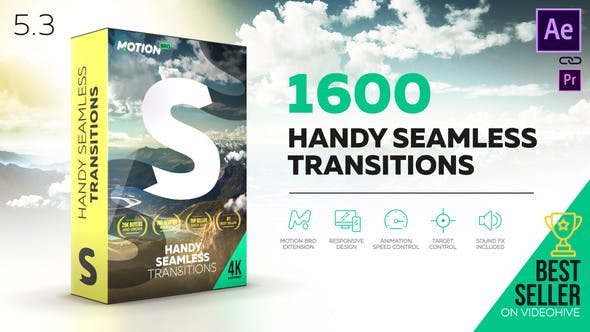 Over 1600 dynamic After Effects transitions for any video project! Make your video visually interesting and amazing quickly, conveniently, and effortlessly!
Slideshow, trailer, promo, music clip, broadcast, movie, documentary film, or presentation – your project will be far more fascinating, dizzying, and professional! Lift your videos to the next level!
Add to your video editing tools these super cool Target-Zoom and Pan transitions!
---
19. VoluMax – 3D Photo Animator
Tried and tested by us for a month, VoluMax Pro – 3D Photo Animator for After Effects is simply the best toolkit on the market to turn your pictures into impressive 3D animations.
---
20. 450+ Instagram Stories
Instagram Stories contains more than 450 elements and stories that help you quickly create stunning posts and stories for your Instagram. The package contains 120 unique designs, prepared in three resolutions – vertical, portrait, and square. Create your story in minutes by simply choosing the style you like.
---
21. Mosaic Photo Animation Pro 2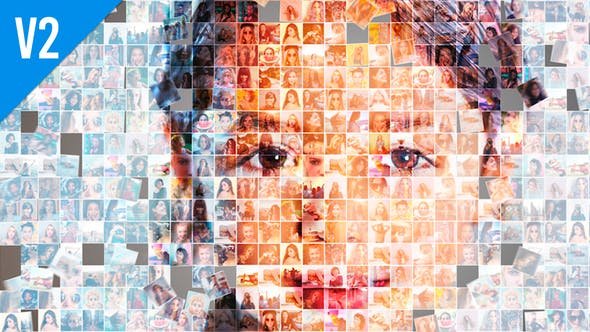 Mosaic Photo Animation Pro version 2 lets you create more than 18 mosaic animations with 110 photo or video placeholders. Drag and drop controls that are easy to customize. No third-party plugins are needed.
---
22. Story Now – Explainer Toolkit
Another character animation explainer toolkit in our list of must-have After Effects templates for Motion Designers. With over 50 pre-made characters (20 Male, 20 Female, 10 Kids) and 60 pose animations, this After Effects project has it all.
Also included in this pack are 2500+ components, 50 backgrounds, 100 transitions, 300 motion typography, 48 design concepts, 32 logo animations, 40 icon words, 1400 animations icons, and much more.
---
23. Instagram Library – Stories Preset Package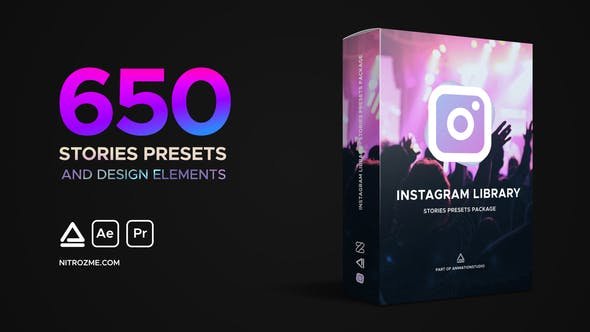 Over 400 professional Stories Design Presets and elements Video Library contains more than 150 ready-to-use presents and 400 elements from 10 different categories which can help you make your unique video on a professional level.
Colorful, Corporate, Extreme, Glitch, Grunge, Ink Smudge, Letters, Modern, Showreel, Sport, Urban, Vintage. Every category contains different elements and creates a unique stylish look.
Apply a preset in one click, change text, and use Control Panel to change effects and colors. We will frequently update Instagram Library and add more categories, presets, and elements.
---
24. Video Library – Video Presets Package
Video Library is an ultimate package of 1700 ready-made scenes and presets for any photo or video content. It contains more than 250 ready-to-use presets and 1000 elements from 12 different categories which can help you make your unique video on a professional level.
12 categories of presets will help you create a slideshow for cases. If you need to promote your company or service, use BUSINESS PRESETS. Surprise your colleagues and clients with your cool presentation. Show to friends how cool you are with EXTREME PRESETS.
The VINTAGE category will help you to save your memories. Other categories include Glitch, Grunge, Unk Smudge, Letters, Modern, Showreel, Sport, and Urban.
A lot of styles and elements for different uses will help you promote your vlog, make a professional slideshow and capture the views of thousands of people.
---
25. Earth Zoom Toolkit Pro
Earth Zoom Toolkit Pro is a professional Adobe After Effects toolkit for creating breathtaking 4K Earth Zooms with a couple of clicks! Choose up to 4 locations per render and if you want more, the project is loopable so you can render as many videos as you want, just stitch them together.
Earth Zoom Toolkit Pro includes 10K Earth Textures, 6 Sci-Fi Environments, 17 Animated Callbacks, and Earth Controls – allow you to completely change the look of the Earth.
---
26. 30 Simple Titles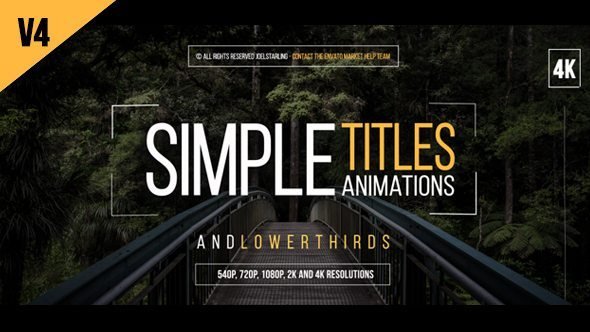 Want to create title animations in After Effects? This premium After Effects Template has 30 unique and original titles and lower thirds animations.
With over 1000+ happy customers, this project file offers several professional features such as a duration controller, universal expressions, well organized, and easy to customize.
---
27.

Hand Story Kit – Professional Explainer Builder
This After Effects package is a treasure of elements for making pro commercial videos. Show off your product, item, or service you got to offer with 65+ different scenes.
Features
Pro-Quality Images – High Sharp quality scene photos taken and retouched by specialists.
Photorealistic Scenes – Realistic feel is what makes this commercial-making tool so useful.
Duration Control – Duration control layer in each scene. Simply drag the layer to end the animation at the desired time.
Modular Scenes – Mix and match scenes you like. Edit duration in seconds with automatic transitions between scenes.
Universal Use – Crazy bunch of ways to use these scenes. Commercials, Openers, Logo reveals Explainers, Broadcasting Themes.
7+ Minutes of Animation – Scene length varies from 5s to 10s. This gives total time of 7+ minutes of pure entertainment.
---
28.

Minimalism 2
Minimalism 2 is the biggest title package of all time for After Effects. There are over 100 minimal, smooth, clean, and unique title animations in this pack. Minimalism 2 is highly customizable – change the text (logo), color, size, duration, background, and even animation just with a few clicks.
---
29.

Easy Vignette & Color Correction Pack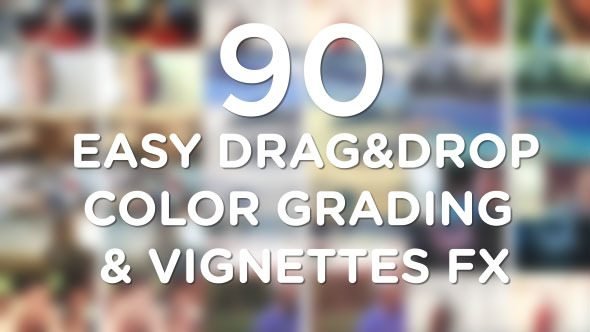 These are beautifully created color correction/grading presets and custom vignettes for your projects. This package includes 90 different high-quality drag and drop color presets.
The following categories are included in the Easy vignette and color correction pack – Cinematic, Vintage, Classic, Instagram, Cross process, Abstract, Modern, Retro, Futuristic, Wedding, Drama, Suspense, and Horror.
---
30.

1000+ Motion Presets For Animation Composer
A must-have pack for all the Motion Designers and After Effects users out there. 1000+ Motion Presets is a pack of presets for Animation Composer Plug-in, a free plug-in for After Effects
Since published, it became the #1 selling, most popular, and fastest selling After Effects motion preset on the internet. 7000+ Motion Designers have already purchased this pack.
---
31.

Animation Creator Toolbar
Animation Creator Toolbar was developed to optimize the workflow of Motion Designers. This toolbar allows you to quickly and easily animate your compositions.
Boost your workflow and create complex animations in seconds with Animation Creator for After Effects.
---
32.

Flat Animated Icons Library
Top selling Animated Icons Library which offers 750+ Animated Icons, 12 Hero Concepts, 32 Design Concepts, 20 Animated Backgrounds, 15 Cities, 196 Animated Country Maps with Capitals, 210 Animated World Flags, 16 Animated Infographics, 22 Animated Buildings, 12 Animated Destinations, 8 Animated Badges, 8 Animated Ribbons, 6 Animated Hashtags, 14 Hand Animations, 8 Animated bubbles, 20 Animated Texts, up to 7 Color Variation, 4 Shape Variation and Shape Animations.
So many elements in one single package. Sounds like an awesome deal.
---