The 7 best Rolling Suitcases for Photographers and Filmmakers are built for protection, durability, and worry-free transportation.
Rolling suitcases for Photographers and Filmmakers are designed to move mirrorless, DSLR, and cine cameras, as well as long lenses and lighting gear, to any location, through the strictest carry-on and travel regulations, and do it all without drawing unwanted attention.
Each and every rolling suitcase in this listicle includes unique "industry-first" features.
Like a removable camera/lens module, a pocket for a mobile battery charger, and a carry-on Air Case model that is shippable, checkable, and uncrushable.
All materials and components have been carefully selected to ensure that these rolling suitcases for Photographers and Filmmakers deliver years of reliable protection and use.
Related: 5 Best Camera Bags For All Your Photography Adventures
So let's take a look at the 7 best Rolling Suitcases for Photographers and Filmmakers that are built for protection, durability, and worry-free transportation.
Tenba Roadie Air Case Roller 21 is built for the demanding professional, with ballistic nylon exteriors, durable YKK® zippers, stress point reinforcements, and infinitely-configurable interiors.
Roadies are exquisitely crafted with distinctive yet discreet good looks.
Features
Camera/Laptop Gear Capacity: 2 DSLR cameras (up to Pro size w/ grip), 8-10 lenses (up to 600mm 4.0), laptop up to 17 inches (43 cm).
A Complete Rolling Studio: Due to its larger-than-carry-on dimensions, the Roadie Roller 24 can efficiently carry large systems in a single case. Cameras and lenses can be stored along with flash and lighting systems. 70-200mm 2.8 lenses will fit standing vertically to maximize interior storage. This is an all-in-one case for location shoots.
Removable Padded Camera Insert: Allows a camera and 2-3 lenses to be carried independently inside any bag of your choice.
Quick Access Battery Pocket: Rear zippered pocket can hold the most common portable batteries for charging mobile phones and other portable devices. Twin zippers allow cables to be easily threaded out of the pocket.
Sleek, Discrete Suitcase for Photographers and Filmmakers: Clean lines and a high-end luggage aesthetic with minimal branding ensure a professional look without drawing unwanted attention to the gear inside.
---
Sue Bryce Hat Box Roller takes the weight of your professional camera kit (2 cameras, 3-5 lenses up to 70-200mm 2.8) and puts it all on a pair of smooth-rolling wheels.
Since the Roller meets international carry-on requirements, you'll always have it by your side no matter where your work takes you.
Features
Camera Gear Capacity: 2 Mirrorless or DSLR cameras with 3-5 lenses (up to attached 70-200mm 2.8). Also fits DJI Mavic and other compact drones. The Hat Box was designed to be able to carry two bodies with attached 24-70mm 2.8 and 70-200mm 2.8, plus a 16-35mm 2.8 and a flash.
Rigid Protective Shell: Lightweight internal frame provides excellent rigidity and ensures equipment protection on all sides.
Carry-On Compatible: Meets regulations for most international flights.
Heavy-duty Aluminum Handle: 2-position handle extends to comfortable walking height, easing the strain on your back and shoulders when wheeling through long airport stretches. The ergonomic handle has a soft coating for a comfortable grip.
Exquisite Materials: Exterior made with pebble-grain, vegan-friendly black leather with distressed, vegan-friendly brown leather trim and accents. The Interior is made with soft peach-face poly and brushed tricot. Hardware includes YKK® zippers with an and-finished, vegan-friendly leather zipper pull, plus antique brass-finish metal.
---
Designed for enthusiasts to pro photographers, the PhotoStream SP 200 is a lightweight and streamlined "spinner" bag optimized for airline travel.
Armored exterior and flexible interior provide secure, customizable storage while 4 wheels deliver a 360° range of motion.
Features
Nylon and EVA hardshell case optimized for air travel.
Holds 1 or 2 professional DSLRs or mirrorless cameras, plus 4-8 extra lenses, flashes, battery grips, etc.
A set of customizable padded dividers can be adjusted or removed to find the best setup for your gear.
The hinged front panel allows easy access to your laptop or tablet without opening the entire bag.
Dual-zippered mesh pockets for keeping small accessories such as cables, batteries, and memory cards.
A lightweight telescoping handle made of aluminum, a center button allows you to set it to 3 different stages.
4 wheels with 360° rotation for easy and intuitive transport.
Integrated handles on the top, side, and bottom of the case for carrying by hand.
Exterior dimensions of 13.8 x 8.8 x 21.7″ meet carry-on requirements for most airlines.
---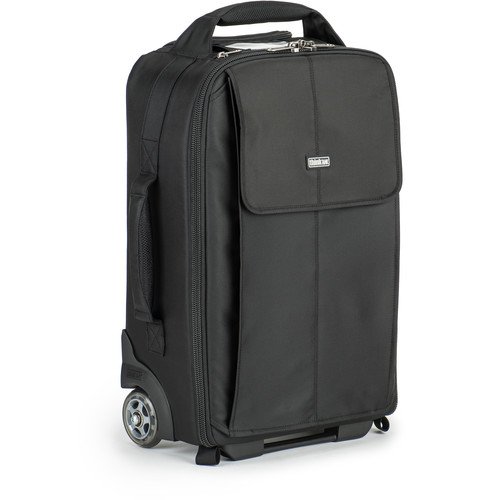 Think Tank Photo Airport Advantage rolling suitcase can fit 2 DSLRs with attached lenses, 3-4 additional lenses, related accessories, and a laptop up to 15 inches.
This lightweight and sturdy rolling suitcase for Photographers and Filmmakers is designed to meet airline carry-on requirements.
The front of the case has a dedicated laptop compartment. And located underneath the lid are a variety of zippered accessory pockets.
For easy access, the spacious main compartment unzips on three sides. The main YKK zippers can accept an optional, user-supplied padlock.
Features
Specially designed interior to maximize gear for carry-on in small aircraft, such as commuter and regional jets. Meets U.S. and international airline carry-on requirements.
Holds 2 DSLRs with attached lenses, three to four additional lenses, a 15″ laptop, and related accessories.
The ultra-light design weighs only 5.9 lb, keeping your roller under weight restrictions.
A dedicated laptop pocket fits up to 15″ laptops in a padded sleeve.
Custom-designed retractable handle with an inset channel on aluminum tubing, for added strength and durability.
Tripod mount and water bottle pocket on side – additional straps included for larger tripods.
Lockable zipper sliders – with optional, user-supplied locks.
Interior zippered pockets for batteries, memory cards, filters, and accessories.
User-replaceable retractable handle, wheels, wheel housings, and front foot extend product life.
Custom-designed, high-performance 80mm wheels with sealed ABEC grade 5 bearings, for quiet rolling.
Seam-sealed rain cover included.
Handles on three sides ensure rapid and easy retrieval from overhead bins, car trunks, etc.
Reinforced dividers support heavy gear and maintain strength over time.
Business card holder on top for identification.
---
---
Securely carry all your photography and filmmaking gear wherever you go with the Manfrotto Advanced III 20L Rolling camera suitcase.
This bag can hold multiple camera bodies, half a dozen lenses, plus related accessories, a tripod, and your laptop.
It comes with the M-Guard divider system that allows you to customize the camera compartment organization.
Features
The large customizable padded camera compartment measures 18.9 x 12.4 x 6.1″ and has a 19L capacity.
Designed to hold a wide array of gear like a DSLR or mirrorless camera body with an attached zoom lens, five additional lenses, an external flash, battery grip, drone, extra drone batteries, and controller; or three camera bodies with attached lenses, five additional lenses, and an external flash.
M-Guard protection system with high-density EVA foam dividers provides improved shock absorption, a slim profile, and folding patterns to fully protect camera gear and maximize the use of space.
Checkpoint-friendly padded 15.7 x 12.2 x 0.6″ tech sleeve holds a 15″ laptop and is easy to get to without unzipping or unpacking the whole bag.
External lashing straps for larger items like a tripod or monopod.
Interior mesh organization pockets for cables, chargers & drives.
Reinforced corners resist wear.
Sleek minimalist design blends anywhere.
Wear-resistant polyester nylon treated with a water-resistant coating for protection from the elements.
Easy access to the interior with a 2-way wraparound zipper.
Padlock-compatible zipper pulls add security to your gear.
Removable rain fly for maximum protection from rain and snow or for additional security in high-crime areas like tourist destinations.
Top and side handles make picking it up or pulling it out of overhead bins easy and safe.
The telescoping tow handle stows out of the way when not in use and is comfortable to hold and grab.
Low-profile wheels help you easily and silently maneuver through crowded airports, train stations, and other transportation hubs.
---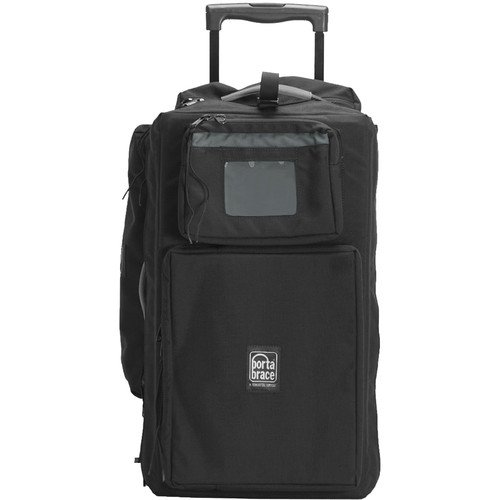 Transport, store, and protect your DSLR camera, lenses, laptop, and accessories with the Wheeled Rigid Frame DSLR Case in black from Porta Brace.
This rolling suitcase for Photographers and Filmmakers features a lightweight, rigid frame with a single zippered main compartment, removable dividers, padded 4″ lens cups, and two stuff sacks.
The front of the case has two zippered pockets, one for your laptop or tablet.
Three additional exterior zippered pockets hold a variety of accessories, including a small tripod.
Features
Holds DSLR Camera, Lenses & Accessories.
Rigid Lightweight Frame.
Removable Dividers.
Zippered Exterior Laptop/Tablet Pocket.
Padded 4″ Lens Cups.
2 Stuff Sacks.
Exterior Zippered Storage Pockets.
3-Stage Retractable Handle.
Heavy-Duty Off-Road Wheels.
Removable Wheels for Compact Travel.
---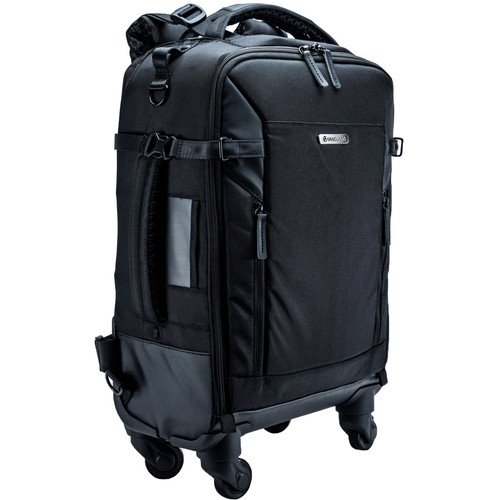 Store, transport, and protect up to 2 DSLR/mirrorless cameras (one with an attached 300mm f/2.8 lens), 4-5 lenses, a flash, and related accessories with the black Vanguard VEO SELECT 55T Rolling Suitcase for Photographers and Filmmakers.
This pack features four spinner wheels, room for a 13″ laptop and 9.7″ tablet, and multiple pockets and organizers.
Photographers and Filmmakers will appreciate the removable interior divider, the quick adjustment straps for a tripod, and the included rain cover.
Carry the pack with the top handle, side handle, shoulder straps, and chest strap, or roll it with the trolley handle.
Features
Holds 1-2 DSLRs, 4-5 Lenses, and Flash.
One DSLR with Attached 300mm f/2.8 Lens.
Holds a 13″ Laptop and a 9.7″ Tablet.
Multiple Pockets and Organizers.
Removable Interior Divider Compartment.
Water-resistant and anti-scratch material on the bottom.
Safe storage – secure rear pocket for travel documents and wallet.
Versatile transportation – tuck-away, advanced backpack harness plus agile four-wheel trolley.
Full-length double-sided front zipper pocket.
Fold-out tripod holder on the side.
VEO TRIPOD LINK – tripod carrying system.
---