Envato Cyber Monday Sale also known as Envato Black Friday sale is here. This year, they are giving flat 50% off on 500+ premium quality items.
Envato is currently the biggest marketplace for digital assets.
From WordPress Themes to After Effects Templates, it has everything to fulfill your design needs.
I am a big fan of Envato products. Cyber Monday sale is the time when I grab all the products I need for my motion design needs.
So, don't miss the opportunity and get flat 50% off before the sale ends.
How To Avail The Deal
Clicking on the button below will take you to Envato Cyber Monday Sale landing page. There you can go through the entire list of 500+ items on sale.
---
Envato Cyber Monday Sale
Click on the button to avail flat 50% discount on 500+ items
LIMITED TIME OFFER
Envato Cyber Monday/Black Friday Sale ends Wednesday, 2nd December, 2020
---
Envato Market, as a whole is a group of various other marketplaces. This includes:
Let's dig deeper and see what each individual marketplace has to offer.
Envato Marketplaces
ThemeForest is one of the top places to buy Premium SEO optimized WordPress Themes and other website templates.
Also, you can buy eCommerce templates, marketing stuff like email templates, landing pages, PSD templates and tons of other items.
During the Envato Cyber Monday Sale, ThemeForest is offering 50% off on more than 150 items.
Out of all, we have curated Top 5 ThemeForest products that you can buy for half the price before the sale ends.
1. Manual – WordPress Theme
Manual is a help desk WordPress Theme built for modern businesses. It has all the modules needed to create a multi purpose help desk website.
Best for creating knowledge base websites, Manual WordPress Theme comes with Visual Composer and Slider Revolution plugins.
2. WPMLS Learning Management System For WordPress
WPLMS is an Enterprise grade Learning management system for WordPress. It is a complete system with all the features of any modern LMS.
Built on BuddyPress and WooCommerce, it provides the best of Social and eCommerce sites.
WPLMS is built for Instructors, Educational Training Centres, Corporate trainings, Coaching centres, Course tutors, College, Academy, University, School and MOOC platform.
Get 50% OFF on this product before the Envato Cyber Monday Sale ends.
3. Bridge – WordPress Theme
The bridge is a multi-concept tech theme. It has everything you need to create a cutting-edge tech website neatly stored in one package.
Like every professional toolkit, the Bridge WordPress theme comes with remarkable functionalities and options.
4. Shella – Shopify Theme
With pagespeed score of 100%, Shella is a multipurpose Shopify Theme with 80+ pre-designed pages.
Shella offers you tons of features and customization to create the most perfect Shopify store.
5. Essentials – High Converting SaaS Landing Page Template
Essentials is a clean and modern high-converting Saas landing page template, very easy to customize according to your needs.
This landing page template can be used to promote mobile apps, web apps, and all kinds of marketing and startup websites.
Quick and easy to setup.
---
CodeCanyon is a one stop destination for all your scripting needs. Here you will get high-quality and premium WordPress Themes, PHP scripts, Javascript and CSS codes, CMS plugins and 30,000+ other items.
This year, there are 100+ CodeCanyon items at 50% discount during the Envato Cyber Monday Sale.
Here are the Top 5:
1. jQuery Media Boxes Portfolio
jQuery Media Boxes is a portfolio plugin that allows you to display all kind of content in a highly powerful grid.
Use it for blog posts, display media, clients, portfolios, galleries and more.
2. Ultimate Membership Pro – WordPress Plugin
Ultimate Membership Pro is the best WordPress Membership Plugin that allows you to create and work with multi-level exclusive access for your members based on simple Free packages or Payed packages.
3. WordPress Automatic Plugin
WordPress Automatic Plugin posts from almost any website to WordPress automatically.
It can import from popular sites like Youtube and Twitter utilizing their APIs or from any website of your choice using its scraping modules.
Purchase this plugin at 50% off before the Envato Cyber Monday Sale ends.
4. WoWonder – The Ultimate PHP Social Network Platform
WoWonder is a PHP Social Network Script, WoWonder is the best way to start your own social network website!
WoWonder is fast, secured, and it will be regularly updated.
5. SNIP: Structured Data Plugin For WordPress
SNIP is an innovative structured data plugin for WordPress that adds JSON+LD formatted snippets to your website.
This is needed to help search engines understand the content on your page.
Some of that structured data will show so called "Rich Snippets" or "Rich Search Results".
Not only will this push your search results forward, using structured data is also a ranking factor of all major search engines, too.
---
VideoHive is home to all your video production needs.
It offers a whopping 1,000,000+ items ranging from After Effects Templates, After Effects Scripts & Presets, Premiere Pro Projects, Apple Motion Templates, Motion Graphic elements and much more.
There are over 100 VideoHive items at 50% discount available during the Envato Cyber Monday Sale.
The Top 5 VideoHive items on sale are listed below.
1. 2300 Videolancer's Transitions
This pack contains 230 dynamic seamless transitions for your project.
These transitions are auto-re sizable. Means they look good both in wide format videos and vertical Instagram videos.
It's user friendly interface allows you to quickly find suitable transitions.
This transitions pack is compatible with After Effects CS 6 and above versions.
2. 3D Explainer Video Toolkit
This explainer video toolkit offers 300+ 3D elements. There is a huge choice of premade scenes, character animations, transitions, backgrounds, and icons.
It comes with wide range of options and settings. All animations can be looped and rearranged easily.
Moreover, you don't need any additional program or plugins to use this toolkit.
This template is perfect for creating a company portfolio, business presentation, fabulous explainer videos, and more.
3. 555 Animated Icons
This Animated Icon pack contains 555 animated Icons from various categories like Food, Health, Corporate, Gadgets, Technology, etc.
Each icon has its own custom build up animation that loops indefinitely.
All icons include sound effects as well.
Compatible with After Effects CS5.5 and above.
4. 1000+ Animated Icons
Amazing library of 1000+ Animated Icons from over 50 categories.
These set of icons are vector based. Just drag-and-drop in your project.
Detailed video tutorial, catalog, and sound effects are also included.
It is compatible with After Effects CS3 and all above versions.
5. 500 Trendy Transitions
This After Effects template features 500 trendy transitions from 25 categories.
Easy to use and re-sizable up to 4K resolution.
It has lots of settings to customize the speed, colors, and other transition functions.
You can use 500 trendy transitions in Premiere Pro as well with dynamic link feature.
Compatible with After Effects CS 5.5 and above.
---
GraphicRiver is a collection of premium fonts, Logo, icons, web elements, infographics, Lightroom Presets and other 700,000+ graphic assets.
A total of 97 GraphicRiver items are available at 50% discount during the entire week of Cyber Monday Sale.
This majorly includes Photoshop Actions and Powerpoint Presentations. The top 5 items of all are listed below.
1. Vector Sketch – Photoshop Action
Vector Sketch is a Photoshop Action that turns your photos into a Vector composition.
2. Real Paint FX – Photoshop Action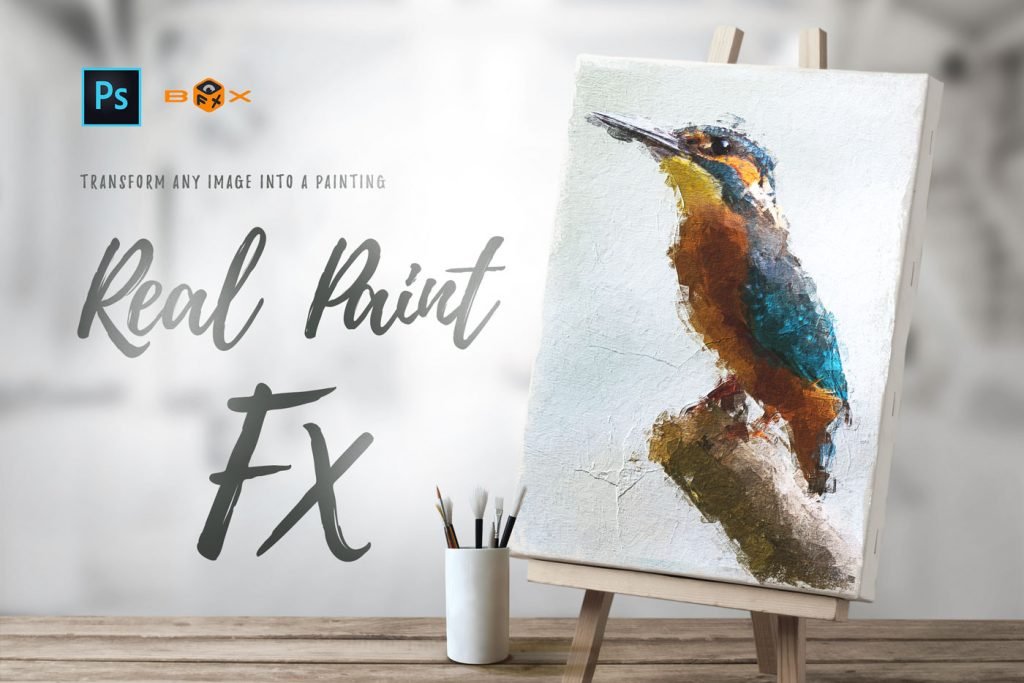 Transform any image into painted artwork with Real Paint FX Photoshop Action.
3. PowerPoint Template Pack
2600+ graphic slides for creating Powerpoint presentations.
Contains cycle process, puzzle diagrams, pyramids, SWOT, mindmap, matrix, flowcharts, gantt charts, infographics and many more.
4. Infographics Pack – Powerpoint Template
The Infographics Pack reduces your work by supplying templates designed with busy entrepreneurs in mind.
With 515 fully editable slides, infographics, and diagrams, the Pitch Deck Bundle provides you with the template you need to deliver a strong pitch.
Over 4500 professional icons included.
5. 3D City & Map Generator
Generate your very own 3d world, with just a click!
Design your own Maps, Cities, Countries, and Continents with realistic effects and professional outcome.
Effectively usable for Print, Web, Infographics, Gaming or Presentations.
---
AudioJungle Marketplace features 900,000+ royalty free music and audio tracks. All the Music. Soundtrack and Sound FX are created by brilliant music professionals.
From motivational tracks and sound effects to unique music kits, you're always sure to find top-quality music to make any project sound right.
The Envato Cyber Monday Sale 2020 is offering you 50% discount on over 60 hand-picked and premium Music & Sound Effects.
Grab this exclusive deal before Envato Black Friday sale ends on Wednesday, 2nd December 2020.
Envato Elements Cyber Monday Sale
Envato Elements is going to offer a massive discount on monthly and yearly subscription plans during the Cyber Monday Sale.
Take a look: Envato Elements Cyber Monday Sale 2020 – Massive Discounts
By getting a subscription plan during the sale, you will get unlimited access to millions of design assets.
Make sure to grab the deal before it ends on December 2, 9am AEDT.