A quick guide on how to make or choose a Travel PowerPoint template. The article also features 8 attractive travel PowerPoint templates.
A great presentation design with accents in the right places is half the battle on the road to a good presentation and getting a positive reaction from the audience. That's why it's worth spending enough time creating qualitative slides.
Moreover, now you can find a fairly large assortment of ready-made templates for various topics, including travel.
The MasterBundles team of specialists constantly faces a huge number of worthwhile templates on the marketplace, so we decided to make a small guide with tips on how to create or choose a ready-made travel slide design.
And, of course, we will not do without examples — stylish and beautiful PowerPoint templates are waiting for you at the end!
---
How To Make A Travel PowerPoint Template
In fact, most of the best PowerPoint themes are made according to common rules, and travel designs are no exception. Of course, there are also specific features worth mentioning.
So, to make the perfect PowerPoint template, it's worth remembering these principles:
The color scheme of the template should be combined with the colors of those photo and video materials that you will use to present products or services. If your brand has a style guide, you can use that as a basis for choosing the right colors.
In order not to dazzle the eyes of the audience, you need to take care of readable fonts (for example, Noto Sans, Montserrat, HK Grotesk Medium, and so on).
For text, be sure to consider contrast so that it`s legible. If you add text to your photo, clarity becomes even more important. You can verify this by adding, for example, a black overlay with 60% opacity.
Focus on the visual, not on the text, as information in the form of images is processed many times faster than words. For the travel industry, this is especially true — it`s better to take a few strong photos demonstrating the value of the service than to fit information into mountains of text.
Leave a lot of white space in the presentation. Don't put too many elements on one slide. Give each element on the slide enough space; so it`s easier to digest. Otherwise, your slides will be perceived as unprofessional and disorganized, and it will simply confuse the audience.
Also, experts recommend abandoning the animation between slides.
First, they slow down the presentation, especially if you add a transitional animation after each slide.
Second, they will distract the audience while you are building an argument or story.
Thirdly, they may be inappropriate in a professional context if, for example, you are talking about funding a travel project from potential investors.
---
How To Choose A Travel PowerPoint Template?
When it comes to choosing pre-made travel ppt templates, many rely on the visual appeal of slide previews. This is a mistake because before buying a design, you need to check a few nuances:
The number of slides in the template – it is best to have at least 30 of them with different designs (even if you are making a small presentation, variety does not hurt);
The customizability of all slides and elements from color to shape;
The presence of free space and non-congestion of ordinary slides;
The presence of infographic elements for displaying statistical data, which is very important for the travel industry;
The presence of specific design elements for the travel sphere;
The presence of several color palettes (3-5 ideally) or at least day and night themes – will allow you to plan performance in any conditions under any lighting.
However, there is another critical point — if you are looking for a ready-made template for creating a brand presentation or presentation of certain services, then you need to make sure that the marketplace offers a license for commercial use.
---
8 Highly Attractive Travel PowerPoint Templates
Specialists have collected some really worthwhile examples of travel design that will definitely appeal to the audience. All designs are created in accordance with modern trends and design rules.
And if these templates are not enough for you, then you can always look at the MasterBandles marketplace to find the perfect option using filters!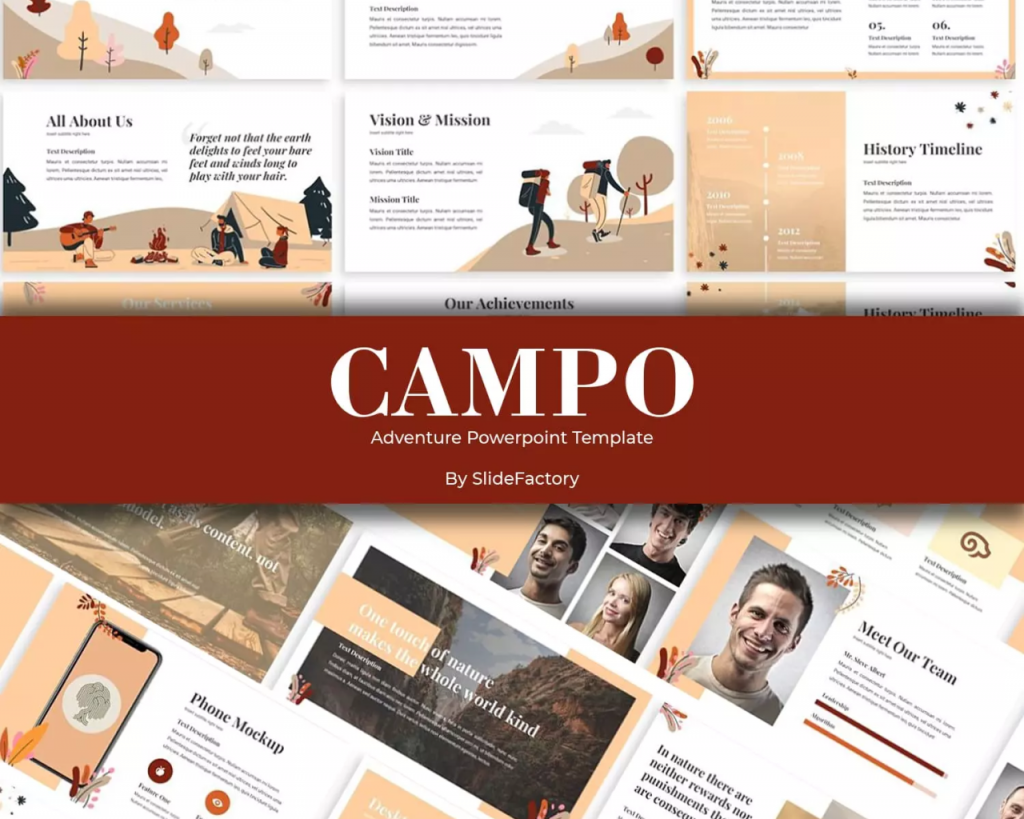 Soft and pleasant shades of orange and brown greet the viewer – this combination of colors immediately wins you over! The template has several color palettes, however, the customer can always choose his own option due to the high customizability.
---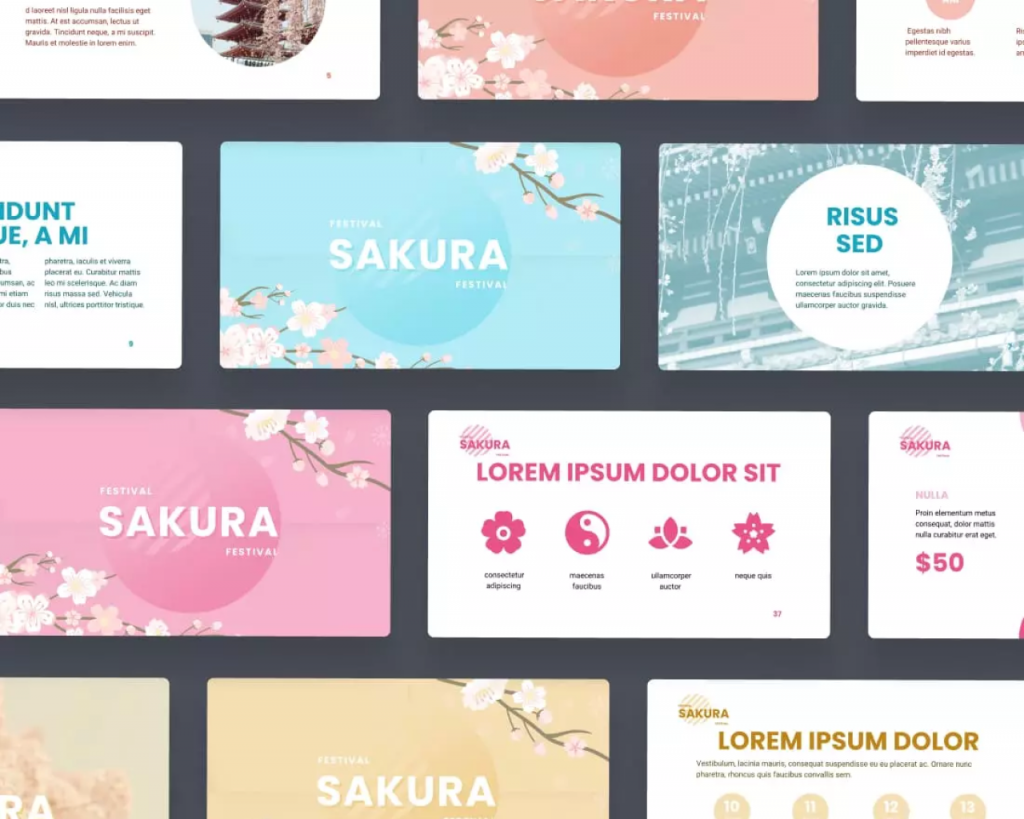 If your travel presentation is about Japan then this is probably the best choice – most of the slides are provided with aesthetic sakura flowers. There are fifty pages and five color themes included.
---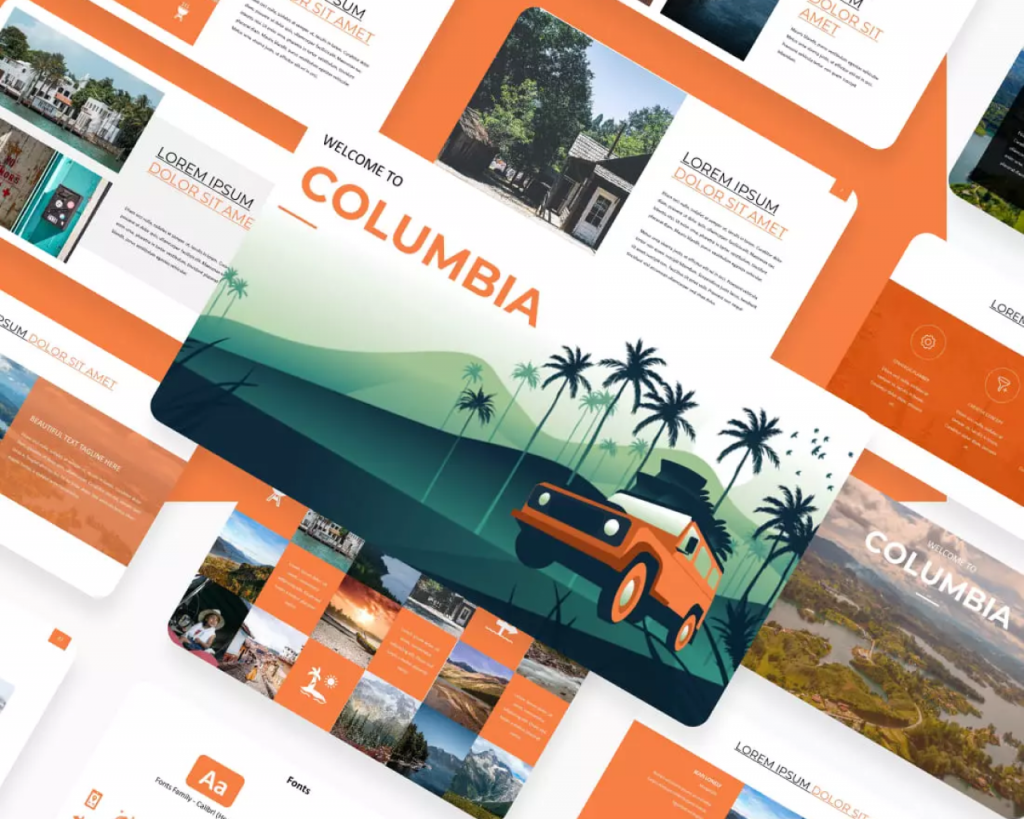 This template is for those who are going to focus on the visual because there is plenty of room for beautiful photos! You can place the material freely and there will still be plenty of space because there are about 50 slides in the kit. There are also many attractive travel icons here.
---
If you need to make not just a travel presentation, but also add an emphasis on the marine theme, then you can opt for the Aequor template. Beautiful design with marine life, aesthetic colors, and lots of infographics will appeal to everyone.
---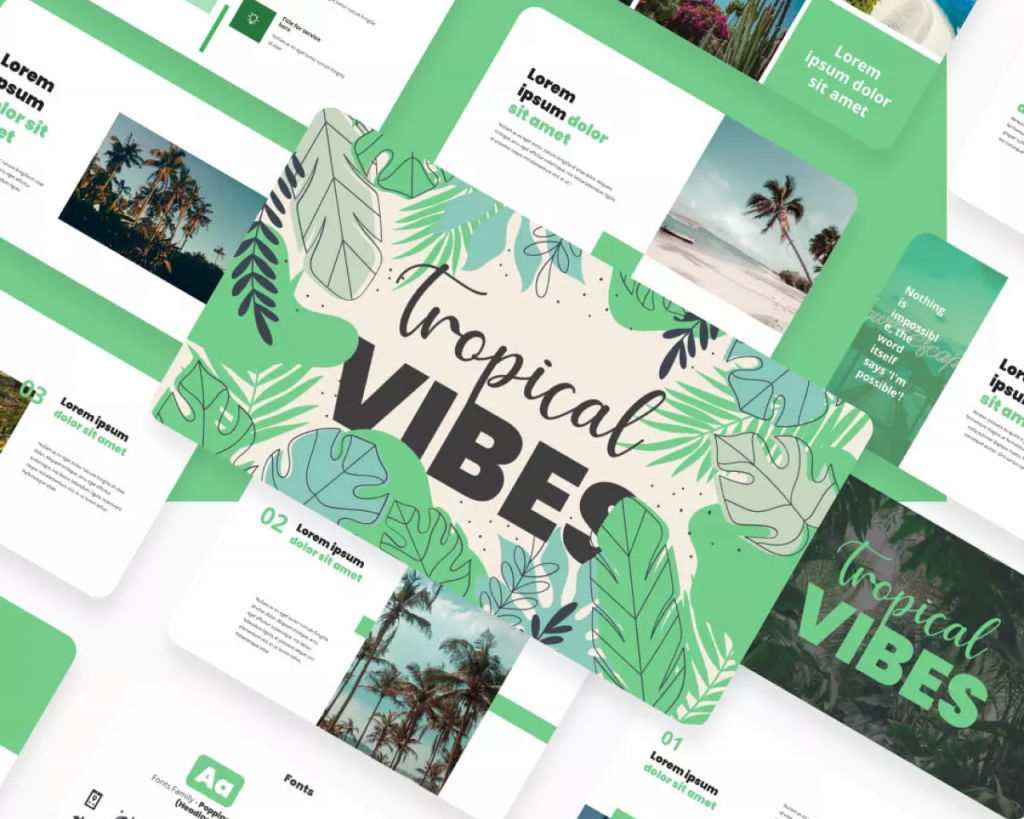 Need to tell clients about the tropics? Great, then it's worth downloading this gorgeous fifty-slide template — choose a yellow, pink, orange, purple, or green theme depending on your preference, and enjoy the design!
---
Travel is not always about ships and planes! Sometimes it's about camping and roasting marshmallows over a campfire. This template of fifty slides and five color schemes will allow you to reveal the theme of camping as fully as possible.
---
An excellent choice for a presentation that focuses on a travel agency, a specific hotel, or some travel products (skin care in the sun, swimwear, hats, etc.). The template is simply incredibly aesthetic and easy to use.
---
Juicy, beautiful, and fully customizable — yes, it's all about Tropical Summer Template. There are small text blocks and a lot of space for images, and with all this, there is enough "air" on the slides so that they are perceived by the audience well.
---