A massive list of 50 Logo Reveal After Effects Template along with essential things to keep in mind before purchasing and downloading one.
An animated logo opener also known as LOGO REVEAL is one of the key elements that goes into making a good promotional video. Therefore, you need a good Logo Reveal After Effects template to create one.
Promotional videos are the biggest form of marketing in 2019. There is nothing better than creating a marketing video to creatively showcase and promote your company, brand, or products.
According to a survey, "Marketing videos that end and start with creative and high-quality logo reveals increases brand awareness, reputation, and loyalty among the viewers/audience, thus converting them into potential buyers".
How To Create Logo Reveals
With little hands-on experience in Adobe After Effects, creating a Logo Reveal has never been easier.
All you need is a premium Logo Reveal After Effects Template.
A professional motion designer will charge you hundreds of dollars for a 10-second Logo Reveal. So go easy on your wallet and do it yourself. You probably don't have to be an expert After Effects user.
A good Logo Reveal After Effects project comes with step-by-step tutorials to guide you through the process of editing the template.
Things To Keep In Mind Before Purchasing A Logo Reveal After Effects Template
There are certain factors to keep in mind before you hit the buy button and purchase a Logo Reveal After Effects Template.
Compatibility
First and foremost is the compatibility of the template with your version of Adobe After Effects. Templates created in older versions of After Effects like CS5.5 or CS6 are compatible with the latest one.
However, the backward compatibility is not there. In simple words, newer versions of After Effects can read old versions of project files, but the opposite is not possible.
Although, there is a way by which you can solve this problem and open After Effects Project files in older versions too.
So before you make that purchase, make sure the Logo Reveal Template you are about to download is compatible with your copy of Adobe After Effects.
Included Tutorials & Developer Support
To guide you through the process of importing, editing, and exporting the Logo Reveal, template creators often include STEP-BY-STEP tutorial videos or pdf.
Creator/Developer Support
Videohive is an online marketplace where you get 6 months of developer support on the purchase of the After Effects template. If needed, developers and creators will provide you with solutions and help to rectify any bugs or issues.
Need For Third-Party Plugins
There are templates that require third-party plugins to work properly. Before purchasing, check whether you need any third-party plugin or not.
You can do so by going through the product description and features or asking the developer by posting in the comments or sending an email.
Sales, Rating & Reviews
Going through the sales, ratings, and review section gives you an overall impression of any After Effects template. Make sure the product you are buying is rated at least 4 stars.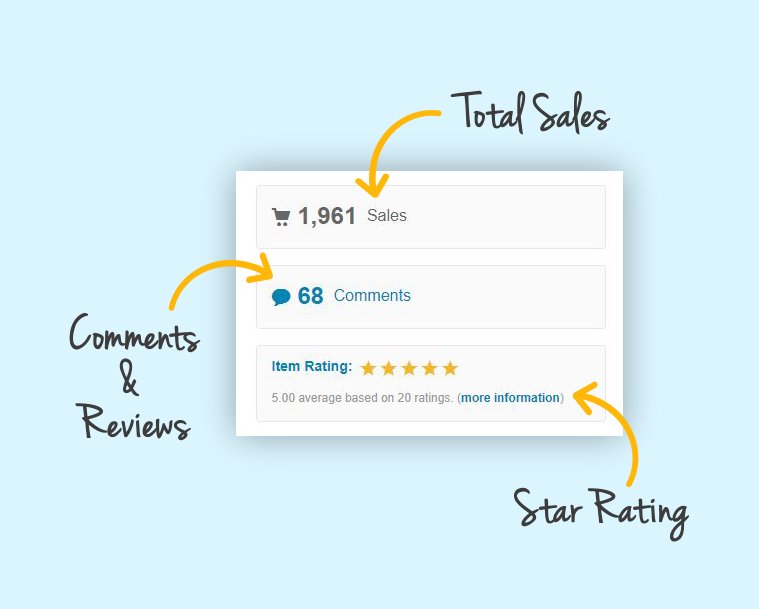 Also, read the comments and reviews of existing customers. Doing so will give you a clear picture of what to expect on purchasing and downloading the template.
License Details
Last but not the least, take a look at licensing details of the template you purchase. Make sure the template you pay for is royalty-free.
It means you just need to pay for the rights to use the item. You don't need to pay additional or ongoing fees for each person who sees or uses it.
50 Logo Reveal After Effects Templates
To help you find the best product, I've created a list of 50 Logo Reveal After Effects Templates.
Take a look!
1. Light Glitch Logo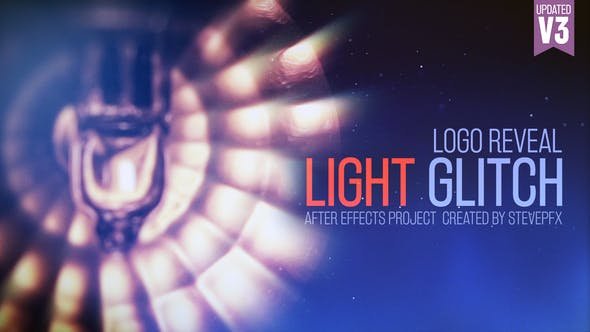 This After Effects Template is perfect for cinema titles, corporate titles, film intros, YouTube channels, and more.
---
2. Star Classy Logo Reveal
A 3D star logo reveals template created entirely in After Effects without any third-party plugins.
---
3. Platinum Logo Reveal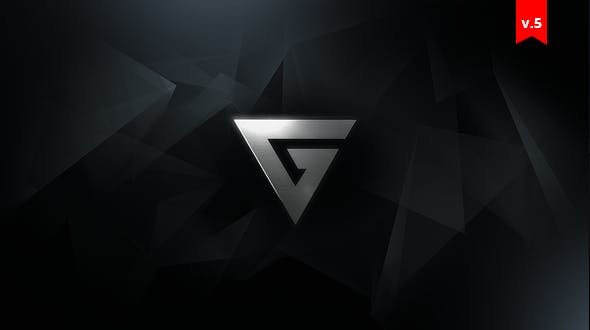 One of the best seller and best-rated logo reveal the After Effects template. Includes 6 different backgrounds in 4K quality. Also, you can easily change colors with controllers.
---
4. Quick Logo Reveal
A unique After Effects logo reveal template, full of personality. This After Effects template is easy to customize. Other features include: Full HD resolution, compatibility with After Effects CS5 & above, no plugins needed, and included video tutorials and renders in no time.
---
5. High-Tech Chip
Hi-tech logo reveal project for tech companies, technology YouTube channels & anything and everything related to tech.
---
6. Stylish Circle & Square Logo Reveal
A modern and elegant design of circle and square logo. This After Effects Template is suitable for companies, businesses, commercial projects, YouTube channels, and products. It is simple, dynamic, and stylish.
---
7. Virtual Reality 4K Logo Reveal
Reveal your logo in VR Glasses Headset. The animation starts with Loading DATA HUD with your logo. Then the particles show up in 3D space distorted with a little bit of Chromatic Aberration. In the end, you'll see a massive impact blast of shattered glass and dynamic strobe flashes in the glasses.
---
8. Epic Digital Glitch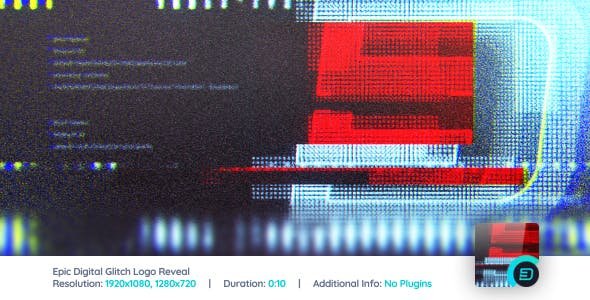 Epic Digital Glitch Logo Reveal After Effects template is a mix of meticulously arranged effects and keyframes. You will get noise, distortion, bad signal, screen tearing, flashes, a bunch of sci-fi, and tech elements, grunge atmosphere, and much more spiced with chromatic aberration and other elements. This is easy to edit a professional After Effects project that captures the attention of the audience with its pace and glitch & distortion eye candy.
---
9. The Jurassic Logo
This Logo Reveal is inspired by Steven Spielberg's masterpiece – JURASSIC PARK. Compatible with After Effects CS5.5 and above, this project file is easy to use, customizable, and renders in no time. You need to install Element 3D for this template to work.
---
10. Architect Logo Reveal Template
A clean and minimal logo reveal After Effects template for Architects.
---
11. Flat Logo Pack
Flat Designs are very trendy these days. A collection of 23 short and professional Flat Logo Reveals. Use it as a quick intro/outro, or transition between scenes. All basic customization options like colors, scale, etc. are easily accessible within ONE layer. The animations are all scalable to any resolution you like. The modern, flat and simple style ensures your Logo will get the most possible attention. The 23 animations are all well structured and easy to customize.
---
12. Dark Logo
Dark Logo is perfect for all kinds of dark, cinematic, Halloween, dramatic, and storm logo reveals.
---
13. Cinematic Logo
Impress your clients and stand out from the crowd with 14 cinematic logo reveal After Effects project. Goes all the way up to cinema ultra HD resolution.
---
14. Ribbons of Color
This project features organically flowing ribbons that dynamically reveal your logo, text, or image.
---
15. Sketch Logo Reveal
Create sketching animation for your company or brand logo with the Sketch Reveal template. This logo reveal template is also available in the vertical resolution of 1080 x 1920 for Instagram stories and IGTV. Compatible with After Effects CS6 and above.
---
16. Simple Logo Reveal Pack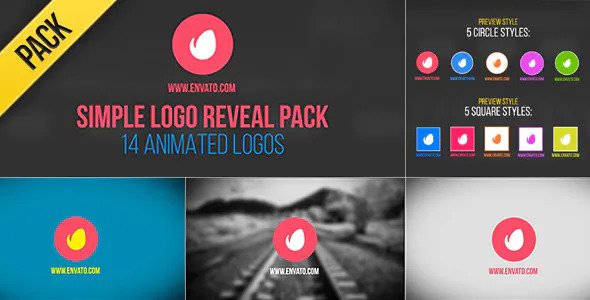 A clean, minimal, and simple Logo Reveal After Effects pack with 14 different logo animations and 3 different styles that are easy to customize with included tutorial videos.
---
17. Electric Logo
A great electric and lightning logo animation for your projects. Very easy to customize with color controllers and video tutorials. Full HD resolution project that takes no time to render.
---
18. Abstract Glitch Logo Sting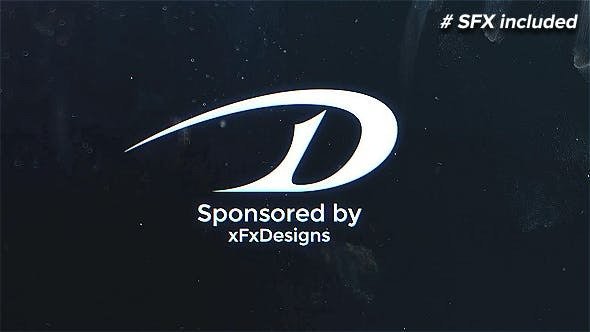 An atmospheric abstract glitch logo intro and outro with mind-blowing included sound design in sync with carefully keyframed animation.
---
19. Social Icon Opener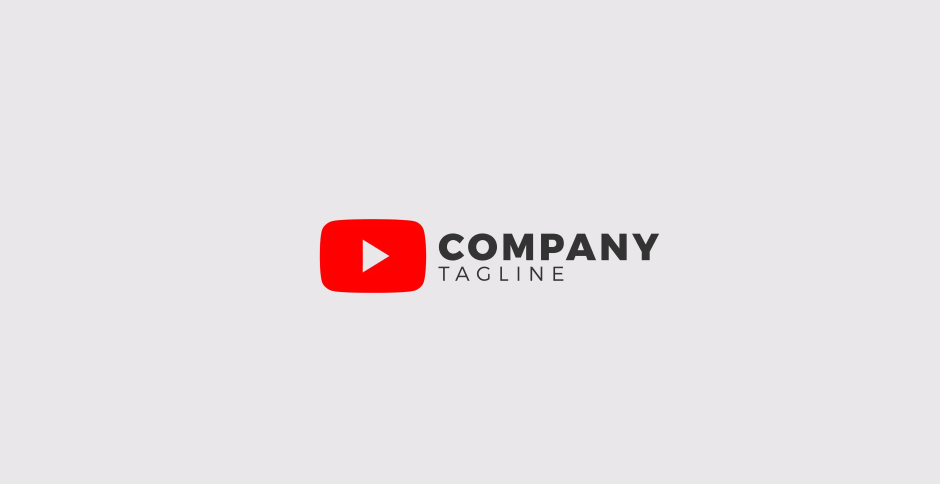 Promote your social network links and grow your network with this clean, simple, and minimal social icon opener After Effects template.
---
20. Sphere Fire Logo Reveal
Sphere Fire is the most beautiful and energetic logo reveal template for your company and brand logo.
---
21. Particle Transformation Logo Sting
Particle transformation is a unique logo reveal After Effects template. It requires Trapcode Form & Optical Flares to run. The developer promises to customize the template for free if you buy an extended license.
---
22. Streaks Logo Sting Pack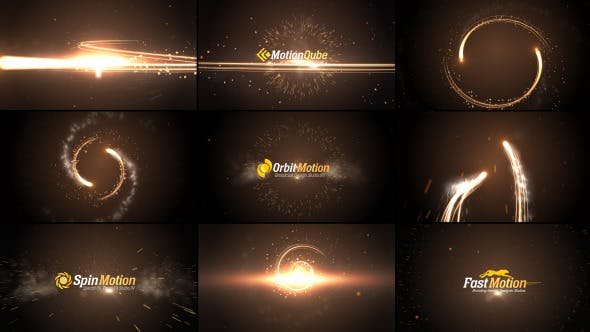 With 5 unique animations, this template is a highly energetic, dynamic streaks logo and title reveal project with powerful color controllers.
---
23. Neon Logo Reveal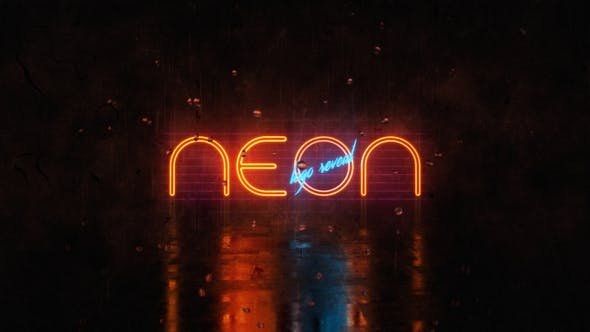 In love with NEON? Then this logo reveal After Effects template is for you.
---
24. Glowing Butterfly Logo Reveal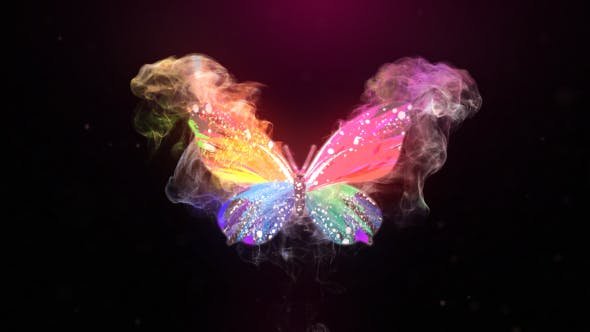 A glowing butterfly to reveal your company and brand logo. Butterfly and Particles are pre-rendered in a 3D application with Alpha Channel.
---
25. Media Brush Logo Sting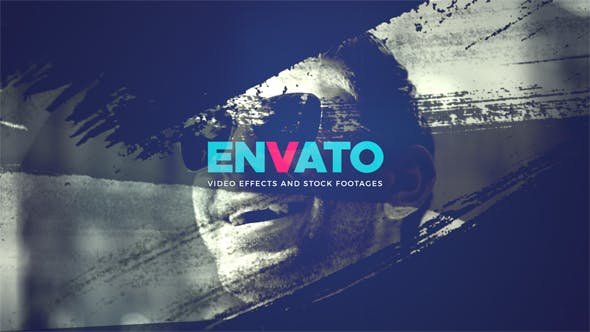 Media Brush Logo reveal After Effects template is the perfect project for displaying your photos or videos and reveal your logo in a stylish and impactful way. This easy-to-use template contains 15 image or video placeholders, 7 text placeholders, and one for the logo or final title. It doesn't require any plugins and renders fast. Simple and effective solution to all your logo animation needs.
---
26. Quick Logo Reveal
Quick Logo Reveal is an absolutely free-to-download After Effects template for creating minimal logo reveals/logo stings for your video projects. The template features a quick and easy way to animate a logo image along with a tagline. You can change the logo, colors, text, and other elements without any After Effects knowledge or skill.
---
27. LED Lights Logo Opener
LED Lights logo reveal is an elegant animation create in After Effects CS5. Your logo will be highlighted by natural-looking, realistic LED lights. The background is kept simple so that the accent is on your personal logo. Before you purchase this template, make sure you have Element 3D and Cycore FX plugins in your After Effects.
---
28. Stunning Minimal Logo Reveals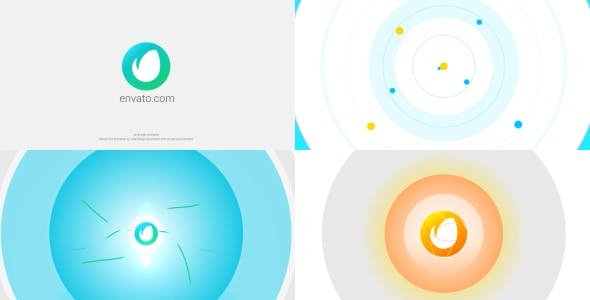 3 minimal yet stunning logo animations for your project. Compatible with After Effects CS5 and all the above versions.
---
29. Glossy Logo Sting
This logo reveal After Effects needs no special introduction. It's shiny, glossy, and gets the job done. Give your logo a polished clean look.
---
30. Neon Light Badges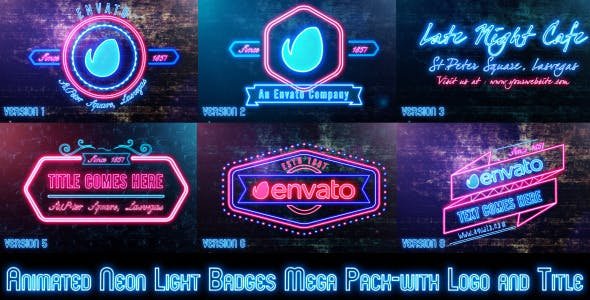 First of its kind neon badge logo openers. A new style, a new kind, and simple to use After Effects template.
---
31. Flat Logo Animations
Colorful and flat logo animations for your logo. Created in After Effects CS5.5, this project comes with sound effects and a tutorial video.
---
32. Glitch Logo Sting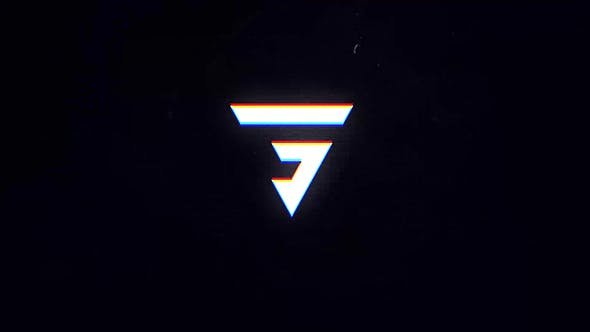 Obsessed with glitching? Purchase and download one of the best-selling glitch logo reveal After Effects template.
---
33. Logo Sings Pack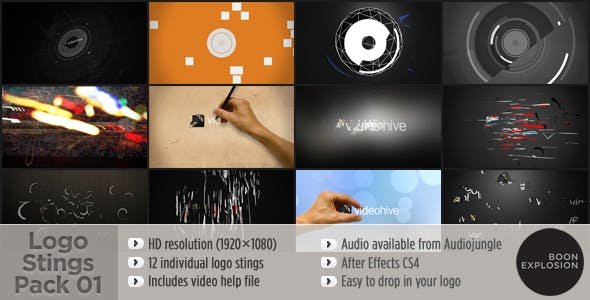 A pack of 12 animated logo stings, ready for you to simply drop in your own logo.
---
34. Smoke Logo Reveal
Show Off your logo with this Adobe After Effects template, featuring beautiful smokes in various colors.
---
35. Arcade Style Logo Reveal
Animate your logo in a retro arcade style. Start with pixels and build up your logo with this After Effects template.
---
36. 6 Particle Logo Reveal
6 ready-made particle logo reveal after effects templates include: Swirl Light, Infinity Sign, Sparkle Ring, Wave Stings, Circle Signature, and a special New Year bonus Christmas Tree.
---
37. Simple Earth Logo Reveal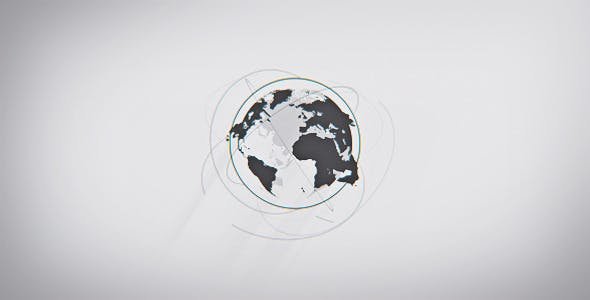 A simple and minimal earth logo sting. This project is easy to use and renders in no time.
---
38. Soul Meditation and Yoga Logo
Horizon sunrise dawn animation which reveals magic shining glowing logo by slowly lifting logo up above the Tree of Life. This project can be used very well for mystery concepts, calm and mythical intro.
---
39. Stomp Logo Reveal
Dynamic and modern logo reveal that makes use of your images to reveal a logo in a most captivating way. It uses the trendy stomp and drums to bring out your logo in an epic manner. Its motions work together to bring a desirable display of images/footage.
---
40. Minimal & Fast 3D Logo Sting
An After Effects template with minimal 3d logo openers. You don't require any third-party plugin to generate 3D logos. A video tutorial is also included to help you get started with this project.
---
41. Minimal Logo Opener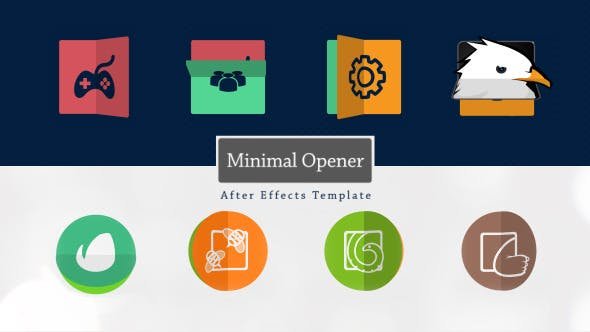 Just another minimal logo reveal After Effect template for your not-so-minimal projects.
---
42. Nature Logo Reveal
Nature Logo Reveal turns your logo into a fresh animated intro. You can choose the look from ecology bright summer to luxurious gold with just a few clicks. Use any logo or text to create a perfect opener directly in After Effects.
---
43. Fire Logo Reveal
Fire Logo Reveal Template allows you to make your own animated logo reveal in great energic style with fire explosion.
---
44. Web Search Logo Reveal
Type your unique text in the search field, drop the logo, change text, and colors, and hit render! Your logo reveals in a web search style.
---
45. Retro TV Logo Sting
On a wave of nostalgia, this logo reveal template was made with a huge love for the 80s and early 90s.
---
46. Photography Enthusiast
This logo sting after effects template is perfect for photographers and photography studios.
---
47. The Logo
The logo is clean and minimal After Effects logo reveal project. Easy to edit with the help of included video tutorials.
---
48. Imagery Logo Opener
This is a dynamic and modern After Effects template that makes use of images to reveal your logo.
---
49. Unique Logo Reveal Pack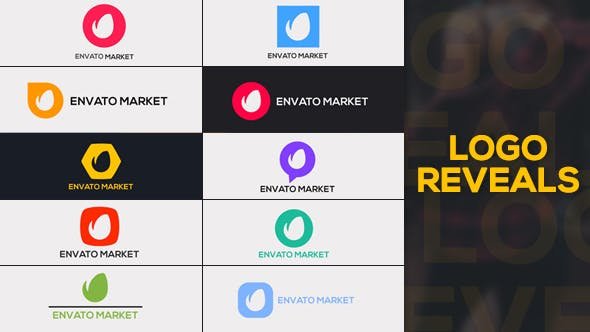 This is a pack of 12 unique logo reveals with various customization options. This project is frequently updated with a new set of logos.
---
50. Electric Shock Logo Reveal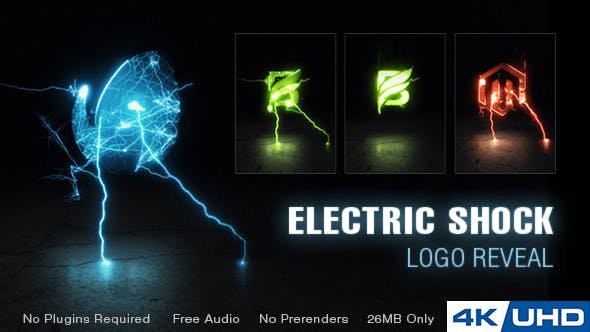 This is an epic logo reveal project which can be used for any type of logo style. A free electric shock audio file is also included along with a help video and developer support.
---
Conclusion
No template is good or bad. You just need to find the one that works for you and your projects.
The logo reveal templates listed in this article are some of the best-selling and best-rated on the Videohive marketplace.
Research thoroughly before you purchase a logo reveal template.
Make sure the project file is compatible with your After Effects, includes help files, and has good ratings and customer reviews.
Because your business, brand, and products deserve the best.
---
Also, check-out:
---