This article lists 8 best Photographer logo templates for After Effects to make your portfolio or any other videos stylish and attractive.
Promoting your photography business is an important step in establishing your brand in the market.
Before you spend any money on Facebook adverts or Google Adwords, local newspapers, or distributing flyers, you need to create an impressive portfolio of your work.
As a photographer, you can print your images and bundle them together in an album, create a portfolio website, or simply upload your photographs on social media platforms.
A modern approach is to create a portfolio video of your work.
And when creating a portfolio video, keep in mind that:
It should contain your best work only
Video quality should be high while the file size should be enough to easily upload or download from anywhere.
Use a professional After Effects Slideshow template to create your portfolio.
Always start and end your portfolio videos with your brand logo.
While a still image of your logo can get the job done, you can make your portfolio more attractive by an Animated Logo Reveal.
Photographer Logo Templates For After Effects
As a filmmaker, editor, and cinematographer, I have my own Animated Logo Reveal that I use in almost all my videos.
I created this logo reveal video by customizing an After Effects Photographer logo template. Check it out here!
Videohive.net is the best place to download professionally created photographer logo templates and projects.
They are cheap, easy to use, and comes with regular and extended license.
1. Flikmotion Logo Reveal
This logo reveal kit is an easy to use After Effects template for photographers and videographers.
It includes 4 pre-made logo animations. No third-party plugins are required to use this template.
Compatible with After Effects CS 5.5 and above.
2. Photo Studio Intro
This is a studio style logo reveal template that can be scaled up to 4K Ultra HD resolution.
Easy to use, no third party plugins are required, and sound effect is included.
Compatible with After Effects CS4 and above.
3. Elegant Photography Opener
An elegant and smooth Photographer logo template for After Effects, inspired by camera rolling shutter.
Suitable for photography business and portfolios.
There are 15 placeholders in the template, 2 color styles, and includes sound FX as well.
Compatible with After Effects CS5 and above.
4. Flat Photography logo
A simple and minimalistic Photographer logo reveal template for After Effects.
Easy to customize as video tutorials are included.
No plugins needed, comes with sound effects, and can be re-sized up to full HD resolution.
Compatible with After Effects CS6 and above.
5. Creative Photography Studio
This Photographer logo reveal template features clean, minimalist, and modern design with beautiful shadows and glossy photos.
Offers two versions, digital photography and Polaroids. This well organized project is extremely easy to customize.
Comes with video tutorial if you need any help. Control layer is included to control everything from one place.
Compatible with After Effects CS6 and more.
6. Graphical Camera Logo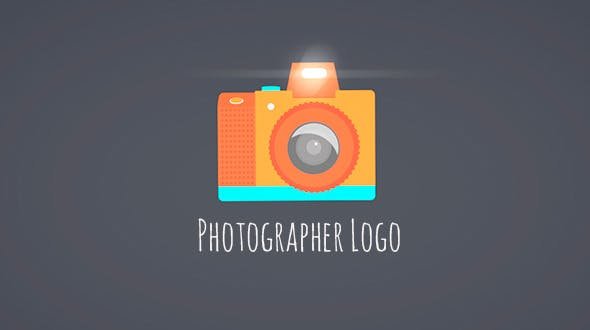 This template is a simple, beautiful, and perfect solution to decorate your portfolio videos with an animated logo.
Very easy to use as video tutorial is included. Maximum resolution is Full HD.
Compatible with After Effects CS6 and above.
7. Character Logo
This After Effects template showcases a photographer in action that transitions into a logo reveal.
Easy to use project with media placeholders and sound effects.
Compatible with After Effects CS6 and above.
8. DSLR Logo Reveal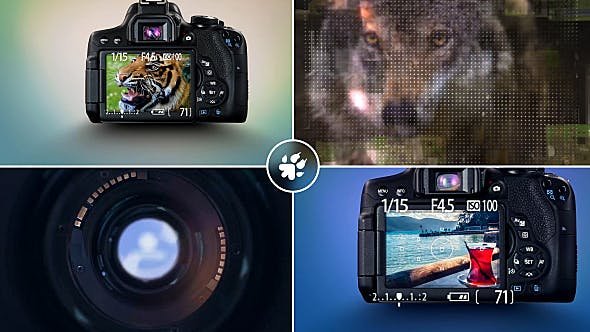 This project features a DSLR zoom in effect logo reveal with 14 image and 2 text placeholders.
Comes with video tutorials which makes it easy to use. No third-party plugins are required. Sound FX is also included.
Compatible with After Effects CS6 and above.
Also Read: