A list of 10 Mailchimp Email Template bundles to download for creating different kinds of newsletters and promotional emails.
Out of all the marketing channels, email has the highest return on investment. About 2.5 billion people, that's more than 34% of the global population use email.
It's a powerful yet simple way to connect with people. Email marketing is also a very personal way of reaching your target customers.
But if your email campaigns aren't optimized, then you could be missing out on valuable clicks and revenues.
When it comes to optimization, these 7 strategies to optimize your email campaigns might be a good starting point.
Although how your emails look is one of the most important factors of all.
A lot of email marketers use the same email template over and over again. As a result, their newsletters end up looking the same every time.
List of 10 Email Template Bundles
I've compiled a list of 10 Mailchimp Email Template bundles to download so that you don't end up making such mistakes ever.
Why Mailchimp? Because it's one of the most popular email marketing platforms with more than 12 million active users.
And if you aren't a Mailchimp user, you can still use these email template bundles with other email services.
This email template bundle contains 21 templates that are compatible with Mailchimp and 15 other email clients and services.
The bundle can be purchased for personal and commercial use. However, we recommend getting the commercial license only.
Some of the most common compatible Email clients are Apple Mail, Outlook Mail, Yahoo Mail, Windows Mail, Thunderbird, and Live Mail.
---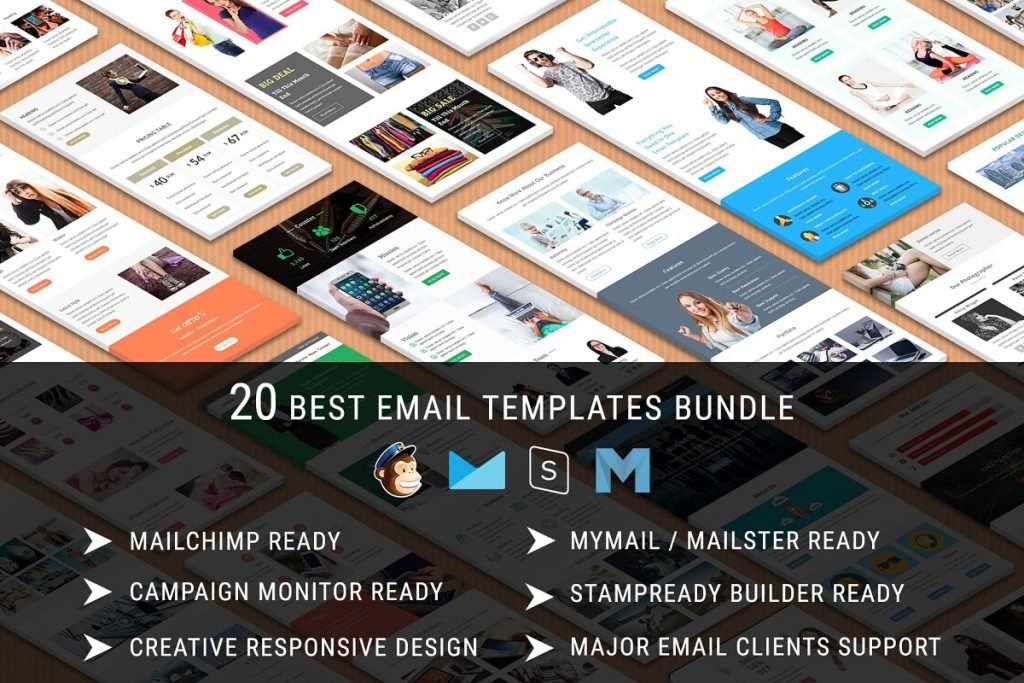 These email templates are suitable for Corporate and Businesses, E-Commerce, Photographers, Health & Fitness as well as other general categories.
The bundle is compatible with Mailchimp, StampReady, Campaign Monitor, and MyMail.
Supported email clients are Apple Mail, Outlook, Yahoo Mail, Gmail as well as Hotmail.
Internet Explorer, Firefox, Chrome, Opera, and Safari are some of the major browsers that are compatible with the 20 Email Templates Bundle.
---
---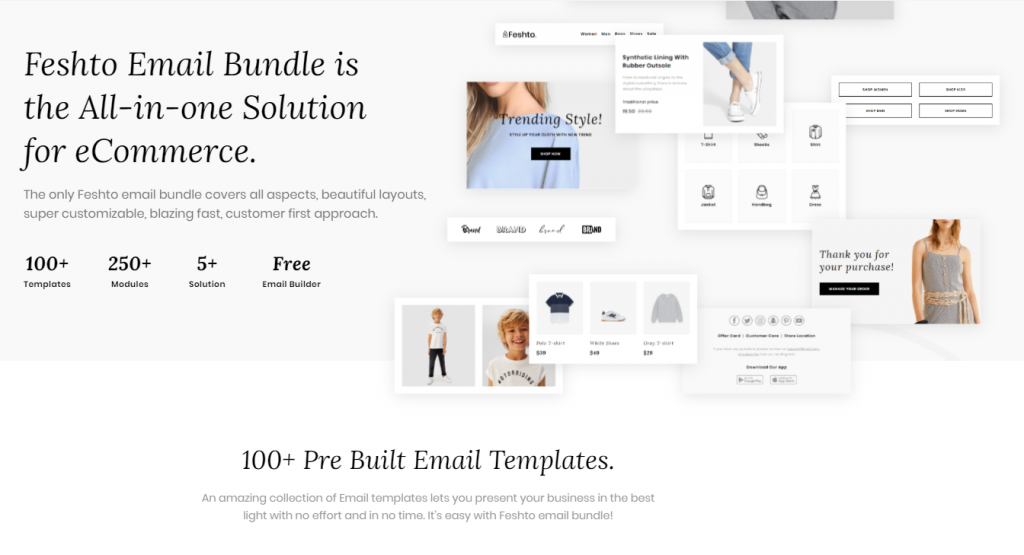 Feshto email template bundle is an all-in-one solution for eCommerce.
In this bundle, you will get 100+ pre-built email templates that let you present your business in the best light with zero effect and in no time.
Feshto emails render perfectly across various email clients and work with major email service providers.
The list includes Mailchimp, Marketo, SendinBlue, Campaign Monitor, Salesforce, Aweber as well as HubSpot.
It also comes with a Liramail, a free email editor to help you create emails for your subscribers within minutes.
Feshto email templates also work with Shopify and WooCommerce.
---
This is a massive collection of 14 email templates covering a broad range of categories. Including but not limited to blogging, creative agencies, eCommerce, corporate, and a lot more.
When you buy this bundle, you will also get access to a drag and drop online email builder.
Using the online builder, you can create unlimited variations of these email templates that are compatible with almost all major email clients like Mailchimp and Campaign Monitor.
---
---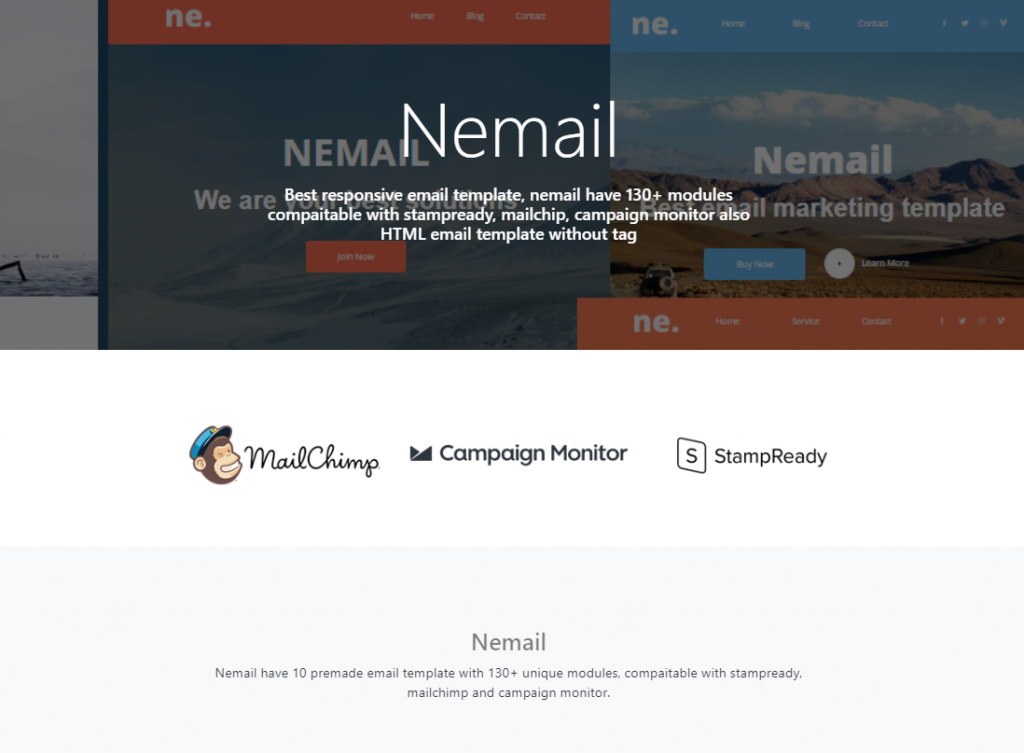 Nemail comes with 10 premade email templates with 130+ unique modules. It is compatible with Mailchimp, Campaign Monitor, and Stampready.
These templates are crafted to work with all devices and almost all major email clients.
Nemail is compatible with Mailchimp's drag and drop builder so that you can change color, fonts, images, and backgrounds easily.
You can get this Mailchimp Email Template Bundle for just $20 USD.
---
This is a perfect collection of bright and attention-grabbing email templates to promote sales and offers.
Everything in these templates is editable and customizable to maximize clicks and conversions.
No technical or design skills are needed to change colors, text, or images. Detailed instructions are also included to help you set up your email campaigns.
---
---
This email newsletter template bundle is best suitable for corporates and businesses, shopping and eCommerce, Health, Fitness, and other general purposes.
All templates are Mailchimp, StampReady, and Campaign Monitor compatible.
The price of individual templates in this bundle is $15 USD each. However, as a bundle, it is available for just $59 USD for commercial use.
---
Multimail is a multi-purpose email template set. It comes with 17+ templates and 217+ unique modules.
You can literally create thousands of different email templates for a variety of uses.
It comes with an online email editor that lets you drag and drop modules to create your newsletters.
You can even save your work and edit it later.
Multimail is compatible with any kind of email service providers such as Mailchimp, iContact, Campaign Monitor, and more.
---
---
Ask any email marketer and they will tell you that creating emails campaigns that are compatible with all email service providers is like chasing the Holy Grail.
It doesn't exist.
However, Kalor is a full service, major service provider compatible, drag and a drop email builder.
You can customize layouts, update background images, change colors and even create call-to-action buttons.
Then you can export your email layout for Mailchimp, Campaign Monitor, MyMail, or HTML.
---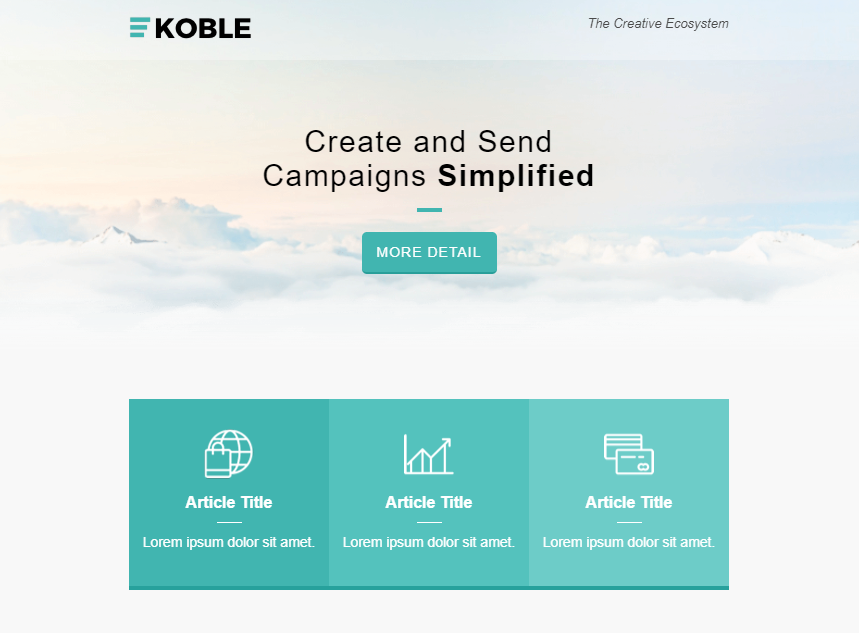 Koble is a multi-purpose email template set that covers a large number of newsletter types.
It contains more than 200+ unique modules from 28 templates.
With more than 8000+ happy users, Koble is compatible with all major email services like Mailchimp, Campaign Monitor, Mailset, iContact, StampReady, and more.
It is known to be one of the best-selling email templates of all time.
"This is a fantastic and modern email template and we are very happy to use it. The support team is very responsive and fast! Thank you so much for this great product", says a Koble user.
---
Conclusion
Email marketing is the most effective way to communicate with your audience. Your emails and newsletters should be optimized for maximum clicks, opens, and conversions.
Out of all the optimization strategies, your email visuals play a very important role. By not optimizing your email template, your emails end up looking the same every time.
Therefore, to avoid such mistakes, you can download the listed email template bundles in this article to personalize your email campaigns.
These templates work with all major email services like Mailchimp, Campaign Monitor, StampReady, MyMail, and many more.
---
Also Read: