A list of the 8 best AI Tools for Photography, Graphic Design, & Media Creation, and some of the key features that distinguish them from others.
Artificial Intelligence and Machine Learning are a part of our lives, making it easier without us even knowing and proactively doing anything. It is driving a huge change in the way we perform our activities, businesses, or something as simple as a Google search.
The use of AI in Photography, Graphic Designing, and Media Creation gives a whole new world of possibilities to work on your images. However, with the rapid growth and advancement in AI, some view it as a threat and believe that AI will replace designers.
That's not necessarily true. Artificial Intelligence is more like a design partner and tool that makes the work and life of a designer easier.
As a Photographer and Graphic Designer, I am always on the lookout for new and creative ways to meet my ever-evolving workplace demands.
In this post, I will be talking about some of the best AI-Tools for Photography, Graphic Design, & Media Creation, and some of the key features that distinguish them from others.
Luminar is known to be an alternative to Adobe's Lightroom for professional image editing. It had all the features a Photographer can wish for.
Its latest release LUMINAR AI is 100% powered by Artificial Intelligence and is trained on terabytes of professional images. It makes you take the back seat and does all the necessary image processing at a click of a button.
Luminar AI offers a number of AI tools for every photography genre.
Tools like Body AI, Face AI, Iris AI, and Skin AI can professionally enhance Portrait images while Atmosphere and Sky AI can do wonders for Landscape Photographers.
Other Luminar AI tools can help get you perfect exposure & color, fix crooked images, add details & textures to your photographs, and a lot more than you can possibly think of.
Luminar's AI approach to using Artificial Intelligence is to help photographers focus more on results than the process itself. As a proud Luminar Affiliate, I had the privilege to beta-test Luminar AI and its core features.
One feature that stood out is the application of editing templates.
When you import an image into Luminar AI, its Artificial Intelligence algorithm recognizes the content and suggests a template that will work best.
During my test, I imported a Photograph of a Stag (BTW! I am a Wildlife Photographer) and Luminar AI instantly suggested templates that are created specifically for animals and wildlife photographs.
Another AI tool that works flawlessly is the Atmosphere & Sky AI. They can give a dramatic effect to your Landscape photographs by adding in different sky patterns, clouds, fog, mist, etc.
Nevertheless, you can take controls in your hand anytime and manually edit things as and when needed.
Pricing
Luminar AI costs US$79 for new customers and if you decide on giving it a shot, here's a deal – At the checkout page, use our exclusive coupon code 'EDITINGCORP' to instantly get US$10 off.
---
Topaz Lab's Gigapixel AI uses artificial intelligence and machine learning to upscale images up to 600%. What makes Gigapixel AI different from other photo enlargement tools is the ability to add details back and preserve image quality.
Its neural network analyzes millions of photos to learn how details usually get lost. The network learns to create information in new images and how to enlarge, enhance, and add natural details.
I crop most of my Wildlife images to remove unwanted objects or to improve the overall composition. Doing so reduces the quality dramatically, sometimes leaving the resulting image unusable for printing.
As you can see in the image above, the effect of this may well be visible in the form of softness, pixelation, and lack of detail. After running it through the Gigapixel AI photo enlargement tool, the resulting image is comparatively sharp, has more details, and looks high-quality.
For a fair comparison, I used other photo enlargement tools to enlarge the same image but the results were far less impressive.
With its batch-processing feature, you can enlarge hundreds of photos at once.
Pricing
The Gigapixel AI photo enlargement tool is priced fairly at US$99.99. There is even a trial version that you can download and use before purchasing it.
---
I use remove.bg all the time and if you are a photographer or a graphic designer, you should too!
It takes away the pain of masking and rotoscoping images manually by using Artificial Intelligence to detect foreground layers and separate them from the background.
Remove.bg uses several additional algorithms to further improve fine details and prevent color contamination.
You can use remove.bg on:
Any modern desktop and mobile web browser – Chrome, Mozilla Firefox, or Safari.
As a downloadable software for Windows, Mac, and Linux.
As an extension to Adobe Photoshop.
The downloadable version of remove.bg can also batch-process as many images as you like with a single click.
It is best suitable for portrait & product photographers, graphic designers, and editorial illustrators who work in the media industry.
Pricing
You can remove backgrounds and download a low-resolution preview for free. However, for full-resolution downloads, you need to buy remove.bg credits.
You can either opt in for a monthly or yearly subscription plan or pay as you go.
Subscription plans are suitable for larger or ongoing image needs as you'll save money on every photo. Pay-as-you-go credits are great when you only need to process one or two images.
---
Creating a transparent video requires complex techniques like green screen and chroma keying. However, with Unscreen you can record your video anywhere and get rid of the background automatically.
It uses artificial intelligence and machine learning to detect foreground layers and separate them from the background.
At the moment, Unscreen works very well for videos of people, animals, or objects that are clearly the primary subject (i.e. in focus, staying in the scene, separated from the background).
One of the best implementations of Unscreen can be removing backgrounds in real-time from live-stream webcams. Hopefully, such a feature will be introduced somewhere in the future.
Till then, you are free to use Unscreen for your videos or use its API to integrate it into your app or workflow.
Pricing
You can remove backgrounds from your videos for up to 5 seconds (10 seconds if you signup) and download a 360p preview for free. For additional video length. you can opt-in for a monthly or yearly subscription plan or pay as you go.
Subscription plans are suitable for larger or ongoing editing needs as you'll save on every video that you process. For one-off or hard-to-predict video needs, a pay-as-you-go is a great option.
With monthly plans starting at just 3 minutes per month, you'll benefit from huge savings without making a large commitment.
---
Khroma is an AI web app that uses a neural network-powered algorithm to produce color combinations based on liking.
Out of thousands of different colors, you need to choose a set of your 50 favorite ones. Although 50 sounds like a lot, these colors will be used to train a color generator algorithm, and the wider the variety, the more possible combinations you'll get.
Once you pick your favorite 50 and click on the 'Start Training' button, Khroma will generate numerous different color combinations to choose from.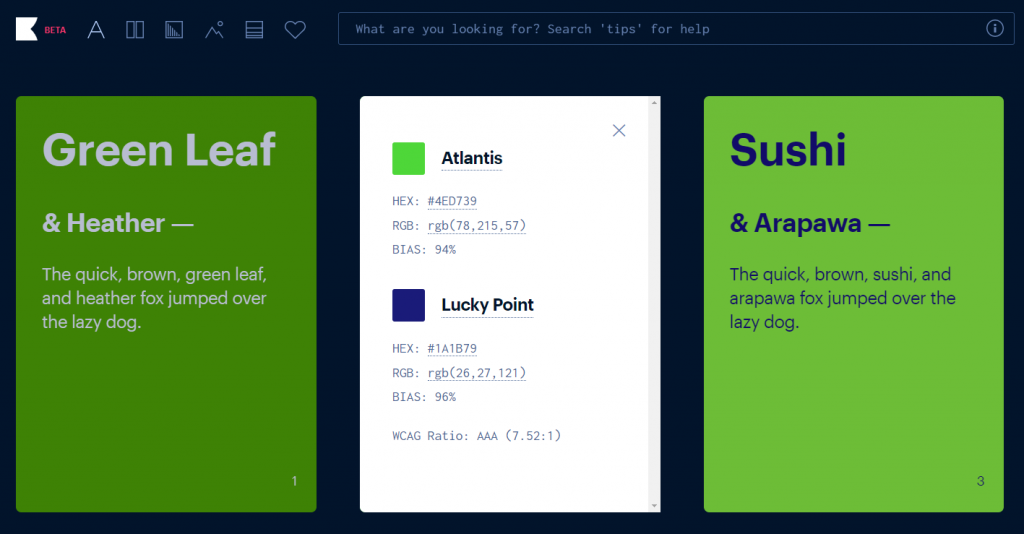 Every color palette contains essential information like the HEX and RGB color code that you can copy and use for your own design projects.
There is a Bias option as well that lets you control the percentage to which the generated colors are limited to ones you like. Setting a high bias value will give you more accurate results while a low is more diverse.
Pricing
Khroma AI color palette generator is absolutely free to use.
---
Beautiful.ai is an artificial intelligence-based Presentation Slides Maker that automatically formats the text and images based on the content you put in. This tool has the intelligence of a designer built directly into it.
There are tons of slide and presentation templates created by design experts to choose from.
The next thing is to bring in your content and the AI algorithm will resize the text & images and does other formatting automatically.
Beautiful.ai helps you create meaningful presentations without putting much effort and time. It removes outdated steps that kill efficiency, so you can organize ideas quickly and save up to 50% design time.
Pricing
This AI-powered presentation maker comes with 3 different pricing plans:
BASIC – Free to use, however, it is limited to 100 slides only.
PRO – US$15 per month (billed monthly) or US$12 per month (billed annually), lets you create an unlimited number of slides.
TEAM – US$48 per month (billed monthly) or US$46 per month (billed annually), lets you create an unlimited number of slides with advanced collaboration and sharing with team members.
---
Splitter is a free web service powered by a state-of-the-art source separation algorithm to separate the individual tracks that have been mixed together.
It is based on Deezer's open-source research project Spleeter. Currently, 2 different models are available –
2 Stem Model – Capable of extracting instrumentals and vocals.
5 Stem Model – Capable of extracting vocals, drums, piano, bass, guitar, synths, etc.
There are many potential applications of music source separation, such as remixes, up mixing, active listening, pre-processing for tasks such as transcription, and much more.
Under the hood, Splitter.ai is a fairly complex and crafted tool but on the outside, it is really easy to use. You just need to upload your music/soundtrack and the algorithm with work its magic automatically.
Pricing
Splitter.ai is MIT-Licensed so you are really free to use it in any way you want. However, it's your responsibility to get proper authorization from artists and the right owners before using it on copyrighted songs.
---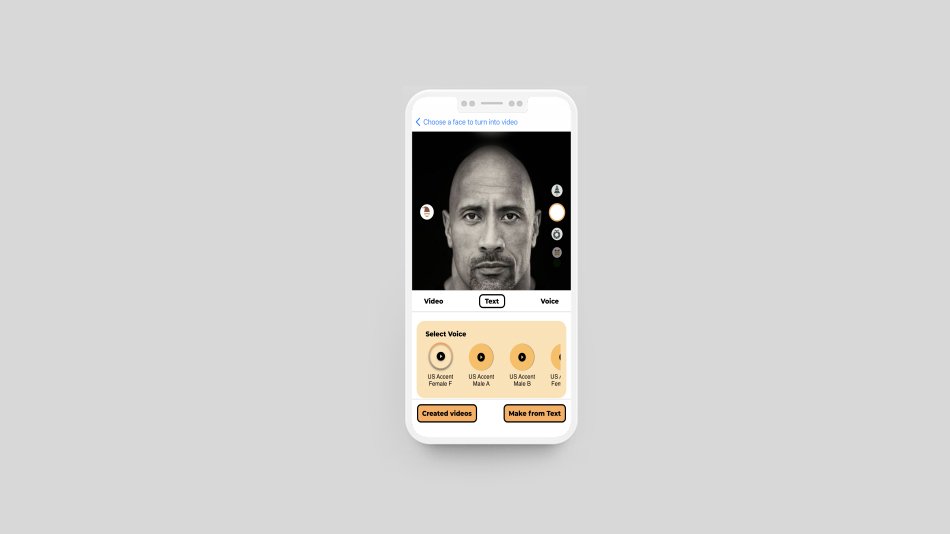 Rosebud.ai TokkingHeads is quite a fun AI media generation app for iOS and the web (Android version coming soon) to instantly animate a portrait image with text and speech.
It uses Artificial Intelligence and Machine learning to animate the lips and other facial expressions of a portrait based on the input text or audio speech.
TokkingHeads is quite a popular app amongst Instagram and TikTok content creators. You can also turn any photo instantly into an animoji.
Such an app can give birth to synthetic media which can be bad as it sometimes leads to misinformation and fake news. Therefore, it's necessary that you only use this and other similar apps to only encourage creativity.
Pricing
Rosebud's TokkingHeads are absolutely free to use.
---