Looking to create stunning graphics without breaking the bank? Check out the 8 best online DIY graphic designing software for 2023!
DIY Graphic Designing is obviously a skill that takes time and effort to learn. However, it doesn't mean that someone with no prior experience cannot create breathtaking designs.
There are at least a hundred different web applications and websites on the Internet that give you access to DIY graphic design templates and tools.
The best part about DIY graphic designing and online graphic designing software is that they are intuitive and easy to use. And most of them are based on the drag-and-drop design process.
You simply select a template of your choice, customize it as needed, and DOWNLOAD. It is just a matter of selecting the right online graphic designing software.
Therefore to make designing a bit easier for you, I've come up with a list of the 8 best online DIY graphic designing software.
Take a look!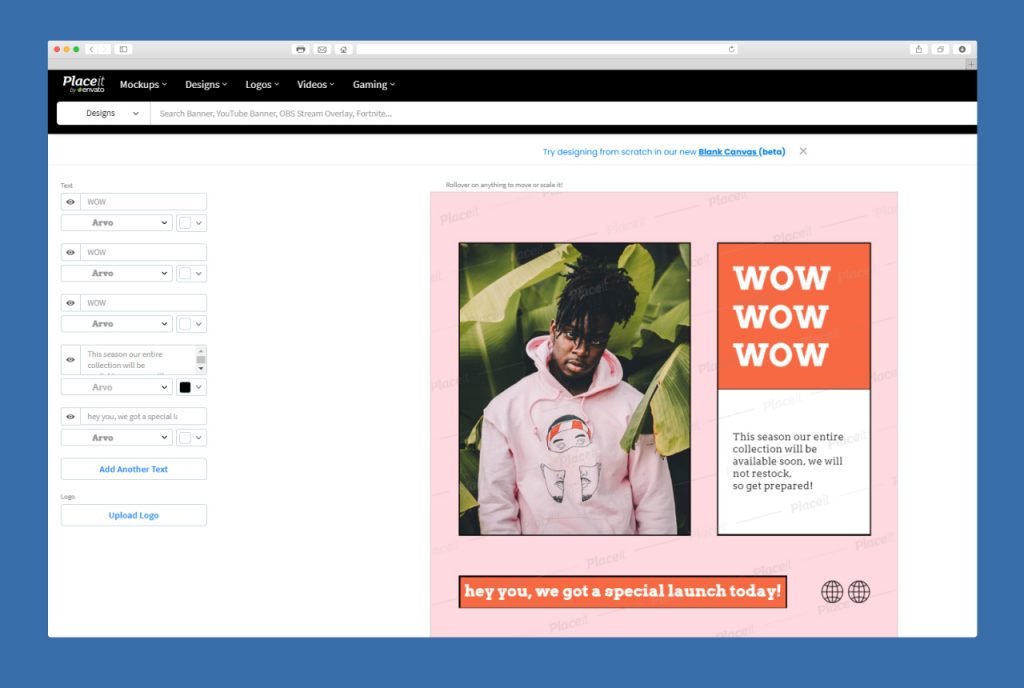 Placeit is definitely one of the best online DIY graphic designing software. It comes with thousands of professional design templates and an intuitive easy-to-use interface.
And everything you need to create attractive mockups, logos, design templates, text animations, Instagram stories, Flyers, and much more.
All the design templates on Placeit are created by professional artists from around the world. No matter who you are, an individual or a business/brand, Placeit can take care of all your design needs.
Creating a design on Placeit is a 3-step process –
Choose a design template from the ever-changing library of free mockups, designs, videos, and logos.
Customize the text, add images, and make other necessary changes on the go with its easy-to-use interface.
Then just DOWNLOAD in your preferred resolution and file type.
While Placeit is a great place for DIY graphic designing, it can also fulfill your motion graphics requirements.
Animated intros, outros, twitch, YouTube screens, logo reveals, and slideshows are also included in its massive template library.
And just to let you know, Placeit is a part of Envato, the biggest marketplace in the world for creatives.
Plans & Pricing
There are 2 ways to purchase a customized design template from Placeit.
You can either buy the single template for a one-time fee that varies from template to template.
Opt-in for the unlimited subscription plan for as low as $14.95 per month or $89.69 per year and download as many design templates as you want.
---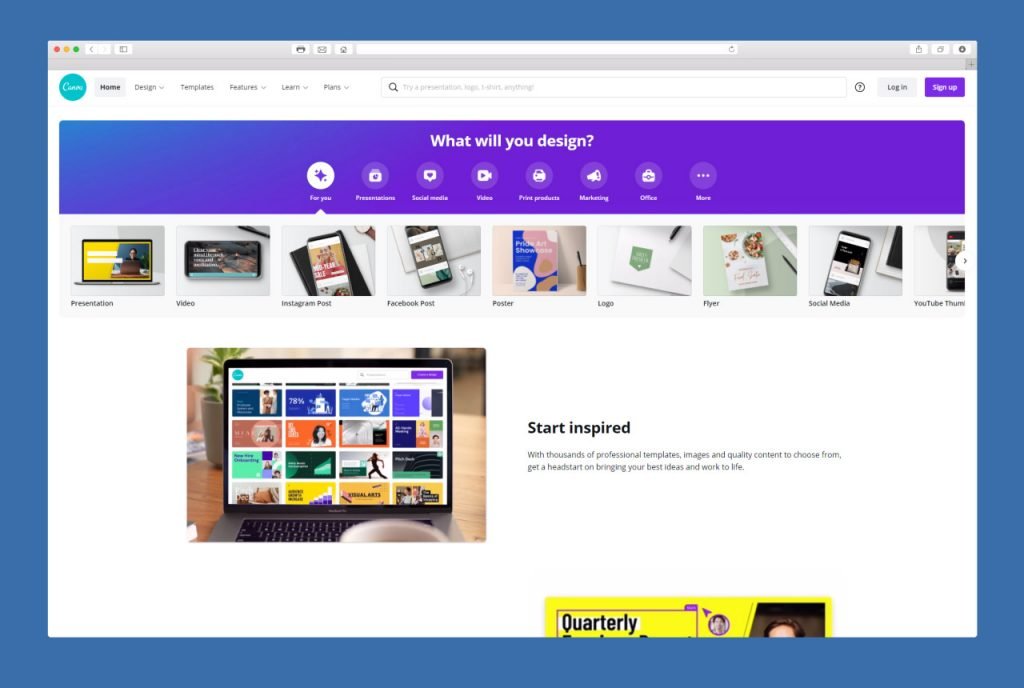 Launched in 2013, Canva is well known in the graphic design community as the GODFATHER of online DIY graphic designing software. More than 5 billion designs have been created with Canva to date.
It has recently won the 2021 "Overall Design Collaboration Company of the Year" award. Even American Airlines uses Canva to create graphical assets for its brand.
Canva has all the design solutions and templates up its sleeve you can possibly think of.
From Social Media design to marketing materials, logos, flyers, brochures, mockups, graphs, reports, planners, cards & invitations, and even multiple-page annual reports, Canva has thousands of professional templates, images, and content to choose from.
I am a huge fan of Canva and use it all the time to create my blog post images.
While Canva is a great online DIY graphic designing software, it is also available as standalone software that you can download and install on your Windows or Mac computer.
Then there are Android & iOS applications as well to bring your best ideas and work to life on the GO.
Graphic designing with Canva is all about dragging and dropping assets on a blank canvas. Or simply customizing a pre-designed template.
You can also upload your own photos and other graphic elements into Canva. Once you are happy with your design, just click on the download icon at the top right, choose your required file type, and hit DOWNLOAD.
And with Canva, everything is online thus giving you the freedom to create anywhere and with anyone.
Plans & Pricing
Canva is free to use with more than 250K free templates, 100+ design types, hundreds of thousands of free photos and graphics, and, 5GB of cloud storage which is surprisingly enough to start designing.
However, if that's not enough, you can opt-in for the Canva Pro priced at $12.99 per month or $119.99 per year for up to 5 users. The Pro plan gives you access to more than 610K templates, 100+ million stock photos/videos & graphics, 100 GB cloud storage, and tons of other useful features.
Canva is 100% free for all eligible Nonprofits and verified K12 teachers and their students.
---
DesignCap is yet another online DIY graphic designing software that makes all of your graphic design jobs much easier. An excellent design will not only help speak your message but will also draw more attention.
However, creating a striking graphic design is not easy. It often requires a great deal of time, talent, and money.
But the good news is that DesignCap is here to give you a hand. It is engineered to simplify the cumbersome process of graphic design and reduce costs dramatically.
DesignCap has gathered together the experience and knowledge of its professional design team, and presents access to a vast built-in database, offering thousands of high-quality templates and a vast collection of illustrations, shapes, and stylish fonts for selection.
Even if you are a design novice, you can create professional designs without difficulty. The tool helps speed up your creative process to make striking graphic designs for your business, event, social media, and more.
DesignCap is loaded with a number of templates and hands-on tricks. They will help you create your ideal design in less than the anticipated time period.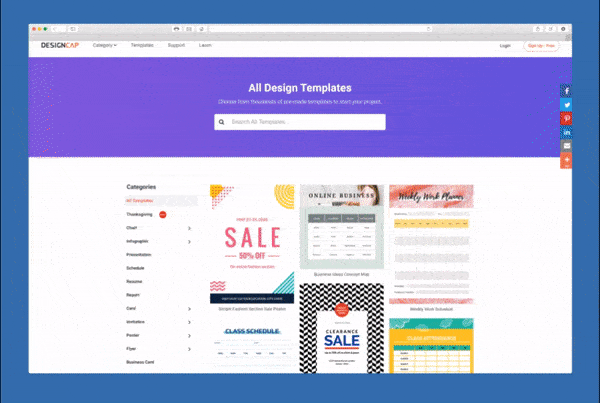 Its simple yet powerful editing tools enable you to customize your design the way you want. You can add images, text, backgrounds, maps, charts, and modules instantly.
DesignCap comes with a huge range of functions and features, some of them being:
Thousands of professionally designed templates that help you easily create infographics, presentations, posters, flyers, social media graphics, and more.
Built-in fonts, shapes, and backgrounds, as well as a large library of stock photos and icons.
Dozens of modules that visually combine images, icons, and text into a cohesive whole, make visual design easier and faster.
Plans & Pricing
The plans that DesignCap has come up with to meet your needs are practically a steal. No matter how you look at them.
The pricing is divided into three plans:
Free – Free plan gives you limited templates and limited stock media choices, allows 5 image uploads, and lets you save up to 5 designs and JPG exports.
Basic – Basic plan costs $4.99 per month and gives you unlimited templates, unlimited stock icons, unlimited stock photos, unlimited modules, high-res PNG & PDF exports, allows 100 image uploads, and lets you save up to 100 designs.
Plus – Plus plan costs $5.99 per month and gives you unlimited templates, unlimited stock icons, unlimited stock photos, unlimited modules, high-res PNG & PDF exports, allows 1,000 image uploads, and lets you save up to 1,000 designs.
---
Next on our list of the best online DIY graphic designing software is Design Wizard. It is online graphic design software that offers people a quick, easy, and affordable solution to creating graphical content.  
Every day there are over 1.8 billion images posted online and the vast majority of these are promotional images. The pressure on marketers, business owners, and entrepreneurs to produce high-quality, original content has never been as intense as it is right now.
Without design knowledge and creative strategies, it's going to be increasingly difficult to keep up with the rising standard. Design Wizard gives people the power to unleash their inner creative magic.
It has over 1 million design assets comprised of photographs, graphics, illustrations, and fonts.
All are professionally produced by talented teams of graphic designers and photographers. Each and every element in Design Wizard is editable.
It's similar to Canva with additional benefits of Promo and Shutterstock.
Plans & Pricing
Design Wizard offers 3 different pricing plans –
Basic – The basic plan is free to use, however, you need to pay as you go per design download. The features and tools are also limited.
Pro – Starting at $9.99 per month or $89 per year, the plan offers 60 design downloads per month with tons of additional features and tools.
Business – You can opt-in for the business plan for unlimited design downloads at $49.99 per month or $449 per year.
---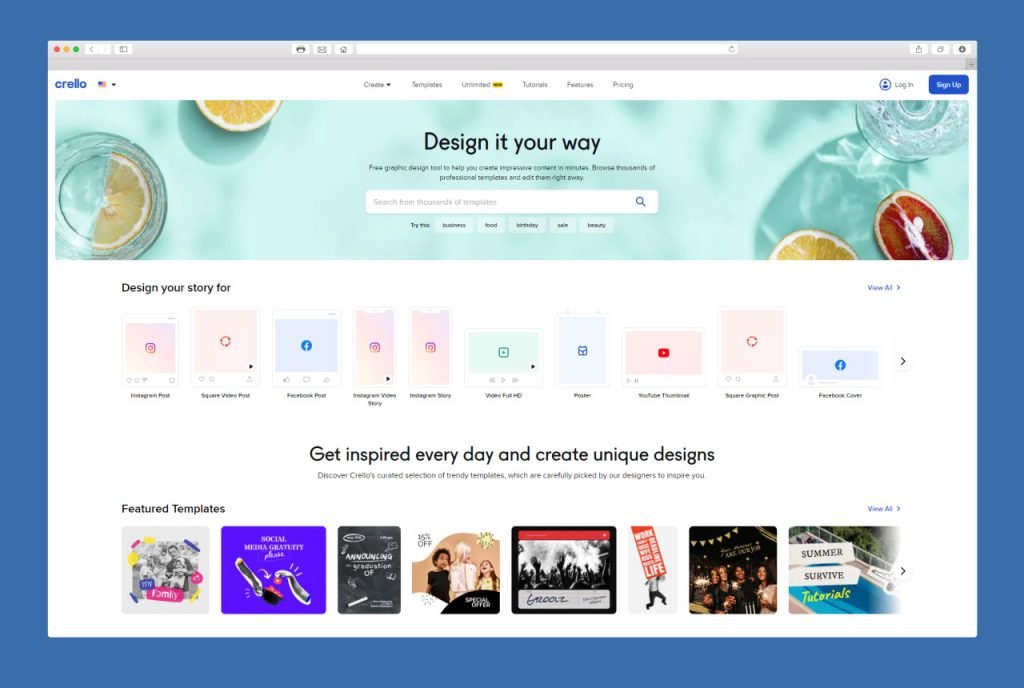 Crello is yet another one of the top online DIY graphic designing software which makes complex design manipulations easy. It is all about the crop, scale, and drag-and-drop.
You will get a library of professionally designed static and animated templates. They can be customized as much or as little as you want. Or you can start from a blank page and create something from scratch.
Crello is home to graphic elements, fonts, music, stock photos, and videos everyone can use to make designs that stand out.
It is a great "Do it Yourself" platform to produce high-quality content quickly and easily.
Some of the key facts and stats of Crello are –
More than 7 million active users worldwide.
Crello is available in 16 different languages.
It is a cross-platform editor and can be used on a browser or through iOS and Android apps.
Its massive library has more than 47,000 professionally designed templates, 32,000+ animations, 680+ fonts, and 650K+ premium stock images.
It has a background removal tool as well for quick rotoscoping.
Talking about usability, Crello is super easy to use. You just need to –
Pick a design format or enter custom dimensions.
Choose a template or start from scratch.
Customize the template by adding design objects, animations, photos, videos, and music, if needed.
Download the final design.
Plans & Pricing
Crello has 2 different subscription plans – Starter and Pro.
Starter – The Starter subscription is free and is enough if you need Crello occasionally for personal use and doesn't need more than 5 downloads a month. You can make use of 50K+ static & animated design templates and more than 1 million premium stock images.
Pro – The Pro subscription costs $7.99 a month and is perfect if you need to create content on a regular basis and needs more than 5 downloads a month. You also get additional features such as team collaboration, a background removal tool, music, and a brand kit.
---
Unlike any other online graphic designing software, Gravit Designer is a full-featured web application for DIY graphic designing right at your fingertips.
Whether you're working on graphics for marketing materials, websites, icons, UI design, or presentations, or just like to create cool concept art, Gravit Designer will revolutionize how you work.
It offers a clean and intuitive interface that looks and feels like Adobe's Illustrator.
Gravit Designer comes with complete SVG editing tools that will blow your mind with unmatched precision. You can mix vectors with multiple filters, and stack and arrange them in the way you want.
Beginners will find Gravit Designer's clean and uncluttered interface easy and fun to use.
With cloud integration, you can save and sync your design projects to the Gravit cloud to have access to them at any time and place.
The list of features is so long that it is impossible to include it here. Therefore, I suggest you take a look at the features page to know what you can do with Gravit Designer.
Finally, this online graphic designing software gives you unmatched precision in any unit (pixels, mm, cm, etc.) from creating to exporting, which is especially important for print projects.
Plans & Pricing
Gravit Designer has a free Pro plan.
While the free plan is limited to 500MB of cloud storage and very limited export options, the Pro plan will get you unlimited storage, advanced export options, the ability to work offline, and many other features.
The cost of the Pro plan is just CA $49.99 per year.
---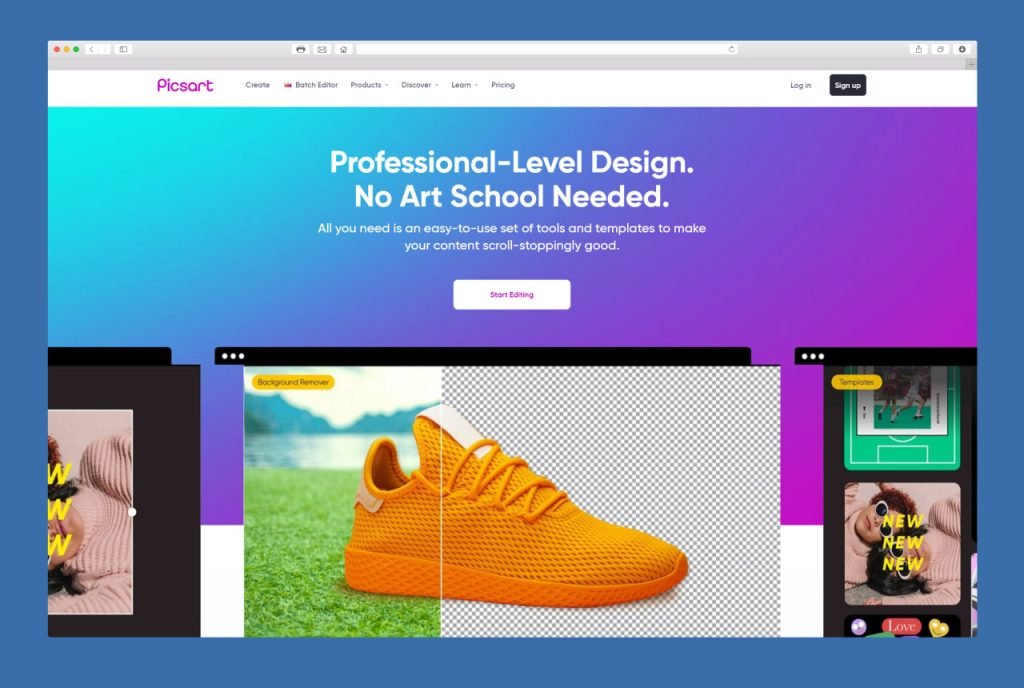 With a billion downloads and more than 150 million monthly active creators, Picsart isn't just the world's largest online DIY graphic designing software; it is also the fastest-growing.
Picsart gives you an easy-to-use set of tools and templates to make eye-catchy content. No matter what your idea is, Picsart has a template to help you make it real.
The user interface and design process are quite similar to other online graphic designing software listed above. However, what makes Picsart unique is the set of different tools.
Like Image Upscaler, Background Remover, Video Trimmer, and a Batch Editor to customize multiple images at once.
Picsart also has a design school resource page where you can learn and improve your graphic design skills.
Plans & Pricing
Picsart online graphic designing software has 3 plans to cater to the needs of different users.
Free – Limited to standard design tools.
Gold – This plan will give you premium design tools, 2 million+ templates, stock photos, videos, and graphics, along with cross-platform support.
Price: $76.99 per year.
Team – This plan will give you everything that is included in the Gold plan along with additional benefits of team management and collaboration.
Price: $193.39 per year for 3 users.
---
Last on our list of 'online DIY graphic designing software' but definitely not the least is Vectr. It is a 100% free-to-use tool that you can use to create 2D graphics easily and intuitively.
Instead of using pixels, Vectr uses mathematical equations to draw your designs. It performs all the math behind the scenes, so the only thing you need to focus on is what you are creating.
Vectr is available online as well as on desktop allowing for live collaboration and synchronization anytime, anywhere, and with anyone.
With an easy-to-use interface, anyone can bring up their creativity as a graphic designer to create graphics for social media, marketing, websites, logos, resumes, brochures, presentations, and much more.
And with real-time sharing, you can send anyone a collaboration invite so that they can watch you create and edit designs live.
Plans & Pricing
Vectr is absolutely FREE TO USE with no hidden costs, FOREVER!
---
Also, check-out:
---