Top 6 free graphic design applications that run smoothly and flawlessly on Mac for professionals as well as amateurs with creative minds.
What makes free graphic design applications great is the user-friendliness together with the cutting-edge vector drawing tools and features to bring the craziest ideas to life.
When it comes to graphic designing, Mac is the most widely used in the world, mainly due to its high color accuracy, image quality, and ease of use.
And the addition of high-end Retina displays makes design work easier and more accurate.
To complement such good hardware, you also need software that can take full advantage of all the processing power.
And thus I have come up with a list of the top 6 free graphic design applications that run smoothly and flawlessly on Mac for professionals as well as amateurs with creative minds.
Lunacy is a free graphic design application for Mac. It's a powerful tool that comes packed with a range of features to make designing easy and enjoyable.
Lunacy is designed for graphic designers, web designers, and anyone who needs to create stunning graphics. The software is developed by Icons8, and it is free to download and use.
This app has a user-friendly interface that makes it easy to use for both beginners and experts. With Lunacy, you can open, edit, and store .sketch files with ease.
You can also create your designs from scratch using the built-in design resources, such as icons, photos, and illustrations.
Lunacy is feature-packed, and it has everything you need to create beautiful designs, from text to shapes and images.
The real-time collaboration feature allows you to work with your team members in real-time, making it easy to share ideas and collaborate on projects. The easy export options allow you to export your designs in various formats, including PNG, SVG, and PDF.
If you're looking for a free graphic design application for Mac, Lunacy is an excellent choice. It is easy to use, packed with features, and has built-in design resources to make designing a breeze.
Compatibility – macOS 10.14 or later
Letters is a free graphic design application for Mac. Providing hundreds of text design templates, Letters helps anyone feel like a graphic designer and get stylish text designs in seconds.
Every template includes stylized text with a unique texture and a background.
A wide range of seamless photorealistic textures is the main distinguishing feature of Letters.
Users of the app include small businesses producing their own promo graphics, pro designers that are looking for a quick solution, and social media content creators who need lots of graphics on a daily basis (Facebook and Twitter covers, YouTube channel art, YouTube thumbnails, Facebook and Instagram posts).
The app's template collection reflects the most current design trends, including:
Photorealistic 3D Texts
Watercolor
Retro & Vintage
Photos with Captions
Grunge Style
2D Calligraphy
Neon & Glowing Effects
3D Transformed Texts
Users can experiment with template colors while preserving the style color scheme, as well as change text or background color separately, replace a background image, and set any document size.
Text settings allow you to easily change the font, adjust color, control geometry (chamfer, thickness, depth, and perspective), apply shadow and glow, and tune lighting.
All the textures are seamless and scalable.
This free graphic design app for Mac has been developed by BeLight Software who are also the developers of Art Text 4 – The Most Intuitive Graphic Design Software For Mac.
Compatibility – macOS 10.10 or higher, Big Sur compatible.
Gravit Designer is a full-featured, free graphic design app for Mac right at your fingertips.
Whether you're working on graphics for marketing materials, websites, icons, UI design, or presentations, or just like to create cool concept art, Gravit Designer will revolutionize how you work.
It offers a clean and intuitive interface, that adjusts itself exactly the way you want.
Gravit Designer comes with complete SVG editing tools that will blow your mind with unmatched precision.
You can mix vectors with multiple filters, and stack and arrange them in the way you want.
Gravit Designer allows you to add multiple indestructible effects and blending modes to the whole shape or just parts of it.
You also get more than 40 effects and 28 blending modes to choose from.
Apply multiple fills and borders to any object and create effects, that you have never seen before with screen, noise, and pattern fill modes.
Finally, Gravit Designer gives you unmatched precision in any unit (pixels, mm, cm, etc.) from creating to exporting, which is especially important for print projects.
Compatibility –  macOS 10.10.0 or later.
Vectornator is an all-in-one free graphic design application for Mac.
It combines all the vector tools, advanced features, and functions that you need with an intuitive user interface.
Thus making Vectornator the home for all of your graphic design work, from Branding, Illustrations, Interfaces, websites, and typography to anything you can imagine.
Vectornator does not look or feel like any graphic design tool you have ever used.
Some key features of this free graphic design app for Mac are:
Helps in creating detailed vectors using Pen, Node, Brush, and Shape tools.
Easily Align, Group, Mask, Order, Scale, Rotate, or Duplicate objects.
Use Advanced Vector operations such as Corner radius, Boolean, combining, separating, outlining paths, and more.
Typography tool with full control over line height, kerning, tracking, font import, ability to outline text, and placing it on a path.
Automatically turn bitmap images into vectors with Auto Trace.
Work with different Artboards in a single document for an optimal UI and Web design experience.
Add any of the 80 thousand icons from the included Iconator library to your designs.
Color Picker with support for Gradients, Palettes, Hex input, Hex to Pantone conversion, HSB, RGB, Color blending, and Wide color gamut.
Compatibility – macOS 11.0 or later.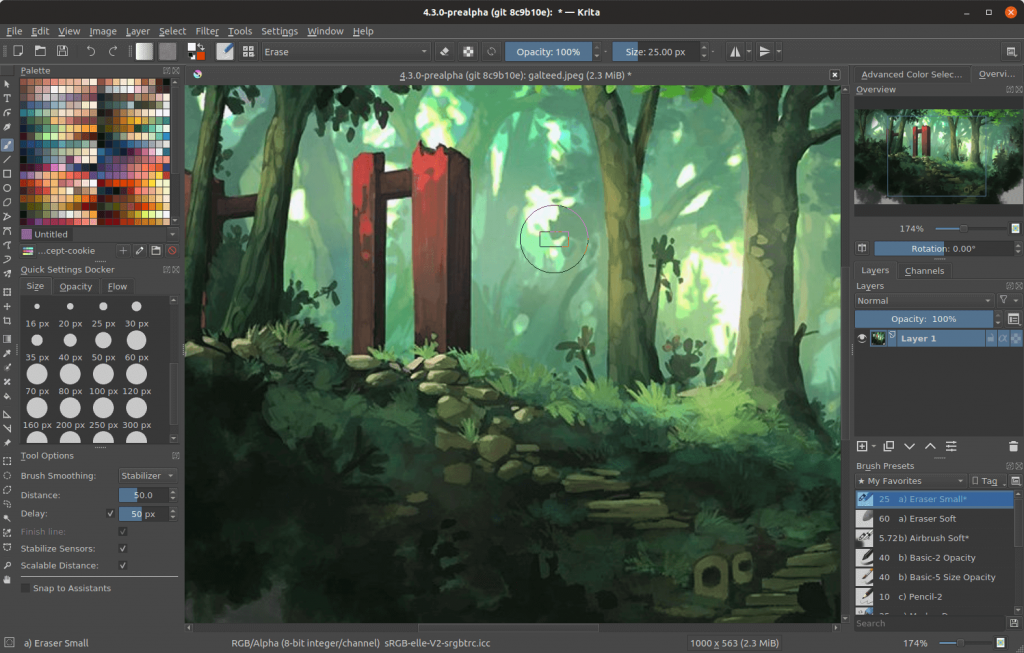 Krita is a full-featured free graphic design application, licensed under the GNU Public License for artists who want to create professional work from start to end.
It is used by comic book artists, illustrators, concept artists, matte and texture painters, and in the digital VFX industry.
Krita is used by millions of people all over the world and has several features that are unique or a first among free graphic design applications.
It has all the tools you need to create amazing designs and artwork –
Beautiful Brushes – Krita comes preloaded with over 100 professionally made brushes to give your design projects a give a good range of effects.
Brush Stabilizer – Have a shaky hand? Add a stabilizer to your brush to smoothen it out. Krita includes 3 different ways to smooth and stabilize your brush strokes. There is even a dedicated Dynamic Brush tool where you can add drag and mass.
Vector & Text – Built-in vector tools help you create comic panels. Select a word bubble template from the vector library and drag it on your canvas. Change the anchor points to create your own shapes and libraries. Add text to your artwork as well with the text tool. Krita uses SVG to manage its vector format.
Resource Manager – Krita gives you the freedom to Import brush and texture packs from other artists to expand your tool set.
User-Friendly & Dynamic Interface – The dockers and panels can be moved and customized for your specific workflow. Once you have your setup, you can save it as your own workspace. You can also create your own shortcuts for commonly used tools.
"Fast, Flexible, and Free Photoshop Alternative Built by Artists," says Lifehacker.
Compatibility – macOS X 10.9 or later
Amadine is a graphic design app that is easy to use and learn.
The app has everything a graphic designer needs, wrapped in an uncluttered and intuitive interface, every feature and tool is clear and easily accessible.
The key features of Amadine are:
Diverse vector art – The high-end Pen tool encapsulates the expertise of precision-driven curve creation. Implemented for simplicity of use, the Draw tool has everything to create graphics that resembles a hand-drawn image. All the paths and shapes can have multiple strokes and fill.
Variable strokes – The Width tool allows a user to create and save unique strokes to give your drawing an artistic touch.
Distinct effects – Inner Glow, Outer Glow, Shadow, and Blur effects to make illustrations perfectly stylized.
Wacom Support – Wacom tablet support and Pressure Sensitive Strokes allow a user to enhance their graphic drawing process
Lettering and Typography – Inspiration-driven text tools are bound to produce effective results when a user needs a heading or a frame for text.
Compatibility – macOS 10.12 or higher, Big Sur compatible.
---
Also, check-out:
---