A list of 5 websites that offer free illustrations with CC0 license for both personal and commercial purposes. You don't need to provide attribution or give credits.
Free-to-use illustrations are no less than a blessing for designers and artists. However, on digging deeper into this topic, you'll find that free isn't always free. There are hundreds of websites on the internet that offer free illustrations but that's not what most of us are looking for.
What we and you too should consider is that it has to be free for commercial use. Moreover, there are two major things to look for:
Providing attribution to the original creator.
Are the illustrations free to use for all commercial projects?
Attribution means giving credit to the owner of the illustration or any graphical asset. Creating content takes a lot of time and effort.
Therefore, artists giving away free stuff on the internet deserve to be credited. Free illustrations that require attribution fall under the CC 3.0 License.
What is CC 3.0 License?
CC 3.0 (CC stands for Creative Commons) is a type of licensing where you are free to share the illustrations in any medium or format. You can remix, transform, and build upon the illustrations for any purpose, even commercially.
However, you must give attribution (credit) to the owner and provide a link to the original content.
It can be said that such illustrations are FREE OF COST TO USE but not FREE TO USE WITH NO STRINGS ATTACHED. Such illustrations where no attribution is required are subject to CC0 licensing.
CC0 – No Strings Attached
Illustrations with CC0 put them in the public domain so that others may freely build upon, enhance, or reuse them for any (personal or commercial) purposes without any attribution and copyright restrictions.
The importance of free illustrations under the CC0 license is that you can use them commercially in any number of projects without ever considering rights infringement.
The only thing you can't do is re-distribution of illustrations by downloading and offering them on your website or other online media.
Websites That Offer Free Illustrations With CC0 License For Commercial Use
Down below is a list of 5 websites that offer free illustrations with CC0 licenses for both personal and commercial purposes. You don't need to provide attribution or give credits.
Lukasz Adam is an illustrator, designer & developer who is known because of his free illustrations library. He created hundreds of free illustrations under the CC0 license. You can use them without attribution for commercial & personal projects.
You are free to customize these illustrations by changing the color, and shapes, or even cutting things out.
The download is powered by Gumroad pay what you want. Just type 0 in the price section to download Lukasz's free illustrations package or support him by naming a fair price (PAY WHAT YOU WANT).
Undraw has a massive library of high-quality free illustrations with customizable color objects. These illustrations can be scaled without loss in image quality. This library was launched in 2017 with the goal of contributing to the open-source community.
Google, Microsoft, and Facebook are some of the well-known organizations that use Undraw's free illustrations. You can use the illustrations in any project, commercial or personal without attribution or any costs.
Open Peeps is a hand-drawn library of free illustrations by Pablo Stanley for commercial and personal use under a CC0 license. What makes Open Peeps unique is the ability to mix and match elements to create different illustrations (similar to a character creation tool).
It is made up of hundreds of vector arms, legs, and emotions. You can easily combine clothing and hairstyles, change emotions with facial expressions, change poses, and much more.
Open Peeps library is in the public domain. Therefore you can copy, modify, distribute, and use them for commercial purposes, without asking permission.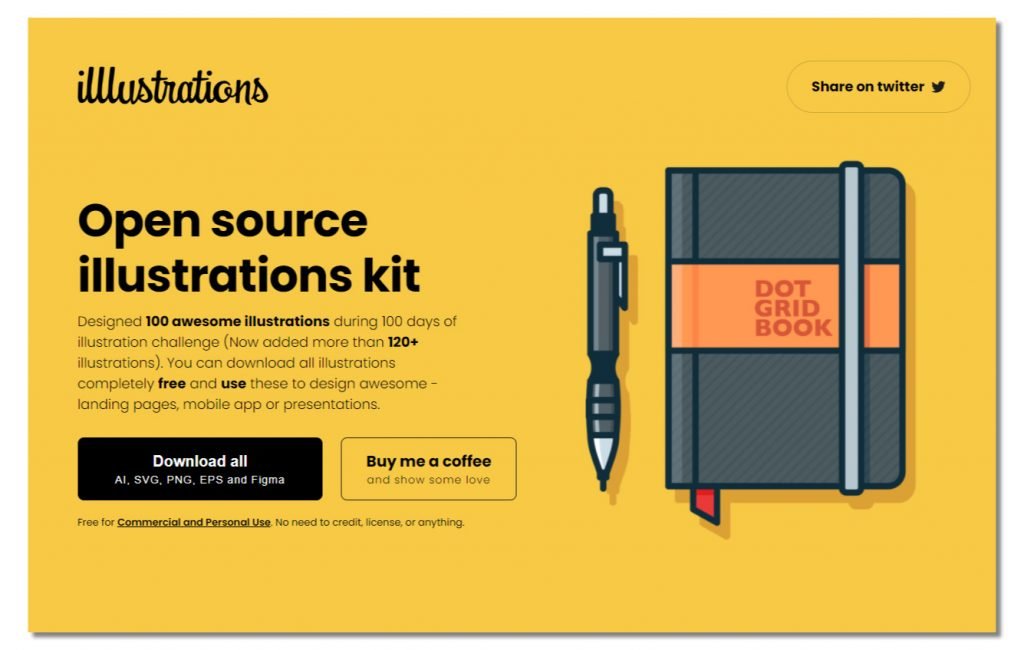 What started as #100daysChallenge is now a collection of 220+ open-source illustrations. You can download all illustrations completely free and use them to design awesome landing pages, mobile apps, presentations, and other creative stuff.
"Back in 2016, I spent almost 2 hours a day for 100 days just designing, illustrating, and experimenting to get myself to the next level in illustration. All those illustrations were saved on my drive untouched for years. So, decided to share with you guys for FREE." – says Vijay Verma, Principal Product Designer at Zomato.
These free illustrations are subjected to an MIT license and grant permission for private, personal, or commercial usage.
Humaaans is yet another website by Pablo Stanley that offers free illustrations for personal and commercial use. Similar to Open Peeps, Humaaans is also a mix-and-match illustration of people. However, it is still different in many other ways.
You can create everything from scratch and design a human body using hundreds of different vector elements. To add a bit of ambiance to your content, Humaaans free illustrations library comes with many different backgrounds as well.
With included ready-to-use templates, you can easily and quickly create web landing pages, mobile apps, presentations, and much more. Humaaans free illustrations library can be downloaded for free and is subjected to a CC0 license.
Just type 0 in the price column to download or support the project by paying what you want.
NO STRINGS ATTACHED!
Conclusion
Sometimes, free is not always free and this is quite common in the world of digital downloads.
Hundreds of online resources provide free illustrations but most of them are subjected to CC 3.0 license which forces you to provide attribution links or give credits to the original creator.
However, there are other websites offering illustrations that are both free to download and use for personal and commercial purposes with CC0 License.
And when digital downloads are subjected to CC0, there is no need to provide attribution. However, you can still do so if you wish to support the content.
So every time you find free illustrations on the web, check out the license!
---
Also, Check-Out:
---