Take a look at our hand-picked list of 15 free stock photos websites for designers and creative artists. Free for personal and commercial use.
Free Stock photos websites are a dime a dozen and so are the images they offer. You're looking for something better, RIGHT? Something beautiful, high-quality. Images that make your audience's heartbeat just a little faster.
To stand out in today's digital landscape, you need more than the same old boring stock photos.
If you are looking for something different, I invite you to take a look at our hand-picked list of websites to download free stock photos for creative artists.
These free stock photos websites help millions of web designers, artists, programmers, and other creators to get access to beautiful photos. They can use these photos freely which empowers them to create amazing products, designs, stories, websites, apps, art, and other work.
---
Click/Tap The Circular Image To View This Article In Visual Web Story Mode
---
Pexels provides high-quality and completely free stock photos for designers and other creators. All photos are tagged with proper keywords and are easy to search for.
They have hundreds of thousands of free stock photos that are hand-picked by professional photographers, and users, or sourced from other free image websites.
Pexels is not just limited to web browsers but is also available as an app for both iOS and Android devices.
---
Death To Stock is an artist-owned website that provides you with authentic and free stock photos with unlimited downloads.
The website aims to keep things fresh, so they add new photos and media every 30 days.
On top of that, all their stock photos have a "make what you want" license which removes all constraints and roadblocks between you can your creativity.
"Shoutout to Death To Stock for always having consistently amazing photos and an easy-to-use website," says Nicole Booz.
---
Unsplash is a community of more than 200,000 photographers that together bring over 2 million high-resolution free stock photos for creative artists.
Each and every photograph is hand-selected so that no matter what you need, you'll always get the best.
To date, millions of creators from around the world have downloaded over 2 billion free stock photos from Unsplash to create presentations, artwork, mockups, and more.
---
Pixabay is a vibrant community of creatives that share copyright-free stock images, videos, music, and more.
All images are released under the Pixabay license, which makes them safe to use for personal and commercial use without any permission or attribution to the artist.
The overall quality of the photos on Pixabay has been described as mediocre for the most part but covering a wide range of subjects.
---
Stockvault is a free stock photo community website where photographers and creative artists share their own photos and artworks with people from all over the world.
Here you can download thousands of pictures and illustrations of people, animals, buildings, landscapes, food images, and much more.
Stockvault photos, artworks, and vectors are 100% free to use for both personal and commercial projects.
---
Gratisography has the quirkiest collection of high-resolution free stock images, comprised of the most creative pictures you just won't find anywhere else.
They take a different approach by keeping quality over quantity. Gratisography curates only the most interesting pictures, the ones with personality, perspective, and story to tell.
This free stock photos website was founded in 2011 as a resource for people in need of pictures for personal and commercial projects.
---
7. SplitShire
The idea behind the SplitShire concept is the unity of two words. Where "shire" represents the county, a closed environment, for a few, in this case, related to copyright, and "split" which represents sharing a piece of this county with everyone.
SplitShire was created with the simple aim of giving life to photographs that would have gone into darkness without any utility.
The photos listed SplitShire are now used by some of the biggest websites, books, magazines, and thousands of blogs.
From designers, bloggers, and website creators to social marketing gurus and companies, SplitShire is for everyone.
---
Little Visuals began life as a passion project of Nic Jackson. Tragically, Nic died suddenly in November 2013.
Whilst Nic didn't get the chance to maintain and grow Little Visuals himself, this website remains accessible to all. His family ensured that all of the images will remain available and free for commercial use.
Little Visuals has more than 3 million users, over 15 million image views, and 130,000 subscribers.
---
Picjumbo is a free stock photos website by photographer Viktor Hanacek from the Czech Republic.
According to Viktor, he is just a guy who shares his photos with the world for free that are today used by millions of bloggers, designers, and marketers.
Almost all the pictures on Picjumbo are Viktor's own photos which gives him the huge advantage of being 100 % sure that the photos are genuine and that there won't be any issues with stolen pictures from other photographers and so on.
---
Vecteezy aims to provide designers and creative artists with the resources they need to do their best work, wherever they are in the creative process.
With their worry-free licensing, you can use Vecteezy's free stock photos for personal or commercial projects with confidence.
---
Foter has been established in 2006 as a source of high-quality free stock photos and inspiration for journalists and graphic designers.
Thousands of website owners and creators have used this website to search for desired photos with ease in a database of 335 million free images.
---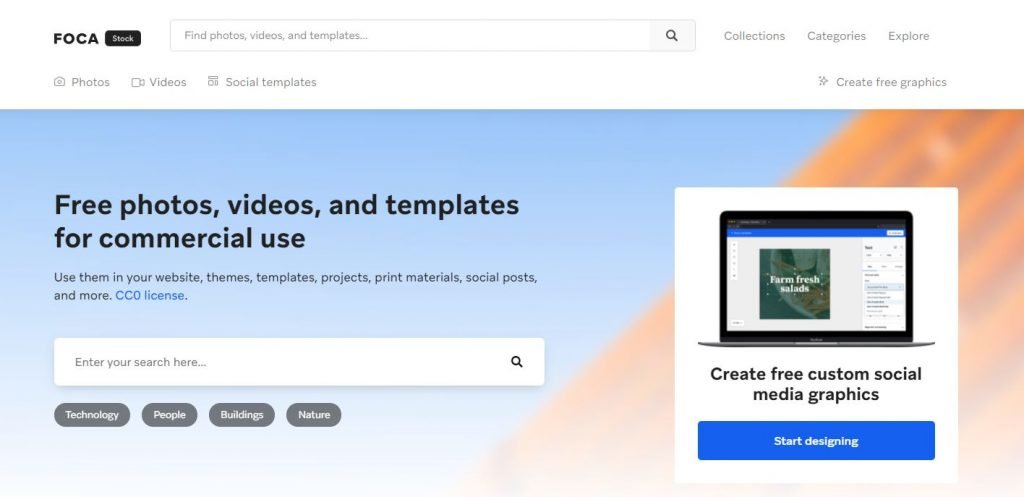 FOCA Stock provides free CC0 photography for personal and commercial use on websites, projects, themes, apps, and more.
The content spans many categories, including nature, city scenes, workspaces, and macro photography.
These photos can be freely downloaded, used, and redistributed for both personal and commercial purposes.
---
If you are looking for an authentic and royalty-free image for your next blog article, social media post, website, or landing page – then Reshot is for YOU!
It offers one-of-a-kind stock photos for free with no strings attached.
That means you are free to use these images anywhere in your personal or commercial projects without any author attribution or credit.
Reshot has more than 25,000 free stock photos from various different categories.
---
PhotoStockEditor offers more than 300,000 royalty-free stock images for your personal and commercial use.
This free stock photos website can cater to the needs of both individual users and small & large companies. The good news is that you can download images for free and use them on your website, blog, or promotional materials.
---
In search of colorless images? Then take a look at blackwhite.pictures. It is a free stock image library that offers only black-and-white images.
It offers numerous images from various different categories that you can download for free and use in your personal and commercial projects.
---
Also, Check-Out:
---