A list of top websites to download free RAW photos for those who want to practice editing, color correction, and retouching.
I always shoot RAW. Why? Because RAW photos contain more data (as it is uncompressed) than any other image file format.
A typical DSLR camera has two main formats – JPEG and RAW.
When taking a RAW image, the camera takes image data from the sensor and saves it as an uncompressed file format.
You cannot simply take these RAW images and upload them on the social media websites like Facebook or Instagram.
You have to process them with special editing software like Adobe Lightroom and Photoshop.
The only disadvantage of shooting and processing RAW images is the high file size.
Other than that, RAW is great for editing and retouching purposes as more data means higher quality.
JPEG vs RAW For Learning Retouching and Editing
There is no denying the fact that editing and retouching can be learned and practiced with JPEG images.
But if possible, you can and you should practice retouching on RAW photos.
RAW photos offer you a high dynamic range thus giving you the freedom to adjust and fix the white balance in your images to make them look more natural.
Also, you can fine-tune the sharpness and adjust the noise in post-processing to get clean overall images.
To cut things short, you can retouch RAW photos with Lightroom Presets and then work your way up to give different look and feel to them.
Free Raw Photos For Retouching Practice
There are websites on the Internet offering free RAW photos for those who want to practice editing, color correction, and retouching.
Below is a list of the Top websites to download free RAW photos for retouching practice.
The sole purpose of this website is to help photographers and editors learn image retouching and coloring.
Retouching Academy Lab offers free RAW practice files for beauty, portrait & fashion retouching.
You can download their RAW images and practice your retouching skills on them.
Along with the free RAW images, their Photoshop extension "Beauty Retouch Panel" can also help you learn the art and process of image retouching.
---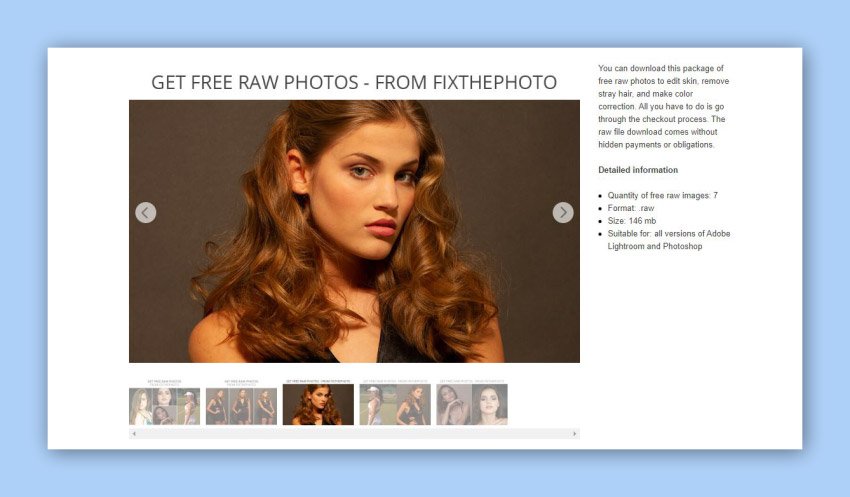 Fix The Photo offers a special collection of studio and outdoor RAW photos to practice editing and color correction.
Such free RAW photos are useful for beginner photographers and retouchers to try, practice and improve their skills and knowledge of post-processing.
Their RAW files are suitable for all versions of Adobe Lightroom and Photoshop.
---
FroKnowsPhoto.com is a website by Photographer and YouTube Jared Polin.
He reviews all the latest cameras and equipment and often releases test RAW images for people to download and play with.
You can download Jared's RAW files and learn editing/retouching along with his step-by-step guides and tutorials.
---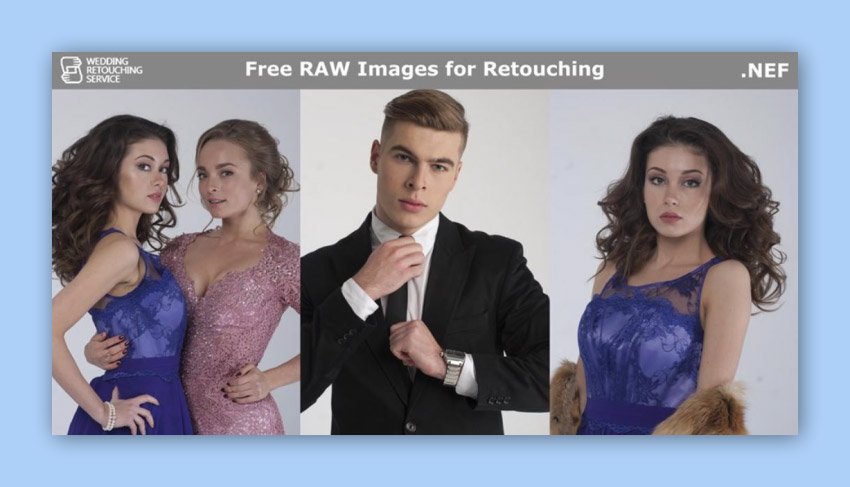 Wedding Retouching is an online professional retouching service for photographers.
Many photographers have contributed their work and given permission to use their RAW images for editing practice.
You can even showcase both the original and edited photos on your website, and social media or even include them in your portfolio without any copyright issues.
---
want to practice RAW image processing and retouching? Spectaclephoto.com offers a bunch of files for your to try out.
Their images are free to use for personal use only. But if you share them online, simply tag Spectacle Photo as the photographer.
---
Signature Edits is a publicly contributed community with hundreds of free RAW files for photographers to download and upload RAW files for practicing.
All raw files published on Signature Edits can be used for free.
You can use them for commercial and noncommercial purposes.
You do not need to ask permission from or provide credit to the photographer or Signature Edits.
Although it is appreciated when possible.
---