Art Text 4 is the most intuitive graphic design software for Mac that brings text effects, typography, and logo design to the next level.
Art Text 4 is graphic design software for Mac that brings text effects, typography, and logo design to the next level. Its intuitive design toolkit, graphic presets, and typography templates will help you create flashy headings for all your design projects, logos, and websites.
Art Text 4 allows you to instantly produce 3D text and 3D titles, and even make eye-catching captions for social media posts.
The new and latest version 4 adds a bunch of new features, such as
400+ design templates
122 style presets
440+ Spray Fill objects
Spray Fill distribution maps
Shadows for Spray Fill objects
Light controls for Spray Fill
8 font distortion effects
110+ new masks
150+ Reflection masks
Apple Metal 2 support
Dark and Light UI theme
Export to Facebook 3D Photo
---
Art Text 4 Is For Both Professionals & Amateurs
Art Text graphic design software for Mac caters to two types of users –
The first is professional graphic designers who want to save time on creating text effects in traditional graphic design apps. It provides all the tools to create unique text graphics a few times faster.
On the other side of the scale are amateurs, who can easily create high-quality graphics and text effects without much learning by using hundreds of pre-designed templates and various presets.
---
Art Text 4 Tools & Features
Before getting deep into all the details, take a look at the Art Text 4 intro video –
The above video demonstrates how intuitive and powerful Art Text 4 is as it comes equipped with a wide selection of text styles, surface materials, and effects.
Let's take a look at all the essential tools and features this graphic design software for Mac has to offer for creating lettering and typography graphics, text mockups, and artistic text effects.
---
Spray Fill Tool
The Spray Fill tool allows achieving the effect of text being laid out with such objects as coffee beans, color balls, leaves, LEGO pieces, clouds, and many more.
Art Text 4 comes with over 440 fill objects to choose from, or you can import PNG, PDF, or JPEG images and use your own photo objects.
---
Font Distortion Effects
With the help of Distortion Effects, you can heavily alter and edit font shapes beyond the standard typeface options.
With just a few settings, you can very easily change an edged font into one with rounded corners, wear out text sides, create random holes in the body, partially dim text, and more.
The above image is an example of a standard typeface font converted into photorealistic honey laid out as text with the help of distortion effects.
Currently, there are 8 font distortion effects – Displacement, Side Displacement, Roundness, Brush, Outer Distress, Erosion, Mask, and Blur.
---
Shading Materials
Art Text graphic design software for Mac offers 2D materials for visual effects, such as bumping or embossing.
You may also apply a glass, plastic, or gold finish, make the surface glossy, matte, bright, or faded, or give your graphic a fascinating watercolor, oil paint, or pencil drawing look.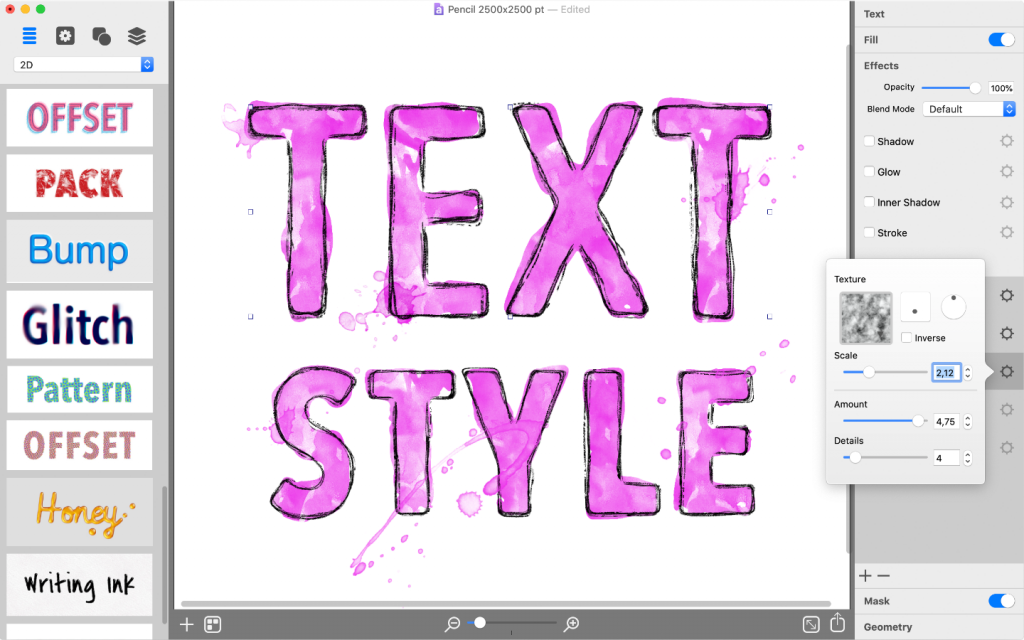 The most demanding users will find the material editor handy for creating custom Shading Materials.
---
3D Text With Reflection Mask
The graphic design software for Mac implements a 3D modeling engine that helps to convert any text, symbol, or pictogram to 3D.
Its 3D renderer together with tons of customizable 3D materials ensures super realistic results every time.
The Reflection Mask option defines reflective and non-reflective areas to maximize the authenticity of rusty, decayed, or scratched surfaces.
The Bump Map option improves Shading Materials by adding bumps and wrinkles to convex and embossed text effects.
---
Design Gallery
Art Text includes a comprehensive templates gallery that can be conveniently navigated by a typography theme.
You can use any of the 400+ design templates and presets as is, or modify them to your liking for any of your personal or commercial projects.
---
Art Text 4 Pricing
Art Text 4 is available for purchase from its official website for USD $29.99. You can also try out Art Text by downloading the free trial version.
You will receive the activation license code in the purchase confirmation email.
To enter the license code:
Open the software.
Bring up the License dialog by choosing Art Text 4 > License in the menu.
Enter your name and license code.
It is recommended that you keep the email containing your license code in a safe place in case you re-install or update the application.
---
Art Text 4 Compatibility
To run Art Text 4 graphic design software for Mac smoothly and efficiently, it is recommended that you have –
macOS 10.14 or later
2 GB of available disk space
Metal-capable video card
To find out if your video card is Metal-capable, Use the Mac computers that support the Metal page.
---
Also, check-out: