Toonly is great, risk-free software with the simplest of guidelines to create the most engaging, animated explainer videos.
Animated Explainer Videos are a great way to create quality engaging content. It's a great way to market your product as visuals are 94% more effective than textual content. And Toonly is a great tool for creating Animated Explainer Videos.
But before digging deep into what Toonly is and how can you use it. Let's take a look at Why content is so important these days.
While the internet has made the world a small village, it has also made the market increasingly competitive. One click and a number of similar sites pop up within the blink of an eye. This leaves you with little to no space for catchy content to help you woo your audience. [toc]
Why Is Content Important?
A website should aim to build an intimate and prolonged connection with its audience. This can only be achieved if they can find the information they receive via a website worth their resources.
Every organization and mode of business today has an online form. No matter at what point on the scale they fall under.
The true potential of these organizations can be reached only if people could differentiate them from millions of other similar products and businesses.
Creating a market via content within the target audience is the only way to reach this goal of individuality.
This is also the only probable and foolproof method known to mankind.
Great content is a tool that guarantees the desired result. It is a weapon that any organization can and should use if they intend to succeed in their chosen venture.
Creative marketing through and on the internet is what will go a long way in today's competitive market.
Listing down a number of strategies and working on them is an important part of the game.
Taking these strategies into account, a lot of new innovative methods that you find convenient can be taken up.
But one of the best and most used strategies in the market is Explainer Videos.
What Are Explainer Videos?
Explainer videos are short, fun, and engaging videos where a brand or an organization markets its content.
This is one of the most popular forms of marketing and has been available in the creative content scene since the mid-2000s.
It has only been gaining popularity in recent years and is used by almost every recognizable name in any industry you point towards.
Explainer Videos Are Accurate
Explainer videos are precise and to the point.
The audience does not feel like they are wasting their time since the message is communicated in a very brief span of time.
What more?
These videos are animated with colorful effects added to make sure that the idea reaches the consumer in the quickest and most efficient way possible.
The voice-over you provide can be fun to listen to since these are not "real people" talking to them.
Animation is one of the most sought-after mediums for delivering any type of message. It has a wide scope for innovation and provides the creator with endless opportunities to explore their skills and abilities.
It is a fact that many people prefer and understand animation better than live-action for a number of reasons.
One of them is that it provides the consumer with a better shot of identifying the message and interpreting it since it uses uncomplicated means that the people find engaging.
The characters are exactly what you find fit for the marketing of your brand. The tools that animation comes with make the video the best way to keep your audience's attention from waning midway.
It holds their attention for just enough a period of time so that your message reaches the audience fully and efficiently before they get distracted and stop taking into account what you have to say.
You can manage your content in such a way that you don't say too much or too little, just enough to keep the people curious and wanting for more.
What Does An Explainer Video Contain?
The average explainer video starts with the identification of an idea that you find worth pitching to your target audience.
To create a great explainer video, you take the said idea, elaborate and zero in on what you want the people to know, and come up with a content-based action plan for your video.
The explainer video should tastefully tell the audience two things: who you are and what you intend on doing or communicating to your target audience.
These videos are hugely popular amongst brands, businesses, and organizations of all kinds, and with good reason.
New businesses that intend to create a market for themselves find these videos a convenient mode of marketing since they work great with people.
Likewise, huge names like Twitter and Google also incorporate these videos in their marketing plan to expand their already existing consumer base and quite simply stay in the competition.
Consumers view this as a source of creative entertainment that takes up a very little amount of their time.
These videos are memorable and they leave a lasting impact on the people who, as someone aiming at marketing your content to the best of your potential, are exactly what you need.
It is not only a means of marketing but also a creative outlet to tell your story or message better.
So, How Can You Create These Videos?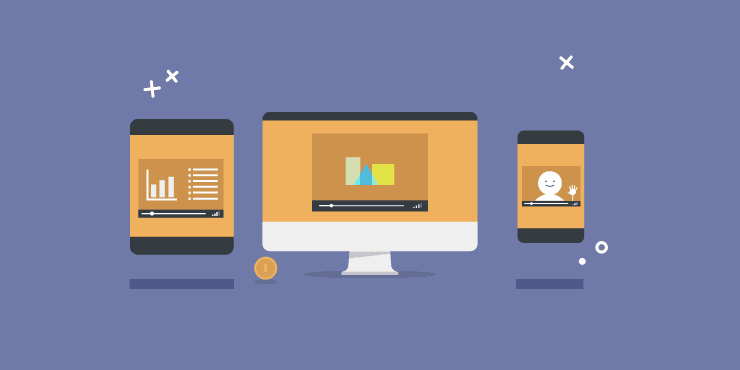 Let's be honest here, most of us realize how technologically impaired we are as soon as we hear the words "animated video".
Furthermore, marketing content to a particular target audience who will decide the entire success rate of your business is quite intimidating for the common modern human.
Approaching a professional to create these videos can drain out the resources you have at hand as it is time consuming and expensive for the most part.
You can also not manage and look over the type of content that is being created and cannot create the video to match your own personal style.
The best option you have is to do it yourself with the use of software that facilitates the process and breaks it down into simpler, bite-sized steps that work well with amateurs and even veteran video creators who aim at managing their time and efforts effectively.
You can even download Pixity Land Toolkit. It is one of the best Explainer Video templates for Adobe After Effects.
But where do you find such a platform and once there, how do you go about creating your content?
This is where the people at Toonly come in. Visit the official website and have a look.
Toonly is a "drag and drop explainer video creator" that is simple and accessible to anyone willing to explore their marketing options.
Its readily available templates make it easy to use and work with. It is creative, innovative, and incredibly fun to use.
But, Why Toonly?
The great thing about Toonly is that is wholly managed by you.
You get to choose what goes into your video and what doesn't.
You do not have to hire a professional video creator since a curated set of ideas is available at your disposal.
It comes with a number of animated characters that are customizable according to the user's discretion, prop images that are realistic, pre-made scenes to make the process easier and make it less time-consuming, background audio, and text animation.
The library that Toonly provides the customer with is enormous and functional with over 750 character images, 70 background scenes, 100 audio music tracks, and over a thousand props that can be used to amplify your video to a great extent.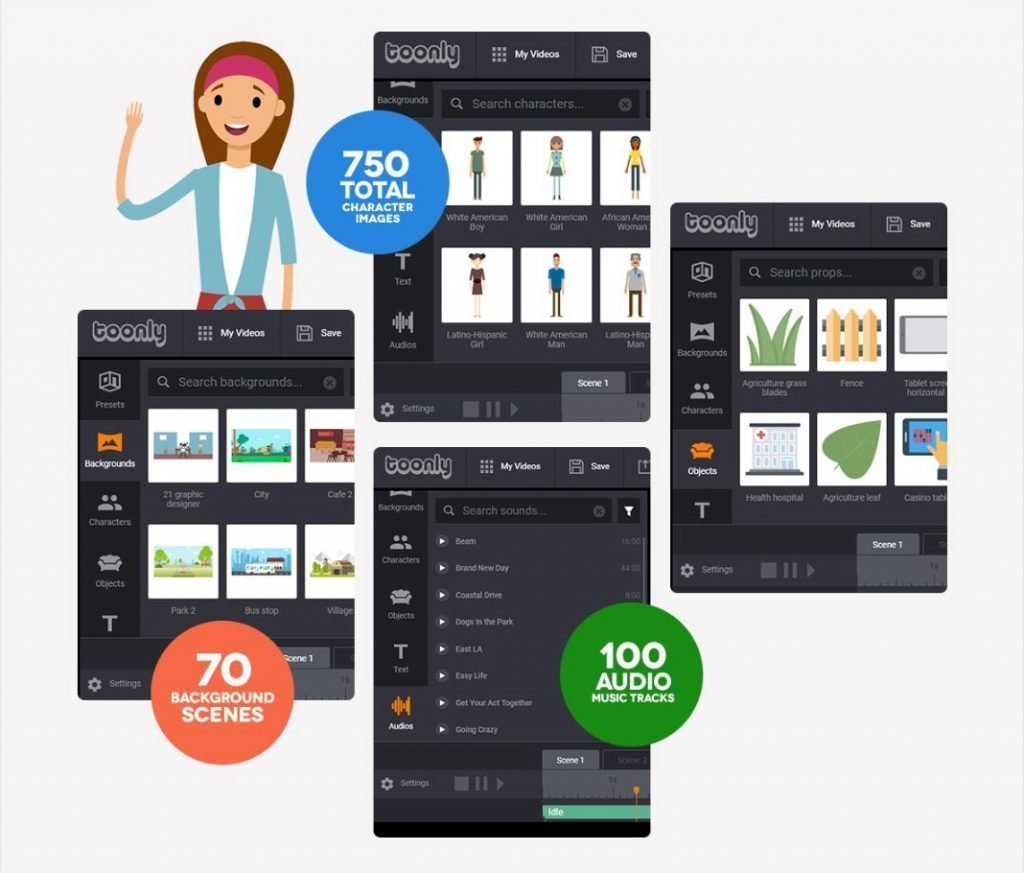 You can even upload your own images to the software and use the same in your videos as background, props, or characters.
The images can be in JPG or PNG format and you can upload your own GIFs to the software too.
The voice-over you choose to provide for your video is also customizable since Toonly provides you with the option of either recording your own audio or exporting and uploading a premade audio that you already have in hand.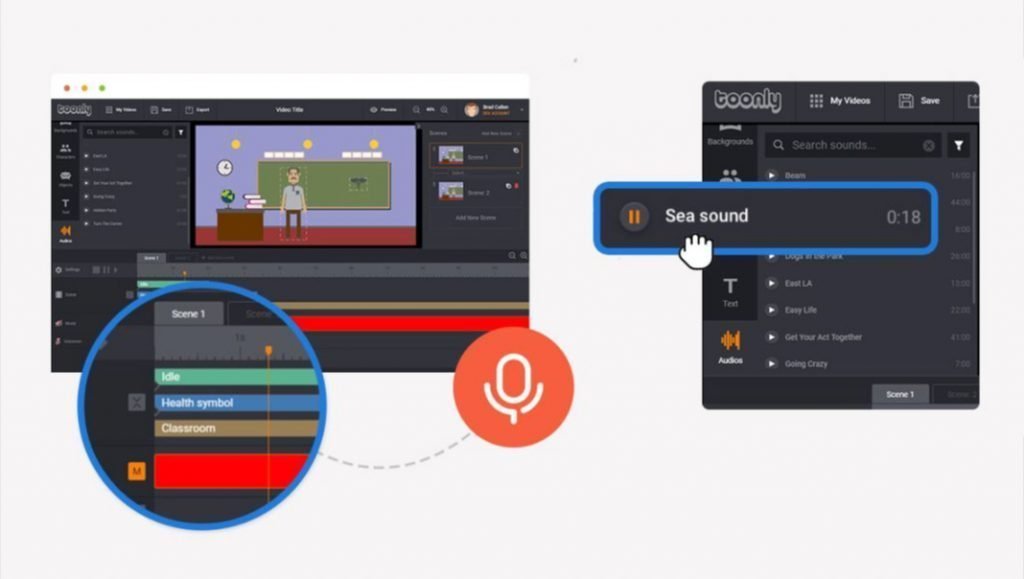 The updates made to the software also come free with the subscription to their packages.
This ensures that you are always one step ahead in the game, with premium quality, timely software at your disposal.
You can also take your work offline with Toonly, which is extremely convenient for video creation software.
The creation of these videos is fun and the work is broken down so that you do not have to worry about being caught up in a whirlwind of technicalities.
Added to that, Toonly also provides you with a tutorial that you can refer to at any point, which helps you know exactly what you are doing and what you are getting into, even before you begin.
Toonly is a very practical option for anyone wishing to use explainer videos as part of their marketing strategies or just as an alternative means for communicating an idea or information if that is what you wish to do with this tool.
This software can be used on both a PC and a Mac, making it accessible to all.
You can also upload and customize your own fonts. Toonly also supports multiple languages, making it a great choice for creating your video.
Once you are done with the creation of your explainer video, the next steps are also made convenient for you.
"After you've created your custom animated explainer video, you'll be able to export your video in various resolutions (480p, 720p, 1080p, 1440p, 4K, even custom), file sizes (24-60 fps), and quality (low-maximum)", mentions the team on their website.
To sum it all up, using Toonly comes with 4 easy steps:
Choose a background
"Drag and drop" the content you wish to add to your video (images, animations, text, audio, etc)
Record your voiceover or upload a pre-recorded audio to the animated video
Save and export the video to share it around on platforms like Instagram, Facebook, etc.
---
What About The Pricing?
The pricing criterion of Toonly is extremely reasonable and is created in such a way that choosing a plan that goes with your needs is made simple.
The entire process is transparent with added perks that come with the subscription to each of their packages.
For the features and services it provides, Toonly is cheaper than a lot of other similar software that is available in the market today.
You could choose to go on either a monthly or an annual plan, both of which come in "Standard" and "Enterprise" packages.
The Standard package for the monthly plan adds up to $39 while the Enterprise package totals $69.
Similarly, the annual plan provides a Standard package at $20 per month and an Enterprise package at $40 per month, billed annually.
Toonly also provides the customer with a 30-day money-back guarantee if, for any reason whatsoever, the said customer is unhappy or unsatisfied with the services that it provides.
Toonly is great, risk-free software with the simplest of guidelines to create your video.
It is great for any type of content that you wish to create.
If you have decided that explainer videos are exactly your cup of tea, then checking this software out is a great idea.
---