Just installed Adobe After Effects? Discover the first 5 crucial steps to set yourself up for motion graphics success.
Adobe After Effects is a powerful tool that filmmakers, animators, and designers around the world use to create compelling visual effects and motion graphics. If you've just installed the software, you might be overwhelmed with its vast capabilities.
Here are 5 crucial things you should do to kick-start your journey in After Effects.
1. Optimize Your Workspace
After installing After Effects, the first thing you'll notice is its extensive and customizable interface. Before you dive deep, make sure to familiarize yourself with the workspace and optimize it based on your needs.
Workspace Panels
By default, you'll find several panels like Project, Composition, Timeline, Preview, and Effects & Presets. If you're working on animation, ensure your Character and Paragraph panels are visible. If you're into visual effects, make sure the Tracker panel is accessible.
Custom Layouts
You can drag around the panels to create a layout that best suits your workflow. Once you're happy with a configuration, save it by navigating to Window > Workspace > Save as New Workspace.
This way, even if you mess things up later, you can always revert to your preferred layout.
Adjust Preview Resolution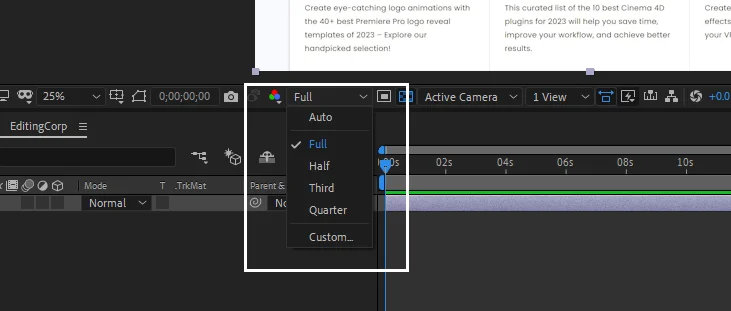 To ensure smooth playback while previewing your compositions, you can reduce the resolution. Use the 'Resolution' dropdown in the 'Preview' panel to switch between full, half, third, or quarter resolutions.
2. Install Essential Plugins
While After Effects features numerous built-in effects, many professionals rely on third-party plugins to enhance their workflows and achieve specific results.
Some popular plugins you might consider are:
Research and select the plugins that align with your needs, but remember to not overburden your software with unnecessary plugins.
Check out: 50 Best After Effects Plugins & Scripts For 2023
3. Familiarize Yourself with Basic Keyboard Shortcuts
Keyboard shortcuts are vital for a streamlined workflow in After Effects. By learning essential shortcuts, you'll speed up your editing process.
Here are a few to get started:
Spacebar: Play/Pause the preview.
Ctrl/Cmd + Z: Undo the last action.
Ctrl/Cmd + Shift + Z: Redo the last action.
Ctrl/Cmd + D: Duplicate the selected layer.
U: Show keyframes for a layer.
You can also customize your key commands by going to Edit > Keyboard Shortcuts.
Check out: Top 10 Keyboard Shortcuts For Getting Started With After Effects
4. Set Up Default Render Settings And Output Modules
You'll often find yourself exporting your work from After Effects, either to share it or to integrate it into another software. Setting up your default render settings can save a lot of time in the long run.
Render Settings
Navigate to Edit > Templates > Render Settings. This will allow you to set default values for things like resolution, frame rate, and more.
Output Modules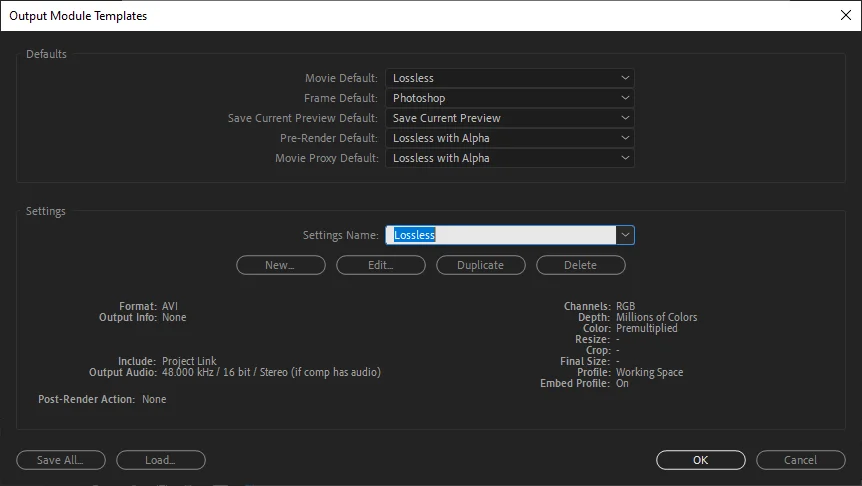 Go to Edit > Templates > Output Module. Here, you can define default codecs, formats, and post-render actions.
5. Dive into Tutorials and Resources
One of the best ways to learn After Effects is by watching tutorials and diving into available resources.
Check out: How To Learn After Effects Without Breaking Your Piggy Bank
---