Back in the day, putting a face filter or a prop on a video in After Effects was one of the most challenging tasks. You had to manually track the movement of face elements frame by frame and that too wasn't accurate at all.
With the default After Effects motion tracking, you can place two tracking markers, one on each eye to track the position and rotation of a face.
However, this practice is not the most accurate one as the blinking of eyes could throw the markers off point.
For better results, you can use third-party motion tracking applications like Mocha and Boujou but you still need to follow a lengthy process of tracking and exporting the tracking data.
To overcome such issues and make the process as easy and accurate as possible, you can use AE Face Tools.
It is by far the best and widely used face tracking and replacement application for After Effects.
AE Face Tools – Face Tracking & Replacement Application
Face Tools is a face tracking and replacement application for After Effects that lets you add face features, filters, and props without smartphones and neural networks.
It is a package of presets that will expand considerably the options of standard face tracking from After Effects.
You can even use Face Tools in Premiere Pro via Dynamic Link.
Please note that Face Tools is not a standalone plugin but an extension to the standard face tracking in After Effects.
You can test some of the presets in the free demo version of AE Face Tools.
How Does It Work?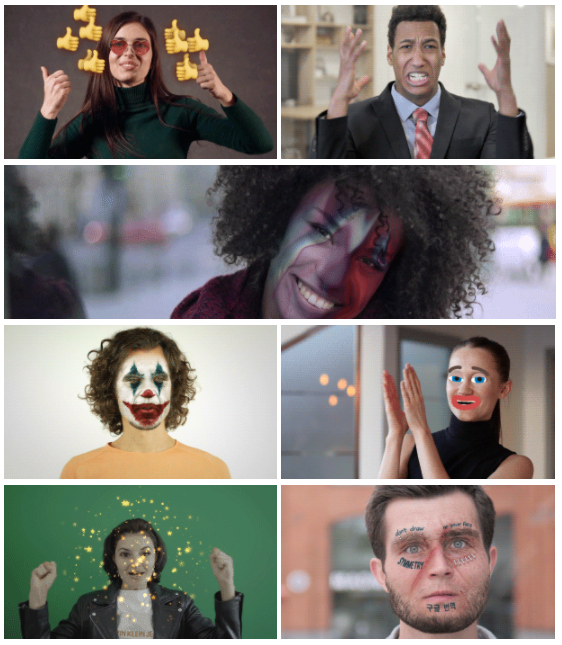 AE Face Tools is super easy to use. You just need to draw a circular mask on a face and use the 'Track Mask' option to make face tracking.
THAT IS ALL! Face Tools will take care of everything else.
Now all the presets and props data will automatically fit and align with the tracking data.
Each and every preset is customizable and you can edit them at any given moment.
For an in-depth tutorial on how to use Face Tools and other information, refer to this video by Videolancer – The man behind this face tracking & replacement application.
What's Included In AE Face Tools?
With Face Tools, you will get more than 500 different tools and presets for face footage including:
Face Replacement Tools – With this tool, you can easily replace face with photo of another person.
Makup Tools – In this category, you get several makup and texture presets to put on the face.
Makup Compositing – With this, you can combine several different presets to composite a unique effect on any face.
Emoji Presets – Face Tools offer tons of emoji presets than you can use on a face to express and amplify emotions.
Reverse Stabilization Tools – This will help you fix any distorting effect on the face.
HUD and Face Scan Presets – There are dozens of ready-made presets to create the effect of a face scan or identification.
Eye Tools – Replace eyes with dozens of pre-made presets or create your own eye preset.
Cleanup Tools – These tool is great for brushing out skin defects, pimples and pigmented spots.
Transform Tools – Rotate, scape, and offset any face part with the included transform tools.
Stabilization Tools – Use the face as a stabilization point to make your videos creative.
Compatibility & Technical Requirements
After Effects CC 2018 and above for tools that use Track Points, individual parts of the face (eyes, nose, mouth), and face replacement.
Makeup category tools are compatible with After Effects CC 2019 and above.
You also need to download and install the latest version of the Motion Bro extension in order to use AE Face Tools presets.
"Flexibility was just one of the marvelous aspects of the AE Face Tools. Easy to use, looks fantastic, and so many choices to work with. Fun and cool, and really well done," says a Face Tools user.
For more information, visit AE Face Tools product page on Video Hive.
---
Also, Check-Out: