A list of 10+ Paid and Free Feminine WordPress themes that might help you pick the right WordPress Themes for female bloggers.
In 2020, blogging is a task taken up by many people around the world. For most, it is a means of channeling their personal aesthetic and finding a platform that lets them put forth their ideas in a much better way, to a wide range of audiences.
Whether it is a personal blog or a professional one meant for a specific target audience, WordPress is undoubtedly a great platform for a whole bunch of reasons.
One of them is that there is a wide range of creative and pleasing themes for one to pick and choose from.
WordPress themes are a great way to communicate the vibe that one is going for. It also allows the audience to make sense of the present and future content in a better way.
Themes also allow the creator of the content to express their personality while putting their work across.
Feminine WordPress Themes For Female Bloggers – Paid & Free
Taking this into consideration, there are themes specifically curated for female bloggers who want their WordPress theme to take a more feminine route, for creators whose content requires a subtler theme to work, or just for people who want a feminine-looking feed to feast their eyes on.
While the concept of feminine WordPress themes might come off as subjective, it is true that the pallet and general look of a feminine blog are quite different from your regular run-of-the-mill blog theme.
To make things easier, we have come up with a list of 10+ Feminine WordPress themes that might be the right pick for female bloggers.
If you are looking to amp up the appearance of your WordPress blog, you are in the right place!
Paid Feminine WordPress Themes
Malina
If you are looking for a WordPress theme that is soothing to the eye yet incredibly put together, then Malina is the way to go. Malina is a new-generation Feminine WordPress theme that gives your readers an immersive browsing experience.
The Malina blog theme and its beautifully balanced pages make it an ideal WordPress template for almost all types of blogs. Malina theme is ready to use with WordPress version 5.0+ and fully compatible with Gutenberg Content Editor.
---
Once
Once is a clean and elegant theme that is extremely minimalistic in nature. A very palatable aesthetic coupled with chic styling makes this theme a winner in our books.
Its thumbnail options and video backgrounds make this theme attention-grabbing in the best ways possible. If feminine to you means no hassle and easy-to-digest pieces of design, then this theme is the right pick for the seeker in you.
---
Rima
Rima is another one of those themes that is extremely stylish and modern but also has a tinge of vintage to it. This theme can give your readers one of the best possible browsing experiences.
With this theme, you not only get a very elegant WordPress page but it also allows you to build your posts with real WYSIWYG (What You See Is What You Get) functionality with Elementor page builder or Visual Composer Builder.
---
Bklyn
If elegance is something that you always look for, this is the right theme for you. Its simple yet beautiful layout is sure to give the content that you look to publish life and zest and that extra push that can get it to great heights.
With a 4.9 average rating, this theme is extremely popular with creators and audiences alike. One look at Bklyn and we understand that this rating was given with good reason.
---
Hipsteria
Versatility is something that every content creator looks for in a theme or template. This is exactly what Hipsteria is. It is a versatile and powerful multipurpose WordPress blog theme perfect for any personal blog.
With over 120 styling options at your fingertips, Hipsteria makes customizing your blog and changing colors, fonts, and most elements a breeze. Hipsteria's clean and clutter-free design is the perfect choice for the minimal, creative blogger.
This Feminine WordPress theme offers a stunning visual experience to showcase your content with a responsive grid system layout optimized for mobile touch and swipe.
---
Florian
Florian is designed to show off your content in style and let it speak for itself. The design invites your users to lose themselves in the creative space you have brought to life.
Perfect for everything from photography, fashion and beauty, and interior design, to nature, health, and spirituality, this modern and stylish personal blog theme makes your experience a great one. With Florian, you can let your imagination and creativity run wild and create something that is as unique as you are.
---
Free Feminine WordPress Themes
Cenote
This is one of the most popular free Feminine WordPress themes out there. It is not only clear and easy to navigate but is also a lot more modern than most feminine-tagged themes you've come across.
WordPress boasts Cenote to be a beautifully designed clean blog theme. Easy to set up and has a nice set of features that make your site stand out. It is suitable for personal, fashion, food, travel, business, professional, niche, and any kind of blogging sites.
Comes with various demos for various purposes, which you can easily import with the help of the ThemeGrill Demo Importer plugin.
---
Ashe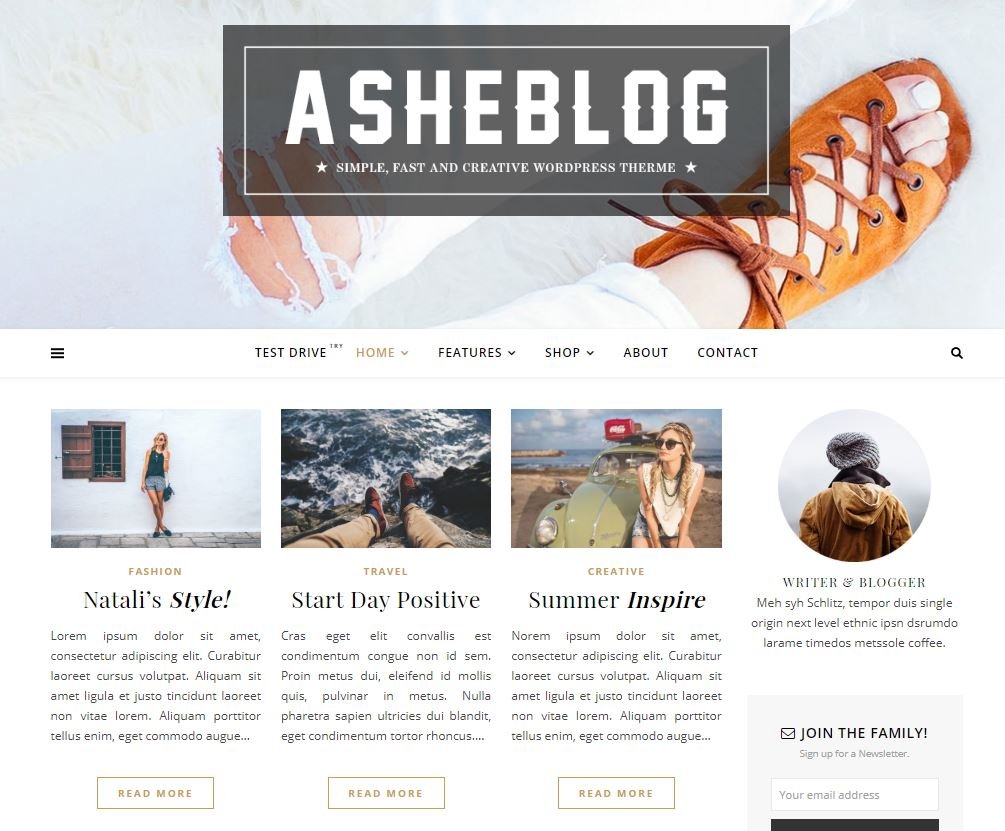 Ashe is another extremely feminine theme that boasts a 5-star rating from its users. This theme is another extremely versatile option as it can be used for a variety of blogs under many genres.
This is ideal for a number of lifestyle-based blogs like fashion, photography, travel, food, and a lot more. This theme is pegged to be minimalism at its finest and we are sure to agree with this notion.
---
Elegant Pink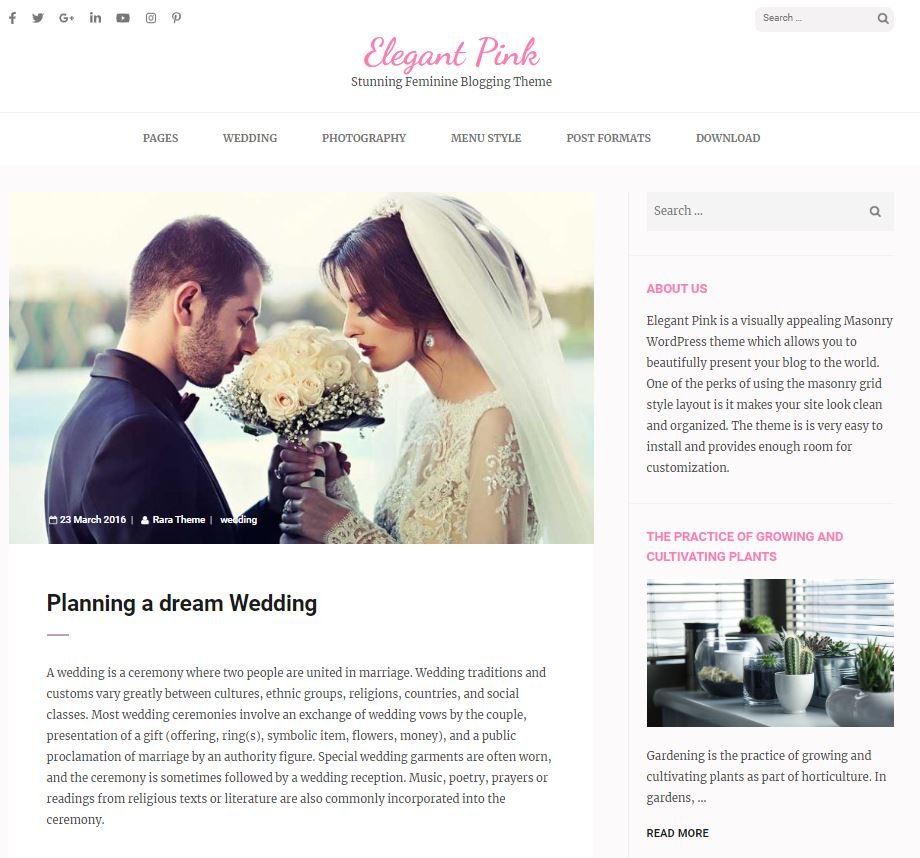 This theme is one that holds true to the name given. Giving a very quirky twist to elegance, this theme is designed to please. It is masonry based and is feminine in its very nature.
If this is something that tickles your fancy, then we can tell you that Elegant Pink would serve its purpose. WordPress.org assures that the responsive design of the theme sees that your website is mobile-friendly and looks great on every device including desktops, laptops, mobiles, and tablets.
---
Feminine Style
Here, we can fully say that Feminine Style is THE most popular WordPress theme for female bloggers out there. It has immense potential to provide a contemporary twist to the ideals of feminine aesthetics.
With this free feminine theme, you can extend functionality using the 10+ custom widgets for the homepage, and sidebar management. On top of that, easy customization is also promised with this theme as it features the WordPress Live Customizer tool that lets you see a real-time preview of your design.
Illdy
This theme is suitable for those creators that are willing to explore and find their own voice by definition. This theme is built based on the Bootstrap frontend framework making it fully responsive and mobile-friendly.
If you are someone that wants to create a stunning portfolio, a non-erratic-looking blog, or someone that is simply looking to quench the thirst of finding the meaning to your version of feminine, then this theme is worth checking out.
---
---