A list of 29 best WordPress blog themes of 2023 by top marketplaces like MyThemeShop, ThemeForest, and CreativeMarket.
WordPress is undoubtedly the best platform for creating responsive and user-friendly websites.
Approximately one-third or 30 percent of the top 10 million websites are powered by WordPress CMS. This is because it is easy to set up and WordPress blog themes or perhaps any WordPress theme can be installed with just a click.
MyThemeShop, ThemeForest & CreativeMarket are by far the best marketplaces to download any type of theme & templates.
WordPress Photography, WordPress portfolio, WordPress E-Commerce, WordPress personal, or WordPress blog themes. You name it and they have it.
WordPress Blog Themes – Basic Things You Need To Know
WordPress blog themes, in simple words, are templates for creating personal or business blogs.
Any website meant for writing and publishing blogs and articles require a responsive and search-engine-optimized WordPress theme.
WordPress blog themes are usually minimal with simple full-page or 2-column layouts.
Responsive, SEO Optimized & Adsense Optimized WordPress Blog Themes
Before using any WordPress blog theme for creating your blog, make sure that the theme is responsive, and optimized for search engines as well as Google Adsense.
Responsiveness
A responsive theme comes in all shapes and sizes so that your blog smoothly adjusts its layout based on the screen size and resolution.
Responsive WordPress blog themes offer better readability and usability on smaller screens such as smartphones.
SEO Optimization
A blog's future entirely depends on the organic traffic (users and pageviews that come from search engines).
Optimizing a website to appear in search engine results is what we call SEO or search engine optimization. The goal is to appear on the top or at least on the first page of search results.
Getting a highly optimized WordPress theme is the first step to SEO.
But what makes a theme SEO optimized?
Well, there are a number of factors but the most important of all are:
Faster Loading Speed
Clean & Responsive Code
Integration with SEO plugins like Yoast SEO
User-Friendly Layout
Adsense Optimization
Adsense optimization is important for bloggers who want to make some extra cash from their blog with the Google Adsense program.
WordPress blog themes with Adsense optimization ensure the perfect balance between the adverts and site content.
Adsense and SEO go hand in hand and you can get much better ad clicks from the traffic coming from search engines than from social media or direct traffic.
Keeping that in mind, let's take a look at some of the best responsive, SEO, and Adsense-optimized WordPress blog themes.
WordPress Blog Themes By MyThemeShop
MyThemeShop WordPress Themes are built for SEO and speed. Currently, there are 80+ themes in their WordPress collection.
Their easy-to-use backend is quite popular as it gives you the freedom to spend more time creating the actual content.
Schema is MyThemeShop's most popular WordPress blog theme. So let's start off with the one.
1. Schema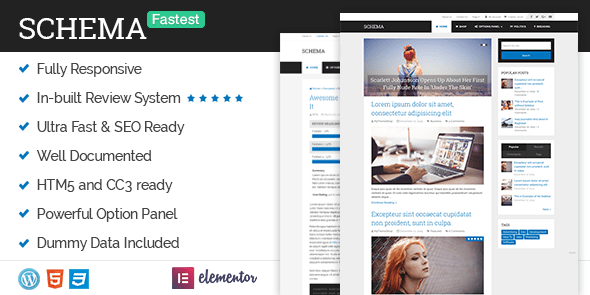 Schema is the fastest loading, ultra-SEO friendly WordPress theme. Featuring all the best MyThemeShop features, including a custom options panel, shortcodes and widgets, and a pixel-perfect design. It also includes rich snippets in order to help search engines your site and rank you higher.
Schema theme helps blow your competitors out of the water by having an ultra SEO-friendly website that's elegant yet simple, advanced yet user-friendly, and loads so fast that your users (and Google) will love you for it.
---
2. Writer
Writer theme is a fully responsive and impressive WordPress theme for writers, freelancers, authors, and journalists.
It is free of clutter allowing readers to focus on the content.
The writer theme has 3 predefined layouts with a 1-click installation.
The fonts are readable, and the subtle color scheme makes it suitable for all writing projects.
An ideal WordPress Blog theme for Writers should be lightweight, SEO-friendly, and fully responsive, with elegant typography, and visually appealing features that help in content promotion.
Writer theme is a professionally designed and aesthetically accomplished WordPress theme aimed at helping writers and freelancers get creative.
---
3. Reader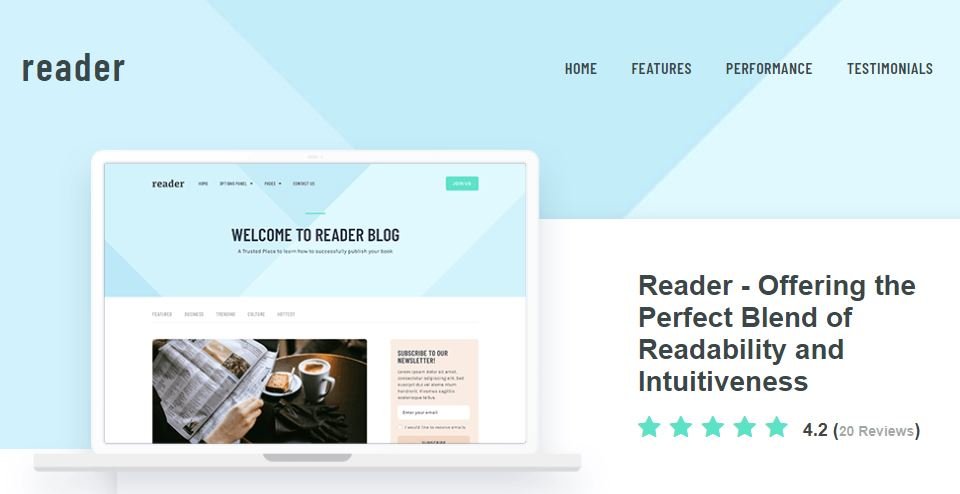 Reader theme is the perfect way for you to showcase your content to the avid readers out there who want to consume your content.
Make it easy for them to read or skim your content with this UX-centric theme.
Countless hours have gone into the research of design for the Reader theme to make it one of the perfect WordPress blog theme.
---
4. MyBlog
A beautiful, modern theme for serious bloggers.
The right theme can do a great deal to elevate a blog. Make sure your blog looks professional and has all the features you need to build a massive brand.
MyBlog is the theme of choice for top bloggers. It comes with an enhanced single-post design that incorporates a strategically placed social media panel for maximum exposure.
---
5. Scribbler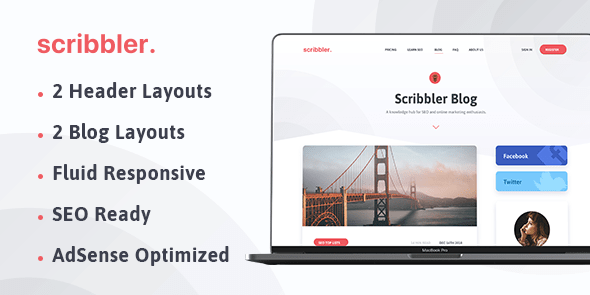 The Scribbler premium WordPress theme has multiple headers and blog layout options.
It has the perfect layout for showcasing your exuberant content to the world and comes with tons of options to customize your website as per your requirements.
---
6. Tabloid
The tabloid theme is a robust premium WordPress theme that offers a minimal design and all the powerful options you need to run a successful news website, personal blog, etc.
It comes with 2 unique header layouts and 9 beautiful homepage sections you can use to create a functional website with ease.
---
7. Purple
Purple is a powerful WordPress blog theme that helps female bloggers create elegant blog posts.
It is an SEO-friendly theme with clean and schema-ready code.
It also works with page-builder plugins flawlessly so that you can enjoy customizing every bit of your website.
Purple has been coded with the latest WordPress coding standards in mind. That makes it ready to use on any WordPress website with any number of plugins.
---
8. Magnus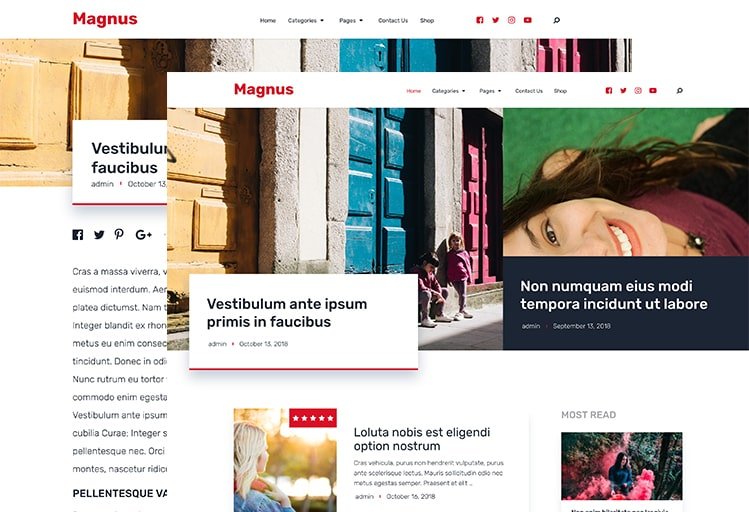 Magnus is an intuitive theme that is conceived conceptually and visually polished to make your blog stand out.
With an aesthetically beautiful layout, Magnus will inspire visitors to keep coming back for more.
Magnus adapts to the size of the screen it is being viewed on. Your website will look perfect on multiple screen sizes.
---
9. Feminine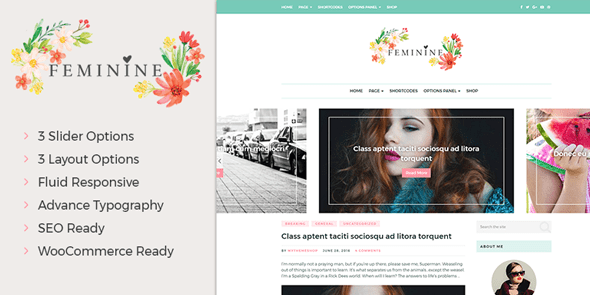 Feminine WordPress theme is aesthetically designed with girly concept, color, and careful consideration for everything you need to build the best feminine website.
This best feminine WordPress theme comes with three uniquely designed post layouts and three slider layouts that give you enough customization choices.
For more Feminine WordPress Themes, take a look at '15 Feminine WordPress Themes For Female Bloggers'.
---
10. Blogging
Blogging is the ultimate theme for bloggers. With HTML5 and CSS3 markup, optimizations for search engines and ad earnings, and a beautiful design, it will make your blog grow.
Blogging WordPress Theme is truly intuitive, and unique and makes your users read more content on your blog.
That's the number one reason you should get the Blogging theme.
---
WordPress Blog Themes By ThemeForest
ThemeForest is one of the biggest marketplaces for all your web development and designing needs.
Their WordPress themes are popular amongst the top bloggers and web developers.
11. Newspaper
Newspaper is a WordPress theme that lets you write articles and blog posts with ease.
This bestseller theme is perfect for blogging and excellent for a news, newspaper, magazine, publishing, or review site.
It supports videos from YouTube.
AMP and mobile ready. GDPR compliant, the theme is fast, simple, and easy to use for cryptocurrency, fashion, food, lifestyle, modern, personal, travel, luxury, viral, minimal, minimalist projects, and more.
Integrated with Instagram, bbPress Forum, BuddyPress, and WooCommerce, it uses the best clean SEO practices.
Newspaper supports responsive Google Adsense ads.
---
12. Soledad
Soledad is one of the biggest WordPress blog theme ever created for new and professional bloggers.
Some of the top features of the Soledad WordPress theme are:
5000+ homepages demo for multiple purposes
Compatible with Elementor Page Builder.
Compatible with WPBakery Page Builder.
Schema Markup & Google Structured Data Supports & validated
Optimized for site speed
1000+ Sliders and Blog Combinations
AMP Support
Multiple ads spaces – Ads inside posts content supports
Compatible with BBPress & BuddyPress
Fully WordPress Live Customization with 600+ options
100% Responsive Design – Look great on all devices
---
13. Malina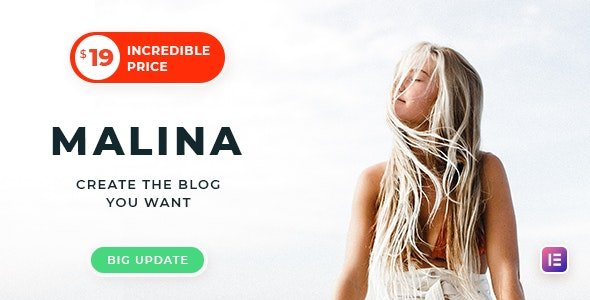 Malina is a new-generation WordPress blog theme, that can give your readers an immersive browsing experience.
Its polished & beautifully balanced pages make it an ideal WordPress template for almost all types of blogs.
Malina theme is ready to use with WordPress version 5.0+ and fully compatible with Gutenberg Content Editor.
Easy to use, no coding!
---
14. Breek
Breek is a super modern Blog focused on high speed and vivid colors.
The theme fits perfectly any kind of blog especially personal, resources, freebies, or biography blogs.
It is super light, and this fast theme was made with multiple techniques to achieve excellent Scores on Google, keeping in mind the code quality and SEO.
---
15. Squaretype
Squaretype is a modern and clean WordPress theme for modern content-based blogs and magazines.
You can create nine completely different design blogs with just a single WordPress theme.
Along with blog posts and articles, you can build your shop and sell physical or digital products easily with integrated WooCommerce support.
Versatile ads and banner sports make it easy to monetize your blog right in the Squaretype WordPress customize section.
---
16. Gillion
Gillion is a multi-concept modular WordPress theme for all kinds of blogs and publishing websites.
There are various demo design options that will help you to decide the look and feel of your blog/website.
Gillion theme offers multiple blog-type possibilities like standard text posts or something packed with images and videos.
---
17. Wanderland
Hit the road with Wanderland, your new travel companion!
Start a captivating new adventure or tourism blog with ease – you get all the elements a travel blog can ever need, including destination layouts and a fine selection of blog page templates.
Start your travel blog with Wanderland, the perfect place for your stories.
---
18. BuzzBlog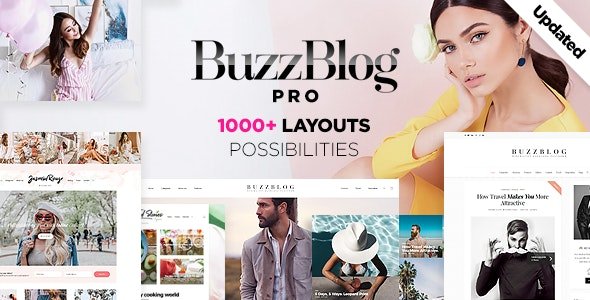 This is a WordPress blog theme that is fully compatible with Gutenberg, compatible with GDPR policy, self-hosted Google fonts, and Adobe Fonts (Typekit) integration, and comes with 2000+ home page variations.
Features 8 post formats: Standard, Gallery Slideshow, Gallery Grid, Link, Image, Quote, Audio, and Video.
Additional features include a powerful theme options panel, built-in SUBSCRIBE page and log in page, full-width INSTAGRAM, amazing Mega Menu, custom Cookie banner, integrated with the Woocommerce plugin, and more.
---
19. Typer
Typer is a fast & modern WordPress blog theme that lets you have your own front user profile and allow others to publish articles on your site.
Write blog posts with a 100% supported Gutenberg builder and build awesome landing pages with Elementor.
---
WordPress Blog Themes By CreativeMarket
CreativeMarket is a one-stop destination for all your design needs including WordPress Themes and Plugins.
Let's take a look at the top 10 handpicked WordPress blog themes by CreativeMarket.
20. Emily Grace
Emily Grace is a chic and sophisticated WordPress blog theme that is packed with features for the modern blogger.
With its feminine design and endless customization options, Emily Grace is the perfect choice for online businesses, creatives, bloggers, and influencers looking to transform their online presence.
The Emily Grace theme comes with a set of eight beautifully-designed pages, including five home page options.
Plus, mix and match multiple blog layouts and feature elements to create a website that is uniquely yours.
---
21. Sasha Rose
Sasha Rose is a WordPress Blog Theme for bloggers. It's the best feminine blog theme for fashion, beauty, lifestyle, or business bloggers and is very easy to install yourself!
---
22. Blink
In a saturated market of overly complicated themes, Blink allows users to achieve a visually stunning website right out of the box, without having to go through complex documentation and setup instructions.
Coded with the best coding practices for WordPress, Blink is a theme with robust performance and solid code, that adapts beautifully to any device.
---
23. Adorable
Adorable is a feminine, modern, and fully responsive WordPress Theme perfectly suited for Mompreneurs, Boss Ladies & Lifestyle Bloggers who are looking to facelift their blog with a powerful and fully customizable design that helps them to stand out from the crowd.
---
24. Vasco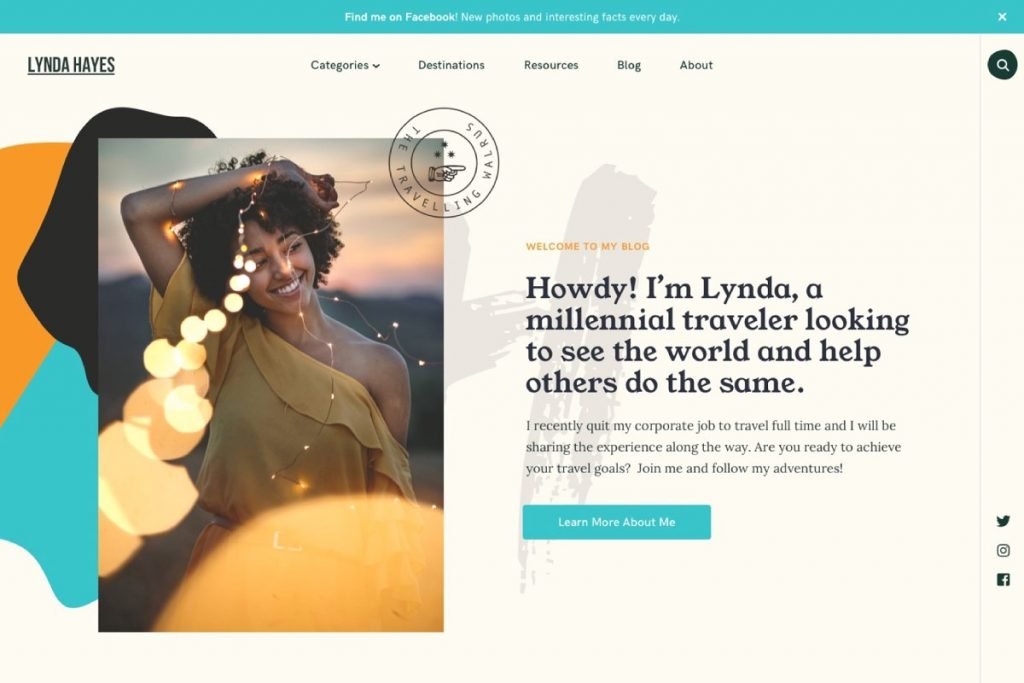 A travel blog theme for people who want to explore the world and make money along the way.
This travel blog WordPress theme allows you to create a flexible home page using drag-and-drop.
Vasco comes packed with Style Manager, an advanced tool that helps you choose between different color palettes and fonts, or create your own.
The new Gutenberg block editor is fully supported and integrated into Vasco, so publishing new pages or posts is fast and straightforward.
---
25. Julia
Julia is a purpose-driven food blogging WordPress theme tailored to those who want to reach their creative potential and build a digital path.
The overall look and feel are aligned with the goal of solving particular struggles that food bloggers face in the digital endeavor.
Whether you're looking to share your own food recipes, write about your lifestyle or just have a scrapbook of photos, videos, quotes, or other stuff, Julia is designed to fulfill these and a lot more.
---
26. Seattle
Minimal single-column blogging theme crafted with bloggers in mind.
If you want a minimal and neat theme for your personal blog – Seattle is a perfect choice!
---
27. Storybook
Storybook – modern WordPress theme for personal blog and shop!
A lightweight and clean WordPress theme is an ideal choice for blog, shop, portfolio, and personal purposes.
Sell products, share your stories, connect with social networks, allow the public to comment, and grow your popularity with Storybook!
Storybook uses native WordPress functionality for content management that allows quickly and easily switching any existing website to Storybook.
---
28. The Pastel Blogger
If you love pastel colors and blogging, this is just the thing for you!
The Pastel Blogster is an elegant theme that lets you pick your own category colors (it still works best with pastel colors to my idea).
It's fresh, dynamic, and responsive.
Developed with love and an eye for detail like always, containing graphic patterns and elements.
---
29. Onverse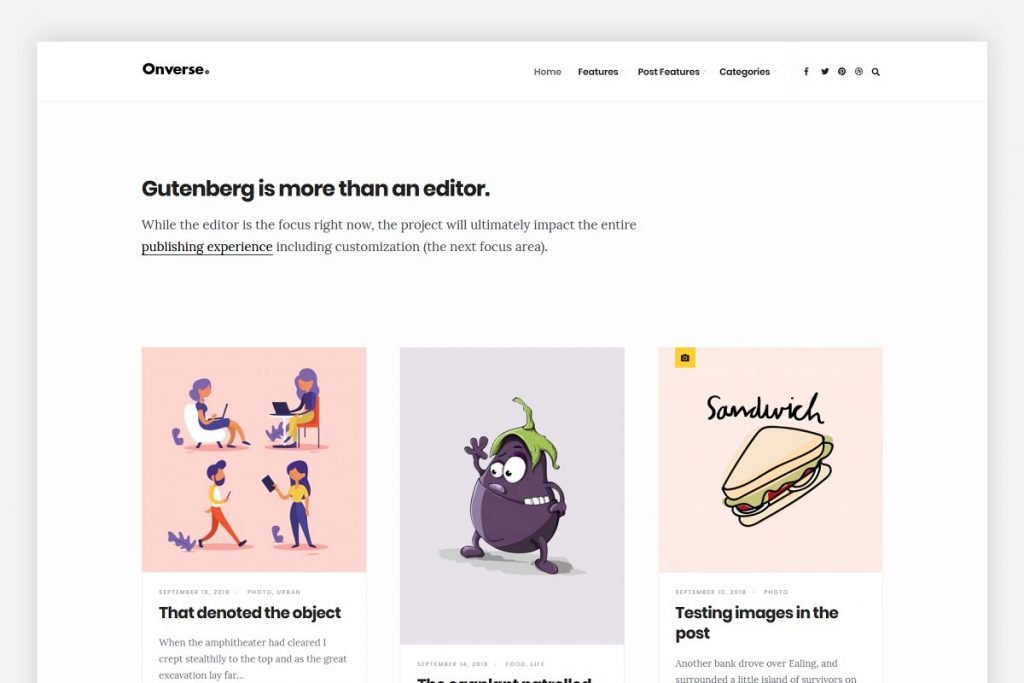 Onverse is a minimalist and sleek responsive blog theme with a modern design.
It is well integrated with the Gutenberg plugin, a next-generation editor for your post and pages.
Onverse integrates all Gutenberg blocks and features and wraps these into a clean design that makes your posts stand out from the crowd.
Theme suitable for all kinds of blogs, magazines, journals, and creative or personal websites thanks to the straightforward layout.
---
---