A minimalist Shopify theme can help establish a solid, professional brand. Take a look at how it can affect the success of your online store.
Minimalism is the key to success. This is a thought that many live by, and even though there are exceptions, for the most part, it's a very strategic thought.
Minimalism allows you to increase focus on priorities.
A minimalist store page is quite tough to create. Minimalism doesn't mean a blank page with products; it's the perfect clean combination of features that add value to the product rather than taking away from them.
Designers at MasterBundles have developed an entire technique when creating minimal Shopify themes for you. [toc]
---
Are Shopify themes Worth It?
A Shopify theme is a pre-built template that you can easily install into your store.
The question is are they worth it, or can you create your theme? The simplest answer to this question is, yes!
Here are the benefits of a Shopify theme:
Cost-Effective
If you have considered creating a website from scratch, you probably know that the cost of that is anywhere around $12,000 to $150,000. Whereas a Shopify theme can cost you $50-$200 depending on the number of features it includes, these themes will look no worse and are much more cost-effective.
Customizable
When choosing a Shopify theme don't worry that your store will have a generic look like other stores. Not only can you find a huge amount of unique Shopify themes online, but they are also all customizable. You can tweak changes in colors, font, layout, navigation, etc., to your taste.
Responsive
As mobile phones are a big part of everyone's lives, your store is most likely going to get visited more by mobile rather than a computer. The good thing is almost all Shopify themes are mobile responsive, you won't have to worry about creating 2 versions of the web store.
Get Up And Running Quickly
A pre-built Shopify theme will save you so much precious time you can go from conception to receiving orders, within just a few hours. There is no need to wait for days or weeks to market your brand, as long as you have the perfect products, the theme is always ready to go.
---
Key Elements of A Minimalist Shopify Theme
The term 'minimalism' is used regularly, but what exactly is it?
If we talk about minimalism in web design and themes, it can be described as taking away all unnecessary elements and engaging all attention to what matters.
Minimalism often appears to look simple on the outside, yet truly a lot of time goes into the production and development of a minimal theme.
Here are some elements, tips, and tricks to pay attention to when choosing a minimal Shopify theme:
Consistency: Your store and brand name font ideally should stay in the same calligraphy style, it will give you more flexibility throughout the website page.
Cleverness: Minimalism isn't the lack of various features and elements, but rather the careful choice of where to use them.
Efficiency: Make sure a theme isn't overpacked with features, even though they are handy, they often take away the focus from more important details.
Functionality: You'll know you found a minimal design when you look at a page and it's clear and uncluttered, and you can find whatever you are looking for within seconds.
Balance: When purchasing products or services, customers like to look at visuals, sequentially the images need to be in tune with the minimal theme.
---
The Finest Minimal Shopify Templates of 2023
You can find a wide variety of minimalist Shopify templates on MasterBundles.
These beautiful themes will save you time and boost your customer engagement since they were made following all the techniques for a successful eCommerce store.
This minimalist theme practices all the modern trends and regulations to give your users a distraction-free experience when browning your store.
The clean white design in this template makes it universal, you can pretty much use it for a wide range of different Shopify stores.
---
Beige is such a calming color! Its gorgeous pages have a rustic and romantic with an airy, minimalist feel.
This design was created for brands like boutique owners, hand-made artisans, photographers, designers, etc. All colors, banners, and branding can be changed to your specific brand theme.
---
Olive & Avery has a beautiful olive green design with a country lifestyle vibe. A stunning eCommerce store template with themes and banners for your online bouquet or cosmetics store.
It's just perfect for a small business owner who wants to attract new customers through a personal website.
---
The best way to explain this design is just as you look at a picture you can smell the fresh and clean pages of it. A very aesthetically pleasing design that will keep your customers gripped.
Not only does the theme include a fantastic shopping page, but also a blog and about page where your audience can get in contact with you.
---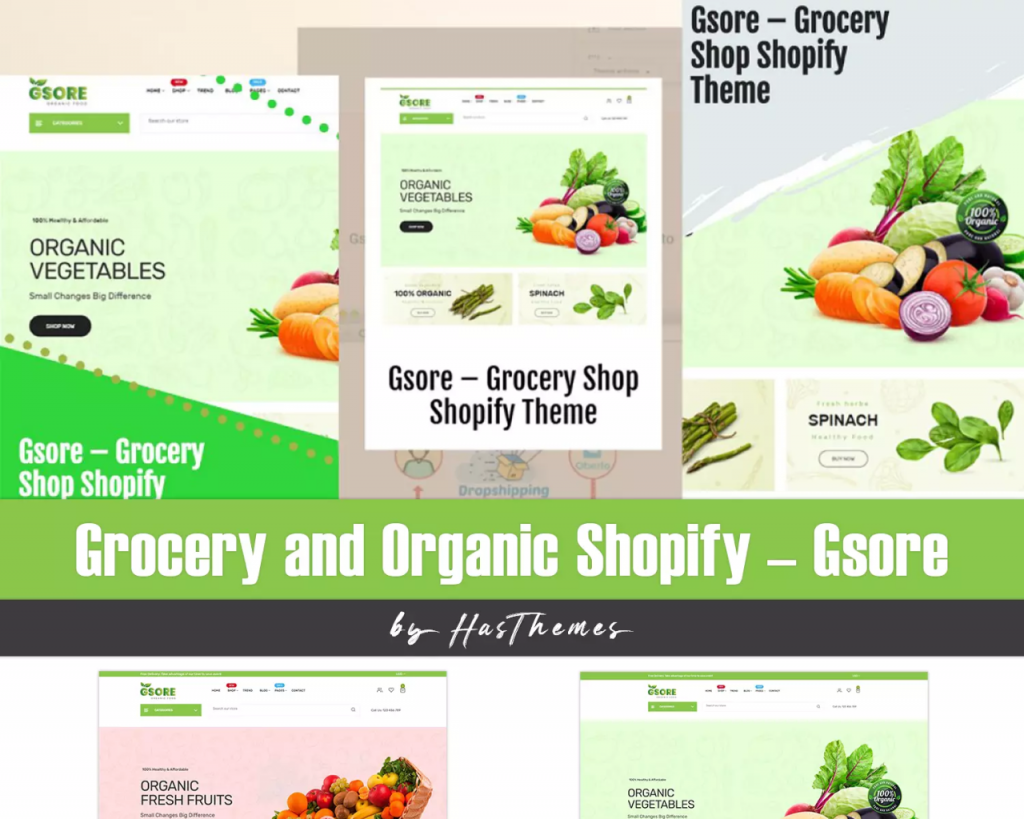 Luxury brands usually have the simplest, most expensive-looking website stores, they don't include many details, they filter in only the important details and leave it to other websites to include other informational details.
This makes their website look so minimal and professional, and customers love it when things are simple.
---
Who said a grocery store can't take on a minimal look?
It's a great strategy, a minimalistic page translate into organic food. It's like a physiological trick, the fewer elements on the webpage the cleaner the product is.
Along with the mega menu and slider, you will find sections for the latest news, trending products, recipe blogs, etc.
---
Conclusion
As an eCommerce store owner, you can set business priorities, whether it's bringing focus to certain products or blog sections.
By just simply applying the concept of minimalism we are eliminating distractions that turn customers away from making a purchase.
Minimalism is the key to the success of your eCommerce business. So get a professional touch on your brand with the help of ready-made minimalist Shopify themes.
---