As a photographer, you need a portfolio website to showcase your work and skills to others. Creating a photography website is quite easy. Thanks to all the beautiful and stunning photography themes that are available for WordPress and Joomla CMS.
First things first, Let's take a look at what CMS is and why do you need one.
If not, you can skip right to the themes with the help of quick navigation links below:
Content Management System (CMS)
A content management system, often termed as CMS is a software installed on a host server to create and manage content on the web.
It eliminates the need for specialized technical knowledge however needed to develop a website from scratch.
Photography Themes or perhaps any WordPress Themes can be installed in the CMS with just a click.
WordPress Or Joomla? Which CMS To Use
While there are many Content Management System's available, WordPress and Joomla are widely used by bloggers and web developers.
WordPress
WordPress powers approximately one third or 30 percent of the the top 10 million websites on the Internet.
It offers all the benefits and features a business needs to effectively run its website.
To create your very own stunning portfolio website, thousands of free and premium Photography Themes for WordPress are available on online marketplaces.
The popular ones are ThemeForest, Envato Elements & CreativeMarket.
Joomla
Joomla is another platform for developers to create websites with the help of premade themes and templates.
Photography Themes for Joomla are also available on online marketplaces listed above.
To sort things out and make the hunting process easy for you, we have listed most popular Photography Themes for WordPress and Joomla down below.
Most Popular Photography Themes For WordPress
Eram – Portfolio & Photography Theme
Eram is a cutting-edge WordPress Photography theme driven from photographers needs to provide features and designs that a modern website deserves.
Halle Photography Theme
Halle is an aesthetically feminine and delicate and highly visually stimulating designed for creative photographers, freelancers and other creative professionals that want a stylish yet business-like theme to house their portfolio, blog, and online store.
Halle is everything you need to build an effective and gorgeous online presence with a matter of minutes.
Sophie
Sophie is a clean and versatile Photography Theme for WordPress.
Designed with photographers in mind, you will get a nice and modern design that will suit your needs.
You can show your work through the portfolio, create an online shop, add lots of pages with a gorgeous design and much more!
Toranj Photography WordPress Theme
Toranj is trying to bring the combination of beauty and power to the table and it's suitable for a wide range of applications.
For Creative Portfolio, Photography and Videography websites, Toranj has the features alongside a modern design.
Milo Photography WordPress Theme
Milo is built for photographers with an appreciation for minimalism and a desire to present their online portfolio responsively across computer, tablet and mobile devices.
Milo is a lightweight WordPress Photography theme featuring a left-column navigation, cascading sub-menu, thumbnail gallery view, project descriptions, dynamic image scaling, WooCommerce compatibility and style controls such as color scheme and typography.
Emily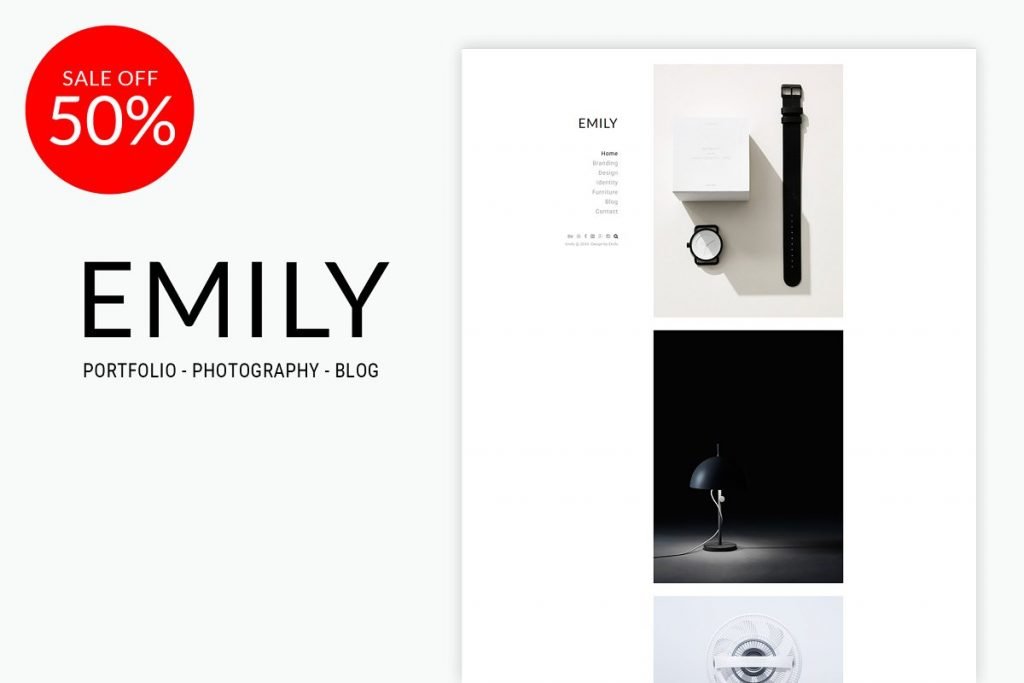 Emily is a creative, high quality and fully responsive Photography theme.
It is portfolio theme for creative people to introduce themselves in an exciting way along with your creative portfolio.
Simplicity and ease will help create an excellent portfolio, a gallery of your works and attract new customers.
Julia Photography eCommerce Theme
Julia is a cutting edge and impressively Photography WordPress theme built for flexibility and intuitiveness with parallax scrolling, perfect for photographers.
Ingrind Clean Photography Theme
An excellent WordPress Theme for a photographer, artist or designer.
Using this WordPress Theme, you can easily create your own gallery.
Stylish modern design looks great on various devices, well adapted for mobile smartphones and tablets.
Dorsey
Dorsey is a premium WordPress theme built for photographers with an appreciation for minimalism and a desire to present their online portfolio responsively across computer, tablet and mobile devices.
1Olivia
Olivia is modern, slick and eye catching WordPress Photography theme designed for creative photographers, freelancers and other creative professionals that want a stylish yet business-like theme to house their portfolio, blog, and online store.
Cambria ProPhoto Theme
Cambria is an elegant and romantic theme for a fine art wedding photographer or stylish event planner.
A minimal color palette and refined typography provides an elevated experience catered for a high end client.
ThemeGoods Photography Theme
ThemeGoods Photography is a responsive, clean and minimal WordPress theme for Photographers.
Photography support responsive layout so it looks great on all devices.
It has predefined styling for photographers, creative designers, design agencies which can be imported with one click.
Border Photography WordPress Theme
BORDER is a unique and easy-to-use Photography theme built with the professional photographer and their needs as the main 'focal point'.
It comes with an intuitively designed interface, carefully crafted to ease the way to showcase your unforgettable photos.
Splendid WordPress Photography Theme
Featuring big, bold images, Splendid makes a big impact.
Perfect for photographers, Splendid is set up for a full-powered site, a blog, a shop, a portfolio, or all of them in one!
Exposure
A responsive photography WordPress theme that has all it takes for professional photographers or hobbyists alike.
Shutter
Designed just for photographers. Shutter comes in two flavours, light and dark with flexible theme options for easy customization.
Choose to display your work with the hero slider, in-built galleries or blog posts.
Shutter is fully responsive and displays beautifully on your desktop, tablet and mobile device.
Lens Photography Theme
Lens is a versatile and customisable theme.
Lens is a great hub to showcase your photography skills, using the latest CSS3 and JavaScript techniques we have managed to create a Flash-like theme without hindering load time or SEO.
With Lens you'll be able to be up and running within minutes due to its well thought out content structure.
Lookbook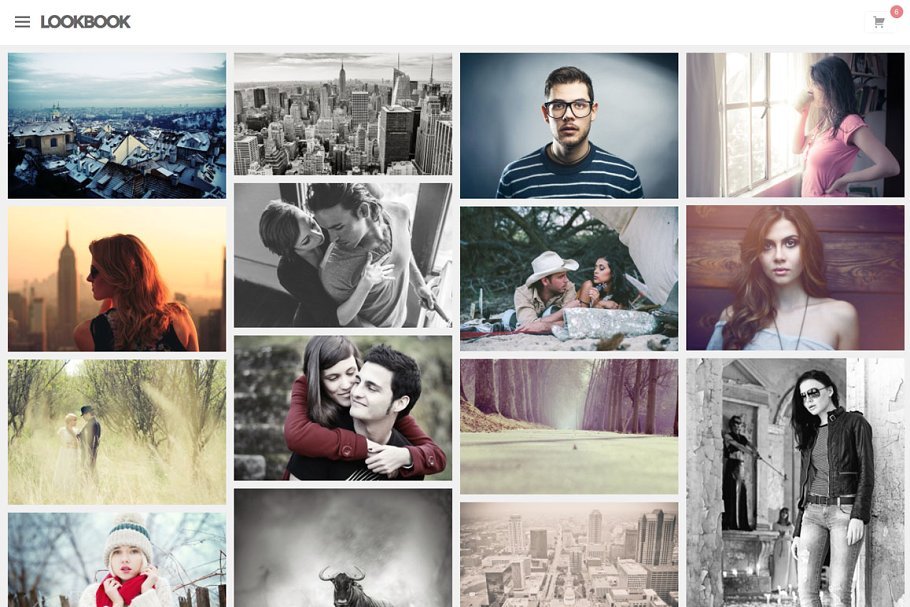 Lookbook is a vertical mosaic styled Photography WordPress theme designed to beautifully showcase the breadth of your talent upon landing on your website.
Panoramic Responsive Theme
Panoramic Responsive WordPress Theme is a great theme for photographers, with clean design and minimal layout.
Panoramic WordPress theme has minimalist style and mobile friendly design.
Ella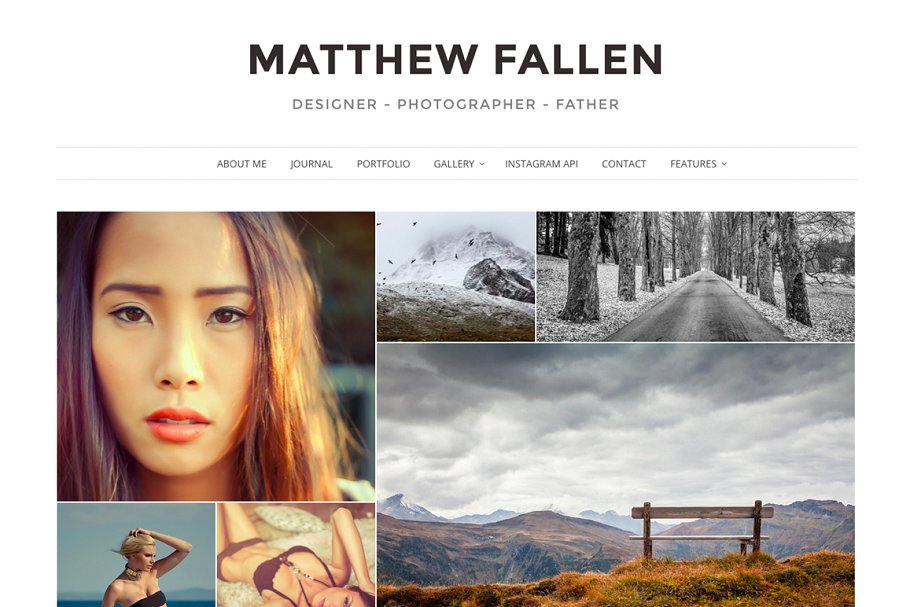 Ella is a responsive theme for WordPress designed specially for creative photographers and photos lovers.
The main advantage is the large adaptability of home page.
Arouca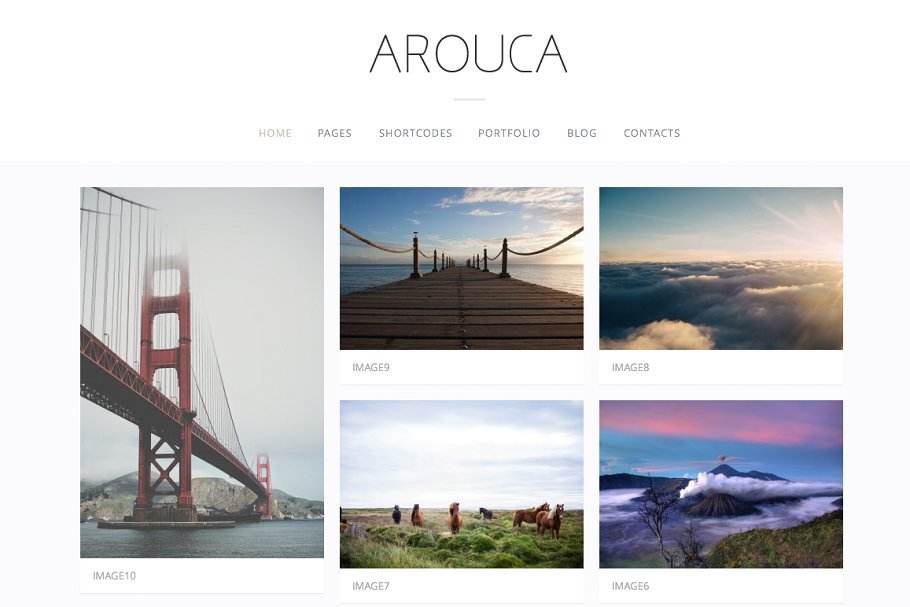 This theme is beautiful for photographers, artists, designers, sellers photos, and more.
With WordPress you can use a lot of options for side widgets, footer widgets, portfolios and galleries.
Photoite Photography Theme
Photoite is a responsive WordPress theme created for creative Photographers with a minimalist design and optimized for mobile.
Photoite wordpress theme is a number one choice if you are a portfolio, agency gallery or a freelancer.
CreativeGrid Pro
CreativeGrid Pro is a responsive WordPress Photography theme, designed with photographers and video makers in mind.
LT Photography Theme
LT Photography WordPress theme is great for bringing photographers and those who enjoy beautiful and quality photographs together.
Land Photography WordPress Theme
Through careful thinking process, Land WordPress theme is specifically crafted to adapt to modern needs of professional photographers, including a full-fledged support for responsive devices, so that your photographs look stunning on any smartphone or tablet devices.
Most Popular Photography Themes For Joomla
AT Photography Joomla Template
AT Photography is Responsive Joomla Photography Theme.
This great template is used for Image Gallery or Photography websites to bring together photographers and those who enjoy beautiful and quality photographs together.
Aurora
Aurora is a premium Joomla Photography Theme fully loaded with all needed features to make best creative portfolio.
Digital Pixel
Digital Pixel is a great responsive joomla template for photographers.
This photography theme will adapt automatically to the screen size of the device and display all the content in an intuitive and simple way.
Gallerite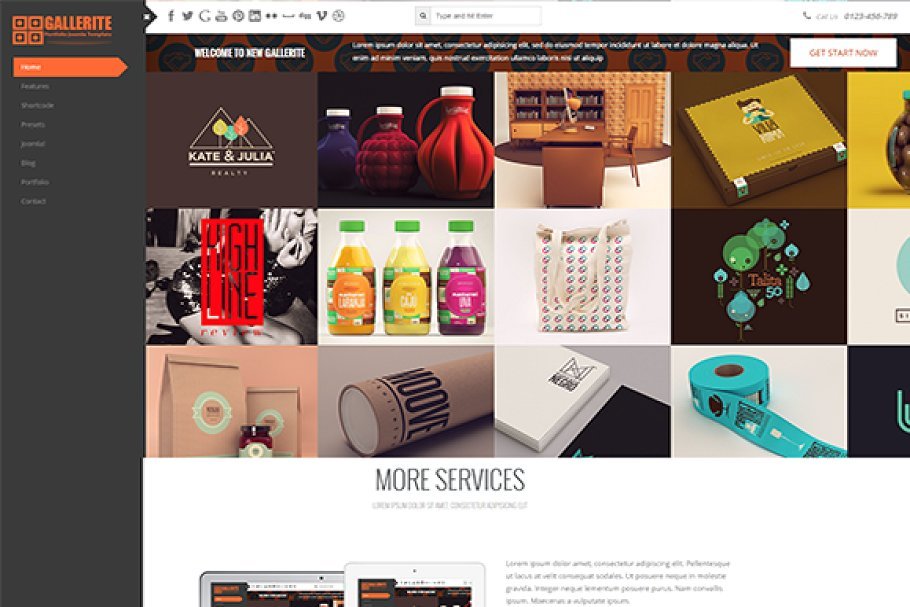 Gallerite is an incredibly unique and highly interactive Responsive Joomla template for creative photography portfolios.
Gallerite is packed with essential features such as different post formats using K2 blog, excellent front-end portfolio gallery, quick build shortcodes using helix shortcode maker, blog sidebar area's, stylish moving left menu and a great design.
ET Joomla Photography Theme
ET Photography is Responsive Joomla template for photography portfolio websites.
Menus are kept with minimal options to point out the aesthetic beauty of your photography.
Flatite Creative Joomla Template
Flatite is a Modern and Creative premium Joomla Template.
It is suitable for Personal Portfolio, Creative Agency, Designer Portfolio, Illustrator Portfolio, Photographer Portfolio and more.
BT Photography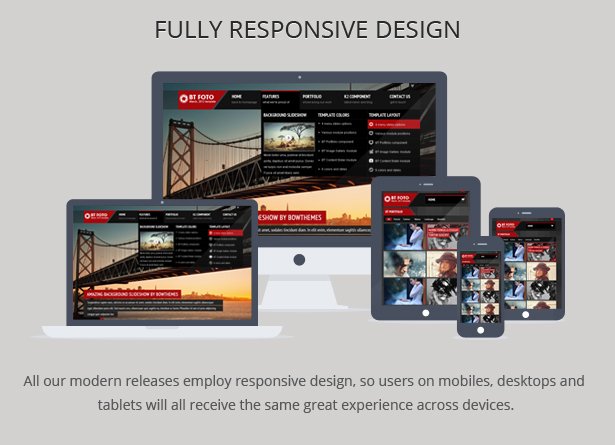 BT Photography is amazing Responsive joomla template for photography.
It come with six colors and many module positions.
BT Photography helps photographers easily create beautiful portfolio with background slideshow and portfolio component.
Oyster
If you are looking for the best photography theme with unlimited capabilities yet easy editable – Oyster Joomla Template will help to break a new ground for your online portfolio.
Amazed Photography Theme
Amazed Photography is clean, beautiful and most important, easy to use responsive Joomla photography template.
This photography theme also includes a new plugin called S5 LikeMe.
This little plugin allows you to output a little heart or thumbs up icon on images throughout your site
Celsius
Celsius is a magnificent portfolio and photography template for Joomla.
It has been built using the powerful Warp framework and UIKit.
This Joomla Photography theme also comes packed with widgets and an intuitive live customizer.
Focus
Focus is a responsive Joomla template desgined and developed especially for professional Photographers.
The template is fully editable which allows you to build new home pages, subpages, and create different layouts.
Focus Template has a fully responsive layout that adapts perfectly for all device resolutions like mobiles, tablets and desktops.
My Folio
My Folio is a responsive and retina ready Joomla one-page/multiple pages template for photographers with grid system layout.
RoundRock
RoundRock is an impressive portfolio Joomla template for digital creatives.
It's clean and light, allowing you to showcase your content beautifully across all devices.
RoundRock is responsive, retina-ready, and provides numerous options for creative content display.
Keen Minimalistic Photography Theme
Keen is a clean, minimal and professional Joomla template.
As a unique photography and portfolio template, Keen is focused on elegance and simplicity.
The template is engineered around a modular concept and sports an amazing masonry portfolio.
JSN Artista
JSN Artista is a sophisticated Joomla template knitted for portfolio, photography or creative showcase websites.
With the perfect combination of all design elements and excellent customization options, JSN Artista gives you every unique way to helps you build a pretty nifty artistic website with ease.
Conclusion
WordPress or Joomla, no matter which CMS you opt for, the Photography Themes listed above are some of the best and most popular among photographers and website developers.
A good photography theme is a one time investment. Make sure you go for the best and the one that suits your photography style.
Last but the most important thing is to never use pirated or nulled WordPress and Joomla Themes as they are known to carry malware.