Lightroom Presets are the perfect tool to save time when retouching your images. Take a look at 10 Websites that offer free Adobe Lightroom presets.
Adobe Lightroom is a popular photo editing software for image color correction, photo management, and basic photo editing of RAW and JPEG images.
Editing, also known as post-production plays a significant role in photography.
A popular photographer once said, " A photo is naked without editing". Acknowledging that fact, let's talk a little bit about Adobe Lightroom Presets.
Lightroom Presets are the perfect tool to save time when retouching your images and finding new ways to refine style.
Whether you're editing a new landscape image or want to create the same look across an entire editorial shoot, Lightroom Presets will help you create new powerful images.
Below we have listed 10 websites from which you can download free Adobe Lightroom Presets.
Websites That Offer Free Adobe Lightroom Presets
Hacking photography has a total of 101 presets belonging to four collections. Soft tone presets, Sun Flare presets, Custom Vignette Presets, and Light leaks and film burn preset. The soft tones preset creates gorgeous tones on your photos while leaving the edits alone! The Light Leaks and Film burn presets add a lot of personality to your shots.
---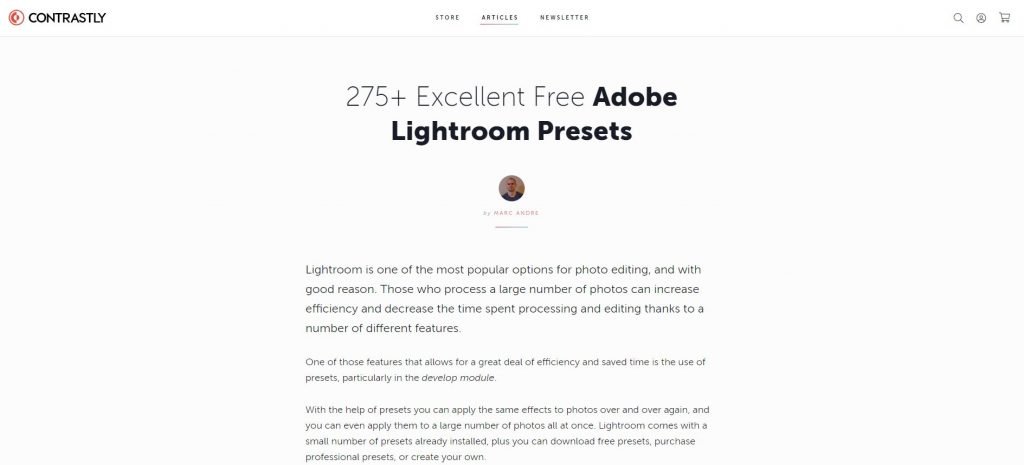 Are you a fan of completely editable and flexible readymade free presets? Get prepared to get your mind blown! Contrastly has 275+ free adobe lightroom presets for you to download and use! I personally liked: Colourpop, Aged Print, Autumn Road, and Vintage Presets. Why don't you go pick your favorite from the collections?
---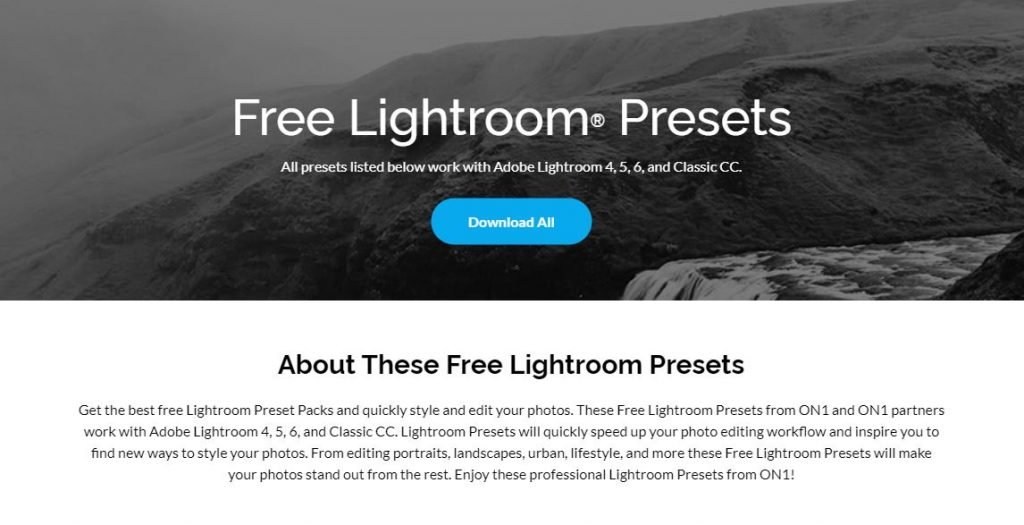 Now, this website does not offer a lot of presets but its products are some of the best in the industry. This is one of those premium products that are now available for free. You can even install the On1 plugin in lightroom and get direct access to all of the presets.
---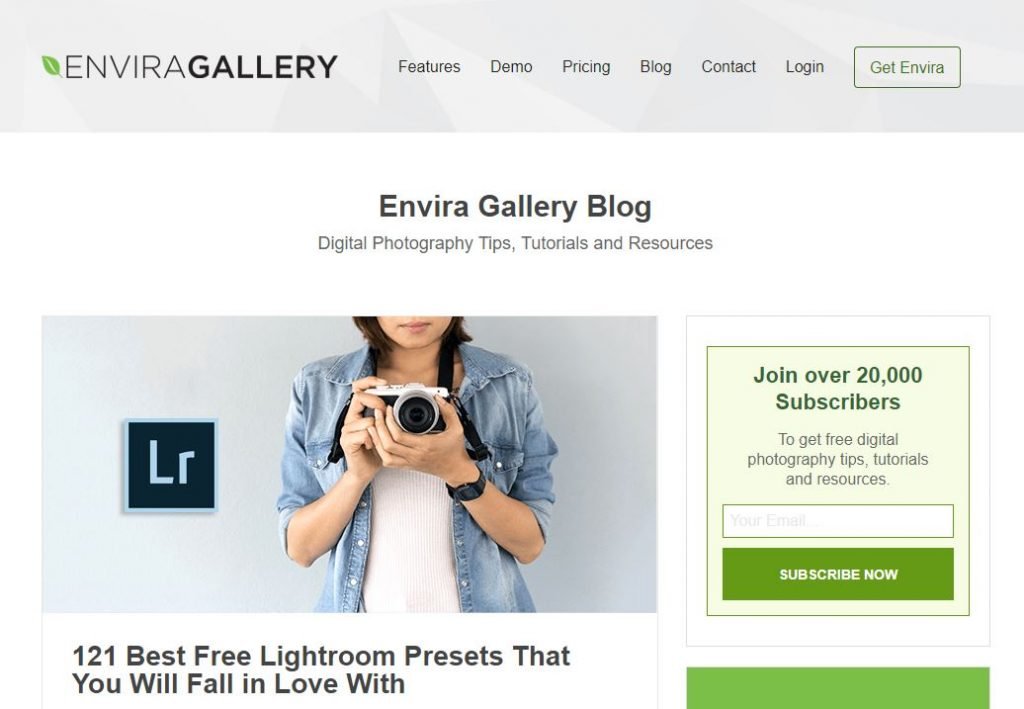 Envira Gallery is another amazing one-stop solution for all your Lightroom preset needs. They have a wide range of presets for weddings, babies, family, landscape, nature, food, cars, Real estate, and fashion photography! And it's totally free!
---
ShutterSweets offers some of the best presets in the industry. Some of them are priced and some of them are available for free. It's all made to be extremely professional. From split toning to the atmospheric mood they have all sorts of presets to serve you well!
---
There are so many websites out there that give free Lightroom presets but not many of them are as good as the presets by FreeLightroomPresets.co. They offer a set of 39 presets that are downloaded and used by more than 1.7 million people and are proven to be extremely useful.
---
Design Shack offers an amazing collection of 70+ free Lightroom presets for photographers who are passionate about editing and making their photos look great. The entire collection is made up of different categories including Portrait, Outdoor, Wedding, Landscape, and Black & White presets.
---
Fix The Photo has over 2000 presets and brushes for Adobe Lightroom that can be downloaded for free. They even come with installation instructions. You can subscribe to the Fix The Photo email list to receive their latest presets straight in your inbox.
---
This impressive collection of free Lightroom presets for both designers and photographers will allow you to add professional effects to your photos instantly. SpeckyBoy compiled this extensive collection of free Lightroom presets to showcase some of the best free presets that you can download for free.
---
Last but not least is our very own 10 free Lightroom presets pack for portrait and landscape photographers. You can give your photos beautiful cinematic effects with the included presets in this pack. Ideal for outdoor photos, including landscapes and nature, as well as natural light portraits. There are a wide variety of effects included, so you're sure to find something that works great with your photos. With just one click you'll get cinematic effects that can take your photos to the next level.
---
How To Install Lightroom Presets
For Lightroom CC 2018
You can now install Lightroom presets straight from the plus sign under the Presets dialogue when you are in the Develop Module in Lightroom.

How To Install Lightroom 4, 5, 6 & CC 2017 Presets For Windows
Open Lightroom
Go to: Edit • Preferences • Presets
Click on the box titled: Show Lightroom Presets Folder
Double click on Lightroom
Double click on Develop Presets
Copy the folder(s) of your presets into the Develop Presets folder
Restart Lightroom
How To Install Lightroom 4, 5, 6 & CC 2017 Presets For Mac
Open Lightroom
Go to: Lightroom (Dialogue) • Preferences • Presets
Click on the box titled: Show Lightroom Presets Folder
Double click on Lightroom
Double click on Develop Presets
Copy the folder(s) of your presets into Develop Presets folder
Restart Lightroom
---