In this how-to article, learn how to change the color of your folders on Mac OS and customize your folder icons with the Folder Colorizer app.
If you have a Mac, the only way you can identify your folders and differentiate between them is by renaming them, which is okay in some cases.
However, in most cases, this is not really convenient.
Imagine that you are short on time and you are looking for a particular folder on your desktop which appears like a sea of blue default folder icons.
While you could always search for a particular folder using the search option, it doesn't really cut it if you want to find a particular folder INSTANTLY within a blink of the eye.
But you know what would help?
Having a custom folder icon that is easy to spot in the middle of hundreds of other folders.
One way to customize folders on Mac is by changing their folder color. But you cannot do that without an app.
If you are wondering how to change the color of your folders on Mac OS, read on to find a super quick and easy way to do it.
We have included a video tutorial along with a step-by-step guide to walk you through the entire process.
Changing The Folder Colors On Mac OS
To change your folder color and customize your folder icon, you will need a third-party app.
Folder Colorizer for Mac is one of the best folder colorizer apps out there that not only lets you change the folder colors on your Mac but also customizes them to add a personalized touch.
Developed by Softorino, Folder Colorizer for Mac is a desktop application.
In addition to changing the folder colors, this app also lets you add emojis, decal stickers, and image backgrounds to your folder icons to completely transform them according to your liking.
How cool, right?
You can apply all of these changes to multiple folders at a time without having to customize each of them individually.
What's more, this app also features a futuristic AI-powered Magic Wand which is basically a tool that reads the contents of your folders and automatically customizes and colorizes the folder icons accordingly.
It will choose a color, an emoji, a decal sticker, and an image background that goes with the theme of your folder.
Here's what else Folder Colorizer for Mac offers:
Cross-system compatibility
A smart search option
Colorize and customize bulk folders
iCloud folders support
History of every step
A revert-to-original option
Let's see how it works! The video down below shows us how easy it is to use Folder Colorizer app to change the color of your folders on Mac OS.
Step 1. Download And Install Folder Colorizer On Your Mac
Folder Colorizer for Mac is absolutely free to download. It is a desktop app that comes with a free trial.
Once you download and install the app on your Mac, you will be prompted to enter your email address.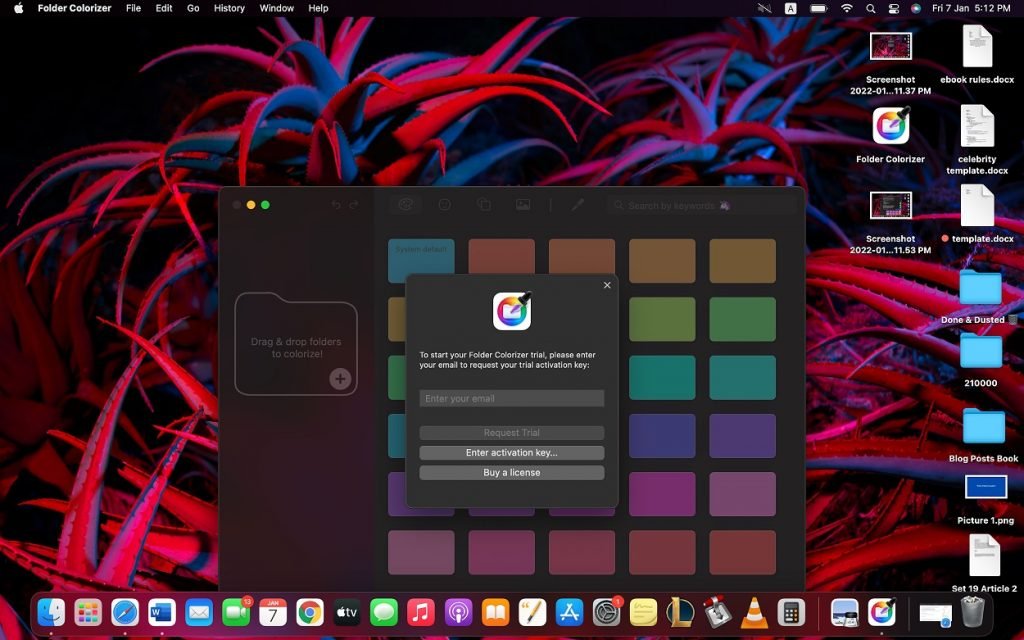 Once you enter your email address, the Softorino team will send you an email with the activation code right away.
Enter this code in the app and activate your free trial.
Step 2. Drag & Drop Any of Your Desired Folder(s)
Now that you have set up your free trial, launch folder Colorizer for Mac and drag and drop any folder(s) from your Mac into the app.
You can also do this alternatively by using the "+" icon in the left sidebar to manually select the folder(s) to be colorized.
Step 3. Let The Fun Begin
It's time to colorize and customize! In the top menu bar, click on the "Colors Gallery" to find various color options to choose from.
If you don't find the shade that you are looking for, you can also create any color of your choice by using the Color Picker Panel.
As you colorize your folder, you will be able to see the changes you make in the left sidebar. You can colorize and customize multiple folders at once.
Once done, you have the option to customize your folders too. There are three ways you can do that:
Emojis: In the top menu bar, click on the "Symbols Gallery" next to the "Colors Gallery" to find various emojis to choose from.
Decal Stickers: In the top menu bar, click on the "Decals Gallery" next to the "Symbols Gallery" to find various decal stickers to choose from.
Image Backgrounds: In the top menu bar, click on the "Images Gallery" next to the "Decals Gallery" to find various image backgrounds to choose from.
---
Note that If you don't want to go through the hassle of choosing each of these customizations manually, you can also apply them automatically by using the Magic Wand.
This AI-powered tool automatically applies the relevant customizations to your folders by reading and learning the contents of a folder.
Convenient, isn't it? That's how easy Folder Colorizer app makes to colorize and customize your folders on Mac OS.
---
Also, check-out:
---