Know how you can easily create Listicle Videos to breathe life into your list-based content and delight your audience.
Listicle videos are the most popular form of visual content for social media platforms. They are easy to remember, help create engagement and boost conversion rates.
The word listicle is a combination of 'List' and 'Article' – one of the most popular forms of article type in the world of blogging. However, when you present your list-based information in a video format along with some graphic design, it becomes a Listicle Video.
I highly recommend you go through this great article to get a basic idea of what listicle videos are all about.
Now comes the main question – "How can one create listicle videos for social media without any video editing and graphic design skills?"
The answer is fairly simple – by using online video creation tools and listicle video templates. An alternate but advanced method is to use the Article To Video template for Adobe After Effects or Adobe Premiere Pro.
---
Using Online Video Creation Tools To Create Listicle Videos
One of the greatest benefits of using an online video creation tool is the ability to use it anywhere at any time. You don't need a high-end computer to edit your videos as the processing and rendering are done on the server side.
Some of these services also allow users to create and share videos directly from their mobile devices. These are great for creating YouTube videos, personal videos, and of course LISTICLE VIDEOS.
Therefore, let's take a look at some of the top online video creation tools on the web and how to use their listicle video templates to create high-quality engaging listicle videos.
InVideo is the most reputed online video creation tool that lets you create and edit marketing videos in a breeze. They have a wide collection of templates for various different categories.
Currently, InVideo offers more than 200 listicle video templates to choose from, ready to be customized in social media-friendly resolutions.
Once edited, you can download your listicle video in 720p resolution absolutely free of cost. For Full HD resolution downloads, you need to subscribe to an InVideo plan for just $15 a month.
Using InVideo to create listicle videos is super easy. Just follow this step-by-step guide to learn how to create listicle videos for social media with InVideo.
Step 1. Select A Listicle Template
The first step is to visit the InVideo Listicles Template page and select a template of your choice, to begin with.
Step 2. Select Screen Resolution
Once you select the template, choose your preferred screen resolution i.e. 16: 9 Wide, 1:1 Square, or 9:16 vertical.
Then click on Use This Template button to open the template in the InVideo customizer.
Step 3. Customize The Listicle Template
This is where all the magic happens.
The InVideo customizer gives you plenty of options to customize the selected listicle template with your own set of photos, videos, and textual information.
Here you can edit the pre-created scenes, add more scenes, or delete scenes as per your requirements. The layers options on the right side let you edit scene layers with your own text or media file.
Everything else is quite simple and you shouldn't have much difficulty using the interface. However, in case you end up scratching your head, InVideo's official Editor Tutorial video will help you out.
Step 4. Download Your Listicle Video
The last step is to export your listicle video and download it on your computer.
To do this, click on the Download button at the top right corner, then select your preferred screen resolution – 720p for free members and 1080p for premium members.
InVideo will then take some time to process your video. Once completed, your new listicle video will be downloaded.
You will also get a notification email to your InVideo registered email address once the video is processed and ready to download.
And that's it. In 4 easy steps, you can create awesome listicle videos for social media using the InVideo online video creation tool.
---
Wave.video offers more than 50 customizable and free listicle video templates that help you breathe life into your list-based content.
All you need is to select a template and use wave.video browser-based editor to customize the content. Editing a template is super easy and anyone can do it without any prior knowledge and skill.
Once done, you can download your listicle video in up to 720p resolution in MP4 format for free. Or you can upgrade to a Creator or Business plan to download 1080p videos in MP4, MOV, and WEBM formats.
Other than that, you can also generate a white-label video link for easy sharing or download an animated GIF of the listicle video. Each and every listicle video template can be scaled and resized in different aspect ratios such as horizontal, vertical, and square.
---
Promo offers highly professional listicle video templates in multiple aspect ratios for creating engaging social media content. Out of all the online video creation tools, we've found Promo's web editor to be the most user-friendly and intuitive.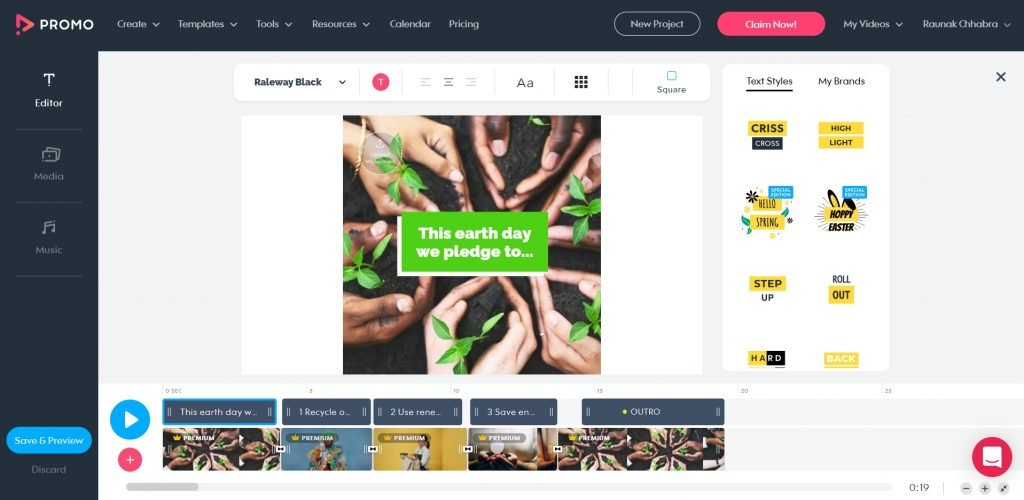 It gives you tons of customization options for creating any kind of list-based video content in a matter of minutes. However, the downside of Promo is that you cannot download the listicle videos without signing up for a paid plan.
The Promo Agency Plan costs $199 per month which is quite expensive, to be honest. But if you can afford it, Promo can be the one-stop destination for all your video marketing needs.
---
Another online video creation tool that is quite popular among video creators is Visme. Their design templates are some of the best in the market.
Visme's also offers tons of listicle video templates for creating short engaging videos for social media. Their listicle videos are bite-sized and perfect for summarizing articles, steps, and processes.
Once you select a template, you can customize it with your own photos, text, icons, animations, music, and more without any design experience.
Visme is well known for its web editor which is loaded with lots of assets and elements.
You can add anything from data graphs and charts, buttons, graphics, illustrations, and more to your project and make unique content that'll always stand out from the rest.
Although Visme is free to use, it doesn't let you download your listicle videos without opting in for a paid plan.
We highly recommend Visme if you are a digital marketing agency with a consistent need for listicle video templates.
---
Using Article To Video Templates For Creating Listicle Videos
Those who are familiar with editing programs like Adobe After Effects and Premiere Pro can benefit from Article-to-video templates. You can turn any article into a beautiful engaging video for web and social media.
VideoHive library offers one such template, both for After Effects and Premiere Pro. You can download and customize them with your own media and text.
Article to Video templates are available in both horizontal and vertical aspect ratios. Please note that you need a basic knowledge of these editing programs to edit the templates.
Article To Video After Effects Template
This After Effects template features 50 scenes and placeholders for your photos, videos, and text along with 150 self-resizing box titles. It is super easy to use and customize, requires no plugin, and comes with a detailed and step-by-step video tutorial.
Compatibility – Adobe After Effects CS5.5 and above versions.
---
Article To Video Premiere Pro Template
This Premiere Pro template features 10 MOGRT files with 50 scenes and placeholders for your photos, videos, and text. It is super easy to use and customize, requires no plugin, and comes with a detailed and step-by-step video tutorial.
Compatibility – All versions of Adobe Premiere Pro CC.
---
Conclusion
It has been proven time and again that video content has a greater impact on social media platforms than text-based content. This is also the reason why more and more bloggers are transitioning into vloggers.
Videos that share information in the form of a list, in short, listicle videos are the most engaging of all.
While it's definitely easy to watch and digest listicle videos, they are in no way easy to create. However, there are a number of online video creation tools on the internet that offer both free and paid listicle video templates.
You can customize these templates with your own content quickly and easily without any professional help. Or, if you are familiar with programs like After Effects and Premiere Pro, you can use Article To Video templates to easily create listicle videos for social media.
---