A list of 12 best online video editors for YouTube creators. Your ticket to YouTube stardom is just a couple of clicks away!
YouTube is one of those platforms that seem to only keep growing in popularity as the years go by. With this, the number of creators taking their content to the platform is also increasing.
If you are a creator who is looking to gain a following on YouTube, you are not alone. It is a great place to showcase your talents, ideas, and skills to a wide range of audiences from all across the globe.
Online Video Editors For YouTube Creators
All that said and done, making a great video that caters to an audience on YouTube is no easy task. One needs to put considerable effort and time into it.
From filming the video to editing it with the latter being something a lot of people struggle with. Editing is part of the final stretch…
It might be incredibly intimidating for many to find the right software that gets the job done. But this need not always be so daunting.
There are a number of video editors out there that help you create the content you want to provide your audience with. We have narrowed down this list to a total of the 12 best online video editors for YouTube creators.
If you are looking for a functional online video editor for YouTube videos then Biteable might prove to be the right choice for you. Biteable prides itself on being a do-it-yourself video-making and editing platform.
It provides the user with a number of features to work with. This online editor provides you with 800,000+ real-life stock footage clips and animations and a wide range of templates
It helps you create custom content by letting you personalize your videos with logos, brand names, and much more. And to think that one could access all of this amazing content for free is a fact to reckon with!
---
Canvas Video Editor is a complete video creation solution that allows anyone to create and share professional-quality videos.
Canva combines intuitive editing, recording, and collaboration tools, hundreds of customizable video templates, and a vast media library in one easy-to-use platform, which is available for free on the web, desktop, and mobile.
Because of the recent shift to remote working and online meetings, screen recording and using video to transmit content have become more vital than ever.
"Video is increasingly important in the workplace and online, but traditional tools have been too difficult, expensive, or limited for most to use," states Rob Kawalsky, Head of Product at Canva.
The way it's been laid out makes it so that making a video is "as simple as creating a presentation," the brand explains. With this, it hopes to eliminate the learning curve that comes with having to work with new software.
New Features of Canvas Video Editor
Scene-Based Editor: Canva simplifies video creation with a scene-based approach that feels familiar with building presentation slides, to eliminate the learning curve.
Single Layer Timeline on Desktop and Mobile: Scenes can easily be re-ordered, lengthened, or split using the timeline, to turn individual scenes into a story. Cinematic transitions enable a perfect flow between segments, and editing is optimized for mobile apps and browsers, removing the need for powerful hardware.
Multiple Audio Tracks: The video timeline now supports multiple audio tracks, whether uploaded to Canva or dragged from the media library, to enhance videos with music, sound effects, and narration.
Screen and Camera Recording: Users can now record footage from a camera, screen, or Chrome tab, perfect for video messages and tutorials.
Animation Combinations: Choose from an updated selection of animations to transform text, visual elements, or full pages, in a few simple actions. Animation Combinations, set to be launched in the coming weeks, will apply context-specific animations to every element in a scene at once, for the perfect balance.
As Kawalsky explains, one of the brand's guiding principles is to "make complex things simple." The new set of tools, therefore, "will allow everyone to unlock the power of video."
Clipchamp is another free video editor that will help you create great content within just a few clicks. It is a great online video editor for YouTube creators.
It gives you a great workspace that accommodates a considerable number of functions. With Clipchamp, you can convert videos to MP4, compress your videos, record them with your webcam, and collect videos from others.
This online editor provides you with a wide range of templates to pick and choose from. It also lets you mix and match audio and footage of different kinds.
Talking about how Clipchamp stands out in the video editing game, the makers say that the editor includes technologies that let you compress, convert, collect, record, and create videos without delays in rendering or locked-in file formats that are hard to convert or share.
If you are looking for an easy-to-use, hassle-free online editor, Clipchamp is worth checking out.
---
Kapwing describes itself as a modern editor for videos, GIFs, and images. It is a platform that helps you create and edit content to your liking.
Kapwing provides you with a number of tools that help you come up with an output your audience will love to watch. It helps you add subtitles to your content, resize your video, trim it, add audio, and perform various other crucial tasks that the editing process involves with ease.
Kapwing is also collaborative which means multiple people can be a part of this process in real-time. It lets you upload, edit, and share files with a team in a single place.
Kapwing is said to be faster, simpler, accessible, and modern. If these adjectives sound like something you might be looking for, this might be the best out of all the online video editors for YouTube listed here.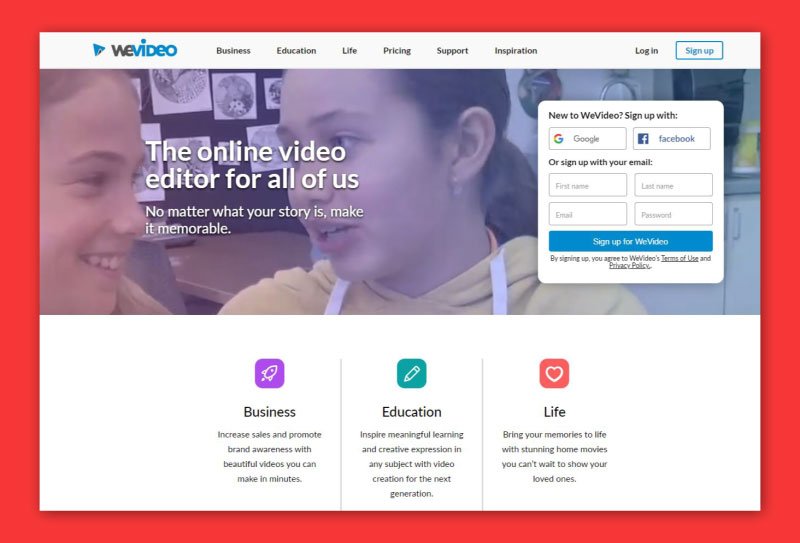 WeVideo provides a collaborative, web-based video editing platform that works in any browser. It is multi-purpose and extremely versatile.
It can be used by those who are new to the game and seasoned YouTubers alike since it gives you all the basic functionalities that you would look for and more.
WeVideo is easy, fast, and flexible. With WeVideo, you can add features like a green screen for a "big-budget look" without the cost or difficulty.
This is a great editor for a YouTuber since it lets you edit your videos along with the perk of there being no wait time for uploads. It also has built-in stock content and is compatible with almost any device you might want to edit with.
With WeVideo, you can do a number of tasks from a number of devices which is something that is extremely useful for a content creator. This perk alone should drive you to check WeVideo out right this moment. 
---
Flixpress is an automated and easy-to-use online video maker, which creates professional-quality videos in minutes. It is easy to handle as there are a lot of basic functionalities associated with this editor.
Flixclip, however, has a pricing range of $0 – $79.99 that one can choose from based on the type of work to be done. The storage, number of templates, resolution, etc. vary from one package to another.
There are a number of pros to this editor, some of them being that:
It does not require any expensive software.
Gets most videos done in less than 2 minutes.
Creates studio-quality content.
Allows you to go beyond one video template.
Flixclip is easily on the list of some of the most popular video editors out there today. Trying this editor out is something you should be doing right away if this is where your editing journey has to lead you.
Magisto is an online video editor for YouTube creators with a web application as well as a mobile app for automated video editing. It employs Artificial Intelligence technology in order to make video editing fast and simple.
This editor is YouTube-certified and lets you edit your videos to match the requirements of your YouTube content. Magisto boasts 3 main features:
It allows its users to engage in video storytelling as fast as writing a blog post.
Making video content as easy as PowerPoint and as powerful as a personal meeting
And as scalable as digital marketing.
The pricing here ranges from approximately $5 – $35 USD per month, based on your requirements. If an easy-to-use editor is what you are looking for and you have some cash to spare, then this might be the best online video editor for YouTube videos.
Also, check out: FlexClip – How To Create Easy Videos Online In No Time
---
If you think that you are capable of storytelling, InVideo is the perfect tool for you. There are diverse exciting things that you can do with the help of InVideo.
You can create marketing videos with the help of this video-making tool. To be more precise, you can connect with people emotionally if you can bring an appealing video.
The user interface of this video is quite easy. You don't have to go through many complications while using this video maker. Besides, you can create some beautiful ads with the help of the InVideo video-making tool.
Well, when it comes to quick videos, there are numerous categories of it. Video ads, promo videos, product videos, Instagram videos, bumper ads, and countless other things fall under the category of a short video.
No matter for what purpose you want to create videos, InVideo will help you to do that.
Wideo is an online video creation platform that enables users to create, edit, and share online videos. It is popularly known to be a platform that lets you create professional-looking animated videos but it is more than just that.
This platform can be used as a powerful tool to edit your YouTube videos as it allows you to upload your own clips and edit them to your liking. Once your editing is complete, you can share your videos directly to Facebook or YouTube, and download them as an MP4 for future use.
It has a range of templates that you can use and comes at a pricing range of $0 – $79 USD per month. If you want to play around with animation and edit your videos while you are at it, this video editor might be the right fit.
---
Kizoa is one of those online editors that not only lets you create and edit your videos but also lets you perform plenty of functions. If you want to engage in tasks that push you as an editor and content creator, then you could benefit from checking Kizoa out as an online video editor for YouTube videos.
It is a powerful tool that is easy to use, efficient, and professional. It helps you take care of so many of your editing needs, no matter what kind of video you are looking to create or edit using the platform.
Kizoa also prides itself on being what they call an online "movie maker". You can easily create movies by adding your own photos, videos, texts, effects, and music.
Adding on to these features, Kizao says that with just a click of a button, you can share your videos with your audience across your social media channels such as Facebook, Instagram, YouTube, etc.
All of these appealing features make Kizoa an editor that you must try if you are looking to expand your editing horizons.
FlexClip is the best cloud-based online free video editing tool for YouTubers like small business owners, educators, students, and everyday consumers. You can access it from anywhere like home, workplace, school, etc.
All your files are stored in a secure cloud so that you can edit and share videos in a few clicks. It provides over one million stock media, including videos, images, and music files, all royalty-free for your use.
Even with the free version, you can enjoy all the features. For YouTubers who want to make a tutorial video, FlexClip also offers the possibility to record your screen and voiceover directly from the browser.
---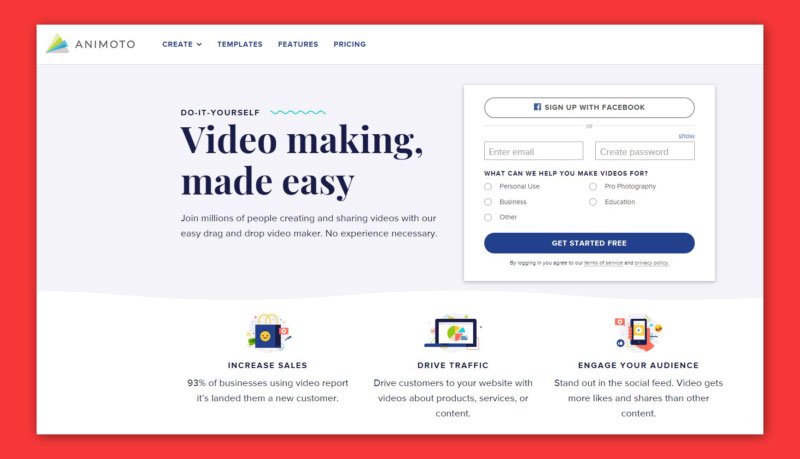 The last video editor on our list is Animoto. It is a cloud-based video creation service that produces videos from photos, video clips, and music.
Animoto markets itself as a do-it-yourself video editing platform. It lets you easily create videos for YouTube with its drag-and-drop video maker.
It allows you to combine your photos and video clips with text and music to make stunning videos. Animoto ensures that no video editing experience is necessary to master the nuances of the platform.
For an amateur YouTuber or even video editor, Animoto might prove to be a blessing. Using Animoto as an online video editor for YouTube videos will let you create content with ease. It saves you a great amount of time, energy, and effort.
---
Conclusion
Creating content can prove to be extremely effort-heavy and editing, for the most part, is the most intimidating part of the entire process.
For content that is meant to be published on a platform like YouTube for millions of people to see, it is also one of the most crucial elements of them all.
It need not necessarily be the mammoth task that most people believe it is. With this list of some of the most powerful online video editors for YouTube creators, you can make all your editing dreams come true.
Your ticket to YouTube stardom is just a couple of clicks away!
---
Also, check out:
---