This listicle features the 8 best online video editing services & companies of 2023 for outsourcing your video editing tasks.
With the rapid growth of online video content across various platforms such as social media, websites, and streaming services, the demand for high-quality video editing services has never been higher.
Video editing has become an essential part of content creation for businesses, individuals, and even casual video enthusiasts. It allows content creators to enhance the visual appeal, storytelling, and engagement of their videos, making them more compelling and professional-looking.
In today's digital age, online video editing services & companies have become increasingly popular due to their convenience, accessibility, and cost-effectiveness. These services provide an easy way to outsource video editing tasks to professional editors, allowing you to focus on other activities.
Most of these online video editing services & companies follow a simple and straightforward procedure:
You upload video and audio files to their server, along with a brief detailing what edits are necessary and how you want the final product to look.
The service provider will go through the brief and work as per your requirements.
When completed, they will provide you with a sample video to review.
When you provide your sign-off confirming that the final video has been edited according to your requirements, the project concludes.
While there are several online video editing services and companies, it is important that you hire the absolute best. In this blog post, we will explore 8 of the best online video editing services and companies of 2023 that are leading the industry in terms of features, pricing, ease of use, and customer satisfaction.
Veedyou Media takes your RAW Footage and turns it into beautiful videos. For corporate, travel, home & family, wedding, or social media, their professional video editors can edit them all.
You can directly get in touch with Veedyou editors to help understand your requirements. Veedyou's editing process is quite simple:
Transfer Your Videos – You can transfer your raw video files through Google Drive, Dropbox, or any other cloud storage.
Review The Work – Veedyou will send back your edited video in 5-7 days. For an additional fee, you can opt-in for 48 hours of delivery time as well.
Request Revision – If needed, you get up to 3 free revisions.
Some of the common video editing techniques used by Veedyou are cuts and transitions, color Grading through LUTs, and other methods, audio mixing, footage stabilization, titles/text overlays, and motion graphics.
Pricing often depends on the type and duration of the video. You can go through Veedyou Media Pricing Tool to get an idea about the costs.
If you are looking for a trustworthy online video editing company to have your videos professionally edited, then FixThePhoto's video editing services might be a good option.
The head video editor at FixThePhoto will examine your videos and assign them to a video editing specialist. The specialist will stabilize the footage and apply color grading if necessary. As per your requirement, FixThePhoto can add music and soundtrack to your videos from their library of copyright-free audio.
Take a look at this sample video editing by FixThePhoto.
The basic pricing of FixThePhoto online video editing services starts at USD $80. This includes 30 minutes of source video editing, cut & transitions, stabilization, color correcting, audio mixing, and more.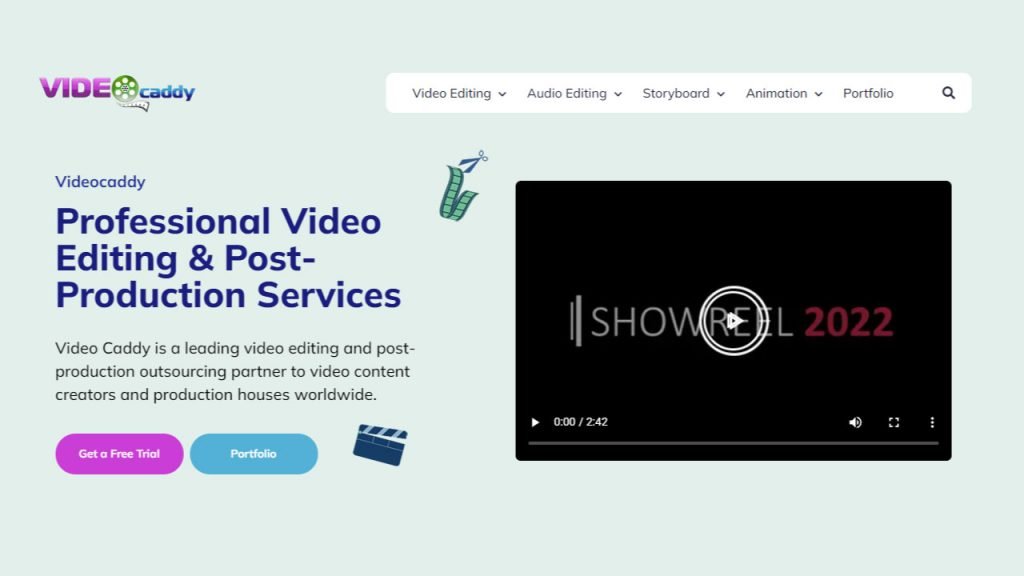 This online video editing service delivers a lot more than post-production support. Video Caddy's services cater to large and small companies, filmmakers, documentary producers, agencies, and wedding videographers.
They provide guaranteed high-quality video editing, audio editing, subtitling, animation, and storyboarding at a competitive pricing model.
Video Caddy's video editing service process is simple.
You upload the video files and briefs.
The video file is edited accordingly and uploaded.
The customer reviews the video file.
The file is uploaded for easy download.
Video Caddy uses all the latest video editing software such as Adobe After Effects, Premiere Pro, Final Cut Pro X, and more to edit their client's videos.
Their pricing structure is based on a careful analysis of what the customers need. They offer many pricing options based on the project scale, the number of editors required to work on it, and the level of expertise required to complete it. You can view all the details on Video Caddy's pricing page.
Fiverr is a one-stop destination for almost all your digital needs. Freelancers around the globe offer their services in the form of gigs. There are many great video editors on Fiverr that can turn your raw footage into engaging videos.
Fiverr gigs are often low in cost when compared to other professional online video editing services. Below you'll find some of the top-rated freelance video editors on Fiverr.
Before you hire a freelancer on Fiverr, I urge you to go through the rating and reviews section. It will help you choose the BEST from the REST.
Motion Edits is an online video editing company that provides a wide range of online video editing services to businesses and individuals. With years of experience in the video editing industry, the team of experienced video editors at Motion Edits has the expertise to handle any video editing project.
Motion Edits offers a range of video editing services that include cutting and trimming, adding text, overlays, motion graphics, sound effects, logo animation, etc. They work closely with their clients to deliver the best possible results.
The process of outsourcing your video editing tasks to Motion Edits is quite simple. They start with understanding your vision and script followed by the editing process, sound mixing, and animation. Then a copy will be sent to you for review. After going through revisions (if required), Motion Edits will deliver the finalized video.
Whether it's a corporate video, advertising content, music video, or any other video content, Motion Edits can help bring your ideas to life. They specialize in serving companies, directors, filmmakers, producers, videographers, cinematographers, and individuals with video post-production services worldwide.
Vidchops specializes in YouTube video editing, which means you can outsource your YouTube video editing process to their professional editors for better retention and engagement. However, their video editing services are not limited to YouTube.
Vidchops can also edit commercials, real estate videos, online course videos, etc. in just 24-48 hours. The process of Vidchops is straightforward and user-friendly.
Upload your videos to a dedicated Google Drive.
Complete your video request by submitting a form. Your dedicated editor will take the information and you will see the process going from different phases of editing such as Assign → Editing → Quality check → Submission.
As soon as the editor is done with your video, you will get an email with a download link to the video. There you can ask for any revisions you'd like using a timestamping comment system.
Please note that you can upload 45 min of raw footage and the finished video length will not be more than 15 minutes. Additionally, Vidchops does not offer voiceovers and 2D or 3D animation services.
Instead of charging hourly rates like other online video editing services, Videochops offers flat-rate subscription plans.
Weekly Chops – For $325/month, you can get 4 videos edited each month with 3 revisions per video.
Unlimited Chops – For $595/month, you can get 8-12 videos edited each month with unlimited revisions.
Double Chops – For $995/month, you can get 16-20 videos edited each month with unlimited revisions.
The highly skilled team at Increditors, consisting of video editors, artists, animators, and motion designers, provides all kinds of online video editing services. It offers a variety of video capabilities under one roof.
Increditors provides various post-production services such as creating promotional videos, color grading your videos, editing YouTube videos, editing videos for film & TV, editing music videos, creating animated explainers, editing wedding videos, visual effects (VFX), and sound design.
The process of getting your videos edited is quite straightforward.
You select the type of service and the team at Increditors will provide a creative brief and collect your data (RAW files, logos, etc.).
In the next step, Increditors will develop a concept and script, and assign a skilled team that includes a video editor, colorist, motion graphics/VFX artist
The team will handle all the video editing from start to finish.
Once completed, the final video along with all the other media files will be available for download.
Video Husky is an online video editing service company that can edit your videos quickly and professionally. You can hand over all your RAW footage to the team at Video Husky and they will return a high-quality edited video within 1-2 days.
Video Husky offers 4 unique plans based on the scale of your requirements. They offer the POM plan, which is their most affordable option and suitable for short-form or social media video editing. The ESKIMO & SIBERIAN plans, on the other hand, focus on long-form videos with a duration of 3-30 minutes.
They edit all types and kinds of videos except wedding videos, 2D or 3D animations, and recording voiceovers. After completing a project, you have the option to request the Premiere Pro project file to add finishing touches to your videos.
---