A list of the 6 best online video editing services as they are a great way to save enormous overhead costs and valuable time.
Online video editing services are a great way to save enormous overhead costs and valuable time.
Studies show that 87% of video marketers use video as a marketing tool.
You don't need a massive budget or a whole cast and crew to help you create videos.
Some edit the videos on their own with easy-to-use video editing software.
However, others outsource to professional online video editing services for quick and easy results.
Most of these online video editing services follow a simple and straightforward procedure:
You upload your video and audio files to their server, along with the brief on what needs to be edited and how you want the final product to look like.
The service provider will go through the brief and work as per your requirements.
When completed, they will provide you with a sample video to review.
Once your sign-off stating that the final video has been edited as per your requirements, the project comes to an end.
Although there are several online video editing services, it is important that you hire the absolute best.
And to help you make a decision, we have curated the 6 best video editing services on the Internet.
Veedyou Media takes your RAW Footage and turns it into beautiful videos.
For corporate, Travel, Home & Family, Wedding, or Social Media, their professional video editors can edit any video.
You can directly get in touch with Veedyou editors to help understand your requirements.
Veedyou editing process is quite simple:
Transfer Your Videos – You can transfer your raw video files through Google Drive, Dropbox, or any other cloud storage.
Review The Work – Veedyou will send back your edited video in 5-7 days. For an additional fee, you can opt-in for 48 hours of delivery time as well.
Request Revision – If needed, you get up to 3 free revisions.
Some of the common video editing techniques used by Veedyou are:
Cuts and Transitions.
Color Grading through LUTs and other methods.
Audio Mixing.
Shaky Footage Stabilization.
Titles and Text Overlays.
Motion Graphics.
"So glad I found Veedyou! They were able to capture our trip flawlessly and for a very reasonable price. They were very easy to work with and responsive to all my emails/questions. Now that I've discovered Veedyou, I plan on documenting many more trips and being a lifetime customer!" says Blair Winston Miller.
Pricing
Pricing often depends on the type and duration of the video.
You can go through Veedyou Media Pricing Tool to get an idea about the costs.
---
If you are looking for a trustworthy video editing company to have your videos professionally edited, then FixThePhoto's online video editing services are for you.
Your videos will be examined by the FixThePhoto head video editor and then assigned to a video editing specialist.
If needed, your footage will be stabilized and color grading will be applied.
As per your requirement, FixThePhoto can add music and soundtrack to your videos from their library of copyright-free audio.
Take a look at this sample video editing by FixThePhoto.
Pricing
The basic pricing of FixThePhoto online video editing services starts at USD $80.
This includes:
30 minutes of the source video
Pro-cut and transitions
Image Stabilization
Color Correction
Sound Adjustment
Royalty-Free Music
Simple Header
Following the Client's Style
1 Final Edited Video
Additional pricing includes:
Every Next 30 Minutes – US $60
Adding Photographs (Up To 50) – US $50
Animated Text & Titles – US $50
---
This online video editing service delivers a lot more than post-production support.
Video Caddy's services are meant for large and small companies, filmmakers, documentary producers, new agencies, and wedding videographers.
They provide ISO-quality guaranteed video editing, audio editing, subtitling, animation, and storyboarding at a competitive pricing model.
Video Caddy's video editing service process is simple.
You upload the video files and briefs.
The video file is edited accordingly and uploaded.
The customer reviews the video file.
The file is uploaded for easy download.
"It's wonderful, thank you – a really good edit. I know it can't be easy working on these files where there are so many mistakes and retakes", says the Production Manager, Educational Video Company, UK.
Video Caddy uses the latest video editing software such as Adobe After Effects, Premiere Pro, Final Cut Pro X, and more to edit their client's videos.
Pricing
Video Caddy's pricing structure is based on a careful analysis of what the customers need.
They offer many pricing options based on the project scale, the number of editors required to work on it, and the level of expertise required to complete it.
Visit the pricing page for full details.
---
4. Videodone.io (Not Available)
Videodone.io do all kinds of video editing work, animation, motion graphics, and video production.
Their online video editing services are trusted by some of the top brands and businesses such as Loreal, SendGrid, Accenture, and more.
The unique thing about Videodone.io is the custom-made secure platform where you can upload a brief, monitor progress, and communicate with the editors.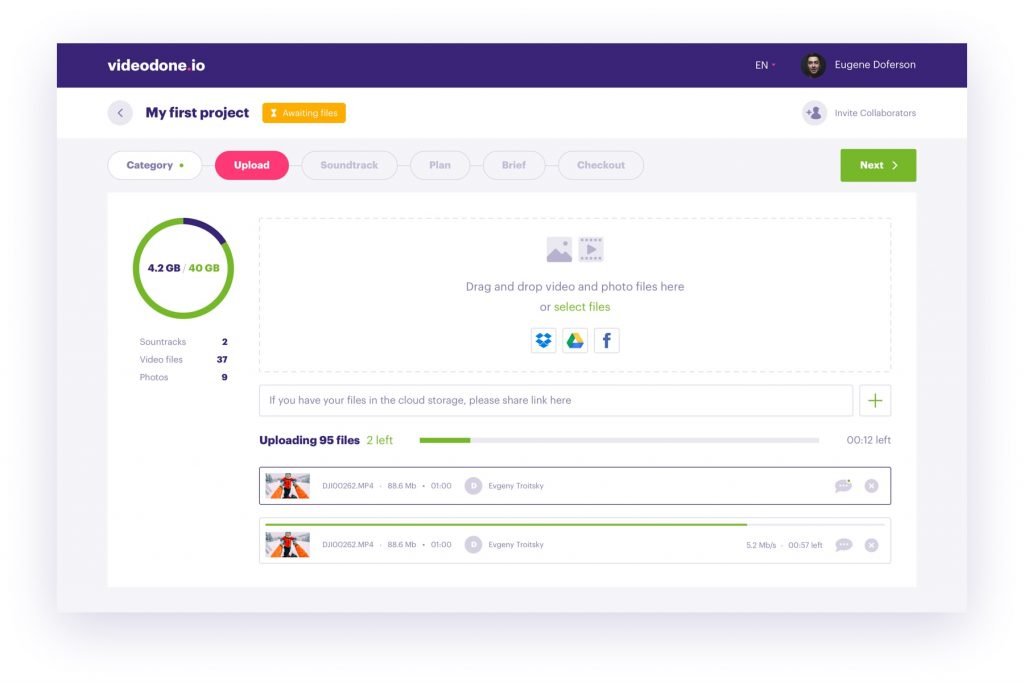 Once the project is completed, your videos will be stored and accessible to you indefinitely.
Pricing
videodone.io offers three video editing plans to choose from.
TAKE OFF
USD $79
Upload up to 10GB
Add 1 soundtrack
No Revision
1 Min long video
PERSONAL
USD $166
Upload up to 20GB
Add 1 soundtrack
1 Revision
Up to 3 min long video
FRIENDS
USD $400
Upload up to 50GB
Add 2 soundtracks
2 Revisions
Up to 5 min long video
---
Fiverr is a one-stop destination for almost all your digital needs.
Freelancers around the globe offer their services in the form of gigs.
There are many great video editors on Fiverr that can turn your raw footage into engaging videos.
Fiverr gigs are often low in cost when compared to other professional online video editing services.
Below you'll find some of the top-rated freelance video editors on Fiverr.
Before you hire a freelancer on Fiverr, I urge you to go through the rating and reviews section.
It will help you choose the BEST from the REST.
---
Piktostory is a simple document-like video editor that automatically creates transcripts and helps transform long videos into small clips.
Thought leaders, content marketers, coaches, and other professionals use Piktostory to create social-media-ready videos that increase audience engagement.
Here's a step-by-step overview of how it works:
Upload the video from your computer, Zoom, or Google Drive. You can even record yourself using the webcam.
Review the automatic, machine-generated transcription. Edit or remove parts of the video or cations as required.
Export the final video to download to your device or share on social media.
Other notable features of Piktostory include:
Support for automatic captioning in 60+ languages
Set templates, custom backgrounds, fonts, and logos to match your branding
Export subtitles in SRT, VTT, or TXT file formats
Option to add custom outro or intro
Pricing
Piktostory offers a free version that allows editing up to 30 minutes of video per month.
The premium plans start from $7, with the lite plan allowing you to edit up to 180 minutes of video per month.
For more information, see the Piktostory pricing page.
---
Conclusion
Having more than 8 years of experience, I am qualified to say that video editing isn't as easy as it sounds.
It's a time-consuming and expensive process that requires good storytelling skills.
Online video editing services are a great way to get the job done, especially for someone who isn't familiar with the process.
Or someone who just wants to save time and money on expensive video editing software.
This article is a compilation of the 5 best online video editing services to help you hire the absolute best.
What do you prefer? Editing on your own or hiring an online video editing service. Let me know in the comments section below.
---
Also, check out: Top Video Editing Service Providers In India
---